Comparing all the different cuisines in this world, you could argue that vegan cuisine has the most naysayers. Lovers of butter, bacon and all things cheesy and meaty are quick to judge plant-based cooking and, above all else, creativity to make palatable food. This idea of "plant-based" eating, though, has been noted by most top forecasters as one of the fastest growing food trends in the North America. Plenty of factors can be attributed to this, including ever-rising food costs (especially with proteins like beef), global warming and simply put, the average person's increased awareness of sustainability in general.
Because of all of this, vegan options while dining out are almost as common as gluten-free alternatives on most restaurant menus. In addition to everyday establishment becoming substantially more vegan-friendly, many major Canadian cities have also seen an influx in completely plant-based eateries in recent years, like the top vegan restaurant in the East Coast, Halifax's enVie, Planta in Toronto (fancy a carrot hot dog, anyone?) and Winnipeg's exemplary vegan burger joint, Boon Burger, to name a few.
Virtuous Pie, located in Vancouver's Chinatown, is Canada's premier vegan pizzeria, which opened this past summer and is the latest plant-based dining concept to enter the national fold. With its luxe design accents like the dark emerald and gold countertops, exposed brick showcased by protruding modern white archways and a wood panelled accent wall, it is easy enough for one to walk into Virtuous without even realizing that its offerings are solely vegan. This visual in and of itself should finally put to rest the notion that only patchouli-scented granola cafes can be vegan dining destinations in a city's food scene.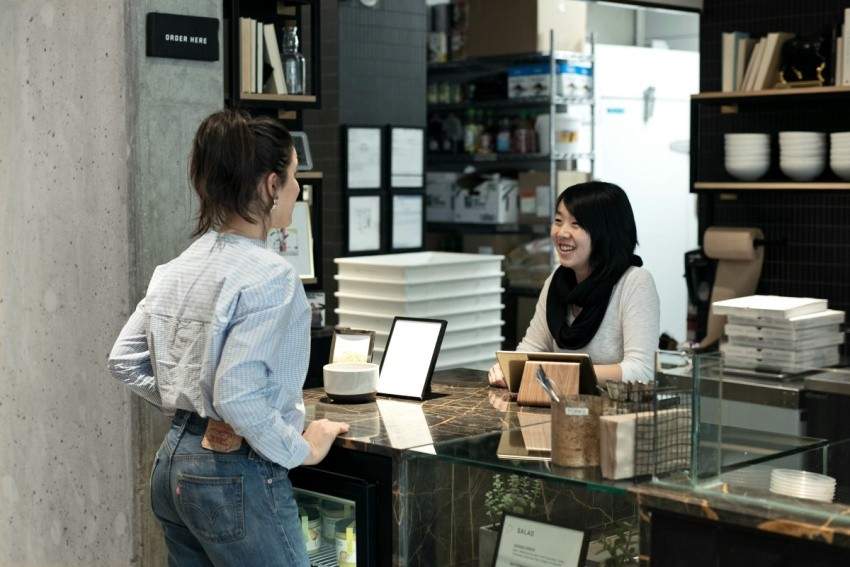 "I haven't met anyone that's specifically come up to the counter and said, 'This is stupid!'" says the company's executive chef, Jim Vesal, laughing, of people who come into Virtuous Pie unaware of what it's all about.
He continues, "One lady was looking at the menu with her friends and [remarked loudly] about how there was no meat on the menu. I could tell she was visibly frustrated, but I told her that if she didn't like what she got, we would buy her her lunch. I checked in with her after and she loved it. I think that's more the story: people that are a little skeptical [of vegan pizza], we can usually turn it around!"
With previous years of experience as the executive chef of Cocktail and Canapes, a high-end Vancouver catering company, as well as Earls Yaletown's head chef, Vesal has done his fair share of vegan cooking throughout his career. Now at the helm of what has become one of the city's most popular (and polarizing) pizzerias, Vesal took a break from his menu development and prep for their soon-to-open location in Portland to talk about why people have come to their unique product, his own eating habits, the reason he doesn't get bored making pizza at Virtuous and more.
What's the hardest thing about making a legitimately delicious vegan pizza?
People's perception. That might be a cop-out answer, but we're not making boring vegetable pizzas here. You don't just want to throw artichokes, red peppers and olives on top of some dough and call it a pizza because that's boring. It doesn't excite anyone. We created our menu here so that whether you're a meat eater or vegetarian or just trying to reduce your meat consumption in general, Virtuous Pie would be a place you'd still want to eat. It's easy to throw things like bacon and cheese on a [regular] pizza and most people would be like, "Oh yeah, this tastes good!" With vegan pizza, you've got to be a little bit more creative and be a little more out there with your ingredient selection.
The cashew mozzarella is a challenge to get right too, isn't it?
It was challenging to work out in the beginning, but we don't necessarily think of the cheese as the star of our pizzas. It's more of a supporting role for the other ingredients. Trying to mimic exactly mozzarella or Parmesan is really, really hard and, to be honest, people would be disappointed if they were expecting something identical.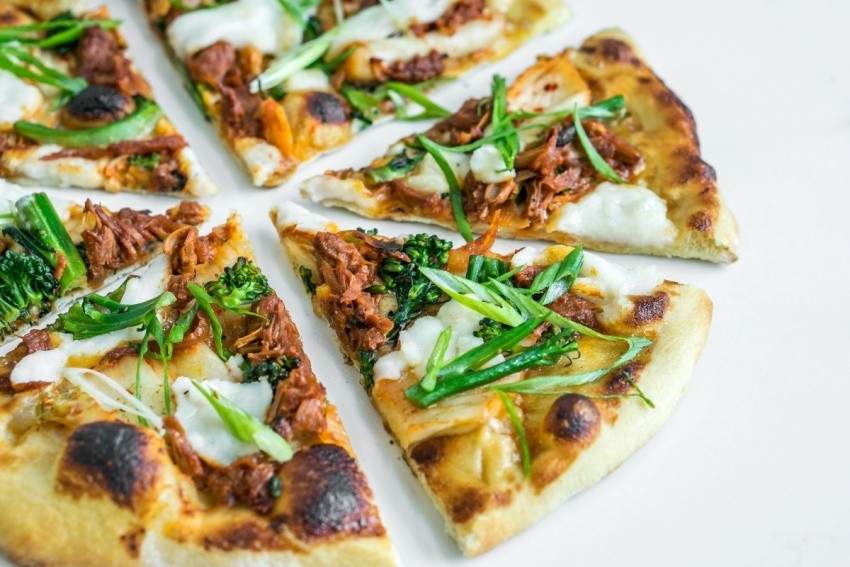 Is there an ingredient you use that would be foreign to a lot of people?
We use jackfruit on our Kim-Jack pizza. I had worked with jackfruit before when I used to cater because when you cater, there are always a lot of vegan requests. It's an interesting product to work with (it has a similar texture to brasied pork shoulder) and we're still playing around with it. It's something that I think does have a lot of versatility, but you have to be careful with it because it's easy to screw up too.
Where can someone buy jackfruit?
Most Asian supermarkets have it. There are two types. We use an unripe jackfruit which comes in a can that has a subtle briny flavour to it. The other one is in syrup, the ripe jackfruit, and you don't want that one. It tastes like Juicy Fruit! Actually, this is what the flavour of Juicy Fruit gum is based off of. The ripe stuff.
You are 100 per cent vegan in your chef role with Virtuous Pie, but does that translate to your everyday life?
I would say I eat a plant-based diet, but there are a lot of challenges with the perception and label of veganism. When someone says they're vegan, it [often implies] more than just how you eat. You know, your lifestyle, ethics, morality, the products you buy...I wouldn't be able to say that I follow all of those certain types of things in all aspects of my life yet. I am still striving to make the transition in other areas for myself. Currently, It's more my diet and cooking where veganism is concerned and I am working on other areas.
I grew up in Saskatoon and I love my hometown, but I don't think a vegan pizza place would really thrive there. Is there another Canadian city that you think Virtuous Pie would be successful in?
I think Toronto is a place we could probably make Virtuous Pie work; but, you're right, it takes a certain level of population support. You need a fairly forward-thinking city to embrace certain things too. It helps that Vancouver is such a health-minded place and everyone is so into yoga, running and everyone is environmentally and sustainably conscious, there's a lot animal activism. We have such a big mix of that here.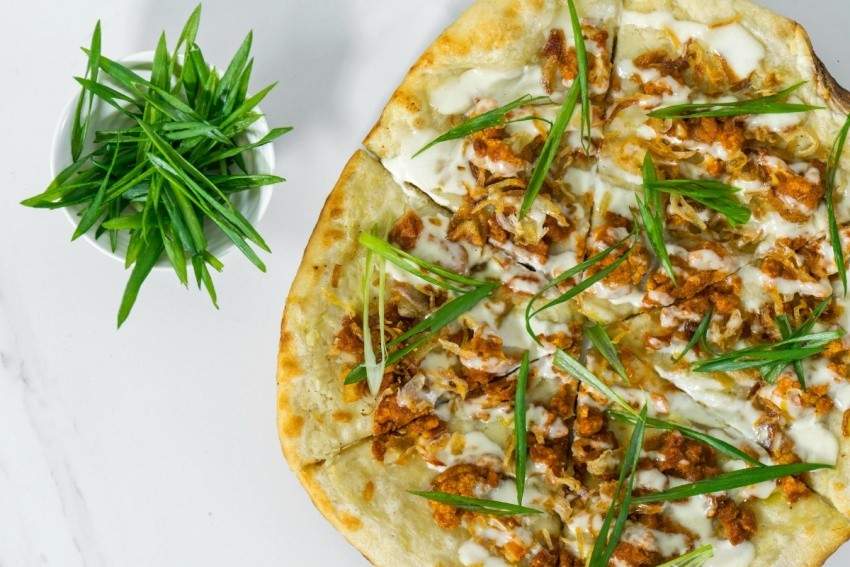 (Vesal's "Stranger Wings" pizza. White sauce, buffalo cauliflower florets, fried shallots, "blue cheese" drizzle and scallions.)
You're opening a second location in May, but it's in Portland. Why is that?
No specific reason, other than that Portland is a huge vegan city. We would love to open a second location in Vancouver. Kitsilano would definitely be ideal for us, but real estate in Vancouver makes it really hard. Even finding this first location was difficult, but we do want to grow and have a bigger presence in the city as time goes on.
Logistically, is it easier or harder to open up a location across the border?
A lot of the factors are the same, but getting permits or visas for myself and staff to work down there was tricky: it's more the legal backend. I just hired my chef and general manager down there, also construction, contractors and all of that are all very similar. One of the nice things, though, and opposite to Vancouver, is that the liquor licensing is way easier. It's much more relaxed. Here, it can be very strict, but in Portland, you can sell beer and people can leave your restaurant with it. It's much more liberal in that respect.
Vegan or not, do you ever feel limited with what you can cook working at a pizzeria?
Well, currently we're introducing about one new menu item a month. We are doing new things all of the time. We just launched happy hour as well as a lineup of dips you can get along with your pizza and we're planning to do a brunch service test run too in the next few months.
Help me out here, what does a vegan brunch pizza look like? Tofu and vegetable scramble on dough?
Ha, ha. That's a really good question! It's something that I'm still developing, but in general there are a lot of fun things that we do here and all of those things collectively keep this position fresh for me. It's all about getting our staff and customers excited about the food program and then I start thinking about where we want to go next. When we opened, we started off fairly simply because we weren't sure where we truly wanted to go. Now that we're more settled, we're definitely looking forward to some more experimentation!