The first time I met Anita Stewart was over the August long weekend of 2013. Mind aflutter from the excitement of meeting the larger-than-life culinary activist, we sat down on the beautiful terrace restaurant at Mission Hill Winery. Within the first few minutes, I knew why Food Day Canada has become such a country-wide phenomenon. Her attitude toward Canadian food is nothing less than infectious. By the end of our chat, as the sun set and our wine glasses repeatedly emptied, I was filled with a renewed sense of pride to be a tiny part of this country's food scene. There's nothing like having an exchange with a passionate leader to reignite the patriotic kindling inside oneself.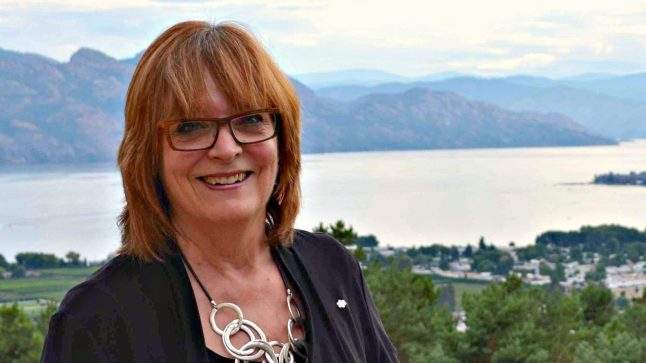 The annual Food Day Canada event isn't just meant to be a celebratory 24 hours. It serves as an inspiration, a reminder, of what's in our own backyards and all the delicious things we are able to do with them. Sure, we'll never have the plentiful harvests of avocados in Mexico or even the Nordic moss of Sweden (is that stuff really all that delicious anyway?), but what we do have are some of the best lentils in the world, sumac flourishing in the Okanagan, the world's largest production of maple syrup and thousands more ingredients that we can play with any day of the week to satisfy our appetites.
Much like how Canada Day serves as a subtle reminder of what it means to be Canadian, Food Day Canada serves to remind everyone that maybe we don't need to be picking up those potatoes from Idaho or tiger prawns from overseas - Idaho I can deal with, but no one should be opting for tiger prawns these days - and that you can reach for Prairie-grown potatoes and opt for sustainable side stripes from the West Coast instead.
There are still a lot of food-loving Canucks out there who might not know enough about Food Day Canada. So, here's a little bit about how a little word of mouth and a few backyard barbecues can grow into something that is helping define our country's culinary identity more and more each year.
How it all began
Back in 2003, Stewart initiated the World's Longest Barbecue in an effort to rally support for the Canadian beef industry during the mad cow disease crisis, which resulted in an unnecessary ban of the often revered protein.
"The borders were closed and so many Prairie families were being decimated. It started because the beef industry is such a large part of the fabric of Western Canada. It was becoming very clear that we were going to be losing our many communities, but also a way of life, too. So, I thought, what can I do about it?"
A local-food advocate since the 80s, Stewart was clearly less than impressed with the situation her country was in, so she decided to rally in the troops for the sake of good food.
"I had a large continent of friends through Cuisine Canada so I emailed them all (that's what you did back then) and said, 'OK, go to your barbecues at 6 o'clock on the Saturday of the August long weekend, barbecue Canadian beef and email me your menus, tell me what you're doing and what ingredients you're using,'" recalls Stewart, about the light bulb moment that would eventually grow into Food Day Canada. "What surprised me was the immense interest; it really struck a chord. I think it's because Canadians -- although we are very modest -- we're also very proud people and we get a little ticked off when other nations don't value us."
The initiative took off, from Beijing all the way around the world to Victoria, and became the World's Longest Barbecue. Since then, Stewart has continued to call Canadians to their grills and cook with Canadian ingredients.
"It was pretty clear by '08, '09 or so that August 2nd was definitely the day for Food Day Canada," says Stewart. "[By that time of the season] the harvest is in for every region and people were sharing it with one another -- balconies in downtown Ottawa, camping, weddings, no matter where they were. It needed to be named then, so I named it that."
Growing the momentum
With 250 participating dining establishments and thousands of home cooks (and counting) embracing their own local-driven dinner menus annually on August 2, it sort of makes you wonder how the good food word spread. Thankfully, unlike the ALS ice bucket challenge that arguably meets somewhere between raising awareness and a fad, Food Day Canada has grown organically with yearly culinary encouragement to people across the country.
Stewart lists her supporters since the initiative opened to restaurants in 2011: "Mission Hill Winery, Quail's Gate and Charcut participated right when they opened their doors. Sooke Harbour House; Beast (in Toronto); River Cafe, which has been absolutely magnificent; Bishop's in Vancouver -- when John Bishop says, 'Yes, we're going to do this,' it means something. It's really quite something. I could go on and on, it's pretty extraordinary."
Sad but true, so many initiatives that come from a person's initial passion can dwindle over time. So, how do Stewart and her FDC team stay driven enough to continually expand awareness over the past 11 years?
"I love the excitement that goes along with finding a new restaurant or a new dish, or seeing how something is harvested; it's really extraordinary. The food community has grown so much in this country over the past 25 years, it's really hard not to be excited," Stewart points out. "There's this new burger place in Prince Edward Island -- the Cows Creamery -- they're using PEI potatoes for its fries, island beef for burgers, topping it with extra old Avonlea cheddar and that is absolutely perfect! It (the FDC approach) doesn't have to be high-end."
Cultivating engagement on social media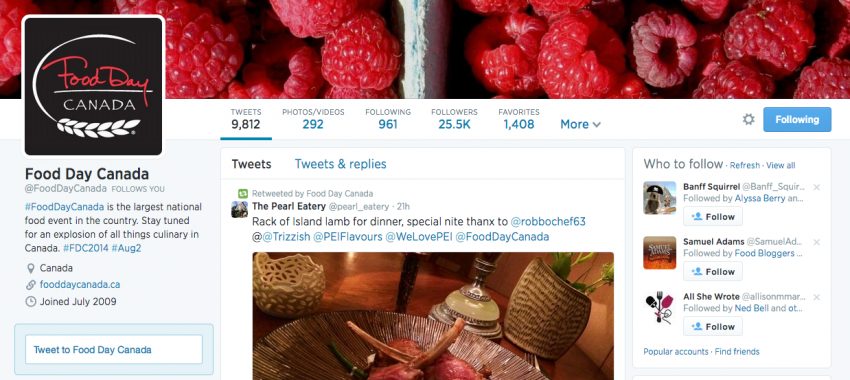 Word-of-mouth is a powerful thing, now more so than ever, with the help of social media. A bad dish at a restaurant or even a bad food picture (I'm looking at you Martha Stewart) can go viral within minutes these days. But it has only worked out well for FDC, helping them spread the good word on their efforts, raising awareness for eating locally, and growing their online presence on Facebook and Twitter.
"There wasn't even a website, but one of the girls who participated back then, in 2003, knew how to build websites and she offered. It was very rudimentary, but it worked!" says Stewart, as she reminisces on how the message behind her initiative began to spread across the country. "Currently, we have a great webmaster, who looks after the nitty-gritty of our IT stuff. He's building a great map, too, actually for our site of where to eat Canadian: all of the farmers' markets, where you can shop locally and, of course, all of the restaurants that are involved."
Now, the culinary enterprise has thousands of social media followers. The team also makes good use of the rather under-utilized Storify, a social media platform that bundles targeted content into one concise, well, story. This was showcased perfectly this year when the handy resource combined chefs, diners and home cooks alike into several "chapters" of what Canadians coast-to-coast were eating and drinking. This year, Food Day Canada garnered more social media engagement than ever before, with more photos and posts from Canadians outside the restaurant community.
August 2nd, 2014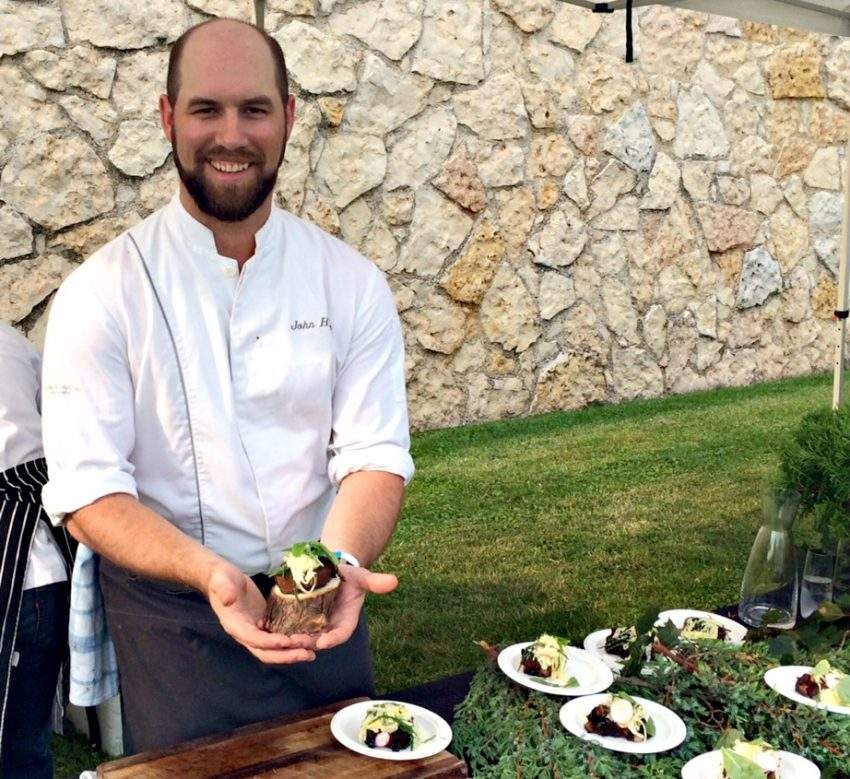 Food Day Canada's 11th anniversary took off with more Canadian ingredient-fueled dinner gatherings than ever. On the West Coast, Top Chef Canada alumnus Nicole Gomes and Calgary's Duncan Ly paired up with The Wickaninnish Inn. In Ontario, the home base for FDC, chefs like John Horne, Mark Picone and Anna Olson came out to Jackson-Triggs to serve up what they thought best highlighted Canadian ingredients.
"Chefs Mark Picone (pictured) and Peter Blakeman with their team from the Canadian Food and Wine Institute fired up a burning man barbecue with barrel staves, and when the coals were just right, they baked flat breads made with local flour that was leavened with yeast they'd created themselves with that flour. There wasn't a ho-hum dish anywhere!" says Stewart.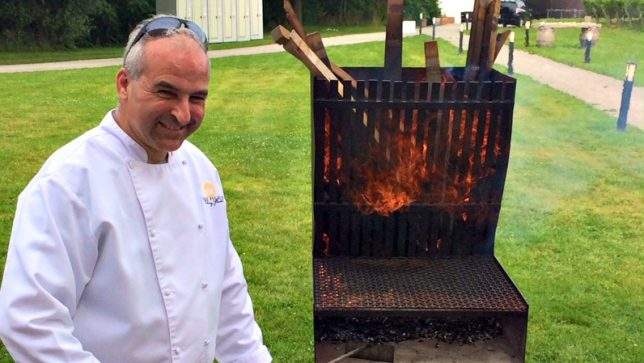 Food Day Canada 2015, 2016 and beyond!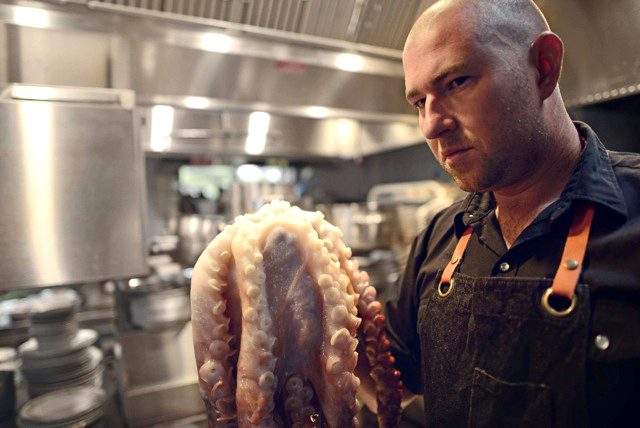 When asked what the future holds for FDC, Stewart says that she'd love to create new adventures with chefs whose reputations are already solid, like Nick Nutting from Wolf in the Fog.
"I'd like to add more, but I don't have the resources to do it, so I'm going to manage what I've got, but if there's a very profound reason to add another restaurant, we will," Stewart explains. "If I find that their food isn't as good as I think it should be, or if the chef or ownership changes, they sort of need to re-apply. If I could add another 25, that would be fabulous, but right now, I'm working as hard as I can with the 250 that I've got."
As much as our country's food scene has grown, there's always room to be better. Day-by-day, the general consumer seems to take more interest in what they're putting on their dinner plate, and chefs have really been making a strong presence. So, what else are we missing in this culinary evolution?
"I think a lot of chefs will start looking to other Canadian chefs and really honouring one another," says Stewart. "There's a good group of people who are doing really cool things, but [for everyone] to really stand up and say that our cuisine can stand up to any other on the planet? Do you know what? I think it's time!"