As news slowly broke on Thursday that Anita Stewart–pioneering local food advocate, author and food laureate of the University of Guelph (among many other things)–had lost her quiet battle with pancreatic cancer at the age of 73, the response from our country's food community was immediate and with great mourning.
It's impossible to summarize Stewart's life work as an impassioned lover of all things Canadian food. Author of 14 cookbooks, planner of countless events dating back to the early 1990s and founder of the annual Food Day Canada campaign are just a few bullet points on her robust resume. Whether she was putting pen to paper–and later finger to keyboard–or bringing chefs, writers and producers together for summits to help strength the culinary community, she helped guide many on the path to define Canadian food.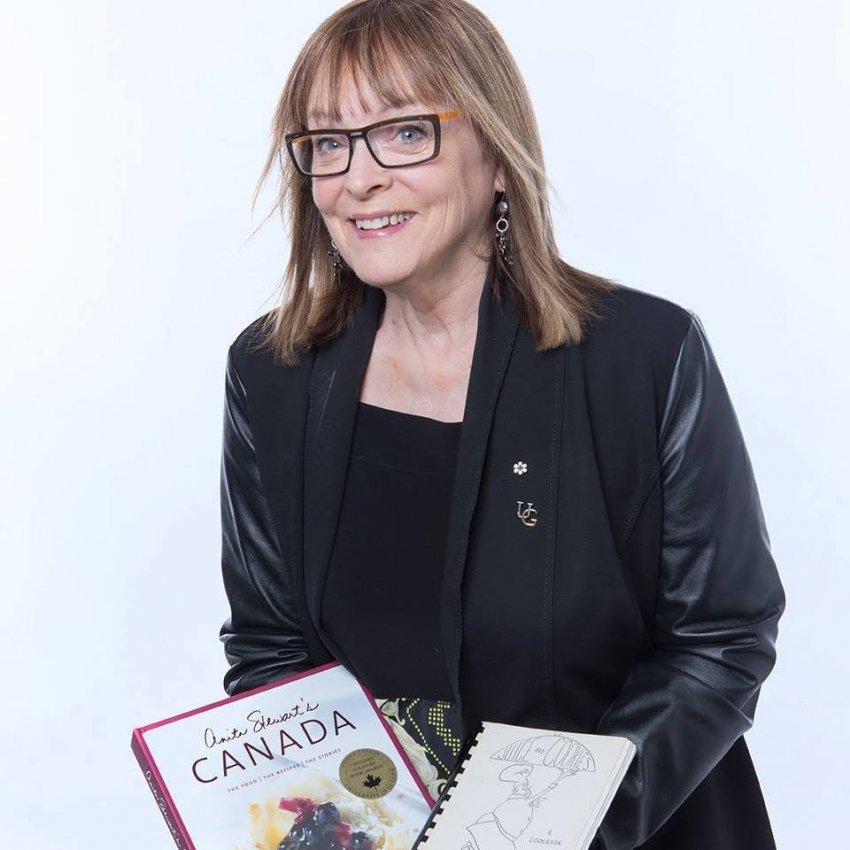 "What is Canadian cuisine?" was the fundamental question that propelled Anita Stewart throughout her professional life.
I'm sure many will share the sentiment that meeting Anita Stewart for the first time has a lasting impression. So rarely do we have the opportunity to meet someone who fiercely loves Canadian cuisine–and the local ingredients that help create it–as much as she did.
In 2013, Eat North's co-founder Diana Ng and myself were lucky enough to attend a Food Day Canada's 10th anniversary dinner event at Mission Hill Winery. With a special menu prepared by the winery's previous chef Michael Allemeier and (at the time) current chef Matthew Batey, we knew we were in for a memorable evening of all things Okanagan food and wine. What we didn't know was that we'd be nestled into a long communal table alongside Anita Stewart.
With warm eyes and wide smile, I remember her greeting us as if we had known each other for a lifetime. Ever curiosity-piqued, Anita wanted to know everything about us. How we got started in the media industry, where we grew up and how we wound up here. Back then Eat North had yet to be launched, but over more than a few glasses of wine we informed her on the website we had been constructing and she couldn't have been more excited.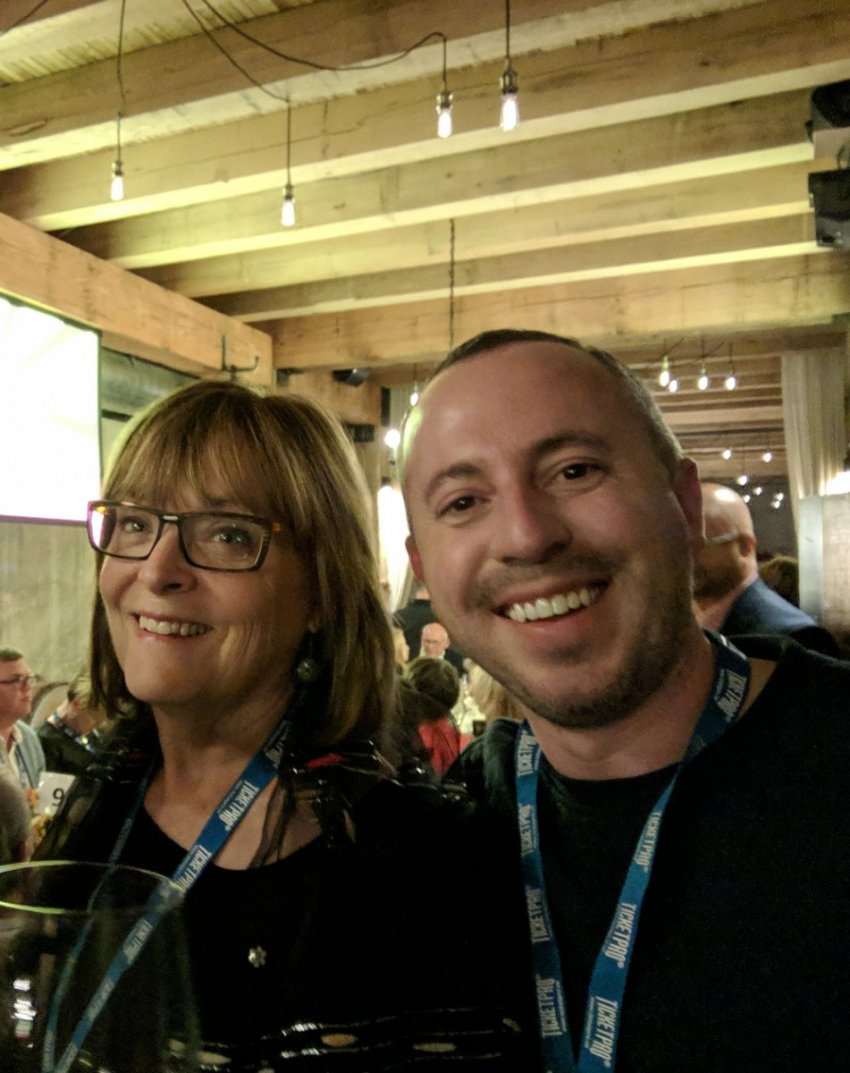 Our paths would cross many, many times since that first meeting. Sometimes in Calgary, other times in Toronto and even Nova Scotia (pictured above in 2018 at Devour! The Food Film Fest in Wolfville, N.S.). She used to playfully remark that I probably never unpacked my suitcase when I got home for how rarely I appeared to be there. I'd argue the same could be said of her, always hopping around to celebrate regional Canadian cuisine at every opportunity.
One chilly winter day while visiting Toronto, Anita told me it was high time I explored the St. Lawrence Market the right way. After scolding me for never having one of the famed peameal bacon sandwiches from Carousel Bakery, we each devoured one before she toured me around to the various market vendors, seemingly picking out specific Ontario-made cheeses and cured meats from a mile away like a hawk with its prey.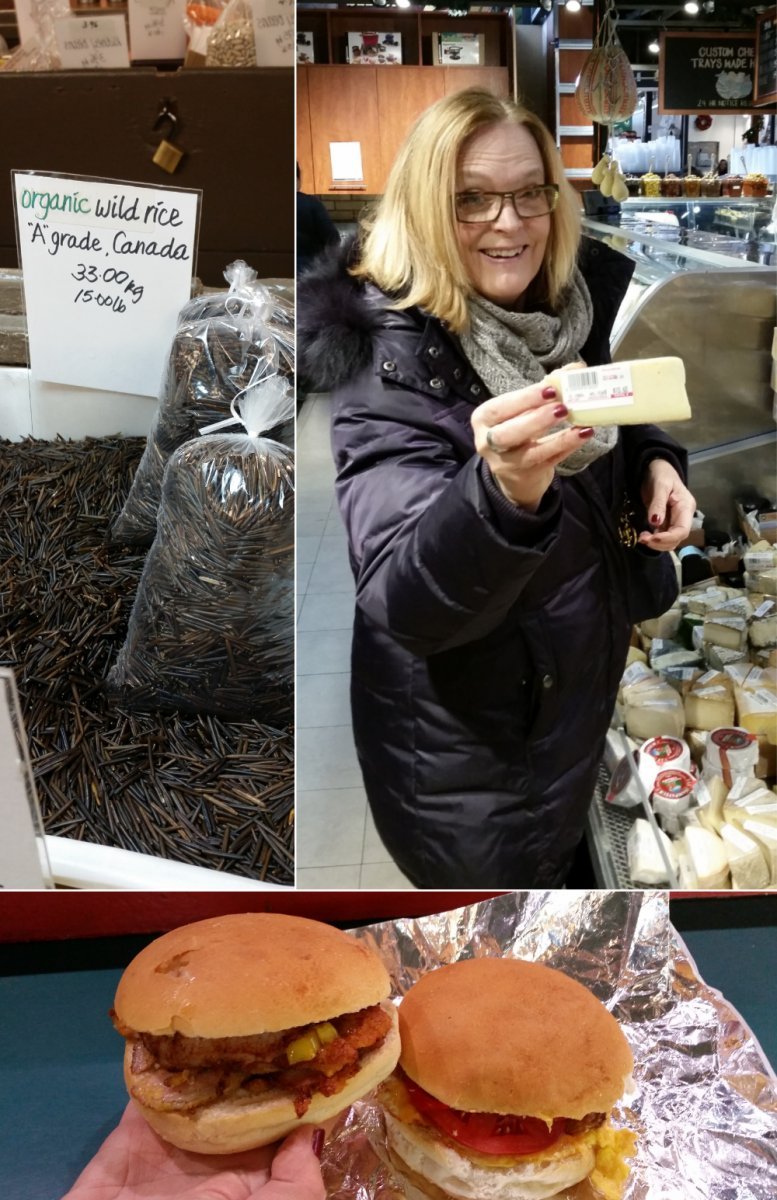 My own private food tour with Anita Stewart is a memory I'll always hold dear.
Anita was also one of the first people I told about conceiving our annual Prairie Grid Dinner Series. Initially, the concept was hard for many to picture, but not her. "Absolutely brilliant. And who better to do it than you," she wrote to me via email.
Now, looking back at the many emails sent back-and-forth between Anita and I–this is a rare moment when I'm happy I've never kept my Gmail inbox "clean"–is a bittersweet feeling knowing that her messages, typed with her signature gusto, will not be arriving any longer.
"We got along like a house on fire!" she wrote in an introduction to a professor at the University of Saskatchewan, adamant that I further explore their stone fruit tree breeding program. (Which I certainly did.)
"Better go, I have a contractor coming to talk about a new kitchen. Mine is older 'n you. Built in 1977!" humorously wrapped up an email full of restaurant tidbits and Food Day Canada updates. (Indeed, she was right. Born in 1984.)
It's a strange thing, to not fully realize how much a person has impacted your life until they're gone, but I am truly honoured that Anita impacted mine.
Helping cultivate generations of Canadian hospitality professionals
In addition to her advocacy work in regards to Canadian producers, her connections in the restaurant industry stretched far and wide. Never shying away at a chance to travel and explore, Stewart had traveled to nearly every city, town and hamlet across the country in the name of Canadian cuisine. Over the years, her extensive travels helped her form many lasting bonds with hundreds of restaurateurs and chefs.
"I can fondly remember the day I met Anita. It was at George Brown College, over 20 years ago. John Higgins had been talking her up for weeks as a Canadian culinary hero. I was a first year culinary student," says Butchie's chef and owner Andrea Nicholson. "After her lecture, which was more like a love story on Canadian cuisine, John personally introduced me to Anita. She squeezed my arm and said she was excited to see what I would do. She ignited a young cook that day."
"I can remember her leaning in telling me how much our industry needed more strong female leaders, to endure the 'crap', never cower and keep exploring." - Chef Andrea Nicholson.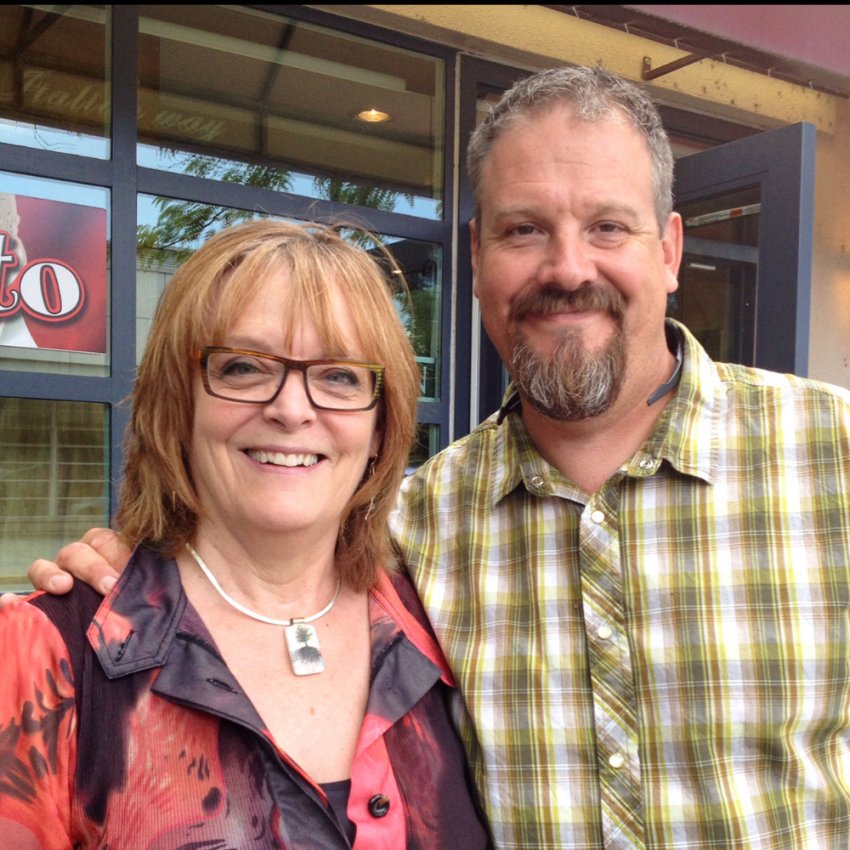 Chef Michael Allemeier is one of many chefs across the country whose career was profoundly impacted by Anita Stewart, but also one who knew her the longest. The chef's relationship with Stewart spanned nearly three decades and, long before Food Day Canada came to fruition, he says that she was actively campaigning for a better culinary community nationwide.
"I've matured and grown up with her. As far as my career is concerned, she has always been my north star," says Allemeier on meeting Stewart in the early 1990s at Sooke Harbour House. "You could never have spent any time with Anita without becoming infected with her belief system."
Her fascination with homegrown ingredients and seemingly insatiable inquisitive nature meant that she knew more about any given ingredient than most chefs ever will.
He goes on to reminisce of her Northern Bounty events that took place in the 1990s, long before sourcing local was the "it" thing to do. These summits, of sorts, were meant to unify chefs, producers, winemakers, writers...(you name it) in a common goal to help define Canadian cuisine. It's a question that has always been difficult for anyone to answer succinctly, but one that lit a fire under Stewart until her final days.
"She always tackled [this question] from the angle of an anthropologist. I think if you had talked to her last week she'd say we're still trying to figure out what Canadian cuisine is," says the chef. "To me, it's a coming together and celebration of peoples' culture, where they're from and also the celebration of each geographical region."
With her passing, it remains uncertain what will happen to her annual Food Day Canada campaign, but with so many individuals in the Canadian food community rallying to make sure Anita Stewart has a lasting legacy, there will no doubt be some who will come to the plate to keep the momentum behind it.
"Food Day Canada needs to stay alive," says Allemeier. "The torch needs to be picked up and it needs to be carried. As an industry, we need something like that because it gives us purpose and value."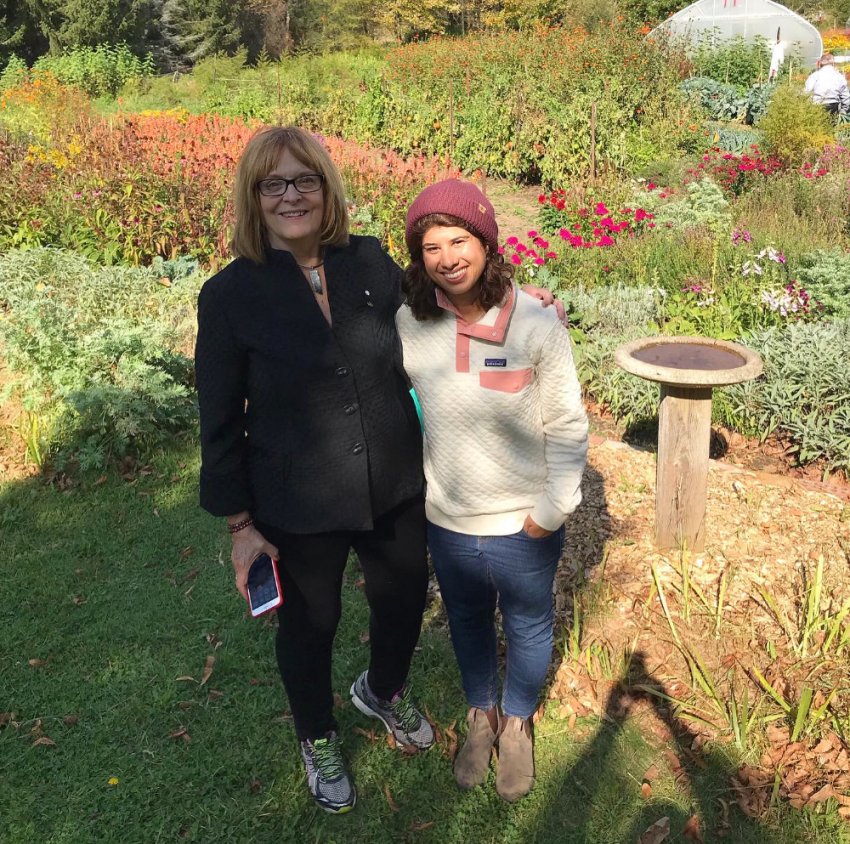 The Okanagan's Aman Dosanj may not have known Stewart for as long as Allemeier, but the two women shared an undeniable bond. It was one that Dosanj says was born through a love of storytelling through food.
"Anita was my real-life Bourdain and from the moment I forced myself into her life, she had a soft spot for me," she says. "She was there for every step of my complicated culinary life. Anita didn't just look at me, she saw me. She made me feel safe, she fought for me, and never looked away from my pain. Instead, she shared similar stories to make me feel less alone."
Dosanj met Stewart years ago after reaching out wanting to participate in Food Day Canada while operating her first restaurant, Poppadoms, a contemporary Indian concept in Kelowna. These days, the chef is better known for her SOURCED pop-up dinner series that takes place throughout the Okanagan and Dosanj says much of what she does today has been a result of Stewart's unconditional support over the years.
"Anita [once told me] that she sees herself in what I do and reminded me that those stories [that I tell through my food] are important...This wasn't supposed to be how we ended our story – we had plans for when she beat this."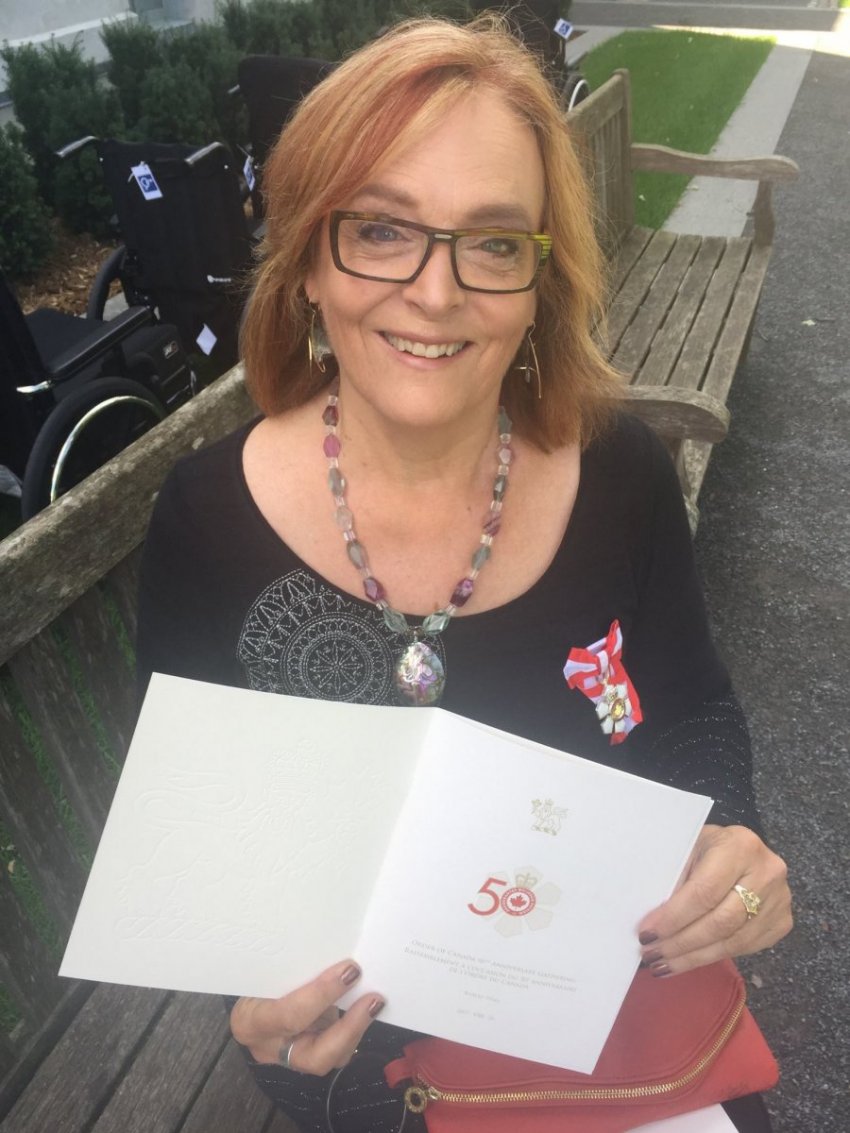 Last night Niagara Falls was lit up in red and white in Stewart's honour. As well, an Anita Stewart Alumni Food Laboratory is currently under construction at the University of Guelph where the culinary luminary was named Food Laureate back in 2012. No doubt there are many more tributes to come in celebration of a woman who didn't just leave a profound impact on our country's food identity, but also helped mould it into what it is today.
Our Bourdain, our food warrior, our friend. Anita Stewart, may you rest in peace.