Fifteen years ago, the Saturday before Civic holiday in Canada wasn't particularly special, other than it being a long weekend. The 2003 beef crisis had recently hit and with international borders closed to Canadian beef, entire communities whose livelihoods depended on this commodity were devastated.
At the time, Anita Stewart was in the midst of writing her dissertation on the evolution of Quebec as a culinary region. Central to her thesis was the idea that what sets the province apart is their desire to be a country. Her research led her to ask the fundamental question, "What is the duty of a citizen?" Through her readings, she ultimately landed on: to not mind your own business.
In the midst of the beef crisis, Stewart decided to do exactly that; to not mind her own business but rather, to do something about it. She connected herself with an organization called Cuisine Canada and presented all Canadians with a call to action: fire up your barbecues on the first Saturday in August and grill Canadian beef.
The response was greater than Stewart ever could have expected. She just so happened to be out of town for the weekend, and when she got back to check her email, her inbox had filled up with responses from Canadians sharing their stories. The server even came close to crashing due to the influx of communication from coast to coast.
Food Day Canada, although it had yet to be formally named as such, carried on like this until 2010, broadening from beef to all Canadian products. The message was simple: cook Canadian food—local food—and share your experience.
"On that particular weekend, people were eating locally everywhere in the nation. There's no snow, ice, or frost to contend with. People are just having deliciousness straight from their own backyards," Stewart describes. "Let's name it Food Day, Food Day Canada."
In 2011, she officially trademarked the name, thus branding it, "a national day that celebrates food life in our country, in real time."
The food sovereignty aspect of FDC is as important as ever, especially as ongoing trade concerns persist with our neighbours to the south.
"To be food secure, you have to be food sovereign," Stewart says. "We are a trading nation—lentils go to India, mustard to France—but we can also give our farmers an economic cushion by shopping local. Plus, it allows them to be more creative in their diversification."
As Stewart looked to spread the reach of FDC, she noted that chefs and restaurants have always been some of the biggest brand advocates for Canadian cuisine, so she got them involved. Chefs like Robert Clark, one of the founders of Ocean Wise, Derek Dammann of Montreal's Maison Publique, and Dave Wilmer at the Inn at Bay Fortune were some of the first to come on board. Their instruction was the same as the one received by backyard grillers at home: make a menu that pays homage to local, Canadian products.
Chef and owner of Monkland Taverne in Montreal, Josh Crowe, notes that involvement in FDC is important to promote Canada's culinary identity on an international stage. "We are such a big country, with so many different influences and access to so many great ingredients. We need to start putting our name to what we are. This is what Canadian cuisine is. These are our traditions that we bring to the international table," he says.
Having been involved in FDC for the past six years, Crowe has seen the initiative grow, but sees room for greater involvement. "Montreal is a food city. FDC is just one more thing we should be flaunting to the world. This is Montreal, and it's part of Canada's food scene," he says.
When Stewart reflects on the growth of FDC over the past 15 years, she notes a few key changes. "It has gained notoriety," she says, going on to describe some of the catalysts to this, "There's more local food available now than there was 15 years ago. Chefs are more curious and the public is as well. Farmers' markets are richer than they've ever been."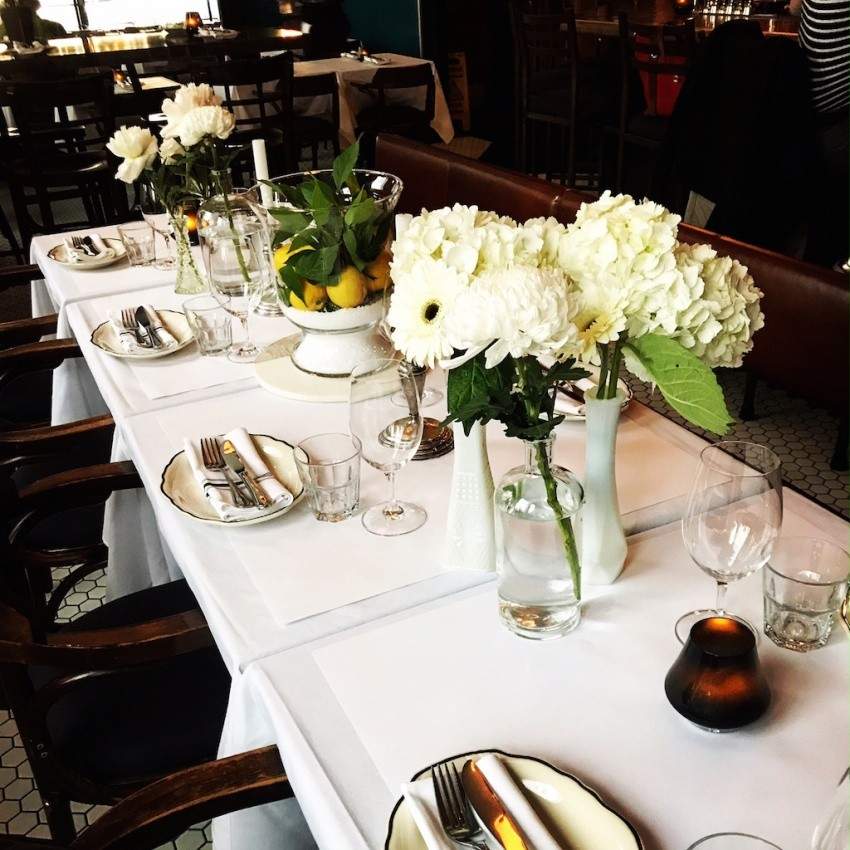 Over time, restaurant participation in FDC has become increasingly recognized through initiatives like the University of Guelph's Gold Award. Participating menus are judged and a select few are chosen to receive the accolade. Recipients are then invited to cook together at two big events, the first at the University of Guelph and the second at the esteemed James Beard House in New York.
This year, to mark the 15th anniversary, special celebrations are slated across the country. The CN Tower will be lit up in honour of FDC, brands like KitchenAid have signed on for giveaways, and the University of Guelph is launching a film at Canoe restaurant in Toronto. These are but a few examples of the celebrations. As Stewart puts it, "It ends up being anarchistic movements, where people do things and I learn about it afterwards." This grassroots approach was not met with any qualms from her. "I don't know but I say go for it. It's not about me, it's about Canada's food scene," she says.
Looking forward, Stewart admits that there's still a tremendous amount of work to do. She points to grocery stores and the need for them to step up and carry more Canadian products. "When cherries and peaches are ripe, many grocers don't carry them. They're getting better, but not better enough."
Stewart recognizes that the supply often isn't inline with the demand, but doesn't view this as an excuse. "You shop locally, regionally, nationally, and then internationally if necessary," she outlines. This framework doesn't exclude importing spices and other ingredients that are essential to various culinary traditions, but rather allows for local to take precedence. "If it's something we can replace with something local, then replace it," Stewart says. "Have Ontario peaches instead of mangoes."
With this simple approach, Stewart continues to help build a food system that is sustainable nationwide. We can all contribute to this, not only on August 4th, but every time we opt for a trip to the farmers' market instead of the grocery store.