It goes without saying that there are plenty of truly passionate people in the Canadian culinary community, but Kelowna 's Aman Dosanj might just be the most earnest. Have a short conversation about food with this pop-up dinner virtuoso and co-owner of the late Poppadoms (a critically acclaimed contemporary Indian restaurant in Kelowna) and I guarantee you've never seen eyes light up as bright.
Originally born in Southampton, England, the chef moved to Canada in 2008 and immediately fell in love with interior B.C. With no former restaurant experience, Dosanj and her family opened up their restaurant in 2009, serving up thoughtful Indian fare with a strong emphasis on Okanagan ingredients. After a successful, but stressful seven-year run, the restaurant ended up shutting its doors in early 2016.
Once everything was settled, Dosanj wasn't exactly sure what her next steps would be. Always looking for inspiration and a deeper understanding of why people love to cook and eat, the chef decided to embark on a seven and a half month backpacking trip around the globe where she would visit places like Australia, Thailand, and Italy.
"I decided to learn about the world by feeding people as I went, which you can see through my food memory project, Say It Like You Eat It," Dosanj explains happily.
Making natural, human connections as she travelled by way of real, genuine conversation (a rarity these days), the chef ended up cooking for a spectrum of people, all with their own special food cultures and stories. This included everything from a two-week stint in the Australian outback cooking for a small Aboriginal community to helping out at a small eatery, Bird Nest Cafe, in Chiang Mai, where Pok Pok's Andy Ricker just happened to be popping in for dinner. When her travels ended, the chef returned to the Okanagan with a mind brimming with ideas, recipes and a new outlook on cooking.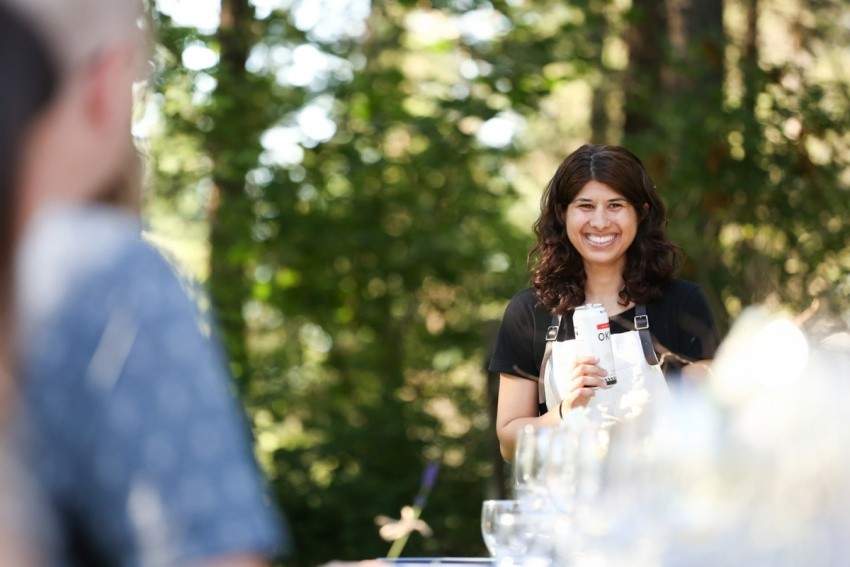 "I started doing my pop-up dinner series through The Paisley Notebook in November of 2016, once I arrived back in Kelowna, because I was a poor backpacker and needed to make some money. Now it's gotten to this point when I've got this wait list, and we are selling out really quickly," says the chef, laughing, who also spends Monday to Friday working at the well-respected Quails' Gate Winery as their marketing coordinator.
"When it came to designing these long dinner table menus, that's where I have been able to play around and bring some of my English roots and my travels back to Canada, she explains. "For example, I'm doing a Scotch egg that is wrapped in kebab mince using local meat and neat things like that... I've travelled to Thailand where I loved Thai food, I went to Italy and I love Italian food...If it fits the story I'm trying to tell during a dinner, then I work that love in."
One of the chef's favourite days of the year is, without a doubt, Food Day Canada. This Saturday will mark the chef's fourth year participating, along with plenty of other interior B.C. restaurants like Waterfront Wines and RauDZ. Her passion for the initiative and genuine fire to grow in her craft has not gone unnoticed by her peers and other Canadian culinary luminaries.
"She is intensely curious and, other than her obvious cooking talent, that is one of the hallmarks of a great chef," says Food Day Canada founder, Anita Stewart of watching Dosanj develop as a chef over the years.
This weekend for Food Day Canada, Dosanj is doing a secret pop-up dinner in the middle of a field which will feature all kinds of unique Canadian ingredients from coast to coast. It sounds like a spectacular dinner to be a part of, but there are no tickets to be had. In fact, there were never any in the first place. Covering all of the costs of the dinner herself, Dosanj is embracing the true spirit of celebration and bringing it all back to her region, hosting the farmers and producers as dinner guests. The people who share her same fiery passion for locality that have supported her since day one.
"I went around the world and went to learn about ingredients and how to cook them. Since I have come back, I was like, that's all well and good, but I knew I needed to learn about more Canadian ingredients, about what's available and, mostly, I wanted to surprise people with this dinner in terms of what I could bring to the table."
And scour the nation, she did. The chef has sourced an astounding array of items. Small-batch camelina oil from Quebec, wild game meat from Alberta, organic flour from Ontario, sustainable B.C.-grown rice, smoked maple syrup from Sugar Moon Farms in Nova Scotia, birch syrup and cranberries from Yukon, Saskatchewan-grown lentils, chickpeas and mustard seeds, and butter from Prince Edward Island are just some of the ingredients that will grace the her four-course Food Day Canada dinner menu in a few days.
"I think we all should be proud of what's happening in the country." says Dosanj confidently. "I went away for a long time. I didn't have the restaurant anymore and my travels were all about 'What do I want do next' and, more importantly, "Where should I be? I have always said if I didn't have the restaurant, I'd move back to England, and then I went to England and I didn't feel that way. This is my home. I need to learn more about First Nations. I need to learn more about the ingredients, hunting and the wild. Everything."
Chef Aman Dosanj's special menu for Food Day Canada 2017