I've said it before, and I'm sure I'll say it one million more times before I retire, but there is a celebratory day for everything these days. Between salted caramel ice cream day and "National Rice Ball Day"--which was yesterday, if you happened to forget about it--it's easy to completely glaze over when you a daily, weekly or monthly happening that's celebrating one singular food item.
Back in 2010, such frenzied marketing-backed days were a bit more earnest in their delivery. That's exactly what happened when Mount Royal University's instructor Karen Richards came up with the idea of having a "Poutine Crawl" eight years ago.
Richards dined out regularly in Calgary and above all other comfort dishes, she loved poutine. While teaching a social media class at Mount Royal University, she decided to take her love of the iconic dish and use it in a social media lesson plan.
"I love the fact that this all started out as a social media experiment for my Word-of-mouth Marketing class," says Richards. "Could I come up with an event idea, market it through Twitter and have sell it out? The answer turned out to be yes, I could."
Brasserie Kensington's 2018 Calgary Poutine Week is an indulgent "breakfast" poutine.
The first event was an immediate hit, selling out in no-time. What followed was a bus of 35 guests who were trekked around Calgary to try all variations of poutine, from the fast-food casual variety at Alberta King of Subs in the city's northeast to restaurants like Brasserie Kensington and the now defunct Bistro 2210 in Mission (what is now Suzette Bistro).
From 2010 until 2013, the crawl continued annually, slowly growing in size, but selling out faster and faster with each passing year.
Richards expanded to a week-long affair in 2013, still initially keeping the "crawl" aspect until 2014. Calgary Poutine Week allowed many more local restaurants to come on board and be explored as a part of the city's food scene in a broader, less limited way than what her crawl offered.
"[That] was the year when I also found out about Mealshare and that's when things changed a bit," she explains. "Any restaurant could participate in Calgary Poutine Week, but every restaurant getting involved had to do so in support of Mealshare. It's been really exciting working with chefs and restaurants over the years. It's such a community builder and it introduced a lot of new restaurants to the initiative."
With the success of her poutine-centric annual event, plenty of one-off single dish events followed in Richards' footsteps. These days, restaurants' unique interpretations of burgers, pizzas, and tacos take place annually at different points of the year. Unlike some of the other food weeks that take place across Canada, Richards is more concerned with raising funds for Mealshare and less about profit.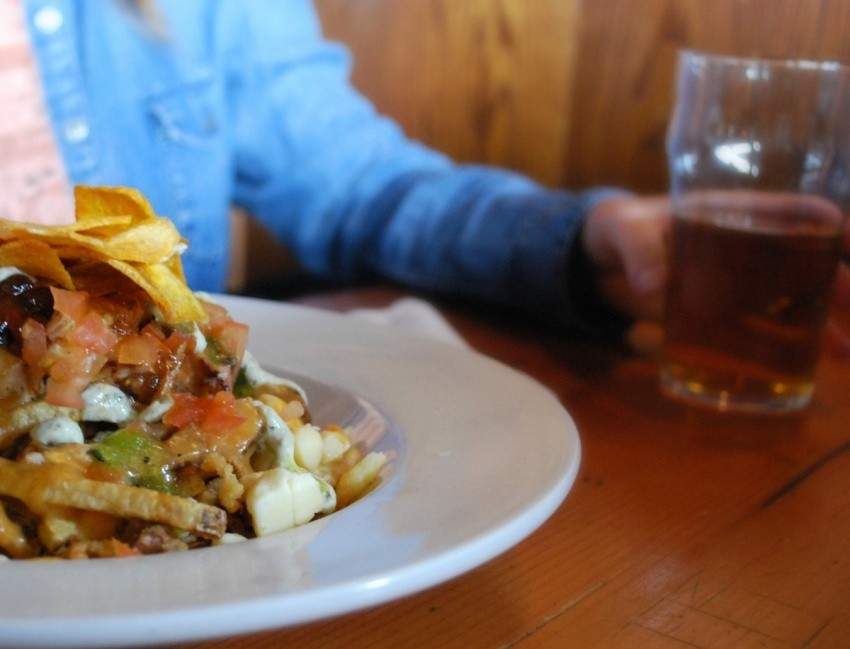 The Ship and Anchor's going Caribbean with this tasty jerk chicken poutine they're dishing out between April 20-28, 2018.
Now in 2018, her citywide poutine celebration (which begins on April 20th and runs until the 28th) sees over 90 restaurants taking part, many offering more than one variation on the theme with all sorts in interesting interpretations of poutine; some questionably far outside of the box, others deliciously in it. (The Guild takes the cake with six kinds of poutine available until April 28.) 8,000 poutines were sold in 2017 and the poutine queen is expecting to see another record-breaking number this year.
"A lot have good things have come from Calgary Poutine Week. I've become a board member with Mealshare and I'm very involved with what they do now. I've seen the impact and how appreciated they are," says Richards. I really do love giving back and I think [the week] does make a difference. I'm personally taking all my time to make sure every restaurant is happy, all of the customers are happy and I think that helps make Calgary Poutine Week something really special."