Updated January 10, 2020
Canadians certainly get around, don't they? Since so many of us seem to have an inherent craving to explore the globe or live abroad, it's likely that no matter where you're travelling to, you'll wind up stumbling upon some connection to Canada: a friendly fellow Canadian in a Toronto Blue Jays ball cap, a Canadian-themed bar or otherwise.
Our country's most iconic dish internationally is, by far, the poutine. A trifecta of French fries, fresh and squeaky cheese curds and rich gravy is a household combination to all of us on Canadian soil, but looking globally, it's an indulgent and sometimes bewildering dish to the rest of the world. Because of people's curiosity and love for the famous creation hailing from --Montreal restaurant critic, Lesley Chesterman suggests La Banquise for the best old-school poutinery in Montreal: "There's a reason people line up -- even at 1 a.m.," she says-- poutine pops up on menus all around the world.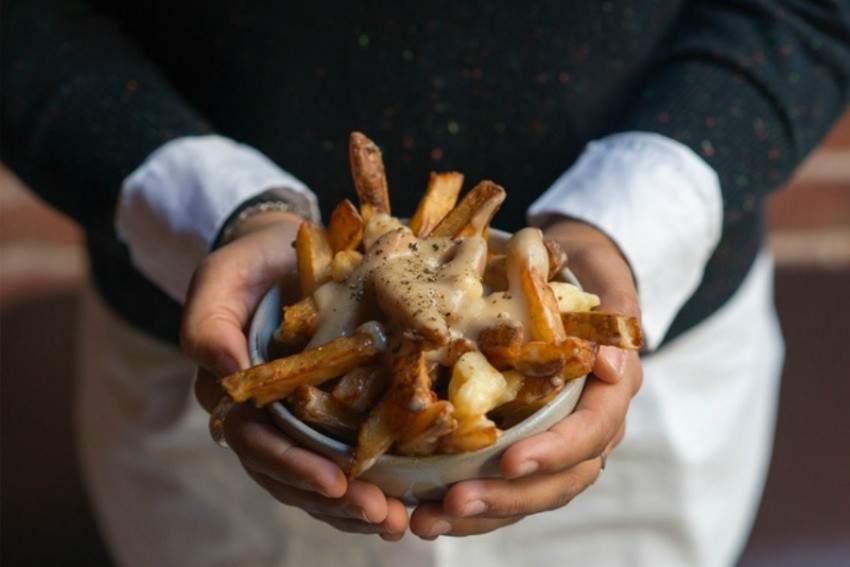 (above: Vancouver's Wildebeest makes their poutine with Kennebec fries, 'nduja sausage, chicken gravy and plenty of cheese curds)
As someone who travels extensively, it has become somewhat of an accidental mission to seek out poutine in the most unlikely of places: Prague, Auckland, Seoul... Is it ever as good as having it back on Canadian soil? Sometimes yes, other times no.
Canada's largest poutine-centric chain, Smoke's Poutinerie has expanded outside of Canada--to Berkley, CA and Tampa, FL respectively--but nowhere overseas as of yet. One might assume that accessibility to quality cheese curds is what inhibits poutineries from popping up readily, but there are plenty of expats and poutine fans alike who have gone to great lengths to find them or make them (at least into something quite comparable).
If you fancy yourself a globetrotter, here are eight places around the world, from Anaheim all the way over to Tokyo, where you can find classic and re-imagined versions of a dish Canada holds near and dear to its heart.