Canadians certainly get around, don't they? Since so many of us seem to have an inherent craving to explore the globe or live abroad, it's likely that no matter where you're travelling to, you'll wind up stumbling upon some connection to Canada: a friendly fellow Canadian in a Toronto Blue Jays ball cap, a Canadian-themed bar or otherwise.
Our country's most iconic dish internationally is, by far, the poutine. A trifecta of French fries, fresh and squeaky cheese curds and rich gravy is a household combination to all of us on Canadian soil, but looking globally, it's an indulgent and sometimes bewildering dish to the rest of the world. Because of people's curiosity and love for the famous creation hailing from --Montreal restaurant critic, Lesley Chesterman suggests La Banquise for the best old-school poutinery in Montreal: "There's a reason people line up -- even at 1 a.m.," she says-- poutine pops up on menus all around the world.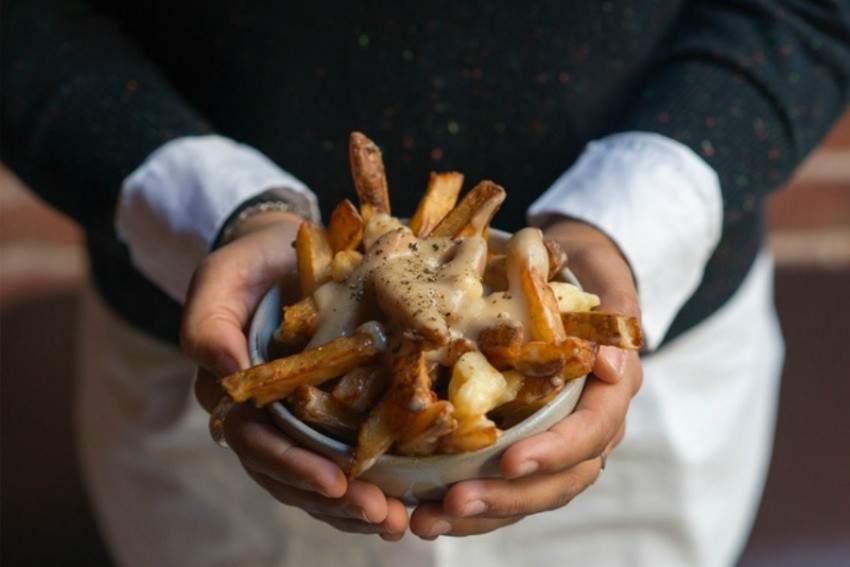 (above: Vancouver's Wildebeest makes their poutine with Kennebec fries, 'nduja sausage, chicken gravy and plenty of cheese curds)
As someone who travels extensively, it has become somewhat of an accidental mission to seek out poutine in the most unlikely of places: Prague, Auckland, Seoul... Is it ever as good as having it back on Canadian soil? Sometimes yes, other times no.
Canada's largest poutine-centric chain, Smoke's Poutinerie has expanded outside of Canada--to Berkley, CA and Tampa, FL respectively--but nowhere overseas as of yet. One might assume that accessibility to quality cheese curds is what inhibits poutineries from popping up readily, but there are plenty of expats and poutine fans alike who have gone to great lengths to find them or make them (at least into something quite comparable).
If you fancy yourself a globetrotter, here are eight places around the world, from Anaheim all the way over to Tokyo, where you can find classic and re-imagined versions of a dish Canada holds near and dear to its heart.
The Kroft (Anaheim, California)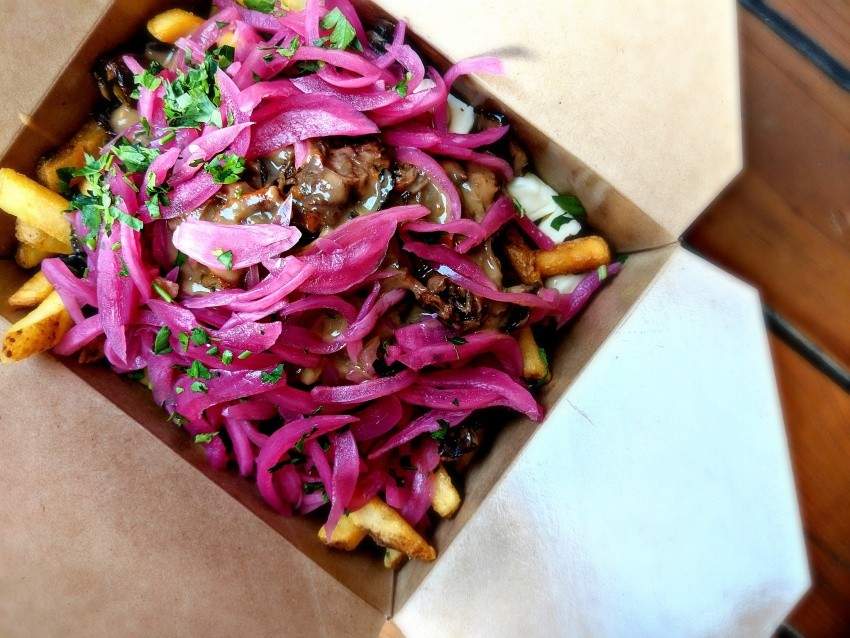 After a trip to Anaheim in late fall 2018, I have a newfound interest in the Los Angeles adjacent city that is primarily known as the home of the Angels MLB team, an epic conference centre and, of course, Disneyland.
The Kroft is a gourmet poutine vendor located inside the Anaheim Packing District, a funky merchant and food vendor market in a 100-plus year old former Sunkist citrus packing warehouse. The converted warehouse itself, which is only a ten minute drive from Disneyland, is bright and airy with plenty of natural light and an array of vendors offering interesting craft brews, diverse food and more.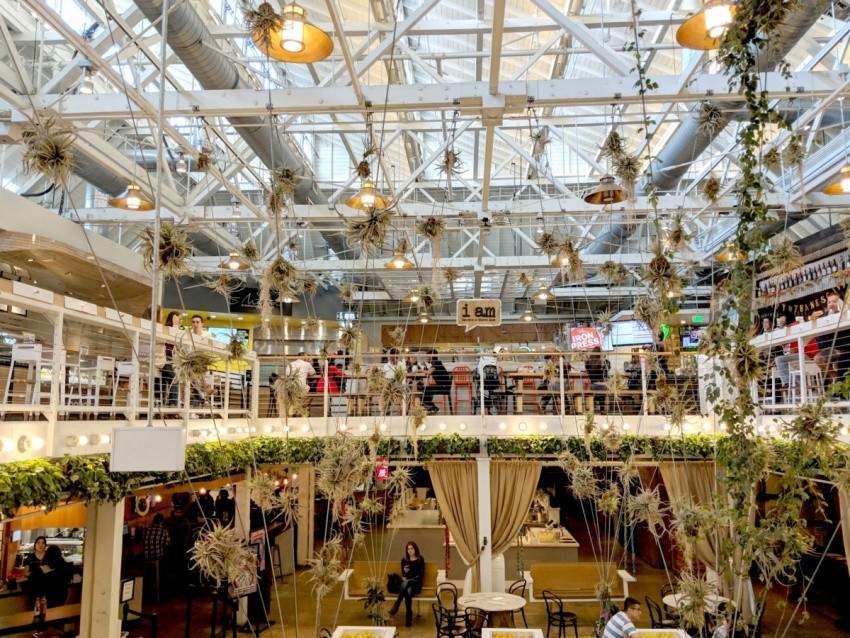 With six types of poutine and a mix of side dishes (including panko-breaded and fried cheese curds), The Kroft attracts plenty of local residents and visiting Canadians alike. There's a classic option, naturally, but more variations like--the braised short rib with mushrooms, beef gravy and pickled onions--appropriately up the ante.
The Kroft has a second location in Tustin, CA and is currently in the process of opening up a third in Los Angeles' Chinatown neighbourhood.
Garage Karlin (Prague, Czech Republic)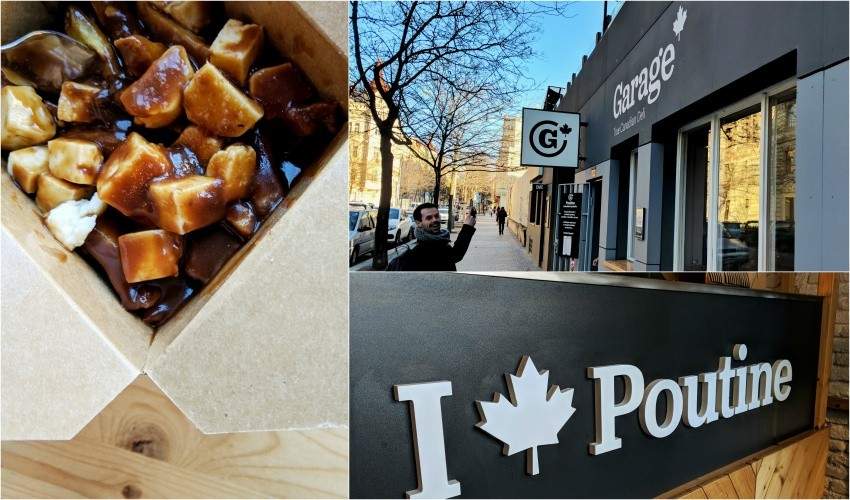 Originally from Kitchener, ON, owner Michal Kubenk opened up Garage Karlin on the perfectly fitting date of July 1 back in 2015. With several tasty varities of poutine available, Kubenk gets young cheddar that are cut into cubes from a local dairy farm, but still offer a similar squeak to that of Quebec cheese curds. Since opening three and a half years ago, the poutinerie has become a popular destination for locals, expats and tourists alike.
The Poutinerie (London, United Kingdom)
Hopping across the pond to London, you can find a few different poutine-focused vendors and even a Canadian-themed pub named Maple Leaf serving poutine (not recommended), but The Poutinerie is arguably the street vendor to track down for an authentic Montreal-style poutine. The expat-operated business hops around to different markets such as Brick Lane and Chancery Lane throughout the month, so reference their Instagram for upcoming locations.
375 Degrees Thrice Cooked Fries (New York, New York)
There are a few places to find poutine in New York, but 375 Thrice Cooked Fries is the crowd favourite for its Swedish-inspired version of the Montreal dish. Served with cheese curds and plenty of gravy, this poutine also comes with Swedish meatballs and a little lingonberry jam to cut through the richness. Yes, as the eatery's name suggested, the fries are triple fried.
Federal Delicatessen (Auckland, New Zealand)
Our lovely commonwealth neighbours in the Southern hemipshere are a pleasure to visit, as New Zealand can, at times, feel quite a bit like Canada. The country's major city to the North, Auckland, boasts an impassioned food scene, which includes the Federal Delicatessen. The traditional poutine is all that's up for grabs here, but you can make it extra Quebecois by adding some Montreal smoked meat on top. Similar to Garage Karlin, the cheddar curds here are served cubed before being doused in gravy, of course.
Canucks Restaurant and Bar (Seoul, South Korea)
While spending time in South Korea during the Winter Olympics last year, I wound up frequenting this lively Canadian-themed bar in the heart of Seoul much more often than I expected. Decked out with all kinds of Canadian sports memorabilia like Montreal Canadiens jerseys, autographed pictures of sports greats such as Hayley Wickenhauser, Canucks was always packed with Canadian expats eager to cheer on Team Canada during the games.
The bar boasts some Canadian beers on tap, a mix of poutines, including one with hotdogs (very Montreal) and quite a delicious Nanaimo bar as well.
Bread Meats Bread (Edinburgh and Glasgow, Scotland)
With two locations in Glasgow and one in Edinburgh, it's easy enough to cure a hangover with fries, gravy and curds in Scotland's two major cities with Bread Meats Bread. The burger and sandwich chain has poutine options that range from classic with fresh cheese curds to vegan and exponentially more eclectic with one being topped with a combination of crispy bacon and crushed Cheetos. I think someone should mail them some Hawkins Cheezies for a more Canadian fluorescent orange garnish.
The Poutine Kitchen (Berlin, Germany)
From a traditional Quebec-style poutine to French fries and curds with toppings like pulled pork, kimchi and braised bacon, and meatballs, there's a long list of greasy spoon dishes available at The Poutine Kitchen in Berlin. The food vendor also recently started to import Bec, a line of organic sodas that are sweetened using Quebec maple syrup.
Delicious poutine abroad aside, I haven't even seen this interesting soda available in Western Canada, let alone overseas. Now that is patriotism!