The proverbial arms of Canada's favourite comfort food have wrapped their way all around the world. There are almost infinite variations and limitless interpretations of our beloved poutine, but it's the authentic, French-Canadian rendition that started it all and always keeps us coming back for more. The famous Québecois dish has stood the test of time and it's no wonder that a business serving variations on the tasty theme is making waves in the United Kingdom right now.
Graham and Vincent Bernier, who come from Bolton and Montreal, respectively, affectionately refer to themselves as "The Poutine Boys." They are the first Canadian contestants to compete in the My Million Pound Menu arena with their popular Manchester food stall Blue Caribou Canteen. Now in its second season, the hit UK show has become one of the most popular food-related shows on Netflix. Hosted by Fred Sirieix, contestants are able to pitch their culinary concepts to real investors–much like Dragons' Den or Shark Tank–who in turn offer both capital and mentorship in hopes of expediting the business' growth. But unlike the aforementioned, My Million Pound Menu pits three contestants up against one another in a winner-takes-all scenario.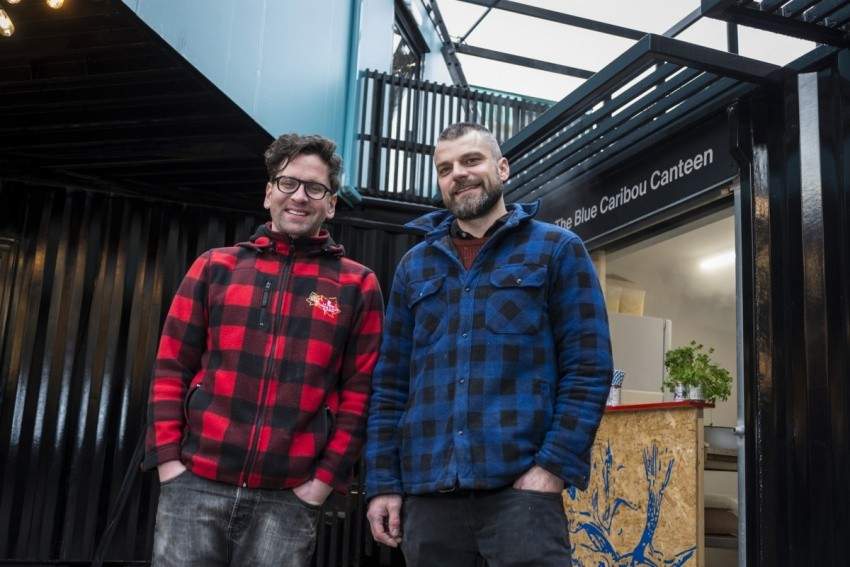 The couple, who are featured on episode three, had just three days to present their concept and prove to the investors that they could handle the various aspects that go along with opening a business and that their concept was worth their £200k asking price. Unlike most contestants, Graham Bernier says the show actually sought out Blue Caribou Canteen. Their style is true blue Québecois. They describe their classic poutine as having squeaky cheese curds and crispy fries smothered in a delicious, rich gravy. When the duo moved from Québec to the UK, they looked far and wide for a familiar flavour profile. Despite the artform being picked up and re-envisioned all over the country, they couldn't find a single poutine that offered them a taste of home. So they set out on a mission.
"It kind of took a little while to get it off the ground because you can't find cheese curds anywhere in the UK, which is why poutine has never really been a big thing. So we had to spend a couple of years finding the right cheese to do it with," explains Graham. "We had a logo and a name and everything else that we wanted to do, all sitting on a hard drive for two years. Eventually we were introduced to a local woman who makes artisan cheeses. She helped us make real Quebec-style cheese curds and the rest is kind of history."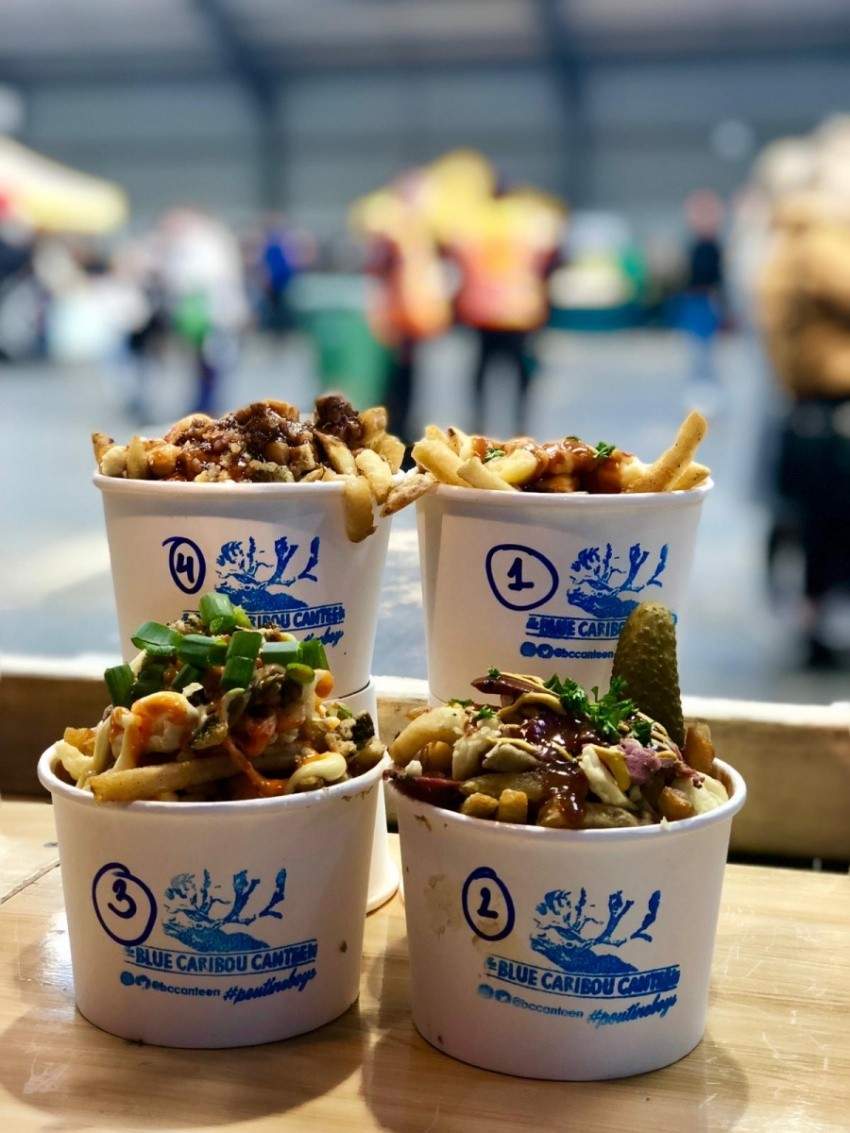 In the episode that airs tonight (January 22), the duo have a chance to make a different kind of history – one that could change their lives forever. A combination of genuine passion and a keen attention to detail is what sets the "poutine boys" apart from the other poutineries in the UK. The Manchester duo have been making a name for themselves up and down the UK in their Blue Caribou Canteen. From festivals to markets to event catering, the pair are starting to become a huge hit.
"Manchester has received our poutine really well. We're busy all the time," Graham said. "We've been nominated for awards where we were the only people that did street food, while everyone else was a real restaurant. This year we're booked solid. Every week we've got events."
The duo's popularity is no fluke. They have a true appreciation for what Canadian poutine is and how close it is to the hearts of those who grew up with it. Their inspiration derives from the French-Canadian food culture and they take immense pride in offering a product that pays homage to the authentic street cuisine. Of course --and like all artisan poutineries in the world-- they do offer re-imagined versions of the classic, but the foundation always remains the same: freshly cut and fried chips and high quality cheese curds.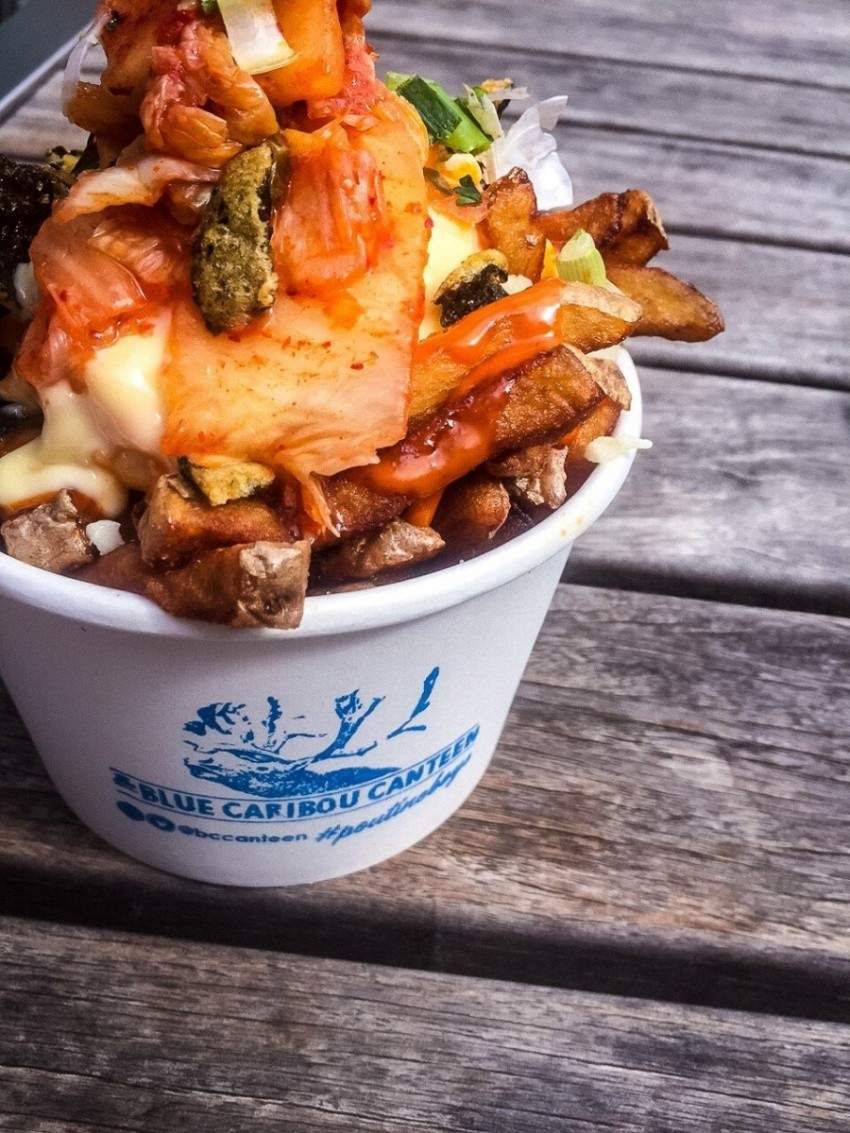 "Most people here do a frozen chip. I went to try one the other day where they called it 'Montreal poutine' and for some strange reason it had spicy chili beef on top if it with mozzarella cheese," Graham said almost contemptuously about the UK poutine scene. "If you are a self-respecting Quebecer and you came and ate that kind of poutine you'd be enraged by it, I think."
And while it seems that the duo is destined to continue to grow, a £200k investment would speed things up significantly. They currently operate on the road, which means they have to contend with England's famously turbulent weather.
"For the short-term we just want to get out of the cold and have a space where we can have returning customers and we can extend our menu beyond just poutine," Graham said about his plans if he were to secure an investment. "We want to add in the Montreal-style steamed hot dogs and pogoes. We'd like to offer things like artisan craft beers from Québec, maple syrup products and that kind of thing. We want to make it a fully French-Canadian experience for people."
Deal or no deal, the two gentlemen plan to continue their incredible journey. The next stop for them is a return home to Montreal to take part in La Poutine Week at the start of February where they hope to be the first people outside of Québec to win the highly coveted title.