Poutine, love it or hate it, has managed to achieve iconic status as one of Canada's most well known foods. Given this and the plethora of calendar events dedicated to specific foods and dishes, it should come as no surprise that La Poutine Week is a thing, and a pretty significant thing at that. Started by co-founders Na'eem Adam and Thierry Rassam in 2012, it has grown from 40 to more than 240 participating restaurants from coast to coast. Over the course of seven days, that adds up to a lot of poutine.
As more restaurants come on board and try to concoct creative takes on this classic dish, it raises the question: what constitutes a true poutine? Diehards would say that anything more than basic fries, cheese curds, and gravy is not poutine, but if that were the case, La Poutine Week would cease to exist. So where does one draw the line between poutine and an entirely different dish?
Those trying to stay true to the original might change up the gravy, or swap out squeaky cheese curds for another dairy alternative. But what happens when you choose a base that isn't French fries, or trade gravy for an entirely different sauce? Is it still poutine? Whatever you want to call these creations, the age-old query stands, "to be poutine, or not to be poutine, that is the question!" Either way, I wouldn't mind taste-testing these Poutine Week offerings in participating cities from Vancouver to Montreal between February 1-7.
Why Not Café and Bar - Edmonton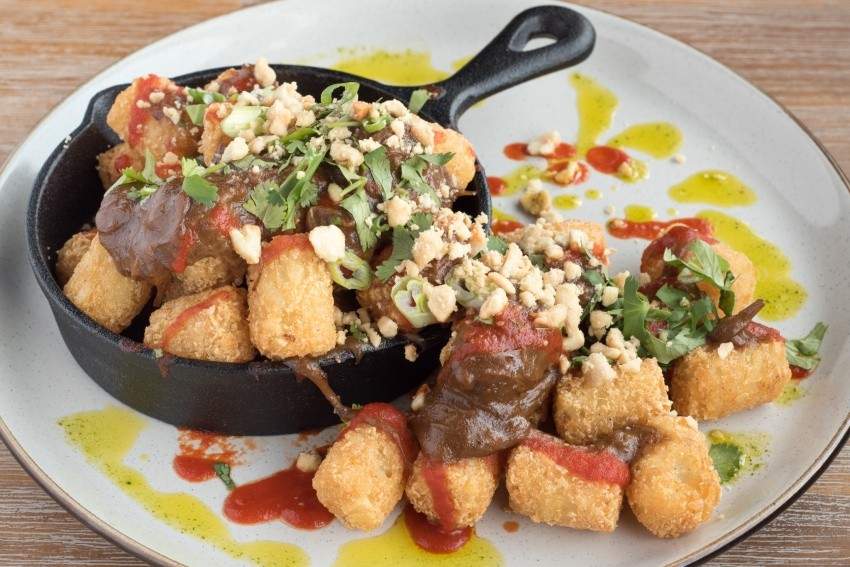 The makers of Why Not's poutine seemed to have asked that exact question when creating their Poutine Week entry. Opting to skip out on fries entirely, it starts nostalgically with tater tots, and then moves away from any semblance of childhood comfort foods with a range of toppings from shredded duck to hoisin gravy. The absence of cheese makes the dish deviate even further from the poutine formula, albeit possibly pretty tasty.
Le Blumenthal - Montreal
Le Blumenthal in Montreal's Place des Arts is a welcome reprieve from many of the other, more touristy restaurants in the neighbourhood, and its Poutine Week offering stays on brand while not catering to the masses. Starting with fried fingerling potatoes in place of traditional fries, topped with fresh cheese curds, the dish starts with the classic formula until the addition of fried Matane shrimp, jalapenos, cucumber, and barbecue sauce. Seafood and cheese might be a faux pas, but when it's crispy fried delicious shrimp, I can make an exception.
Le Bird Bar - Montreal
For a restaurant in Montreal, which is arguably the poutine capital of Canada, Le Bird Bar wasn't afraid to go off script with its Poutine Week entry. Taking its signature hushpuppies (which just so happen to be stuffed with cheese curds) as the base, they're then topped with poutine gravy and a melange of pickled corn, jalapenos, and onions. Who knows? Maybe this Southern take on poutine could be even better than the original.
The Rise Eatery - Vancouver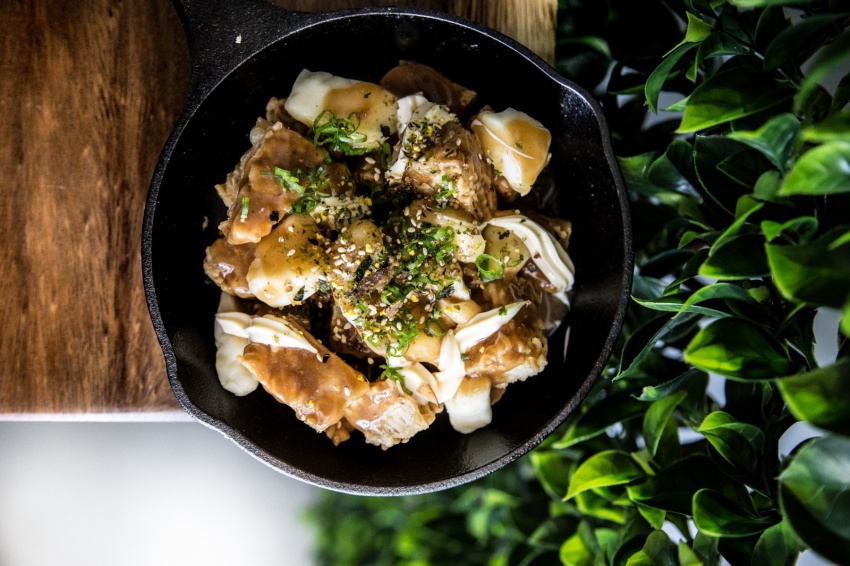 What constitutes as "ramen fries" is anyone's guess, but they are nothing like potato fries. Rise Eatery goes on to top this crunchy base with cheese curds, followed by a very Japanese-inspired melange of miso gravy, kewpie mayo, furikake, bonito flakes, and pickled ginger. It's poutine-meets-okonomiyaki, and guaranteed to be a complete umami bomb.
The Oakwood Bistro Restaurant Café - Winnipeg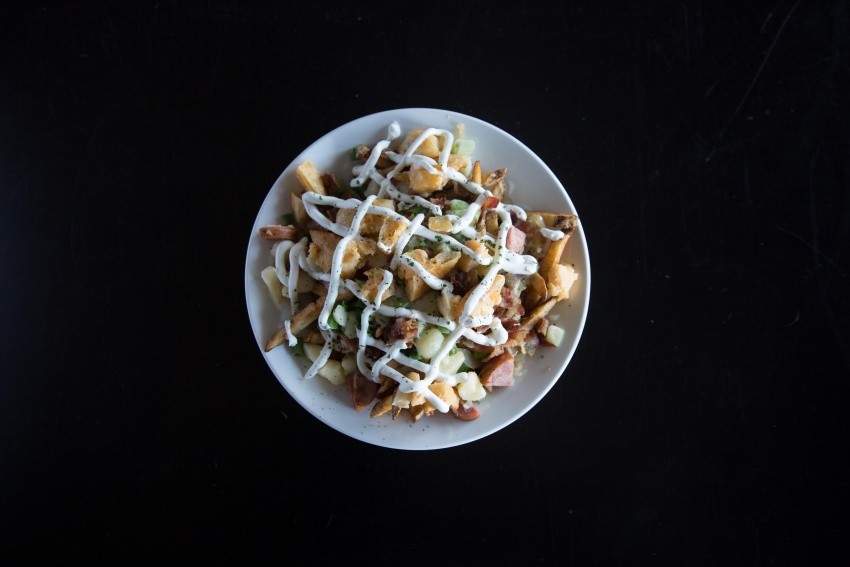 I'm not sure what Vladimir Putin would think if he knew the attention his name gets in Canada in relation to poutine, but the Vladimir Poutine offered by Winnipeg's The Oakwood Bistro Restaurant Café this Poutine Week has the potential to be a game changer. Make your poutine even more comforting with pan-fried perogies instead. Layered with sauerkraut, sautéed onions, bacon, green onion, cheese curds, and sour cream, this poutine--with or without the side of Manitoba Kielbasa--pretty much guarantees a food coma. Oh, and just to be clear, underneath all of that is still a big pile of French fries.
Maxime's Restaurant and Lounge - Winnipeg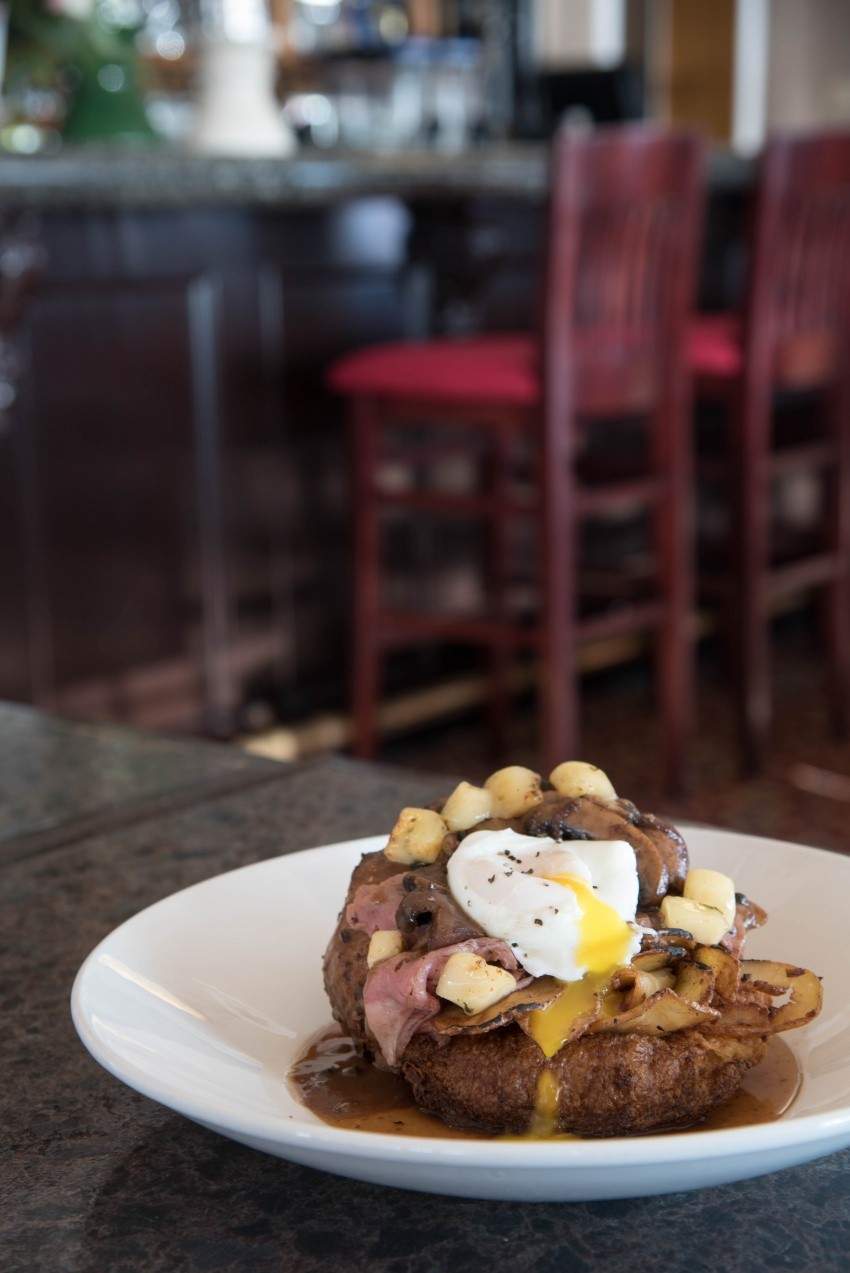 As a diehard fan of Yorkshire pudding, I can respect anyone who wants to turn that into anything even remotely poutine adjacent. Maxime's is making a solid attempt by filling Yorkshire pudding with crispy potatoes, prime rib, poached eggs, portobello mushrooms, shallot horseradish relish, red wine white cheddar cheese, and cabernet hollandaise gravy. Holy hell.