After gaining much popularity overseas, Sunday's Whisky has finally arrived in Canada by way of Western Canadian importer Crush Imports.
Available exclusively in Alberta, the whisky is produced in Japan by Sasanokawa Shuzo–a spirits producer for over 255 years–but is actually primarily Canadian (expat) owned. Four of the five co-owners of the parent spirits brand, Sunday's Spirits–Lindsay Jang, Matt Abergel, Elliot Faber and Alex Staniloff–all have Canadian roots. Jang, Abergel and Faber are most well-known for their hospitality endeavours in Hong Kong, with Yardbird, Sunday's Grocery, Ronin and Roti Tori.
Because it's generally produced in very small batches, Japanese whisky often comes at a high price point. This new (to us) product rings in at $85, which is definitely an approachable price tag for this particular whisky category. Working with Sasanokawa Shuzo's distiller, co-owners Jang, Staniloff, Faber, Abergel and Suchit Majmudar were able to come up with a recipe that has resulted in fun, everyday-type Japanese whisky for people to discover.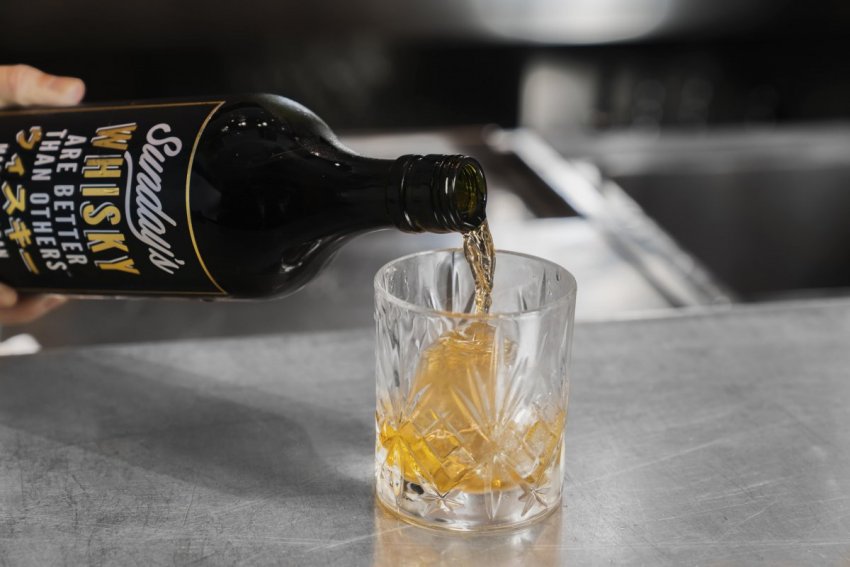 The 40 per cent spirit has been aged for a minimum of three years and offers up notes of cocoa nib shochu, chili flake and subtle floral notes. Not suprisingly, the packaging and bottle design is as smooth as the whisky itself, especially with its cheeky tagline.
As previously mentioned, Sunday's Whisky is only available in Alberta and can be found in Edmonton at boutique liquor stores like Color De Vino and Whisky Drop as well as in Calgary at Vine Arts, Bricks Wine Co., Highlander Wine & Spirits and more. If you're wanting a sip before you opt for a whole bottle, Calgary restaurants such as Alloy and Sukiyaki House have it stocked behind the bar.
Since launching overseas in 2019, Sunday's Spirits, has created a fairly robust lineup of products which includes three types of the Sunday's Whisky: Sunday's Junmai, Junmai Nigori and Sunday's Coffee Shochu. I think it's a safe bet that we'll see some other items from their roster make their way over to Canada in the coming months.