The Nova Scotia-based parent company for Sobeys, Safeway and Thrifty Foods, Empire Company Ltd. just announced a new partnership with innovative hydroponics company InFarm to build modular in-store farm systems across Canada beginning this spring. It's a forward-thinking move for a Canadian grocer and one which I'm sure we'll see others following suit shortly.
These modular vertical farm systems will grow an array of herbs, greens and microgreens on-site and can be scaled to the needs and size of a specific grocery store. In the announcement of the partnership, it claims that these vertical farms will "use 95 per cent less water, 90 per cent less transportation and 75 per cent less fertilizer than industrial agriculture."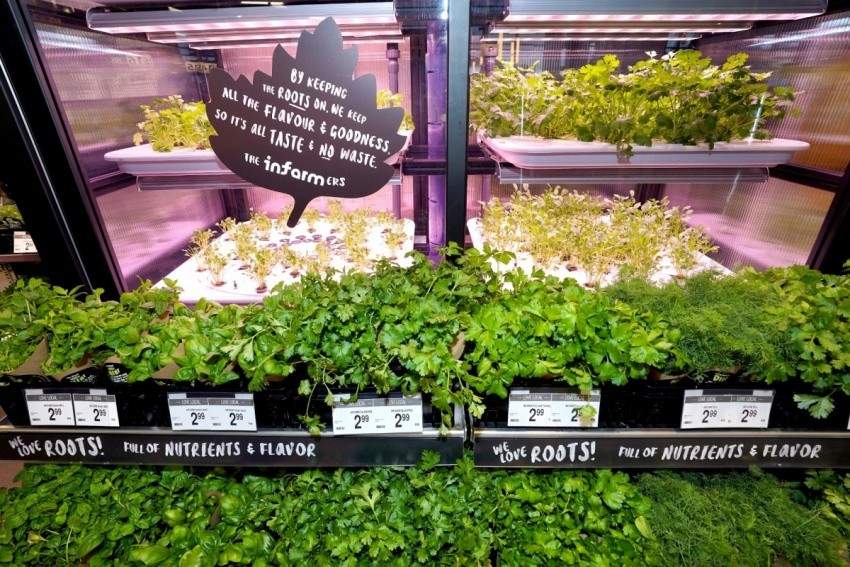 InFarm has already found success in other countries such as Denmark, France, Germany, the United States, Switzerland, and hopes for the same positive response in Canada.
"Our partnership with Empire builds upon our vision to grow a resilient ecosystem that can help feed people living in cities around the world by 2050, while improving the environmental footprint of our food," said Erez Galonska, co-founder and CEO of InFarm. "For example, through vertical farming, we can introduce plants to markets that were previously unavailable because they were too delicate to be transported. We're proud to partner with Empire to share the Infarm revolution with Canadians."
The first InFarm systems will arrive in Canada by way of two Safeway stores in Vancouver (the 8475 Granville Street location and 2733 West Broadway location). Following their initial set-up, Empire will place farms in stores across seven cities in Canada: Calgary, Edmonton, Halifax, Toronto, Vancouver, Victoria and Winnipeg. A representative from InFarm could not confirm when and in which store locations the vertical farms would be active, but expect them coming to life by the end of 2020.