We're sad to say it, but there's only about five weeks of summer left. That's not necessarily something to be sad about, considering much of Canada can see warm temperatures into early October. Stiil, it's hard to argue with the fact that August is the best month to enjoy ice cream on a regular basis.
We reached out to two ice cream lovers to join us in search of Calgary's best. The result is insight on more than a few scoops that are worth enjoying in the sunshine before summer draws to a close.
The ice cream experts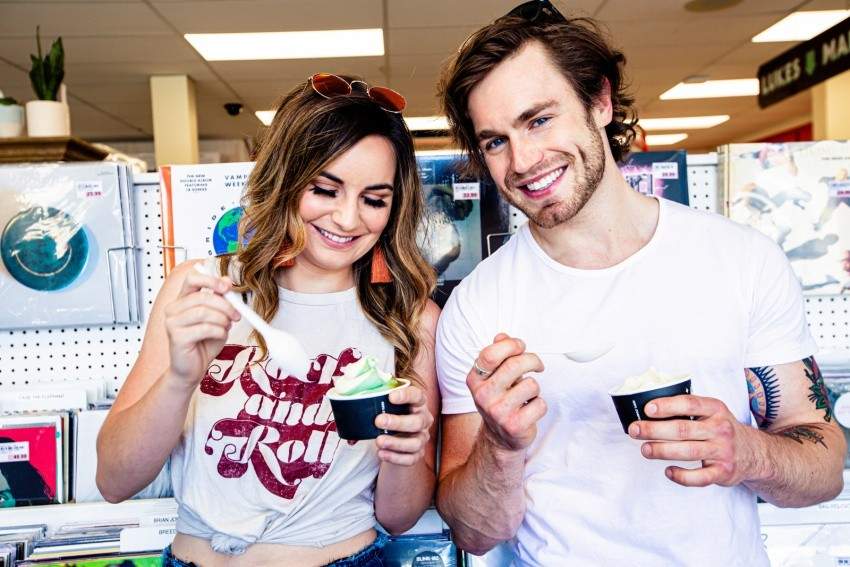 Mariya Stokes and Aaron Pollock are Calgary-based country musicians, Project Wild finalists, ice cream aficianados and good pals. The two co-wrote Stokes current single "Hands on My Body" as well as collaborated with popular Canadian country act Leaving Thomas on their latest album "Nothing Comes For Free".
While debating the nuances of ice cream flavours around the city, the two reflect on their country music community and being able to participate in a major artist development program to help further their careers.
How does participating in a program like Project Wild affect a musician?
Stokes: It totally changed my career. It gave me the resources and tools to really help develop my music and myself as an entrepreneur. It also just helped me build a lot of relationships with a lot of wicked people, like you Dan, and other people in the industry.
Pollock: I haven't been in Project Wild before, but I've actually played in the band in the final round for the past two years--first with Brett Saunders and then with Leaving Thomas--so it's really cool to actually be in the program now! The bootcamp at the end of August is going to be a really good resource for me. I'm just looking to fill in the gaps and get direction so I know what avenues I should be working harder on.
Why does the country music industry seem more collaborative than other genres?
Stokes: The reason country music is so collaborative is that in a lot of other genres, the writing is really isolated, but in country music, we all write together. So if one person in the process succeeds, we all technically succeed. If Pollock wins, then I succeed because I co-write with him. The success of Leaving Thomas [is great for us too] because we both have a bunch of cuts on the record!
Pollock: A huge part of what makes me an artist is all of the talented people I get to collaborate with. When you feel like you have a crew of people who you can lean on and will support you and you can support them and there's just a genuine mutual love and respect... it's not easy [in this industry], so having people in it with you really helps a lot.
Favourite flavours from childhood versus today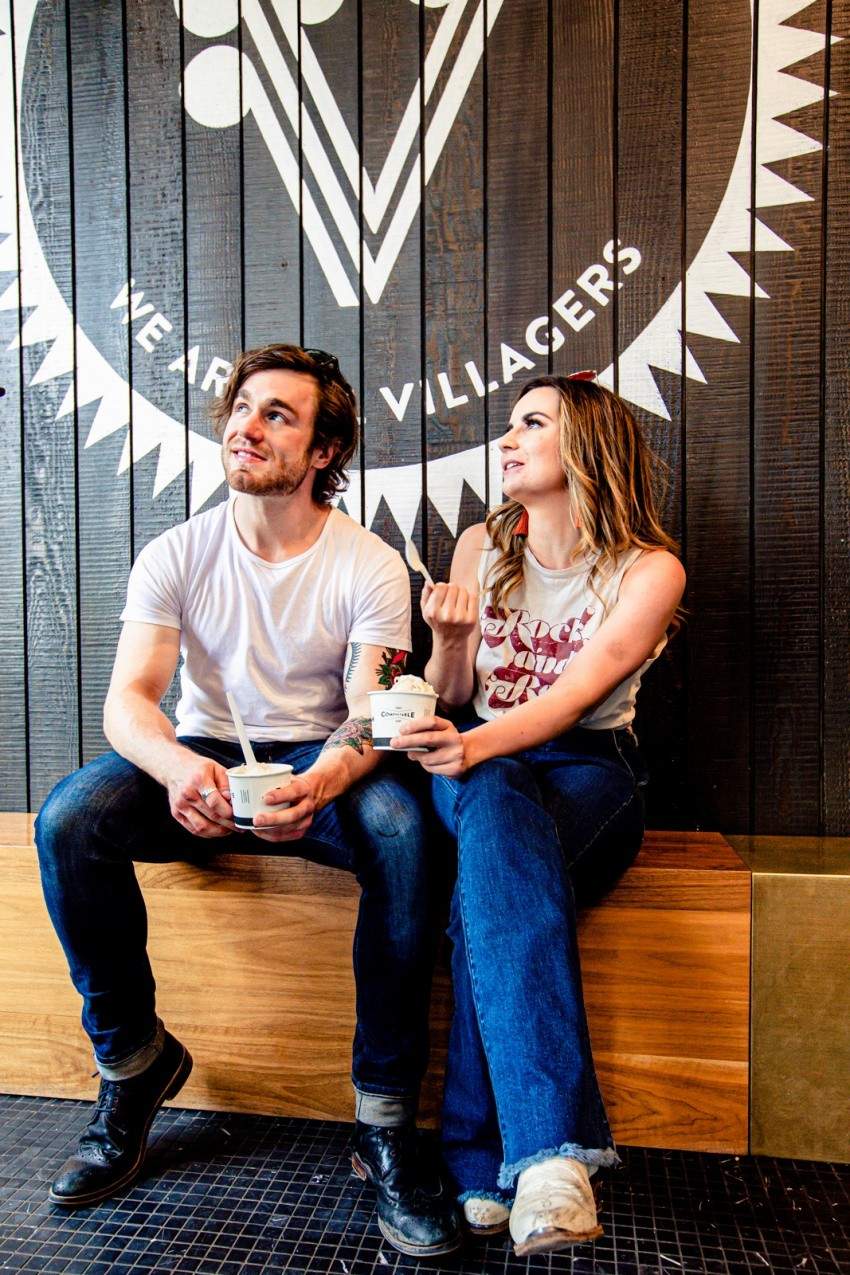 Stokes: I loved bubble gum ice cream as a kid, but I don't like it nearly as much as an adult. I think I liked it more because of the colours than the flavour when I was young, ha, ha! Now, I really like a good quality, classic chocolate or mint chocolate chip.
Pollock: For me, it's always been cookies and cream, ever since I was a kid!
What sets great ice cream apart from the average ice cream?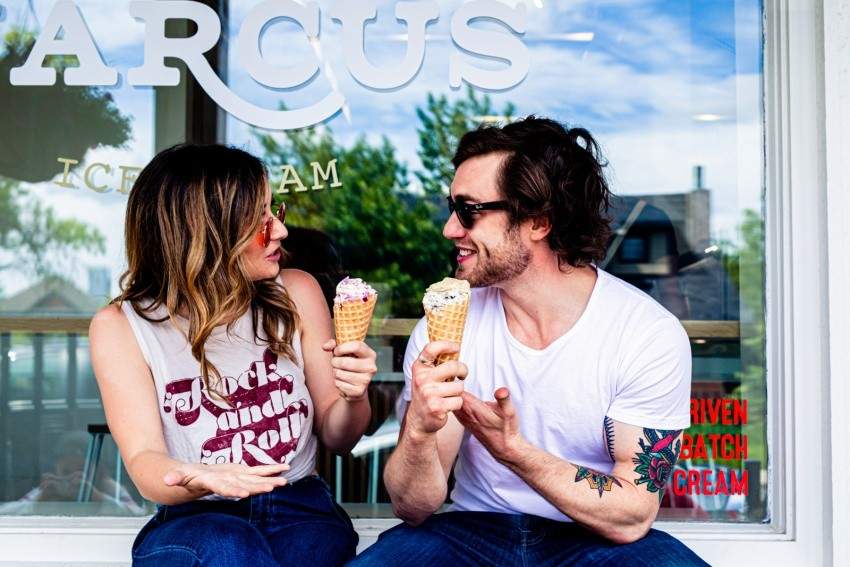 Nostalgic or not, even the most classic ice cream flavours (i.e. chocolate, strawberry and vanilla) are not all created equal. So, what attributes make a scoop of ice cream cool, creamy perfection?
Stokes: It's about balance. You want the flavour of the ice cream to come through without it being too sweet.
Pollock: The right consistency of the ice cream is big for me and, I agree, it needs to be not too sweet and have just the right amount of flavour.
Stokes: A waffle cone needs to be the cone of choice too.
Pollock: My choice would be straight out of the pint with a spoon, to be honest, but waffle cone would be a close second!
Lukes Drug Mart's soft serve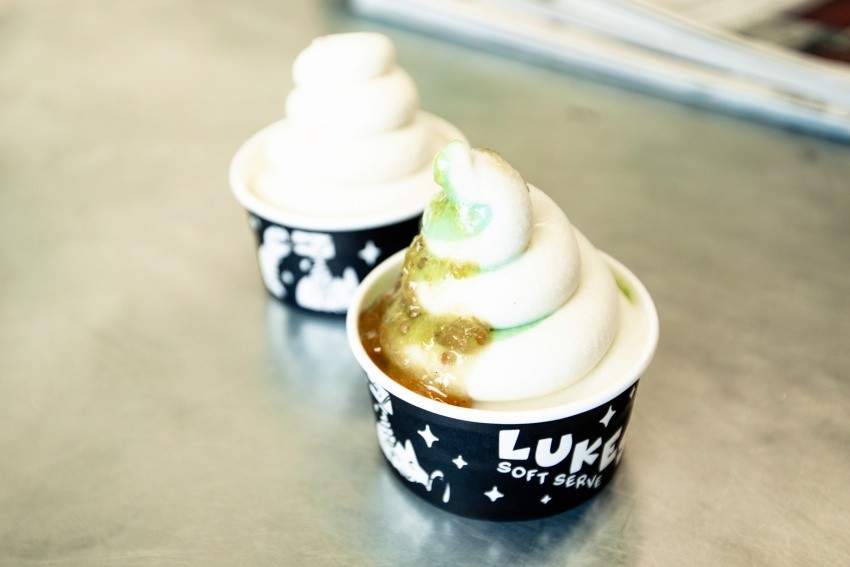 With two standalone locations in Bridgeland and Killarney as well as a cafe in the downtown Calgary Public Library, there are a few spots where you can try Lukes Drug Mart's signature soft serve. Using high quality dairy is the key to a classic soft serve, which Lukes always has on offer along with some sort of seasonal option that is a little more out-of-the-box. Here, the singers spoon into them both.
The flavours: Classic soft serve and Thai basil swirl with tomato jam.
Stokes: It's like what you'd order on a date, you know? If I was trying to impress somebody with how refined I am, of course I'm going to order the basil ice cream with the tomato jam; but if I'm being honest about who I am, we're going to have to go with the classic,100 per cent!
Pollock: Is being a refined ice cream connoisseur something that would impress a date, though?
Mariya: Depends on the date!
Pollock: Yeah, I get that there's a market for ice creams like that, but I'm more into traditional ice creams. Putting savoury things into ice cream is just not my thing.
Stokes: I'm confused and delighted. I feel like bacon could be good on this. I've now discovered that I am not an ice cream with tomatoes kind of person, but the classic soft serve is really good!
LICS (Leavitt's Ice Cream Shop)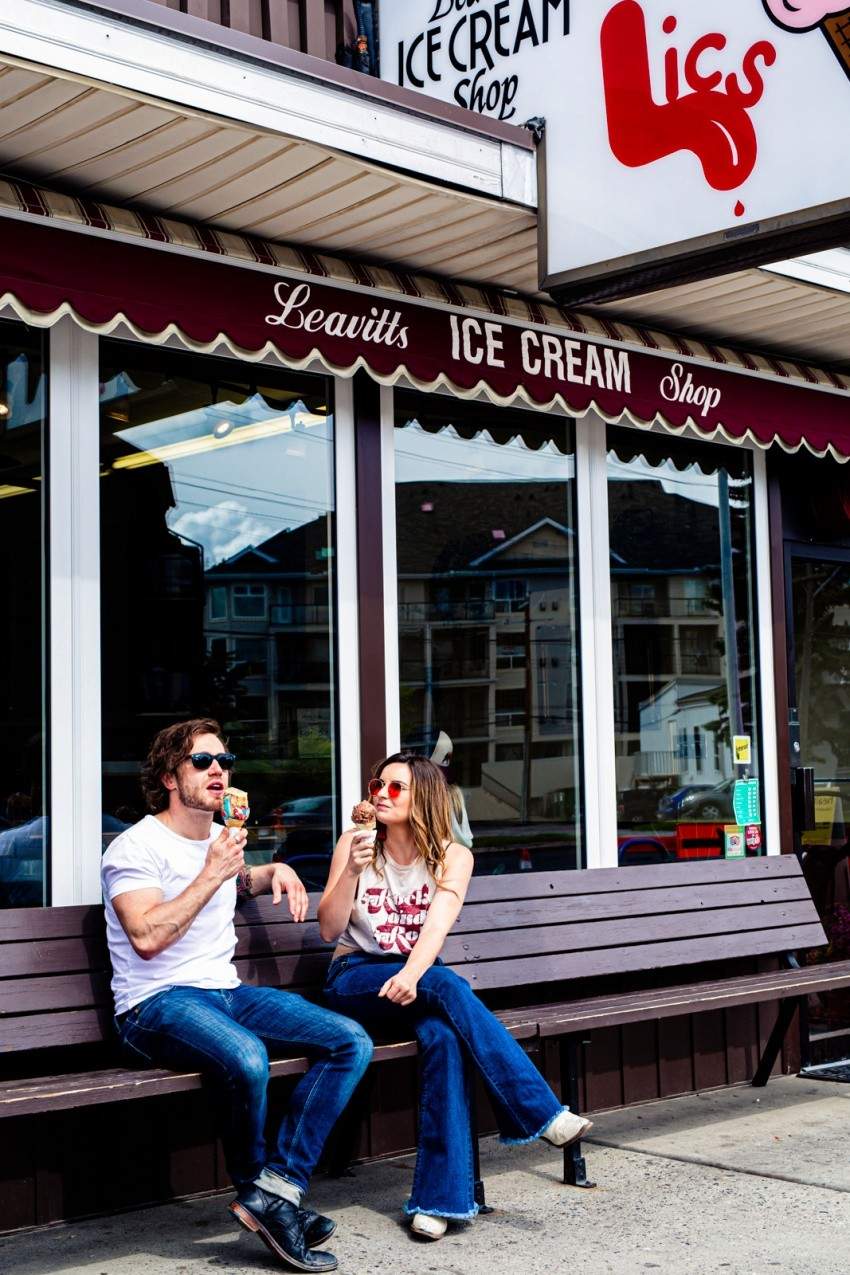 Arguably one of the city's most iconic ice cream shops, Leavitt's Ice Cream Shop (or LICS) is stationed off of Memorial Drive, just a short stroll away from the Bow River trails and has been for decades. There aren't any artisanal flavours to be found here. Instead, the ice cream shop offers pure nostalgia by way of flavours like Tiger, pistachio, cotton candy and more. Is there something to be said for an old school scoop?
The flavours: Tiger, Superhero and chocolate peanut butter.
Stokes: I am really not digging the Tiger flavour; it's just not my kind of thing. I like the Superhero flavour more the more I eat it, but it's staining my teeth! My favourite out of all of these flavours is definitely the chocolate peanut butter ice cream. I love how there are chunks of mini peanut butter cups hidden in it. That got me really excited!
Pollock: These ice creams are all really sweet, but I agree, the chocolate peanut butter one is my favourite too.
Stokes: I do like this spot though because it's got a good family vibe going on.
Made By Marcus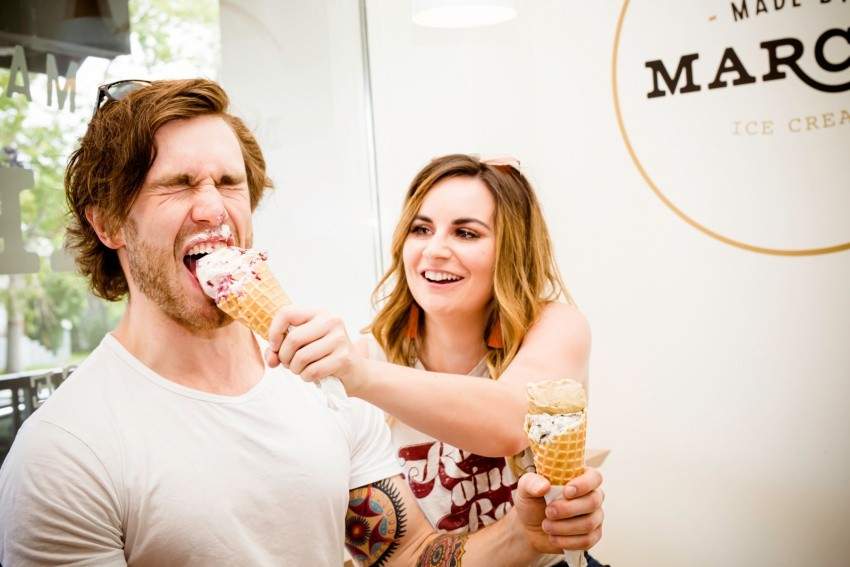 Made By Marcus boasts two locations in Calgary and recently opened up shop in Edmonton as well. Known for pushing the boundaries with flavour combinations, the ice cream shop's owner, pastry chef Marcus Purtzki offers plenty of unique seasonal creations such as peanut butter and pickle, vegan date caramel, and Saskatoon berry and hay. At Marcus, our testing stayed a bit more out-of-the-box.
The flavours: Peanut butter and pickle, Saskatoon and hay, vegan date caramel and cookies and cream.
Pollock: The initial shock of the peanut butter and pickle is worse than how it actually tastes. Ha, ha!
Stokes: I really like the Saskatoon hay flavour. Oh my gosh, it's so good. The vegan caramel date ice cream is great too.
Pollock: You can tell all of these flavours are incredibly made. This is a fantastic version of cookies and cream. I can't stop eating it.
Stokes: When I come back here, I would definitely order the Saskatoon and toasted hay because it reminds me of my roots from the small town of Stavely, Alberta.
Pollock: Back when she was eating hay for breakfast.
Village Ice Cream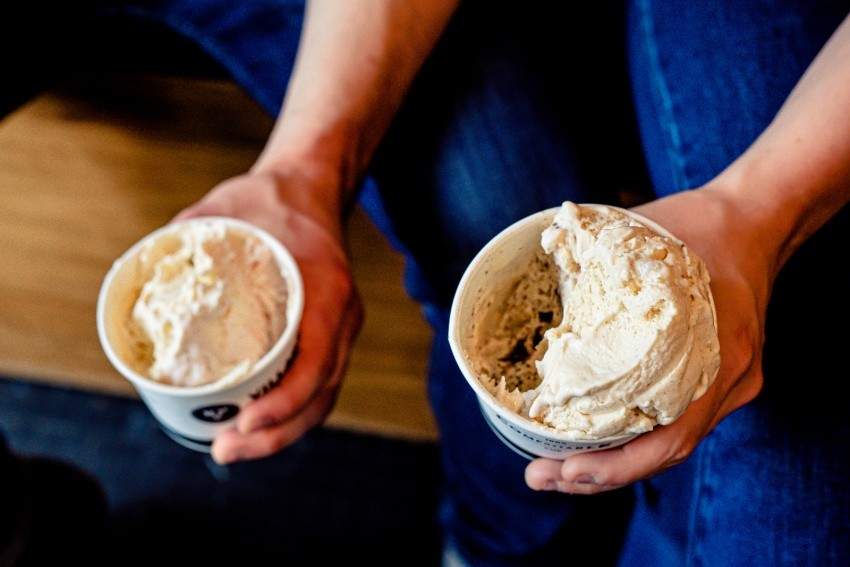 Perhaps Calgary's most well-known artisanal ice cream maker, Village Ice Cream has had an insatiable demand for their signature salted caramel since they first opened up shop in 2012. If you live somewhat central, you never have to drive far to satisfy a craving for Village's quality ice cream, with multiple locations around the city.
The flavours: Earl grey, mint chocolate, cherry cola, Grahamtello.
Pollock: I'm normally not a tea-flavoured ice cream kind of guy, but this is really good. It's subtle; not an overwhelming tea flavour but just enough to whet your palate a little bit.
Stokes: It tastes like a tea latte, like a frozen tea latte. It's super yummy.
Pollock: The cherry cola is also really good. Just enough cherry but not too much, you know? Some ice cream flavours like this can be too overwhelming and you don't want to eat much of it. But this? I could eat this all day.
Stokes: I really like the Grahamtello as well. It's like s'more ice cream and it has a great texture. I think I've learnt today that I like when there are crunchy bits in my ice cream, which is why the mint chocolate chip works for me too.
Pollock: Someone's going to need a nap after eating all of this ice cream.
Stokes: Seriously, or maybe a run.
Favourite scoops of the day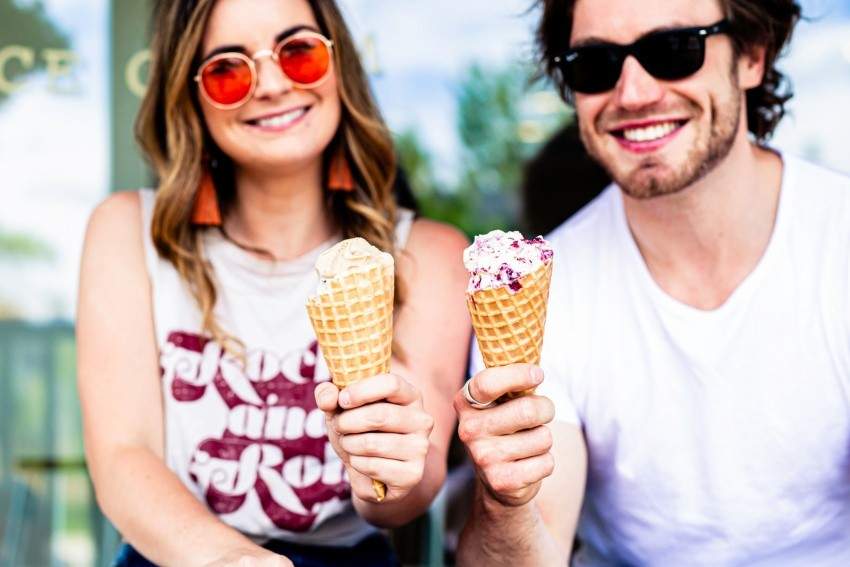 Watch: Mariya Stokes' music video for "Hands On My Body"