Every city has lists for "best" this and "top" that. In this new monthly series, we'll be taking a couple of self-proclaimed food lovers in different Canadian cities on a whirlwind dining tour to get their insights into some of the city's tastiest dishes. No ranking, just getting two passionate people together to sit down and eat a classic dish they already love, while prompting discussion on what makes that particular food or dish stand out from the pack.
Recently, Canadian Country Music Association Award-nominated musician Brandi Sidoryk of Nice Horse met up with Calgary-based lifestyle blogger and writer Ryan Massel to spend an afternoon biting into and discussing Calgary's top-rated hot dogs. Though not all dogs are created equal, that doesn't mean all four of the restaurants the pair visited aren't serving up a delicious hot dog in their own respective rights.
The hot dog experts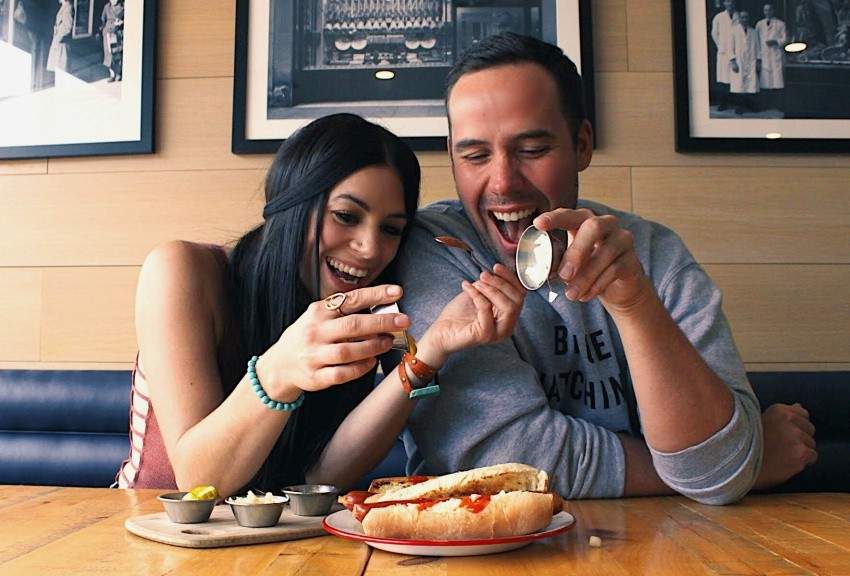 Brandi Sidoryk: A talented singer-songwriter on her own, Sidoryk is also one fourth of the CCMA-nominated all-women country band, Nice Horse. She avoids cleaning her house by running, drinking tea, eating hot dogs, organizing her closet by colour, or losing her cell phone--often all at once. Her songs have been licensed for many commercials and TV shows, including the Netflix series, Hello, My Twenties. Most recently, she was nominated for songwriter of the year at the YYC Music Awards. Catch Brandi performing with Nice Horse this fall, opening for acts such as the Nitty Gritty Dirt Band, The Washboard Union, Lindsay Ell and Meghan Patrick.
Ryan Massel: From his popular, award-winning blog immrfabulous.com to his social media presence and television appearances, Massel is a recognizable face in Alberta and beyond. He writes for a variety of publications, including Where Calgary and you can hear him monthly on-air on Halifax's MIX 96.5FM. Like Sidoryk, Massel has travelled from coast to coast in Canada and all over the United States. Massel's love for a good hot dog knows no bounds and he is happy to put this love to the test in Calgary.
Here are their favourite ways to cook a hot dog and some of Calgary's top spots for a great hot dog.
What is the best way to cook a hot dog?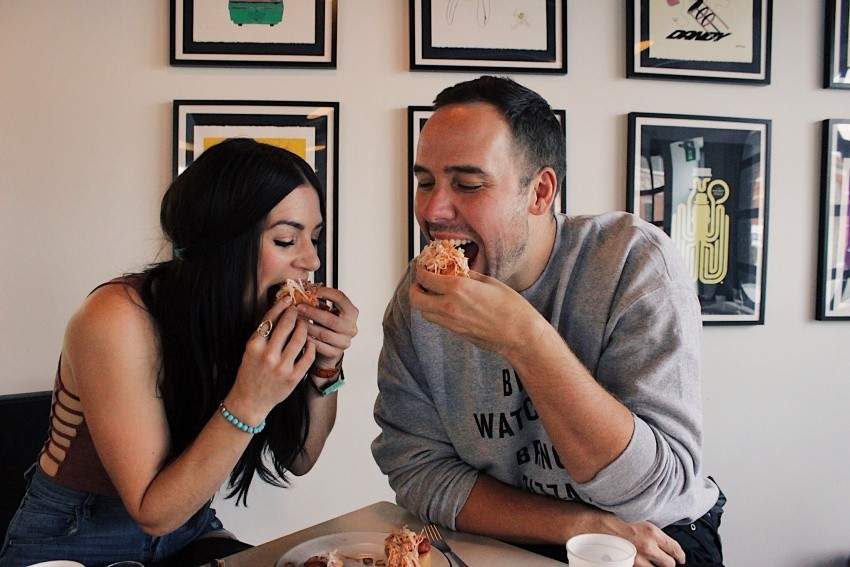 Boiled, barbecued, cooked on a flat top or rolled on metal rollers a la convenience store-style, there are many ways to cook a hot dog.
Sidoryk: I love them barbecued. They have a better texture that way. I don't like just plain, boiled hot dogs. I think that boiled is probably my least favourite.
Massel: I love boiled! That´s actually the only way I like hot dogs. I feel like it makes them saltier and more delicious. I don't know, I hate barbecued hot dogs. Sometimes, they get too dried out.
Agree to disagree?
Dandy Brewing Co.
Since expanding to Calgary's Ramsay neighbourhood, Dandy Brewing Co. has quickly become a popular brewpub for Calgarians to go for thoughtful fare and well-crafted beers. Its namesake hot dog has become somewhat of a signature for Dandy and it did not disappoint today. Those pickles on the side...
The dog: Dandy Hot Dog (with daikon and onion slaw, mustard and mayo on a classic bun with house pickles on the side).
Sidoryk: The bun for the hot dog here is really good. I know you were into crunchiness of the last one, but I kind of prefer bun being softer. I'm a really big fan of the Oroshi Dog at JapaDog in Vancouver. I love it because it's fresh-tasting and they have daikon on it. I feel like they're doing the same thing here with their daikon slaw. There's a freshness to it that I love.
Massel: I love the side of bread and butter house pickles or whatever you want to call those. They are delicious and a nice accompaniment to the hot dog. The hot dog here is also a sensible size, so you don't feel weighed down after eating it.
The perfect drink to have with your hot dog?
Sidoryk: To class up the hot dog eating at home, I would have a glass of pinot noir. I´m a big red wine person and I would happily put things like blue cheese, saucy mushrooms on a hot dog. So, I feel like a pinot is a lighter complement to those kinds of heavy flavours.
Massel: Mine is basic. Diet Coke, but really, when you're eating hot dog, that immediately tells your body that that is not a good choice, so I tell myself a Diet Coke balances it out?
Empire Provisions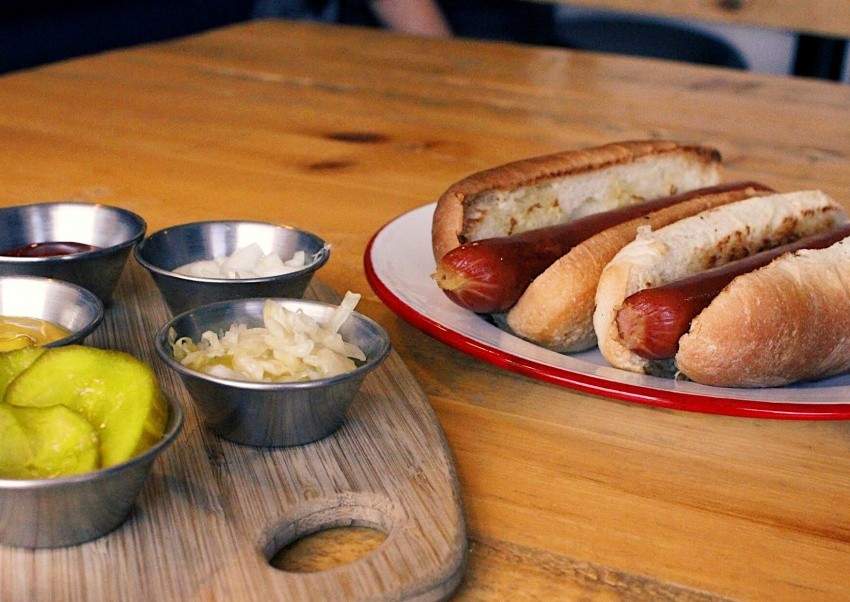 This charcuterie shop-meets-deli just off the corner of Elbow Drive and Heritage Drive is the only restaurant in Calgary making their hot dogs in-house. Empire Provisions' co-owner Karen Kho says their all-beef hot dogs are made with meat from sustainable Alberta farms. Her partner Dave Sturies uses a mix of dried spices to amp up the flavour of their quality hot dogs, giving them a bit more of a bite and a ton more flavour than anything you'd find in the grocery store.
The dog: All-beef hot dog (made in-house with garlic, coriander, paprika, mustard and served on a classic, toasted bun with standard fixings on the side).
Sidoryk: You know what I really like about it? I'm big on the bun-to-meat ratio and the fact that it's so long that it's coming out the sides of the bun is one of my favourite things. I love how passionate they are here too about using Alberta beef, knowing the farms that the meat comes from. That makes me want to come back here and buy hot dogs to take home.
Massel: Totally agree. It's tasty, but it's almost more like a pepperoni stick because it's a firm hot dog and with its casing, it adds a sort of pop in your mouth. I would definitely buy some of these and cook them at home for my friends.
The perfect condiment combination for a hot dog?
Sidoryk: Just mustard. Keep it simple.
Massel: Ketchup and mustard. Classic.
Home and Away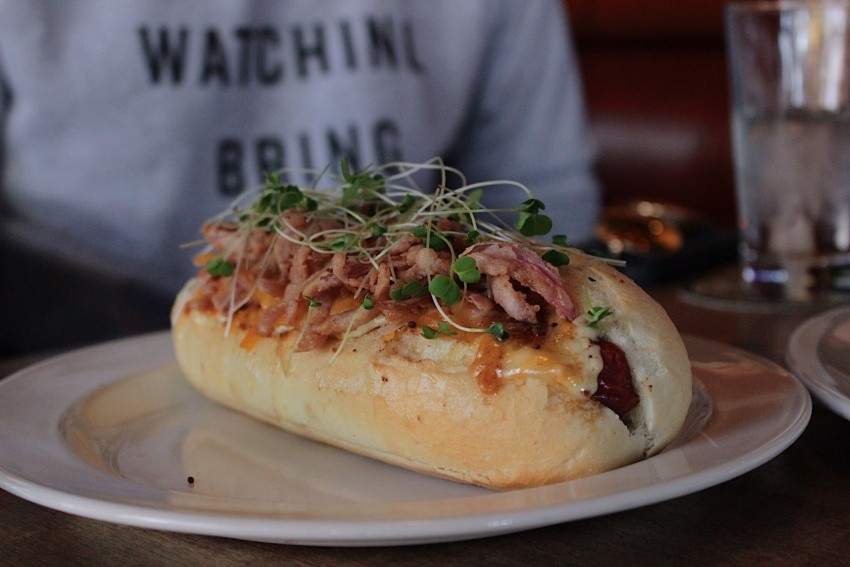 An ever-popular spot to catch most major sporting events throughout the year, Home and Away (on the tail-end of the trendy part of 17th Avenue S.W.) boasts an elementary school-inspired design with repurposed gymnasium flooring and an accent wall covered in vintage skateboards. Here, chef Mike Pigot's creative hot dog hits a home run with its balance of flavours and high level of "eatability" (i.e. not too messy). The fried, pickled onions are an especially clever touch.
The dog: Home Dog (Brant Lake wagyu beef, grainy mustard aioli, pepper jelly, fried pickled onions and microgreens on a baguette-style bun).
Massel: The bun isn't really a hot dog bun. It tastes more like a fresh baguette from a bakery or something, but it's definitely good. I'm not sure if this makes sense, but this is the kind of hot dog that is worth specifically going out to a restaurant to eat. There are toppings here, like the fried pickled onions and microgreens. that you aren't going to go out and buy to make for yourself at home. It's unique, for sure.
Sidoryk: Those, crispy, crunchy pickled onions on top? I love that! I also like how there's a few sprouts on top, it makes you feel less guilty? There's a little too much bun for me with this one, but I do like the bun. It's beautiful hot dog. No really, it actually looks really pretty.
Tubby Dog
Of all the hot dog spots we've visited on this little whirlwind tour, Tubby Dog is the oldest. The hot dog-centric spot on 17th Avenue S.W., which also does a weekly burger and taco specials, has been a staple of the Calgary food scene for more than 13 years. Owner Jon Truch proudly imports a specific kind of ballpark wiener from the United States, ones which you'll find nowhere else in the province. In terms of a hot dog made locally, Truch throws to Empire Provisions as the best local maker.
Known for wild topping combinations and being playfully excessive at times, Brandi and Ryan stay in true Tubby Dog style, trying an array of hotdogs here from two menu staples, Truch's off-the-menu garlic sausage and also a gigantic corndog. For today, though, we'll stick with two staples for commentary.
The dogs: Cap'ns Dog (bacon-wapped with peanut butter, jelly and Cap'n Crunch cereal on a classic bun) and Sumo (Kewpie mayo, pickled ginger, seaweed salad and toasted sesame seeds on a classic bun).
Sidoryk: The bacon-wrapping is a good upgrade on the Cap'n. I like how they don't cheap out on the peanut butter or jelly either.
Massel: It has that whole sweet-and-salty thing going on. You actually would never think that this hot dog tastes as good as it does.
Sidoryk: I just have to say that seaweed salad on a hot dog is the best! I love seaweed salad and it's the same with that freshness from the daikon that I really loved at Dandy. That's what I love about the Sumo dog at Tubby.
Massel: The pickled ginger and the wasabi gives it a nice kick too. I love the hot dogs they use here though. They are a great base and are always so juicy.