"If you only have time to eat at one place while you're here, you should make sure it's Segovia," an old friend of mine advised.
Not only was I reacquainted with this friend, but also the city of Winnipeg itself. After almost 10 years, I was returning for a short, but long overdue visit. An excursion to the centre of Canada was never high on my travel bucket list. Overshadowed by the glamour of food scenes in metropolises' like Toronto and San Francisco, the offerings of this windy Prairie city are not on many diners' radars. But, maybe they should be.
I was raised to be a good guy, being told never to judge a book by its cover. In this case, I did judge and Winnipeg ended up slapping me in the face, with a delicious aftertaste, of course.
As I settled into my six-day stay here, one restaurant's name continued to pop up.
"Where should I eat tonight?" I asked.
"Oh, you should definitely go to Segovia! Segovia has amazing tapas," my friends said.
Seemingly, the entirety of Winnipeg pointed in unison: "Segovia!"
So, Segovia it was! I mean, one million recommendations couldn't possibly be wrong, could they?
My worry with extremely-hyped restaurants is that they don't often reach their "golden boy" (subtle Winnipeg cultural reference) status I developed in my mind. Is the restaurant good? Usually. Is it the be-all, end-all dining experience for myself? Rarely. The most recent example of this in my edible excursions would have to be from Momofuku Toronto, an establishment hyped to epic proportions that delivered a successful meal, but left my friends and I searching for that spark that initially ignited the love for the original Momofuku.
Whether or not I created the issue in my own head (I tend to blow things out of proportion), I knew one thing: this better be a fucking good meal.
Owner/chef Adam Donnelly opened the doors to Segovia in the Osbourne Village area of Winnipeg in late 2009. After spending time in kitchens in London, England as well as Australia, the chef and his wife, restaurant co-owner Carolina, spent six weeks falling in love with Spain before returning to their Prairie city. The Spanish culture and style of cuisine had obviously left a lasting impression on the duo. Thus, Winnipeg's first tapas restaurant (named after a small city in Spain) was born.
"The tapas thing is something that's quite old, obviously, but it's something new [to Winnipeg]. We try to do our own thing and get inspired by what we like, not what everyone else is doing," says Donnelly, on his approach to Segovia's menu. "So right now in our cooking, there's a lot of Middle Eastern, African and Southern Spanish influences. There aren't really other restaurants in the city that are doing something like that. I think people like that. It's something new and different."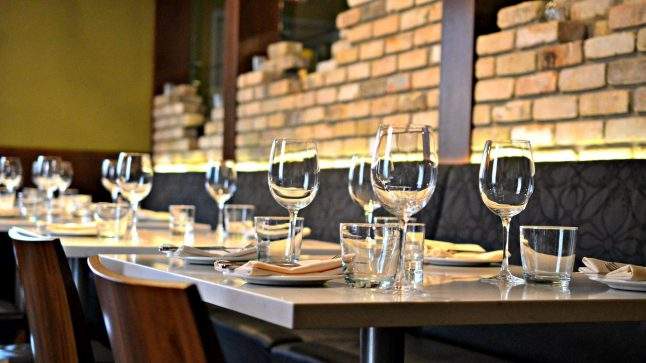 The chef continues: "In the last four years, I think there's been a lot of young chefs like me, who have travelled, come back home and then set up their own place. There's Deer + Almond, Deseo Bistro, Fitzroy, that just opened; it's really awesome to see that Winnipeg is finally starting to have great independant [restaurants]."
In the evening, the atmosphere is exactly as it should be. A dimly lit room, candles flickering on the tabletops; it's definitely a little sexy. The heat from a very busy kitchen generously warms the room. Most thankful for that, surely, are folks waiting in the doorway for an open table on any given evening. No reservation book to be found here and from what I've been told, this place is busy, with a capital "You're going to have to wait a little while." Adapted from an old house, the Manitoban hotspot is definitely set up for a cozy dining experience.
The service is casual (appropriately so), extremely knowledgable (surprisingly so) and attentive (perfectly so). If you ever find your table being handled by a young girl with a long dark pony tail and vintage, thick-framed glasses, rest assured that you are in good hands.
From the cocktail ingredients to the dish components, this girl knew her shit, which can be a rarity these days no matter what Canadian city you're eating in. I appreciated it.
The menu covers good tapas ground, from a crispy, appropriately salty take on patatas bravas to a colourful plate of fried calamari. Being in the middle of our country, Manitoba and its relationship with ocean proteins could be viewed as a rocky at best. But, who are we kidding? It's 2013 and if you have a great seafood supplier, you can get a shipment jet-setted from (either) coast practically on the same-day.
"It's a funny thing: I was talking to [another local chef] and he was saying that he likes the position we're in because you can choose between East Coast or West Coast," Donnelly points out. "It's the same distance, you can fly it in and you can still get it really fresh. I love his mentality of thinking that way."
Touché.
Its sherry tasting, four one-ounce pours, each paired with a pintxo (Spanish for small snack), was also a highlight of the evening. You'd be hard-pressed to find a pour of sherry in any city in Canada for less than $8, so a tasting flight, plus accompanying small bites for $16? It is almost worth flying back for.
"We're just trying to get more people to drink sherry!" says Donnelly when I inquired about the "start the car"-style deal I thought I was experiencing. Economic and admirable. I like it.
As I was finishing the last few bites of Donnelly's chorizo and Gala apple dish (a perfect balance of sweet, sour, spice and texture), I paused and thought of my friend who had provided the first recommendation to me upon touching down. Was Segovia the best restaurant in Winnipeg? I ate a lot, and I mean a lot, during my stay in the central Canadian city, but I have definitely not experienced enough there to agree with that accolade... yet.
I will give it this, though: it's a hell of a lot better than some of the tapas I've tasted elsewhere in our country.
The next time I find myself in town, this gem of an establishment will definitely be seeing my smiling face (and appetite) again.
(484 Stradbrook Ave, Winnipeg. Twitter: @SegoviaTapasBar)