The ten remaining chefs have shuffled into their holding room adjacent to the TCC Kitchen and you can tell it is early in the morning. Being able to watch Kym make themselves a coffee and Alex tear open a Quaker instant oatmeal for breakfast–that brand plug was pretty in your face–offers us as viewers a brief glimpse at just how early production begins for these competitors on the daily.
Assuming everyone's been fueled and caffeinated, the episodes cuts to the chefs lined up in the kitchen as they await details of their second Quickfire Challenge of the Top Chef Canada season.
Quickfire Challenge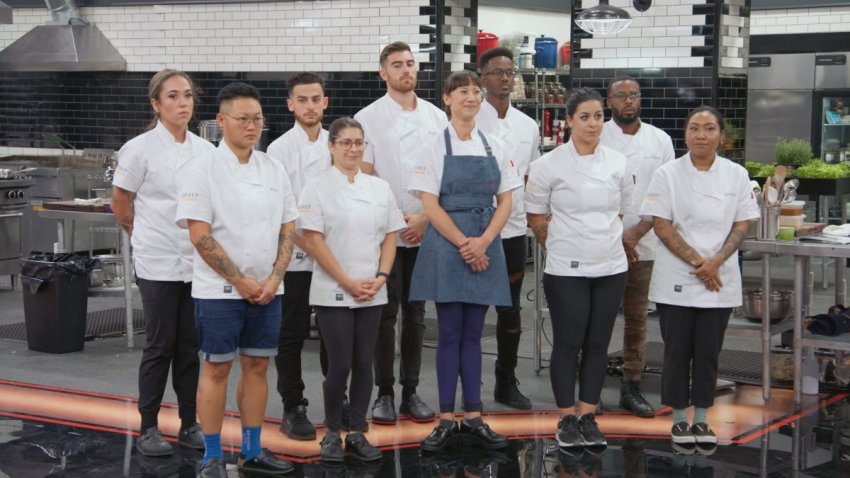 Eden is looking bright-eyed and bushy-tailed as she peppily tells the chefs they will be cooking up some diner classics at the first-ever Top Chef Canada diner.
Being just as (mildly) dramatic while in my own home as I am when out in public with other people, I gasp. This Quickfire Challenge sounds identical to Top Chef: Portland's second episode...which aired two weeks ago.
I rarely like to draw comparisons between the two shows, but with an identical theme it will be impossible not to. We'll see how this goes.
The chefs begin to pull diner menus to reveal what classic comfort food they will have to create.
Kym winds up with a western omelette and Erica draws "club sandwich". For Andrea, a reuben, Siobhan is tasked with a hot turkey sandwich, Alex a chicken-fried steak and the list goes on...
"Sloppy, cheesy, greasy burger, let's go," says Jae-Anthony. It's nice to see some more screen time for the Ottawa-born chef, he's quite animated.
He winds up drawing "banquet burger". To be frank, I have never heard of this type of burger before and had to Google it. Are you familiar?
There is not much information available online, but it appears to be an Ontario term for when a cheeseburger is presented open faced with the burger and cheese on the bottom half of the bun and the topping on the other. Essentially, it is the burger equivalent of Saskatchewan residents calling a hoodie a "bunnyhug".
Oh Canada, you're so (regionally) quirky!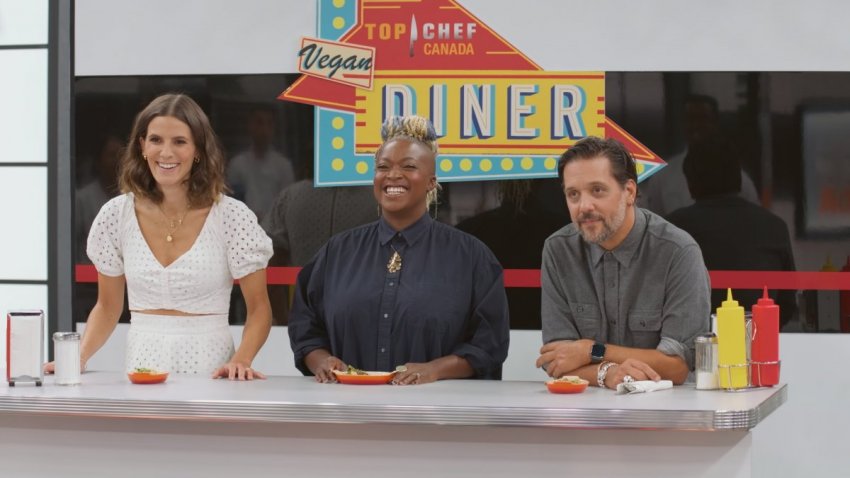 As the chefs clutch their plastic-coated menus with their assigned dishes, awaiting further instructions, Eden comes through with a solid twist: "The future of food includes plant-based cooking. This is a vegan diner!"
This curveball means there shall be no comparison between Top Chef: Portland and Top Chef Canada in my mind tonight.
To make this Quickfire even more eventful, two very cool guest judges roll in. Celebrated Toronto chef Suzanne Barr of Wall of Chefs and Canada's boyfriend, George Strombolopoulous.
Erica seems happy to see both of them walk into the TCC Kitchen and cites Barr as a well-respected chef in the city and Strombo as a vegan "before it was cool to be vegan". It's hard to disagree with either sentiment.
There are 40 minutes on the clock for the chefs to prepare their plant-based version of diner classics which is 10 more minutes than last week, but not much time at all considering the parameters.
Siobhan–who is re-imagining a hot turkey sandwich–notes that she hasn't cooked vegan food before as she begins cutting huge pieces of tofu and tossing them in a mixture of cornstarch and poultry spices. "I'm hoping to get everything on the plate today," she says.
We hope so too!
Galasa is challenged with recreating a traditional meatloaf which is something he says he has never eaten before, but appears familiar with at its base. He seems to understand the importance of layering flavours to make a vegan dish pop and looks to mushrooms for meaty texture and umami in his dish.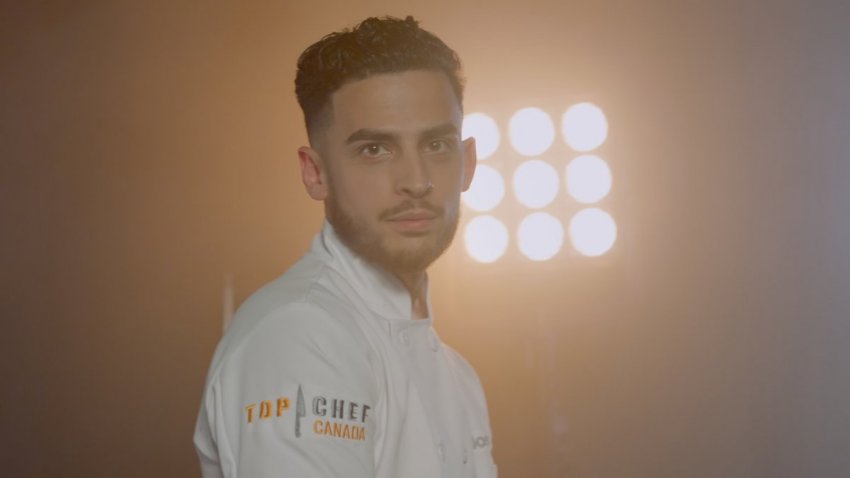 Josh tugs at the heart strings and explains that he was raised by a single mother who, at times, worked three jobs. TV dinners were a regular occurrence in his household and Salisbury steak was always his favourite. His vegan interpretation sees him grilling cauliflower and making a celeriac puree along with a vegetable gravy.
Jae-Anthony is a ton of fun so far this episode. He's upbeat and is getting plenty of fun sound bites. "I got a bigass piece of jackfruit to replace the meat," says the chef.
He's playing off the banquet burger theme with a braised "meat" creation of sorts that incorporates a Trinidad fry bake which he's making using his grandmother's recipe. This sounds promising and tasty.
Emily admits she's not overly familiar with diner food, but tells a cute story about stopping at small town diners while on road trips with her parents as a child. She is planning to draw on these memories to help her create a vegan tuna melt.
Right away, it feels like Emily's dish has gone off the rails as there are many things on the go in preparing this dish. She is spiralizing something, making a cashew crema and a potato rosti in lieu of bread. The rosti seems like a poor choice as Eden, George and Suzanne are expecting something that resembles a tuna melt. While I don't want to say most bread is vegan, a lot of it certainly is, so it feels like an odd choice to deviate so far from the original dish.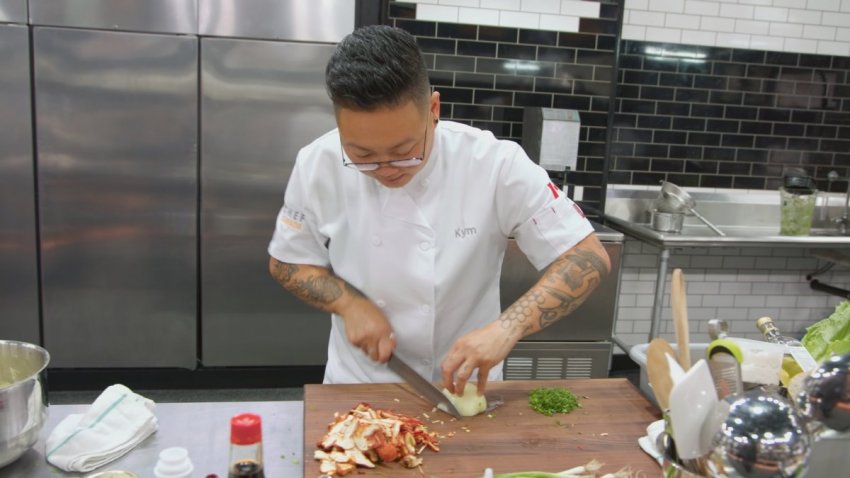 Kym wins in the creativity department for making a Vietnamese banh xeo look like a western omelette. They use lobster mushrooms to help make the filling more hearty and finish things off with pickled jalapenos.
It all feels so clever and very on point. Kym's dish is really the only one that looks like the classic menu item they were assigned.
I don't want to give her the gears again, but Siobhan's finished product looks shockingly below par. Two huge slabs of lightly battered tofu on toast points with some sort of berry syrup that has seemed to have soaked into the tofu batter. A fistful of arugula on top for good measure.
It seems inedible to Eden while George and Suzanne appear to be politely biting their tongues.
Visually, Emily's final product looks more like okonomiyaki than a tuna melt. It all seems a bit over thought and Eden and her guest judges seem less than enamoured.
A round of applause bursts out for Galasa with his mushroom meatloaf sitting atop a caramelized onion puree.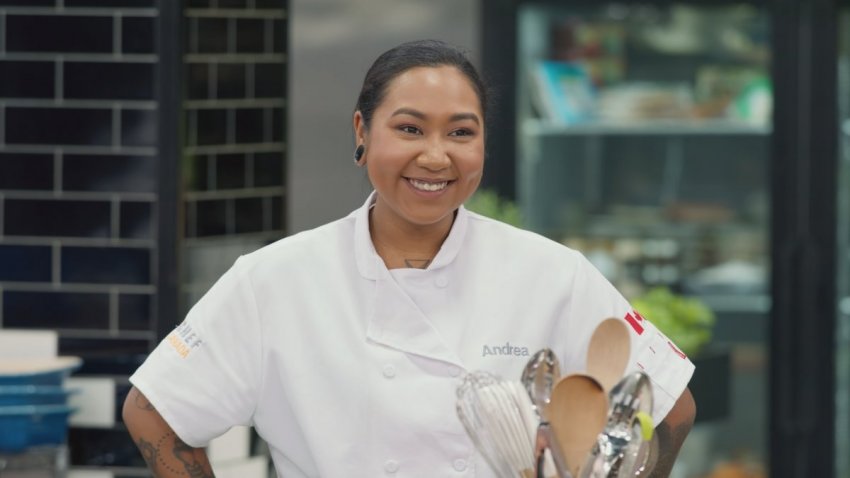 Andrea makes reuben-inspired nuggets of sorts. A spin on falafels with flavours of a reuben. At surface level, this does seem clever, but why no sandwich?
It's at this point that I wonder if the chefs were given clear direction with this challenge and its parameters. Why are Emily and Andrea going so far out of the box while Kym is applauded for their vegan dish resembling the diner classic they are interpreting.
Did Emily and Andrea think they were supposed to be wildly creative with the theme? It doesn't make sense for chefs to be doing this if they are competing for immunity. I suspect the expectations of this challenge were not clearly outlined.
Jae-Anthony's dish looks very delicious. He's using Trinidad fry bake as a bun and Suzanne is especially into it. George gushes as well. Eden says she wishes there was something to cut through the richness, so perhaps a quick pickle would have done the trick.
Josh's looks more like a beautiful vegetable dish than anything you'd find in a diner, but it appears stunning. Eden and co. seem smitten with this dish, but make no mention of it not resembling the menu item it is inspired by.
Not surprisingly it is Andrea, Emily and Siobhan with the low marks and Galasa, Josh and Kym on top. It also seems odd to not show Aicia's Quickfire creation for a second week in a row.
Anyway, Galasa's mushroom meatloaf leads him to victory and he seems very pleased. Comfort in safety!
Elimination Challenge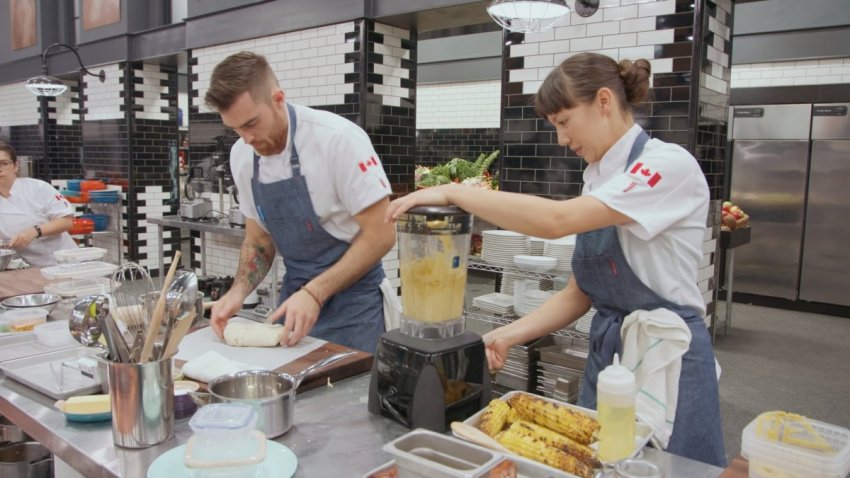 The chefs find out that they are going to be working in teams to make harvest-inspired picnic baskets using one of three key ingredients: apples, corn or pumpkins. One by one, they pull knives from a hay bail to find out what ingredient they'll be cooking with.
Andrea, Jae-Anthony, Galasa and Kym all draw "apple". Alex, Aicia and Emily end up with "corn". The Karbelniks–I love that I can say that–and Siobhan are team "pumpkin".
For their ingredients, the teams venture out to Downey's Farm–which is about 40 minutes driving distance from the heart of Toronto without traffic, but with traffic? About four hours.
Jokes aside, they will turn these ingredients into luxe picnic-friendly dishes that will be presented at the Toronto Botanical Gardens to Eden, Mark McEwan, resident judges Chris Nuttall-Smith and Mijune Pak, and guest judges Guy Rawlings and Kim Montgomery-Rawlings of the award-winning Montgomery's.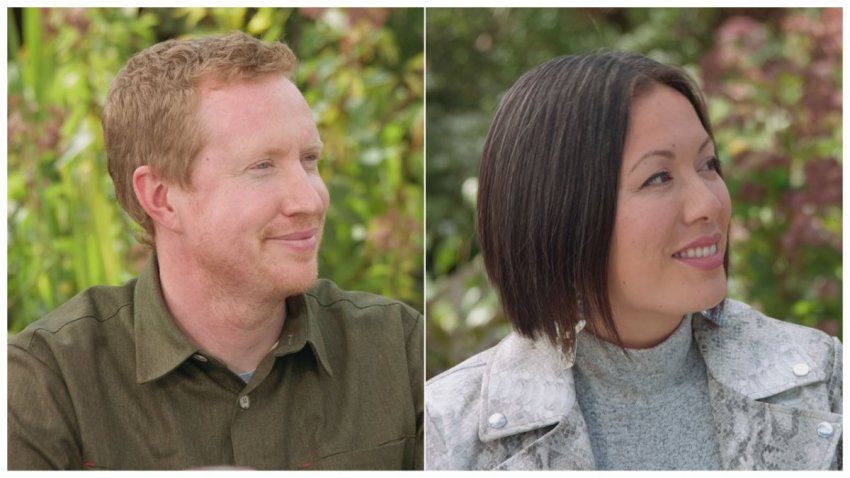 Eden points out that they had a picnic-style reception at their wedding and says, "No pressure!"
I'm not sure if that actually is pressure. If it was a restaurant that specializes in picnic baskets then sure, but restaurant owners that have had a picnic at their wedding doesn't leave me shaking in my culinary boots.
At the farm, we see Alex cuddling a goat unabashedly. He goes on to say how cute they are...and how good they can taste. He and his teammates, Emily and Aicia, leave the goat enclosure and stroll the corn rows.
Emily explains her uncertainty with the task at hand. She's unsure how to work with corn to make it the star of a dish. This is clearly foreshadowing and likely not the good kind. Uh oh.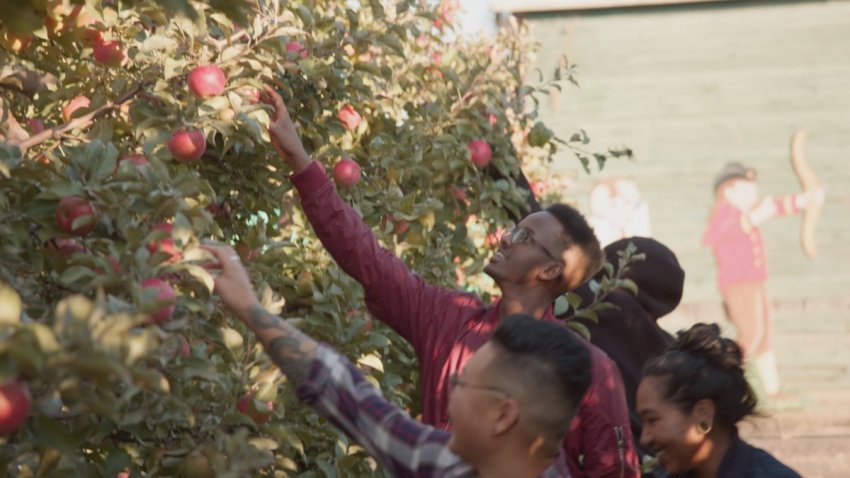 Galasa appears to be in apple orchard heaven. In every moment of screen time centred around team "apple", he is either eating an apple or picking one.
How many apples did Galasa eat during this montage? I say three!
I'm relieved to see that Kym and Josh get to say those sacred words when asked how to play for ingredients: "Interac Flash!"
Alex, Kym and Erica are all on separate teams, but seem to be the chefs that have the best handle on this challenge as they all regale us with their love of picnics in separate diary sessions.
Josh proposed to Erica while on a picnic, Kym's last meal before flying out to compete on Top Chef Canada was a picnic and Alex, well, he explains that his favourite style of a date is a picnic date. Surely many single lady viewers–and many of my gay brethren–have made note of this.
Aicia–who finally gets some screen time–walks us through the frittata-quiche hybrid she is making. It sounds tasty enough and it looks like things are going well until she cuts into it. It's got a soggy bottom and a dense filling.
You can tell Aicia is not pleased, but there's no time for a plan b. "It's a very valid reason to go home," she says matter-of-factly.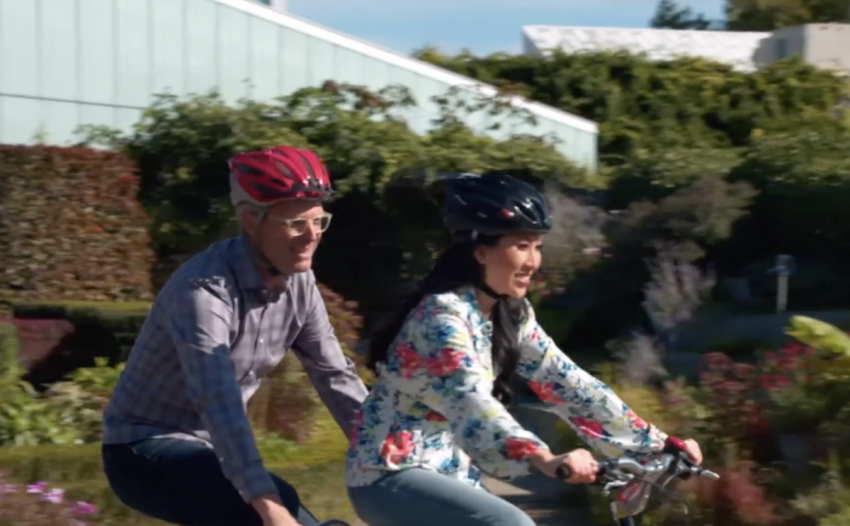 We leave Aicia in frittata-quiche purgatory and segue to the Toronto Botanical Gardens as the judges and host arrive via tandem bikes. It's a nice, warm-weather touch to set the mood for the outdoor feast and as Mijune and Chris zoom by I ponder how often Mijune actually rides a bicycle.
Team "corn" is up first with Alex presenting trout rillettes with corn bavarois and corn chips, Aicia with her egg-corn creation studded with braised kale, caramelized onion and roasted garlic and, last but not least, Emily's five-spice duck breast with a harvest vegetable salad, polenta and pickled plums.
Emily's dish comes under much scrutiny. The duck is over done, the salad is "a jumble of things" (Mark's words, not mine). It seems as though corn is far from the star.
Aicia garners lukewarm reactions to her baked egg and corn dish which are certainly not as negative as she has hypothesized, but they aren't glowing. It is Alex that received all of the accolades for a dish well done and smart use of their assigned ingredient.
Next up is the "apple" crew (Andrea, Kym, Galasa, Jae-Anthony).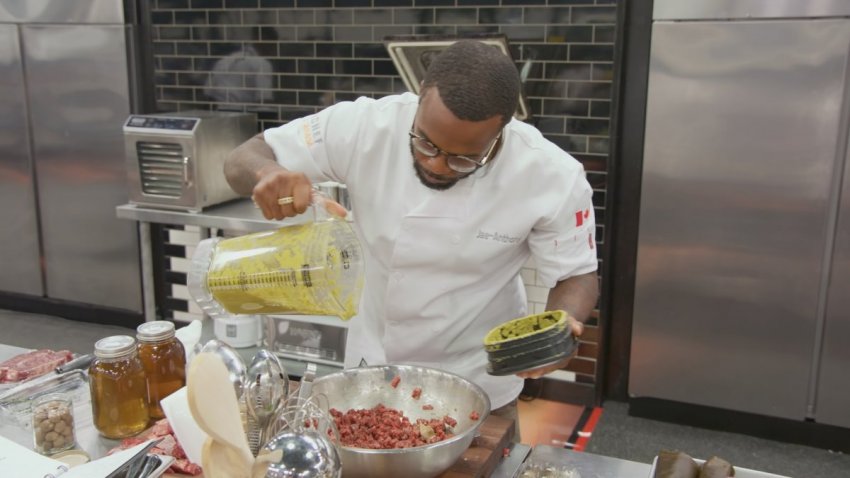 Jae-Anthony has made a bison tartare with smoked gouda and a Haitian green sauce. Earlier we saw that Kym suggested adding some grated cheese to the tartare. This seems like an unorthodox suggestion to Jae-Anthony, but he does so anyway.
Prior to delivering the picnic basket to the judges, hearing Andrea explain the complexity of her dish in terms of preparation is worrying. Will there be enough time for her foie gras pate with apple gel, crostini and spiced apple mostarda to work out is the true question of the day.
Likely not, but we'll see!
Sure enough, you can practically see Andrea's pate swishing around in its container when Eden pulls it out of the basket. This shan't end well.
It's also tough times for Jay-Anthony who's tartare is deemed ill-fitting for a picnic and one that does not do apples justice. Though apple-forward, Galasa's refined take on a crumble also falls flat.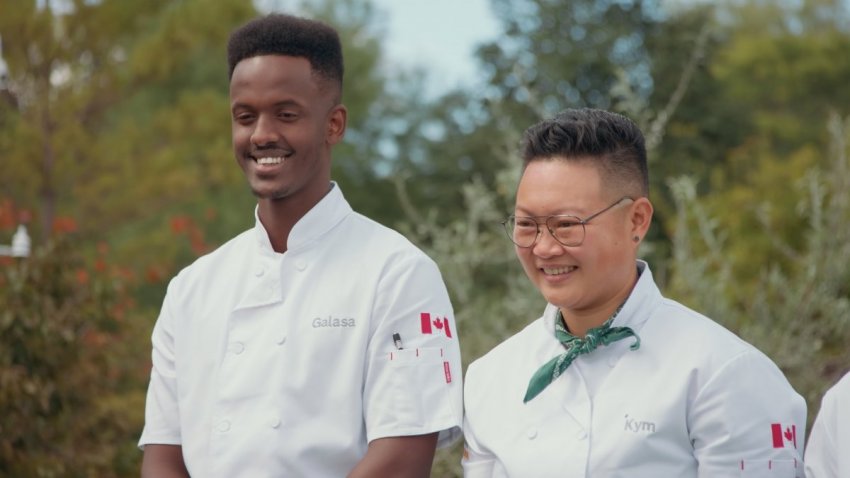 With three bad apples out of the punch, Kym offers a glimmer of hope for the team with a vibrant tuna tataki made with an apple miso glaze, apple salsa, pickled apple skins and a yuzu buttermilk emulsion.
The judges appear to love it as much as they loved Alex's creation.
Both Erica and Josh seem very happy to be cooking with pumpkin.
Josh says that he is making pumpkin tenders for their picnic basket. He is doing so by compressing the pumpkin in goat milk and curry spices. From there, he will coat the pieces of pumpkin in a fried chicken dredge and fry them. This sounds quirky and could really go either way, but I like the sounds of it.
Siobhan is making spiced pumpkin cheesecake with cherry compote and chai-infused whipped cream. She says she is comfortable making this dish, but splits her cheesecake in the oven. It also looks very mealy.
Editing implies that Josh saves the day and suggests she creates a parfait with the dessert components instead. The dessert container looks like an absolute hot mess, so let's chalk that up to only have a few minutes on the clock to fix a problem.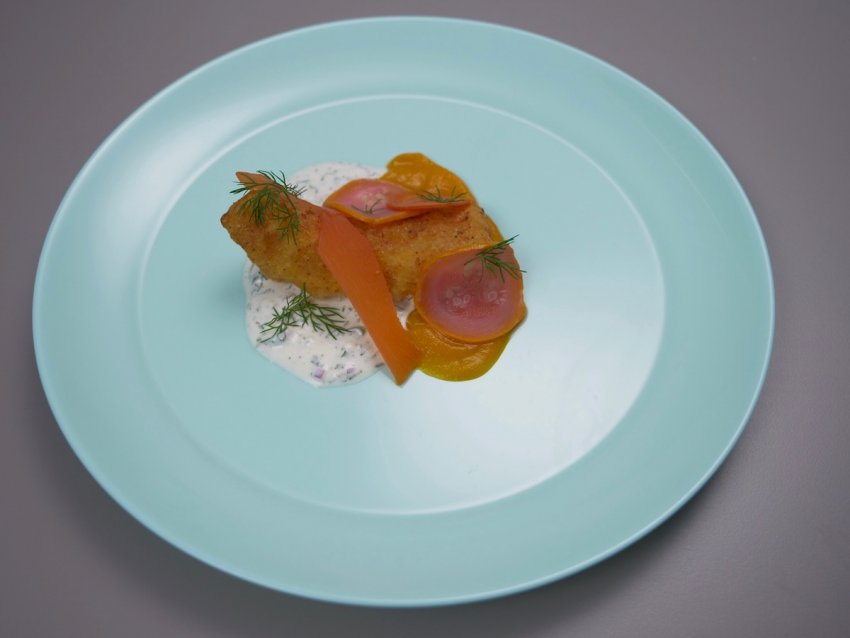 Josh seems to have a hit on his hands with his oddball tenders–though it's never mentioned what the dips on his plate are–as does Erica who melon-balled the hell out of a pumpkin to make one of the best-looking fall salads I have ever laid eyes on.
The roasted balls of pumpkin are combined with pumpkin seeds, goat cheese, pumpkin blossoms and a truffle honey vinaigrette made with toasted pumpkin seed oil and shallots. The salad sends the judges into a tizzy.
I have never seen a salad win an Elimination Challenge on Top Chef Canada, but this could be the day.
Siobhan is the weak link of team "pumpkin" with an underwhelming parfait that lacks texture and proper flavour balance.
"So that was a delicious way to spend an afternoon," says Eden.
Was it? Based on the picnic guests' critiques it seemed like the majority of dishes did not land well aside from the ones made by Alex, Kym, Josh and Erica.
Judges' Table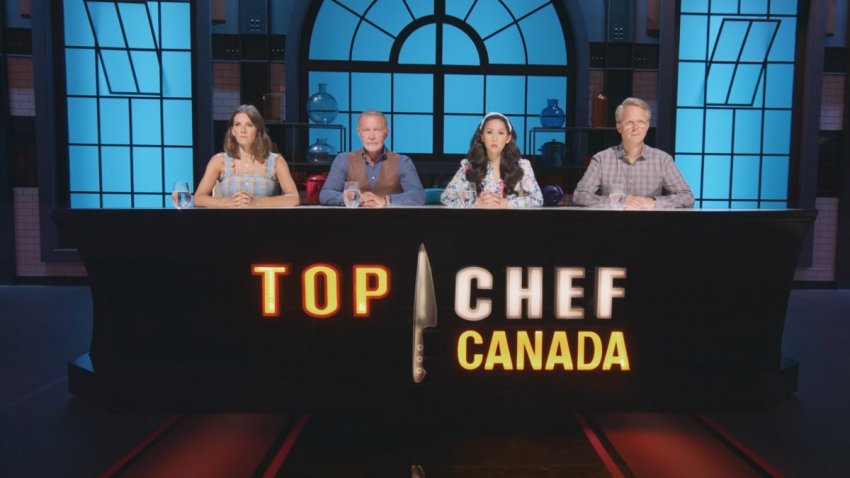 Being judged as teams seemed like an odd choice considering what was required during this Elimination Challenge. The only thing tying the chefs together in each group was the designated ingredients. Outside of that there did not seem to be any collaborative menu development or teamwork required.
Erica, Josh and Siobhan are called in to see the judges. It's clear that they are the winning team. The judges applaud Josh for his creativity and Mijune continues to gush over Erica's dish, in particular the truffle honey salad dressing–which Erica serves at her restaurant inside of Elmwood Spa, so run, don't walk.
Though the team collectively won this week, McEwan points out that Siobhan herself has failed the challenge. The young chef has a few tears and says she's having some self doubt in the competition.
"You deserve to be here," says Pak.
As a viewer, it's tough to agree with that sentiment at this point based on what we've seen throughout the first two episodes of Top Chef Canada Season 9.
The trio returns to the holding room and send in team "apple" who is on the chopping block.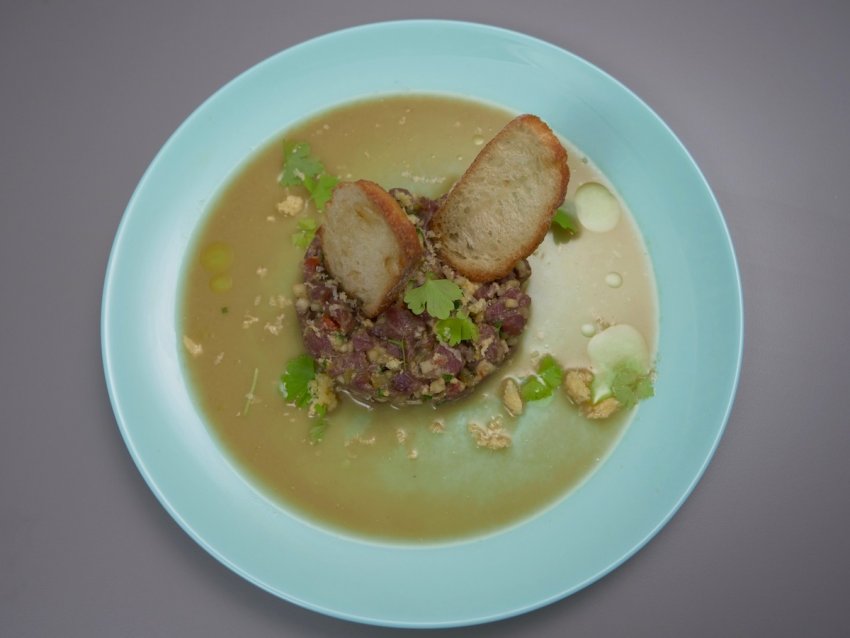 Jae-Anthony's gouda comes into question, among other flaws in his dish. I don't think it is that unusual to add cheese to a tartare in some respect, but the judges say otherwise and suggest it was simply misused.
Andrea is having another bad day in the TCC Kitchen. She is a victim of creating a dish that: a) required more time than she was allotted to complete correctly and b) didn't travel well.
Galasa is berated for his texturally unappealing apple crumble, but he is safe from elimination.
Kym is the sole chef from team "apple" to receive praise. With no shortage of compliments, it seems bizarre that they are in the bottom this week because of a technicality.
In the end, it's down to Andrea and Jae-Anthony and it is the latter that is sent packing.
Was this a fair elimination? I'm not so sure.
Kitchen Scraps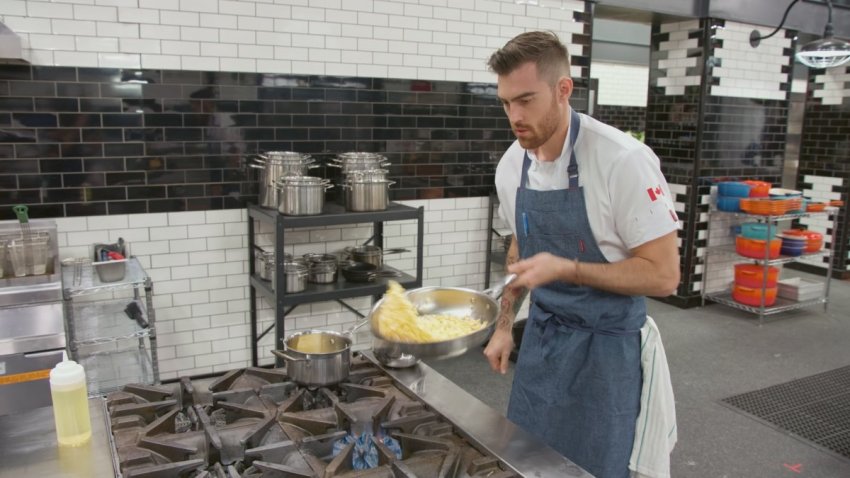 From a viewer's point of view, only four chefs garnered positive feedback for their Elimination Challenge dishes. It felt strange to not see Alex and Kym alongside Erica and Josh getting accolades, especially when the majority of chefs received negative critiques.
Was there a team element to this challenge that we did not see? If not, I have a hard time understanding why the chefs weren't judged individually.
I loved that the show kicked off with Suzanne Barr and George Strombo, but restaurateurs Guy Rawlings and Kim Montgomery-Rawlings of Montgomery's seemed like an odd choice for guest judges for a picnic challenge. Having guest judges in a season that was filmed during the pandemic has its limitations of course, but the duo might have been better suited to a challenge that allowed the chefs to be a bit more creative in a dinner service setting.
Top Chef Canada airs on Monday nights at 8 p.m. MDT / 10 p.m. ET on Food Network Canada.