After a teaser at the end of last week's episode, we already know what's coming at the beginning of this one: three eliminated chefs return to cook their way back into the Top Chef Canada competition.
As a big fan of Last Chance Kitchen, I am really looking forward to a challenge that loosely resembles this. It likely won't be similar to the multi-episode show–which runs adjacent to any the current Top Chef (America) season–but a redemption moment nonetheless!
Skills challenge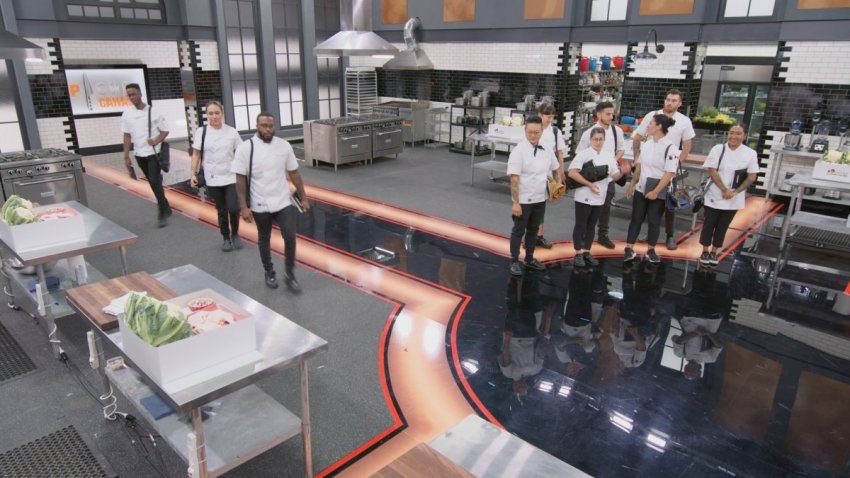 Eden lets the remaining chefs know that a handful of eliminated competitors have returned to compete and regain a spot in the running for Canada's Top Chef. Everyone looks gagged, especially Erica.
Siobhan, Jae-Anthony and Galasa stroll into the TCC Kitchen, but Steph is nowhere to be found. I'm curious as to why he's not there, but speculate–something I love to do–that he had likely already flown back to Nova Scotia before the production team made the decision to have this challenge.
(Insight Productions, let me know what happened so I can sleep peacefully at night this week, ok?)
We now find out that not only are these three competing against one another, but they will also be competing against the members of Takeout Wars' losing team, Root (i.e. Erica, Emily and Alex). The first person to complete the three-part skills challenge successfully on the eliminated chefs' side will go head to head in a cook off against the last chef on the still-in-the-running side to finish the challenge.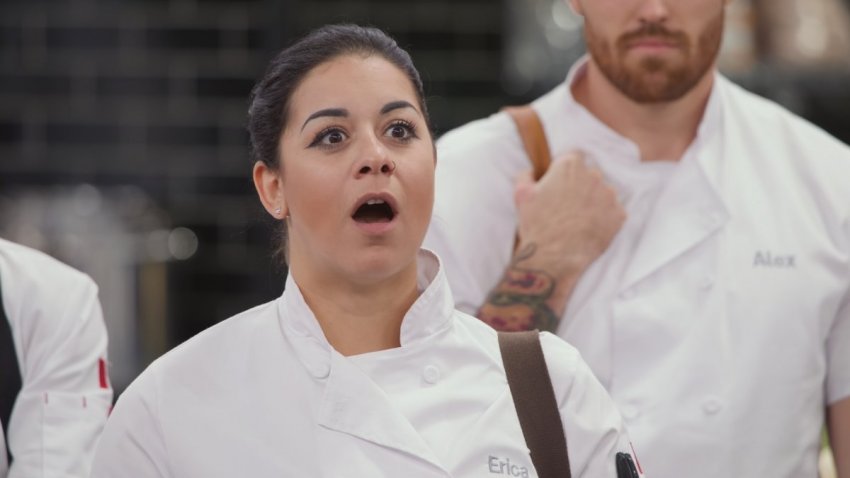 This twist on the skills challenge feels a little convoluted. I'm also not sure if it's entirely fair to put Alex, Emily and Erica through the ringer like this while Kym, Andrea, Josh and Aicia get to watch from the sidelines, but this is reality television and if you sign up for a show like this, you're signing up for any twist or turn the producers opt for.
The trios of chefs must (in this order) properly peel 15 cloves of garlic, break down two heads of cauliflower into even-sized florets and skin and debone three chicken legs. None of these skills are particularly difficult to do...at a normal speed.
May the fastest chef win!
At first, it's hard to tell who's the most deft with their garlic peeling and trimming skills. Emily surprises as the first chef to call "check" and gets the green light to move onto the cauliflower stage.
Erica isn't fair behind, but must redo one clove. She quickly recovers and both her and Alex move onto stage two at the same time, seemingly catching up to Emily.
Jae-Anthony is zooming on the eliminated chefs' side, being the first to complete his clove peeling and also the first to break down the heads of cauliflower. He seems to go a bit haywire, breaking apart the brassica with his bare hands instead of using a knife. Mark McEwan does not seem happy with the results and asks him to create more uniformity with the florets.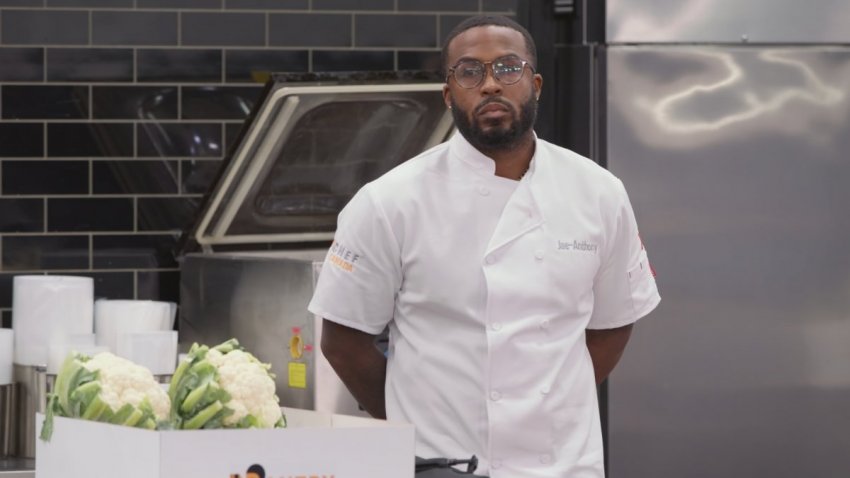 Erica has made up plenty of time in this round and calls "check" seconds before Emily does. Mark says Erica's florets look "great" while Emily's look "fine"–how oddly cutting–and they both get to move onto their chicken legs.
Alex moves on and, although he is notably behind Erica and Emily, he mentions that he has deboned "probably 1,000 chicken legs in his life" and can easily make up ground. He appears true to his word and starts zooming through the chicken task.
He is the first chef to complete the Skills Race and is officially safe...for now.
Erica and Emily both look really stressed at this point as they scramble to finish their deboning. This time around, Emily calls check one second before Erica does and with that, Erica is left up for elimination in this highstakes Quickfire.
We now cut back to the eliminated trio where Jae-Anthony and Galasa are neck and neck in the final stage. Siobhan is still completing the breaking down of the cauliflower and has hardly any screen time, so it's safe to assume that she's out of the running.
Once again, Jae-Anthony goes too swiftly and mucks up some of his chicken. Being instructed by Mark to do another leg allows Galasa to beat Jae-Anthony to the finish line.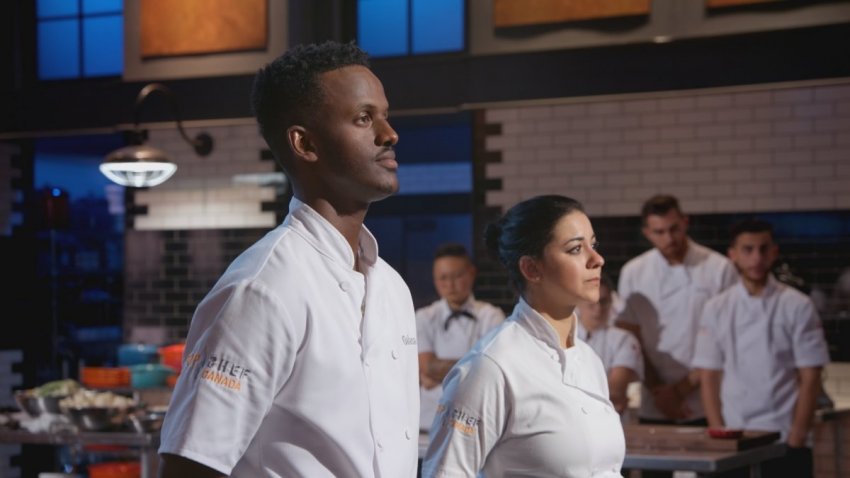 It's now Galasa versus Erica in a sudden death cook off where they must utilize the ingredients they have just finished prepping in the Skills Race. The winning chef gets to remain in the competition and also wins $5,000.
Both seem determined to fight for the spot to compete, but at this point it seems highly unlikely they will send a frontrunner home. You never fully know what the producers are thinking when it comes to certain twists, but I doubt having Erica in this sudden death situation was something they expected.
My speculations are irrelevant to the chefs currently living this hellish TCC Kitchen experience who are scrambling back and forth from the pantry to the stove trying to create something memorable to serve Eden and Mark.
Erica serves up a colourful spin on chicken shawarma with cauliflower couscous, tahini, salsa verde, golden raisins, pomegranate and chilis. The judge and host seem to have no qualms with this.
Galasa delivers a tasty-looking plate of grilled chicken with crispy chicken skin, espelette pepper-spiced cauliflower and sumac-infused goat yogurt dressing. It does appear to be simpler in presentation and components compared to Erica's dish, but sometimes less is more.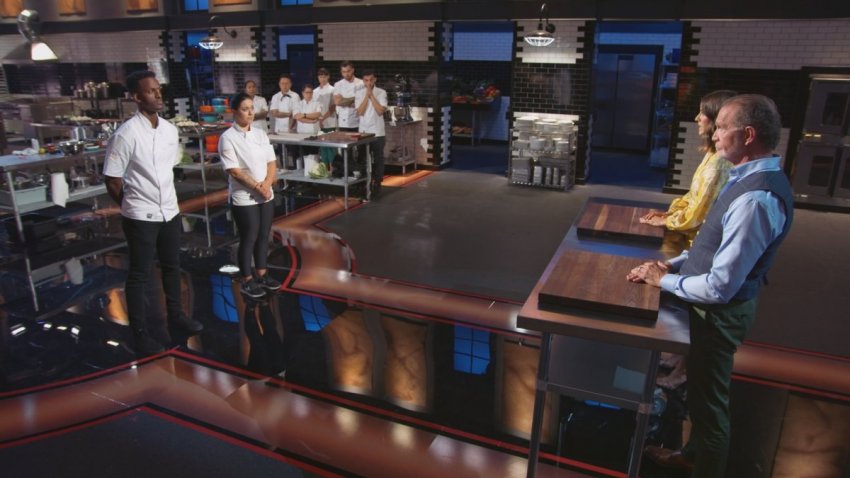 Mark references that this is "the most well-seasoned plate of food" that Galasa has made so far in the competition. That isn't really an overly exuberant compliment, so it looks like Erica lives to cook another day.
That inkling is indeed correct and Erica looks beyond thankful as she falls to the floor in great relief. Galasa seems a bit upset as he leaves the TCC Kitchen for a second time and, quite frankly, I would be too.
I think it would have been more fair to let him stay after winning his side of the Skills Race and compete in the Elimination Challenge. Do a double elimination at that point, where surely there would be two dishes worse than the rest.
Oh well.
Elimination Challenge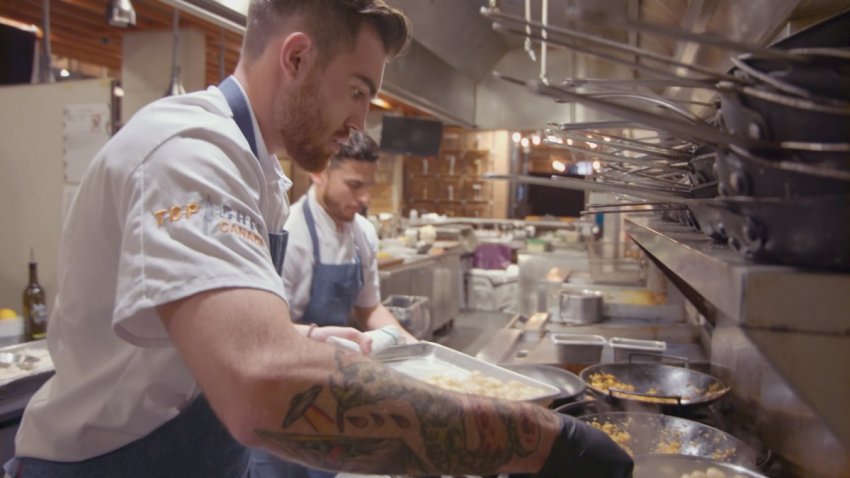 After the competitors bid adieu deux to Galasa, Eden briefs them on their next challenge where they must create a dish that embodies how they support local in their respective hometowns.
Their dishes will be served during a dinner at the original Mill St. Brewery location in Toronto and I think it is safe to say that this will be the best food that has ever come out of that kitchen. Slightly shady, but true?
Regardless of what I think about the food quality at this brewpub chain, they are footing the bill for a $5,000 cash prize for tonight's winner, so no one in the TCC Kitchen is complaining.
Montreal chef and restaurateur Paul Toussaint is this week's guest judge and Aicia says she is really looking forward to cooking for the acclaimed culinary mind.
As the chefs zip around the pantry grabbing ingredients, Andrea explains that she makes an effort to support "mom and pop" restaurants in Vancouver, especially during the pandemic. This is a genuine moment and you can see that she's earnest in choosing to dine local to help keep these small businesses alive.
She is drawing inspiration from Goo Izakaya's signature dish, a kimchi fried rice as well as some shishito peppers.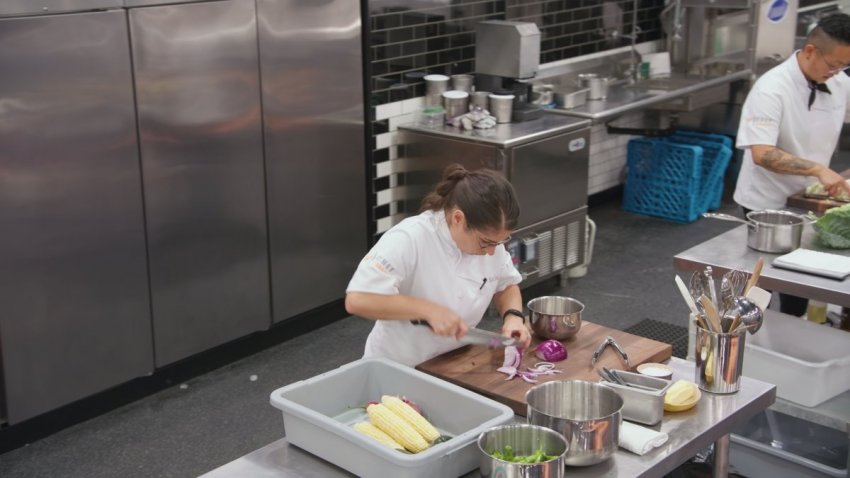 Aicia is busy making some sort of eggplant puree using the charred skin of the eggplant. This does not look nor sound appetizing. It also does not appear to taste appetizing based on her own reaction when she tries some.
Yikes.
Emily pops on screen next and regales us with the inspiration behind her dish, the Yellow Dog Tavern. Having had many drinks there in Winnipeg, I can attest to the fact that it is an industry hangout, though I have never had their hot dogs–which is the sub inspiration for her dish.
There doesn't seem to be anything hot dog-ish happening in the many pans Emily has on the stovetop. This isn't the first time she's been presented as a bit scattered while creating a dish, so this scene is likely foreshadowing for a rocky Judges' Table.
For how discombobulated Emily can appear during an episode, she always balances it out with a smile and a laugh. It often seems like she is having more fun on this show than everybody else and this makes a viewer always want to be in her corner. At least I know it does for me.
Following a perfectly framed stroll past huge white letters that spell out "local", the chefs rush into the Mill Street kitchen to finish preparing for the impending dinner service.
"I'm a little nervous, but who isn't nervous about winning five Gs," says Andrea as she unpacks her knives.
We refocus on Emily as she gives a more descriptive rundown of the dish she's preparing. There is no hot dog to be found here, but rather a dish that pays homage to the toppings one might find on a weiner. It still seems confusing.
Honey dill pork tenderloin crusted with rye caraway crumb, white beans, pickled red cabbage, miso, pepper relish and pickled chanterelles.
You know I love me some Andrea sound bites. Hearing her say "If you can't stand the heat, get out of the kitchen" somewhat sarcastically as she heats up her charcoal grill is my favourite line of the episode so far.
As the judges walk in, I can't help but immediately fall in love with the matching colour scheme of the outfits that Mijune and Janet are wearing. Stunning.
Also slaying the fashion game on this week's episode is guest judge Paul Toussaint. His vibrant blazer looks so cool, I will now scour the internet seeing where I can purchase one too.
Emily and Andrea serve up their dishes first and it's clear the judges are struggling with Emily's explanation of her dish as well as the flavour combinations. There is simply too much going on...yet again.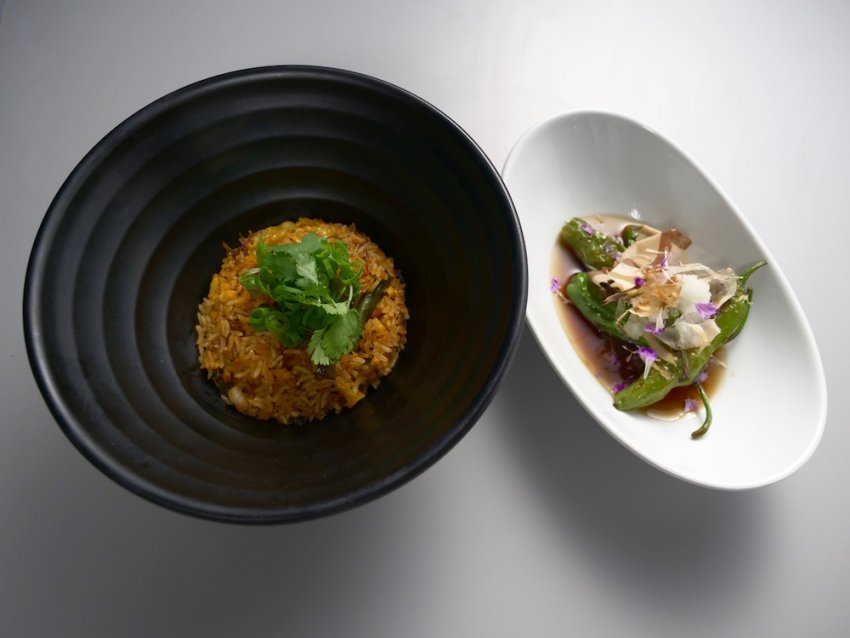 On the flip side, there is nothing but praise for Andrea's kimchi fried rice and grilled shishito pepper combo. Mijune seems especially impressed with the chef's offering, being familiar with the restaurant that Andrea loves so dearly that serves as inspiration for the dishes.
Next, Kym explains that they are cooking up an ode to Granville Island Market. To represent the market, they are using scallops–among other ingredients–but the ingredient chit chat is quickly dropped for a possible mishap while finishing their dish.
Are the scallops really overcooked? I guess we'll find out in a few!
We haven't seen Aicia since she was prepping the eggplant skin component of her dish earlier in the episode. The chef's finished product is a pan-fried cod with corn, shishito peppers, and a roasted garlic and eggplant skin puree.
This looks worrisome.
Serving alongside her is Erica who has offered up a hefty plate of brined pork with wheat berry "risotto", apple and smoked mustard puree, and a juniper and spruce tip jus, topped with a fried kale garnish. The portion of her edible homage to the Niagara region appears to be rather large, but it sounds enticing.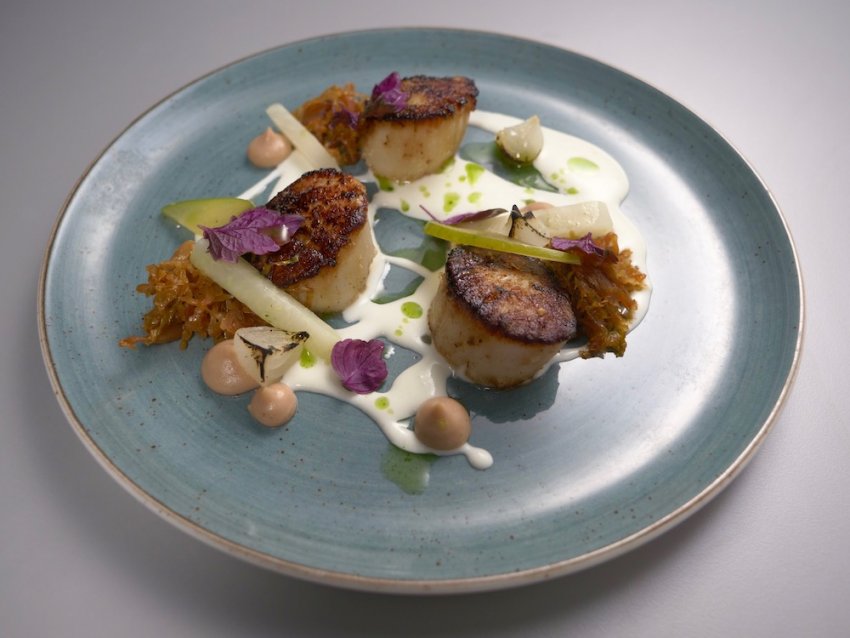 Kym is also in the mix here and delivers sake katsu scallops with a smoked apple and tonka bean puree, soy-braised cabbage and shiso leaves (I believe). Not surprisingly, it is the most remarkable-looking dish to appear so far.
Their dish receives plenty of praise so it turns out that the scallops are not overcooked after all. Aicia's creation is a disappointment all 'round with Paul Toussaint remarking that it does not represent its inspiration–the Jean-Talon Market–whatsoever. Erica receives lukewarm comments for a bulky presentation and inconsistent cooking of her pork.
The gentlemen are up last and both dishes sound promising after hearing the descriptions.
Alex is aiming to embody Alberta on a plate doing a dish that Albertan chefs generally try their best to avoid being associated with, steak and potatoes. His variation on the theme is imaginative and involves a Saskatoon berry preserve as well as pickled potatoes.
I'm not not into it!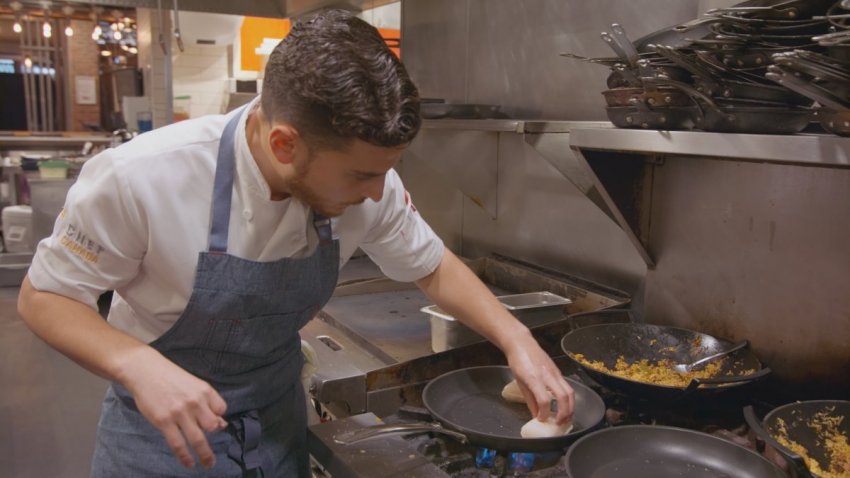 Josh is crusting halibut steaks with bread, which is something I don't think I have ever had before. Bread crumb crusted fish, sure, but not fish crusted with an actual piece of bread. Learn something new everyday, right?
Josh's dish is rooted in his memories of his grandfather's backyard and picking tomatoes in the height of summer. His halibut is served with a clarified tomato gazpacho, confit and fresh tomatoes and charred rapini. It looks like summer on a plate.
Mark applauds Josh for the technique on his plate and notes that bread crusting is not a simple thing to do well. Janet describes it as "beautiful".
Last, but not least is Alex's plate of beef striploin with torched pickled potatoes, gnocchi, pine-infused hollandaise, Saskatoon berry gel and nasturtium. According to the judges, there is little redeemable about Alex's creation. In particular, Mijune sounds especially perturbed with the sweetness of the berry gel.
Judges' Table
Eden summons Josh, Kym and Andrea to go in to see the judges first. "You just never know," says Emily.
To the viewer, there is not much surprise in the tops and bottoms of this episode, but it always seems like chefs do, in fact, never really know. Ah, reality television!
While Andrea, Kym and Josh are all equally showered with compliments for their unique edible embodiments of "supporting local", it is Kym that takes the top spot once again. This means they've won another $5,000, which also means that even if they do not win Top Chef Canada Season 9, they will still leave with a good chunk of cash.
The trio rejoice collectively before reappearing in the holding room and telling Alex, Aicia and Emily they must head in next. Erica is the sole safe competitor and doesn't seem overly happy about it, but hey, it's not the bottom.
"[It was like] an alien had landed on the plate," says Mark in regards to Alex's choice to add a sweet berry preserve to his steak dish.
Mijune adds further salt to his wound by questioning his torched pickled potatoes.
Emily is not surprised with the feedback she receives and admits that she has a habit of going overboard when it comes to adding components to a dish. If she isn't sent home tonight, she will really need to rein in this bad habit to become a serious contender in the top six.
Aicia's dish seems to be the most problematic of the three. Seeing as it was much simpler in technique compared to what Alex and Emily prepared and it still didn't land, this feels like it's her time to go.
Sure enough, it is Aicia who must pack her knives and go.
Kitchen Scraps
The twist during the Skills Race still feels a little ridiculous to me. It would have been much more dynamic to actually allow an eliminated chef back into the competition for a proper Elimination Challenge.
I am now going to try crusting fish fillets with bread and pan-frying them. I am very intrigued by this technique. Can you bread-crust beef and make a lazy man's Beef Wellington? These are things I ponder.
With yet another win under their belt, it feels like Kym is on track to compete in the finale. I'd put money on it.
Top Chef Canada airs on Monday nights at 8 p.m. MDT / 10 p.m. ET on Food Network Canada.
Check out our Top Chef Canada power rankings for episode 5!