Before I begin, let us collectively agree that Mark McEwan is looking more fit in this episode than any of our pandemic selves have ever looked since COVID-19 took hold of the world last spring.
Alright, moving on!
Rewinding a bit from the debut of Mark's biceps, there are just five chefs left tonight and this makes me realize that this season has really zoomed by.
Alex, Erica, Andrea, Josh and Kym clearly deserve to be in the running, but I think Galasa could have been here too. I wish his opportunity to get back into the competition was formatted a bit differently...things might have been a bit different.
Quickfire Challenge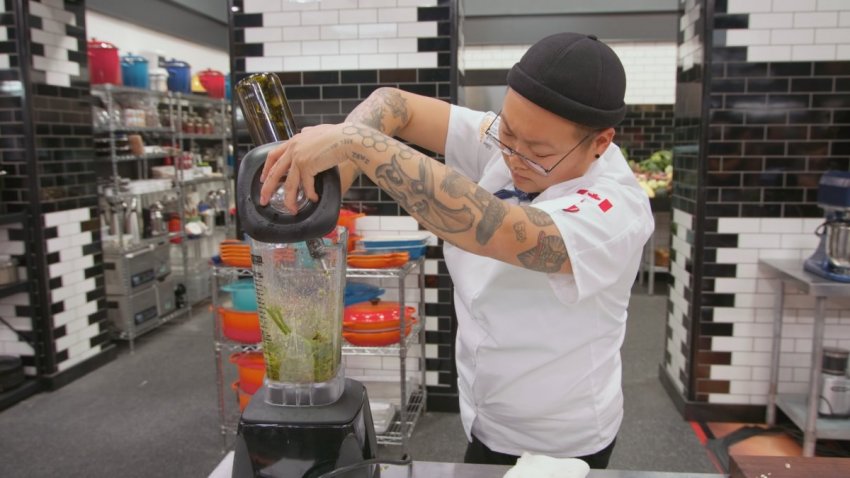 As I've been teasing in the recap, Mark is present in the TCC Kitchen–alongside Eden–looking quite casual in a tightly-fitted tee and jeans. He's here to cook a dish that pairs perfectly with Stoneleigh Wines' Sauvignon Blanc, but there's a catch: Mark is going to cook this "perfect" dish as fast as he possibly can.
"It's like we're watching from the tv, but we're in the tv," says Kym as they watch him cook.
So meta!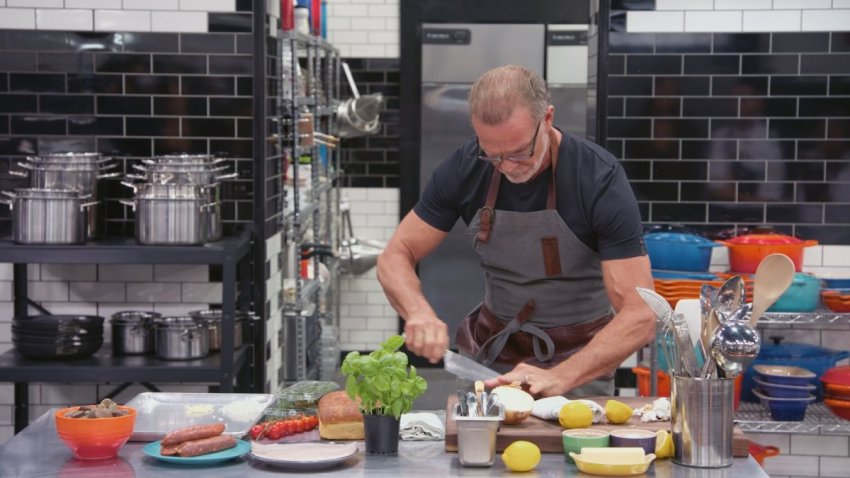 He prepares chorizo, mussels and seared sea bream with blistered tomatoes and focaccia crumbs in just 14 minutes and 22 seconds. It is truly a feat and the competitors equal parts impressed and scared with how quickly he achieved his end result.
The chefs do not need to recreate his dish in Mark's time frame–which after watching would arguably be fairly easy to do–but they do need to create a new dish within 14 minutes and 22 seconds that will pair well with the wine. It is not a lot of time to get creative.
Alex is making some sort of salad with mango salsa and poached eggs while Andrea is preparing a grilled seafood and chard dish. Both sound fine, but Alex decides to increase the heat on his pot of boiling water to poach his eggs faster. When presented to Mark and Eden, it is not well received.
Erica has whipped up some seared scallops with cacciucco sauce and a grilled and fresh fennel salad. Mark and Eden both seem to enjoy it, but imply it's a little clunky in its composition.
Josh's seared halibut with berbere and piri piri sauce is "spot on" for the challenge. Kym's cornmeal-crusted bass with cilantro salsa verde looks like Mark's dish re-imagined, but still draws equally as positive feedback as the halibut creation.
At this point, it seems like these are the top two, but there is still one more plate to go.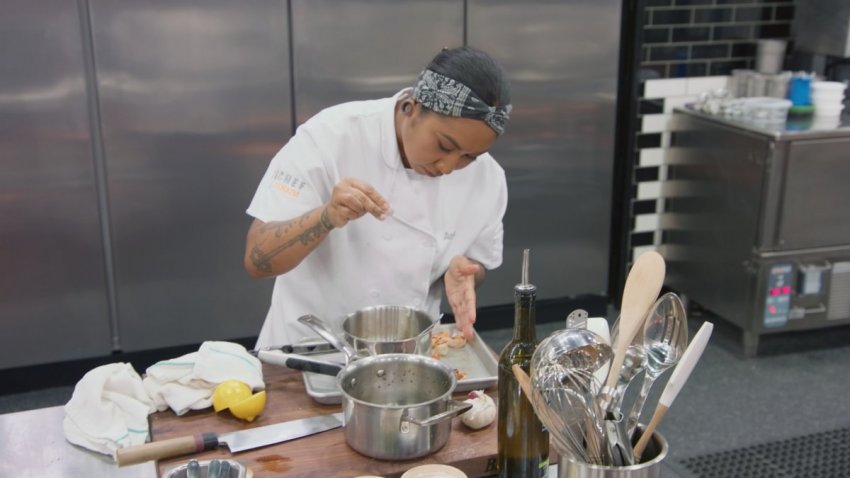 Andrea presents her grilled seafood dish. It looks a little oily and, um, splatter-y, but despite its visual faults it receives plenty of compliments.
The seared halibut winds up being the most well-constructed and perfect pairing for the twist-off-cap sauvignon blanc which means that Josh wins $3,000.
It would be nice to see a Canadian winery pony up the cash to be part of a show like this. The ROI seems obvious to me, but I digress...
Elimination Challenge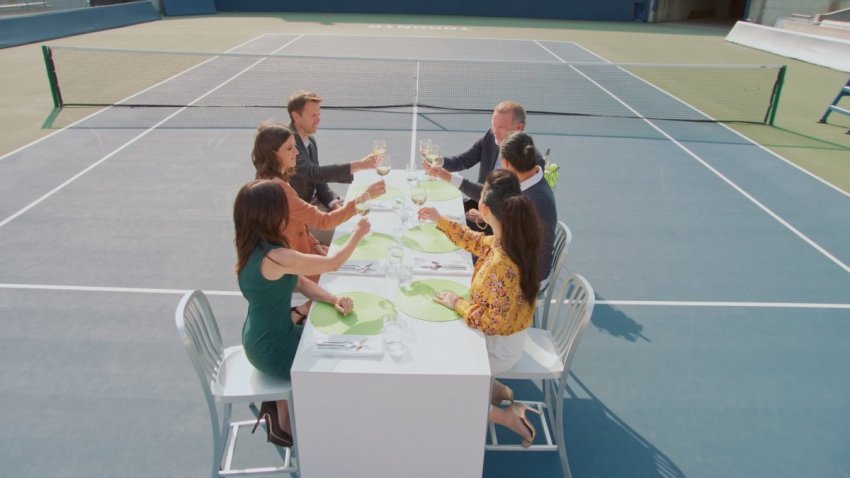 A tennis-themed dinner is teased, but does not come to full fruition as the five competitors are told to draw tennis rackets only to decide the themes of the dishes they will be creating.
Alex draws "doubles" meaning that he must merge two of his past dishes into one. Andrea picks "break" and is tasked with recreating her best dish of the season...which sounds quite challenging, actually.
Erica pulls "fault" and Kym winds up with "love". As the terms imply, Erica is getting a second chance at her "worst" dish and Kym gets to re-imagine a dish created by a fellow competitor.
As a bonus to winning this week's Quickfire, Josh is given the choice of any of the aforementioned themes. Being the loving husband that he is, the chef chooses "love" and quickly explains that he wants to recreate Erica's scallop dish from the first episode of the Top Chef Canada season.
"I'm choosing 'love' because I love Erica," says Josh. "I'm going to recreate one of her dishes and make her proud."
And cue hearts melting.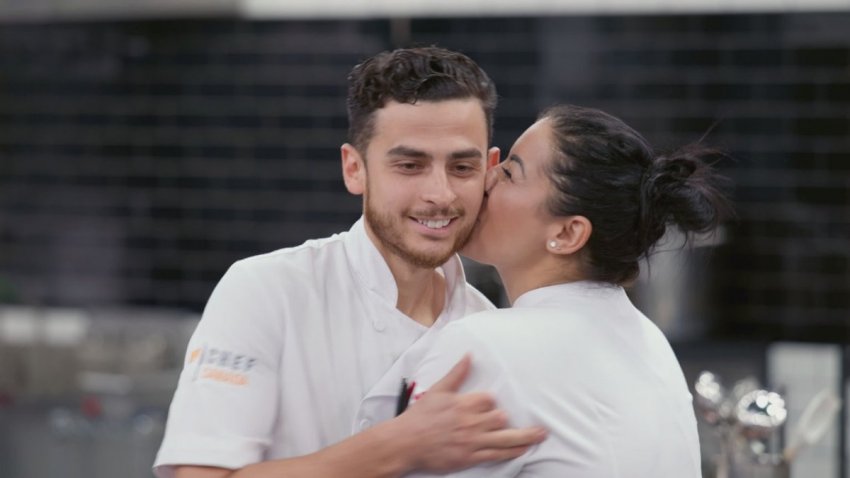 Eden announces that the two guest judges for this tennis-inspired dinner are celebrity chef Susur Lee and retired professional tennis player Daniel Nestor. Andrea seems excited by both mentions, but especially Nestor as she notes that her sister and brother in law are big fans of tennis.
"I'm so close I can feel it," says Alex.
We'll see!
Kym explains that they are recreating Alex's dish from the Indigenous dinner challenge. Instead of pheasant, they're opting for duck and using sunchokes in croquettes and fried chips instead of a puree.
It sounds like they are on a tasty track.
Alex is merging components from two of his dishes from earlier on in the season. Octopus is being ground into a bolognese which he'll be serving with some ricotta gnocchi, a nod to his gnocchi from the holiday-themed challenge.
The octopus bolognese doesn't sound that odd, but the addition of gochujang feels somewhat out of place for Alex. He hasn't really opted for Asian flavour profiles before in this competition, so why now?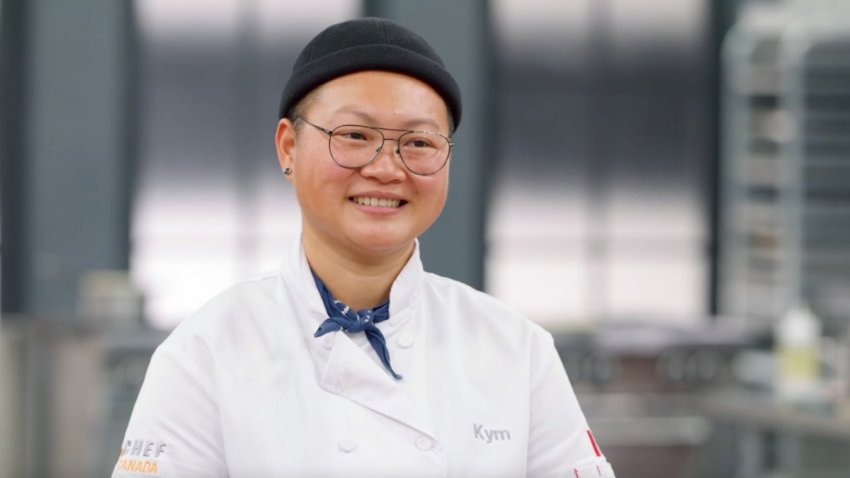 After prepping the TCC Kitchen, but before arriving at the tennis stadium to finish their dishes for dinner service, there is an odd scene. The five competitors are squeezed into a car with Kym behind the wheel and they are watching a video message from last year's winner, Francis Blais.
Was Vancouver-based Kym actually driving the chefs to the stadium through downtown Toronto traffic during the season's semi final episode? Inquiring minds need to know!
All of the chefs seem to be losing it over the fact that they are serving food to Susur Lee. The sound bites almost imply that Lee's approval trumps the usual suspects of the TCC judging panel.
Andrea is up first with a beautiful (lightly) smoked bison tartare with concord grape gel, pickled pearl onions and yukon gold potato chips.
Stunning!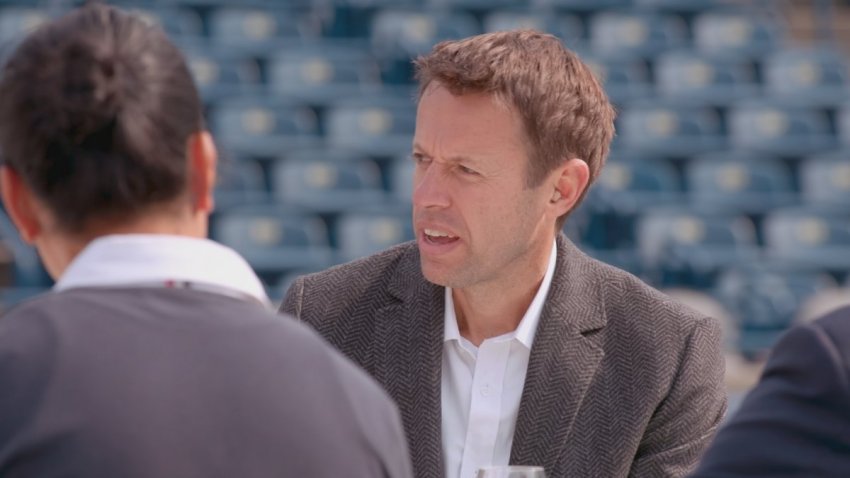 Daniel Nestor adds something nonsensical about having tartare once in France which he said he couldn't finish. This also begs the question: Why is a tennis player weighing in on the second-last episode of a Top Chef Canada season?
So odd.
Josh describes his scallop dish and the judges are eating up his description. The seafood is finished with fennel salt and served with raisin puree, shaved coconut and vadouvan curry sauce. There are many wonderful-looking components happening on this plate, but not too many.
Erica has a ton of components on her plate. She has made a braised beef short rib with cardamom yogurt, pine nut and hazelnut dukkah, carrot puree, roasted curry carrots and a carrot top pistou...and this is the longest description of a dish that we've seen on screen this season.
The critiques are varied and range from muddled to mediocre, save Mark who has proclaimed that he has happily finished his entire plate. Mark does have a track record of passionately defending any competitor with a tie to one of his restaurants, so in this situation it's safe to assume that Erica has not done well tonight.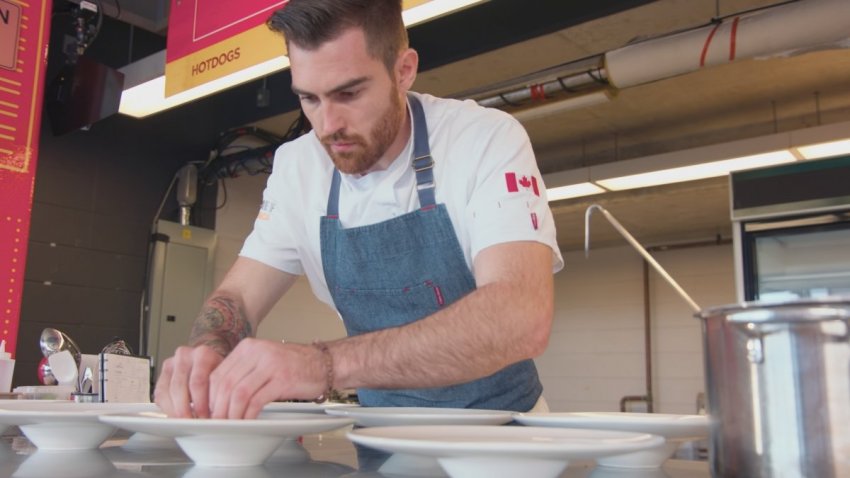 Alex is not far behind, both figuratively and literally, serving the judges his octopus bolognese that seems to confuse most around the table. The gnocchi on top of said bolognese did not garner positive feedback either.
Kym's dish of seared duck with sunchoke is yet another home run for the Pidgin sous chef on Top Chef Canada Season 9. Watching Janet and Mijune gush after their first few bites is enough of an implication that Kym is headed to the finale.
Judges' Table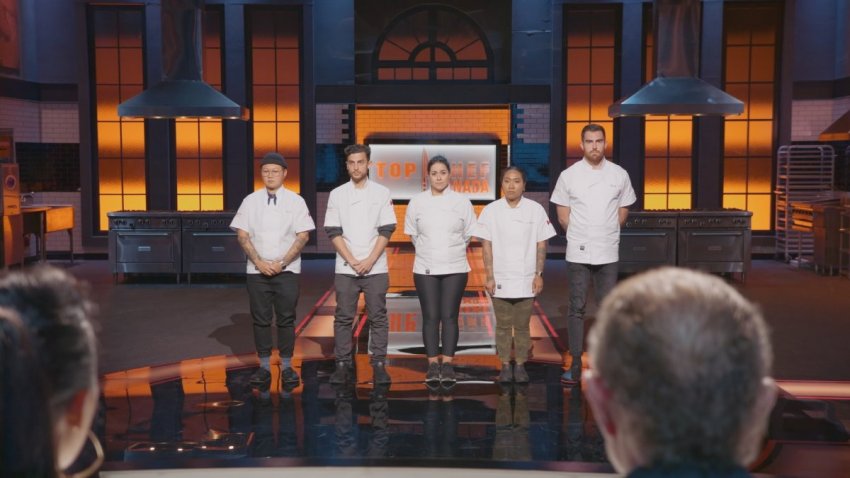 We know it's either Erica or Alex going home tonight, but Eden summons all five chefs in to see the judges. We'll let them be surprised with the outcome of this week's tennis-inspired challenge.
Josh is the first of the fold to be told that he has made it to the finale. Erica hugs him and he trots back to the holding room where he seems to sip on beverages from three different sponsors in fairly quick succession. Perhaps an instant Quaker oatmeal midnight snack is to follow?
Andrea is next to get the good news about competing in the finale and she walks away to join Josh for a libation.
Leaving Kym for last seems a bit harsh especially considering that they have done the best in the competition to date. Surely Kym is also thinking "WTF" at this point, but they are quickly relieved and leave the presence of judges' table.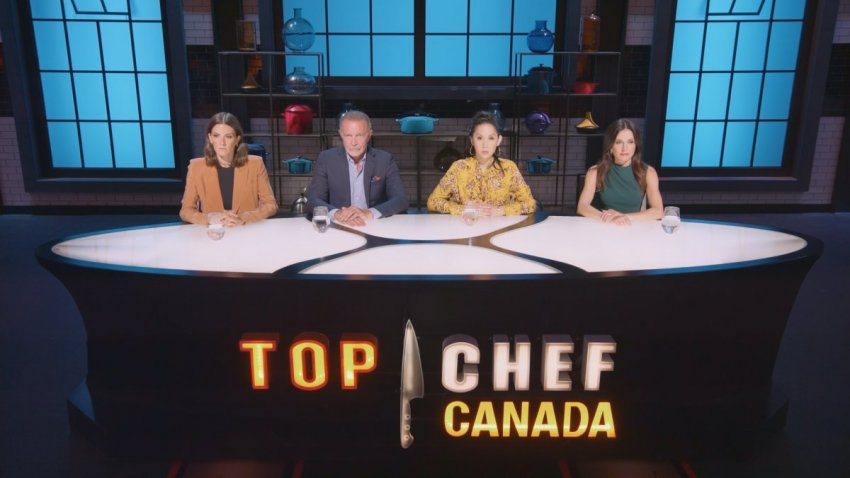 With Alex and Erica left standing, Janet, Mark and Mijune lay in on each of them. They press them to explain why they chose to cook what they cooked and why they deserve to still be here.
From a viewer's perspective, Erica has shown more consistency and creativity throughout the season, and it does not make sense to send her home. Thankfully, the judges agree with that mindset and bid Alex adieu.
Kitchen Scraps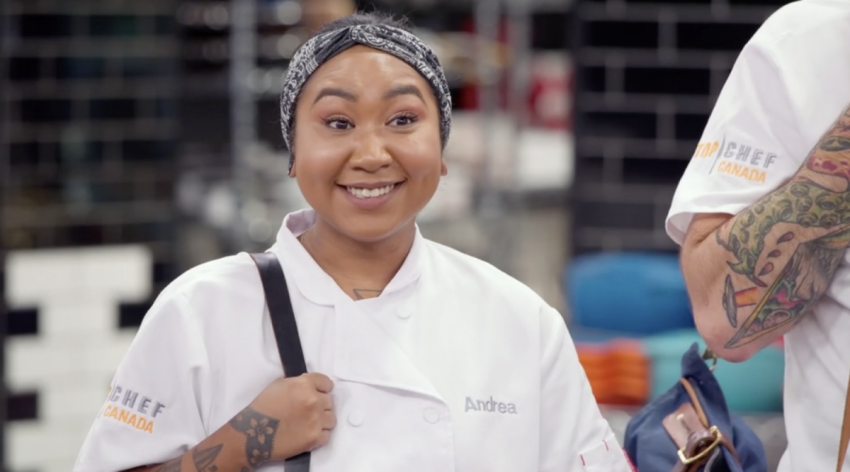 I can't believe this season is almost over, nor can I recall a season of Top Chef Canada where I legitimately liked every competitor left standing for the finale. I would honestly be happy to see Erica, Kym, Andrea or Josh win on June 7. They are all deserving in their own separate ways.
It was so bizarre to have a seemingly non-food-loving person be a judge on the second last episode of this season. Why did that happen and did the chefs even care what a tennis player thought of their food? I wouldn't.
In a similar vein, the episodes are notably more palatable when Chris Nuttall-Smith isn't the resident judge. Janet Zuccarini is superb and should be on that judging panel weekly.
The Top Chef Canada Season 9 finale airs on June 7 at 8 p.m. MDT / 10 p.m. ET on Food Network Canada.