I'm not going to lie, this is not going to be my most robust recap to date.
After a fairly significant tumble off of my bicycle over the weekend, I had channelled most of my remaining energy into the Top Chef Canada finale pre-show (which you can watch on YouTube) as well as our final Eat North podcast episode (which comes out tomorrow on Spotify et al.).
If you want some of my more candid thoughts on the season as a whole, you'll find them there.
But enough about me! Let's all take a moment to celebrate the four talented chefs who have cooked their way to the finale: Andrea Alridge, Kym Nguyen, Erica Karbelnik and Josh Karbelnik.
It is certainly no easy feat...though these four have made it seem fairly easy this entire season. All of them have wound up on top much more than they've struggled, so at this point, the title of Canada's Top Chef could go to any one of the chefs.
The Final Challenge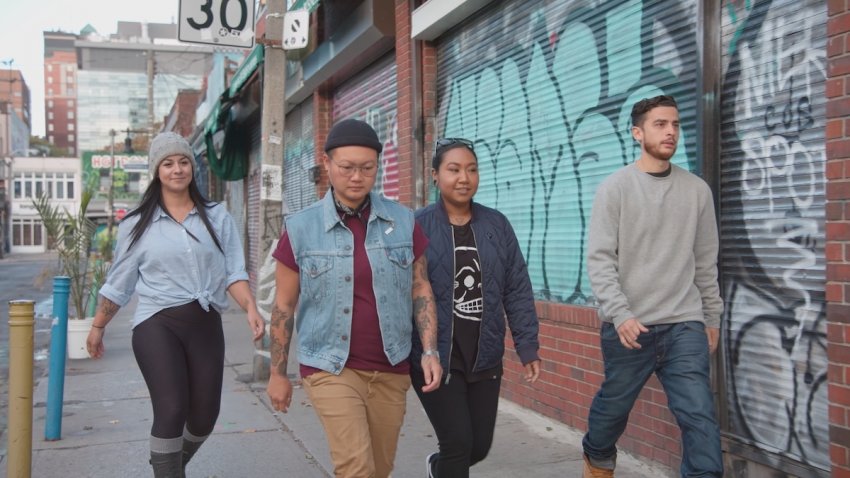 Since we were already made aware of the high stakes portion of the finale dinner, we know a bit of what Eden is about to tell the chefs as they stand in front of her and Mark McEwan in the TCC Kitchen for the last time.
All chefs will need to prepare a five-course dinner menu that consists of an amuse bouche, appetizer, two main dishes and a dessert. The dinner menus will be served to the judges at the iconic Four Seasons Hotel in downtown Toronto, but two of the chefs will be eliminated after the first course.
As aways, Andrea is looking charismatically shook when Eden drops that bomb.
"Not being able to serve my full menu would destroy me," says Andrea, and I'm right there with her. I've been charmed by her food all season, as I'm sure so many Canadians have.
The chefs scoot off to Kensington Market to pick up their ingredients. I thought this was a nice nod to a vibrant part of Toronto, but also to small businesses. I made me realize that Insight Productions has done a great job this season of keeping things interesting in terms of filming locations despite the limitations the pandemic obviously presented.
As they shop, they explain the inspirations for their menus. Erica is drawing inspiration from her Polish and Morrocan family roots while Josh is going global.
Andrea is leaning into her Jamaican and Filipino heritage and Kym is clearly to their approach to modern Asian fusion which has served them well throughout the season.
Once the shopping is complete, Kym takes the wheel and drives the Lexus back to the Four Seasons.
Why is Kym always the one driving? Is this foreshadowing?
Following intimate moments with each of the chefs in their respective hotel rooms, the music gets especially dramatic and the chefs begin to prep.
Spirits seem high in the kitchen, but everyone looks very serious, as they should be when $100,000 is on the line. As they cook, we get some insight into the friendship that has formed between Andrea and Kym throughout the season.
Aw...and another aw for the married couple who seem proud and excited for one another to be sharing this moment together.
The judges arrive and it's time for the amuse bouches to hit the table.
Josh serves a red snapper tartare with tostones (fried plantain chips) and receives warm feedback.
Kym is next with a funky sesame choux pastry, filled with xo sauce and kimchi. The small bite seems to polarize the judges. Eden, Mijune and Janet seem to enjoy it, while Mark appears taken aback.
Andrea's Jamaiscan escovitch creation with a grilled mussel, orange emulsion and sea buckthorn gel looks intriguing, but is a disappointment all 'round.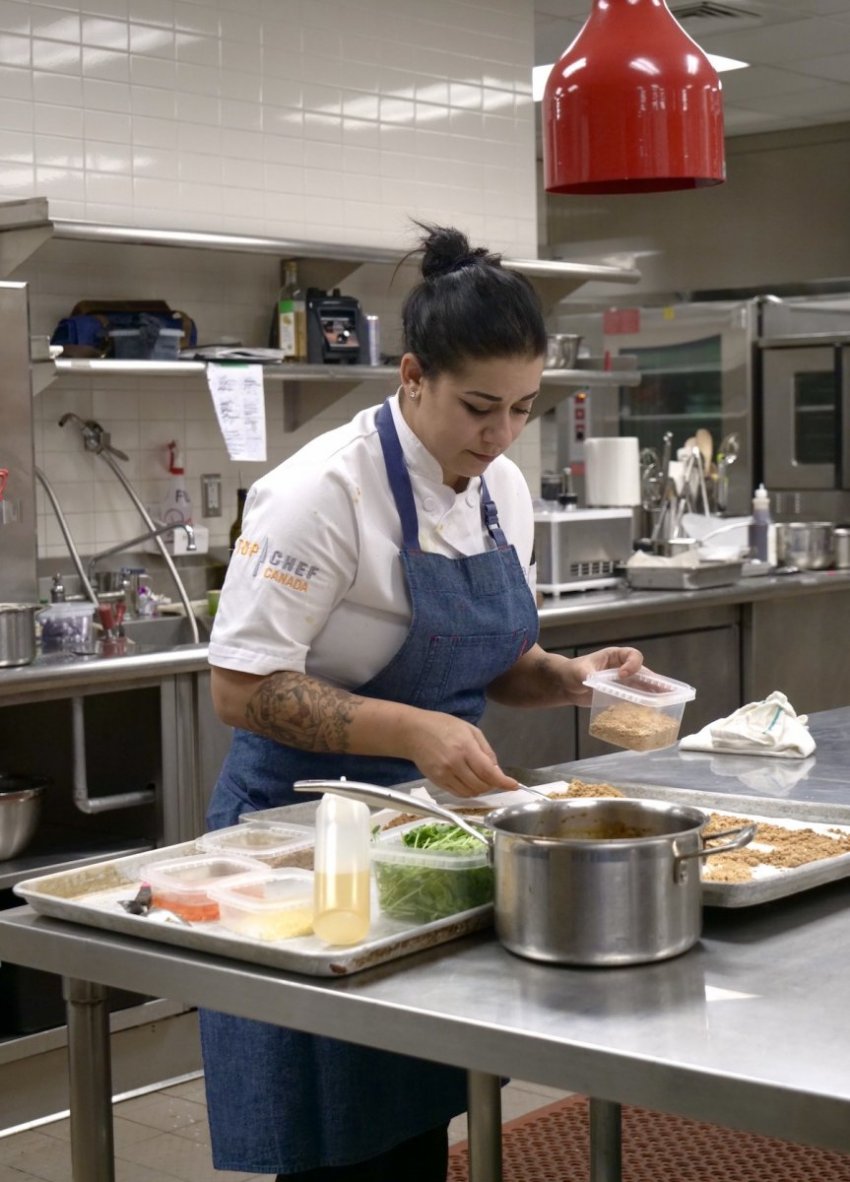 The home run of the amuse is Erica's two-bite offering that represents her Polish side (potato chip with smoked salmon tartare and caviar) and her Morrocan side (mussel, mussel broth, saffron aioli and salmon roe). Serving two bites instead of one is definitely a risky move, but it clearly paid off.
The chefs move on to their appetizers.
Kym serves the judges first with her unorthodox combination of raw scallop and pumpkin. There's pumpkin aioli, pumpkin yuzu, pickled pumpkin and grilled delicata squash. This sounds peculiar, but wildly creative and the table looks like they thoroughly enjoy it.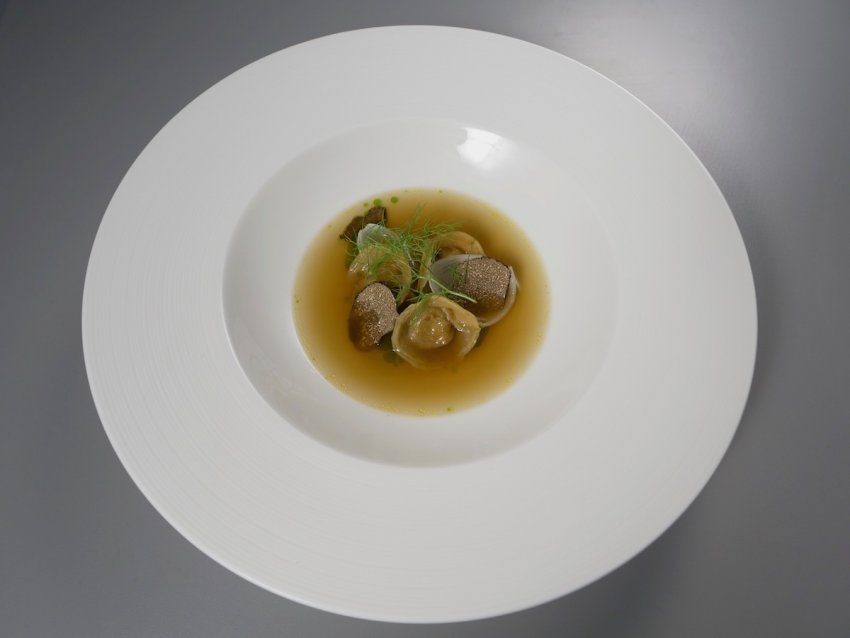 Erica has re-imagined matzo ball soup and I am here for it. She is making pasta dough with matzo meal, turning it into tortelloni with chicken liver and foie gras mousse. It's finished with fresh truffle and it looks stunning. Another home run!
Andrea's appetizer is kinilaw, a Filipino crudo. This is a dish I'm not familiar with, but I want to know more. Luckily, she explains that it can have many different variations, but typically has a base of coconut vinegar and coconut cream.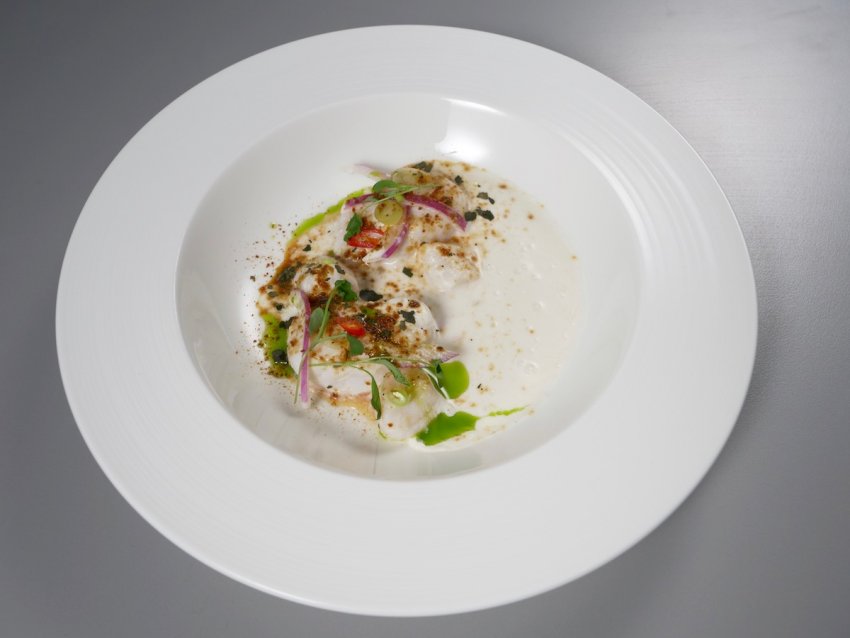 Her version has scallops, bird's eye chili, cilantro oil and all of the judges seem blown away.
Josh is preparing a lobster and king crab dish with asparagus and a plankton and mussel sauce. It's inspired by his memories of spending time with his mother on Granville Island.
"I want you to really taste the sea," he says.
Unfortunately, the judges do not taste the sea or, allegedly, any seasoning at all. At this point, we can assume Josh is out of the running.
That assumption is right and though Andrea served a striking appetizer, she is also eliminated from the competition. This means it is Kym and Erica who are left to cook it out for the crown.
The Final Two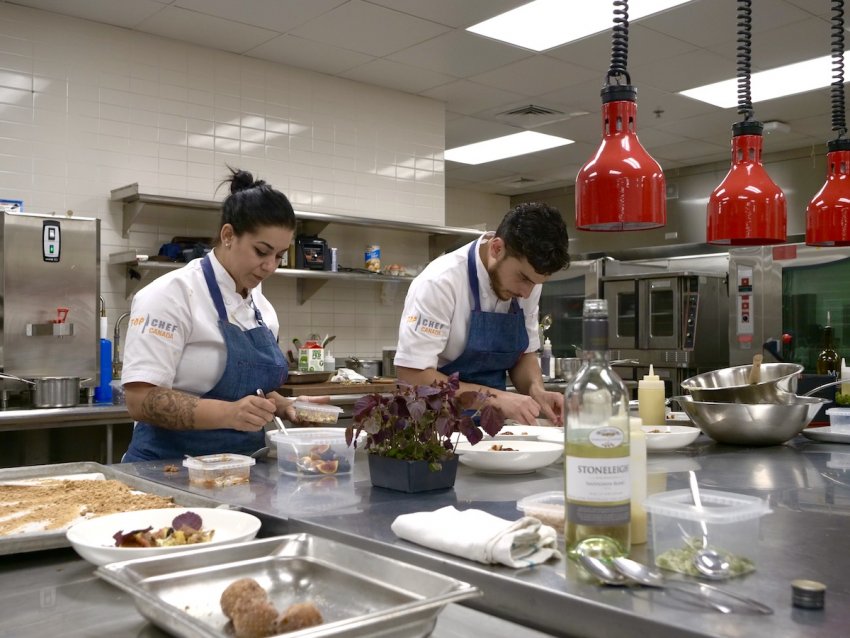 I'm going to guess that they took a day off at this point because I doubt that they would make Josh and Andrea be Erica and Kym's respective sous chefs immediately after being booted, One needs time to process a loss!
As they return to the kitchen to prep, Andrea and Josh both look genuinely excited to be supporting the two remaining chefs. There is some playful smack talk of west coast versus east coast, which was sort of funny to watch...mainly because Toronto is not the east coast of Canada.
Kym is offering a play on wonton soup with tofu ravioli, pho consomme and daikon. It is giving Erica's matzo ball soup a run for its money in the reinvention and taste category.
Three cheers for the epic soups of the Top Chef Canada Season 9 finale!
Erica's Moroccan (seared) sea bass with spiced tomato sauce, spiced pine nuts, preserved lemon foam and couscous. Everyone around the table seems indifferent about this course, calling out a lack of elevation.
"Erica was a bit ahead, but this evens the playing field," says Mark.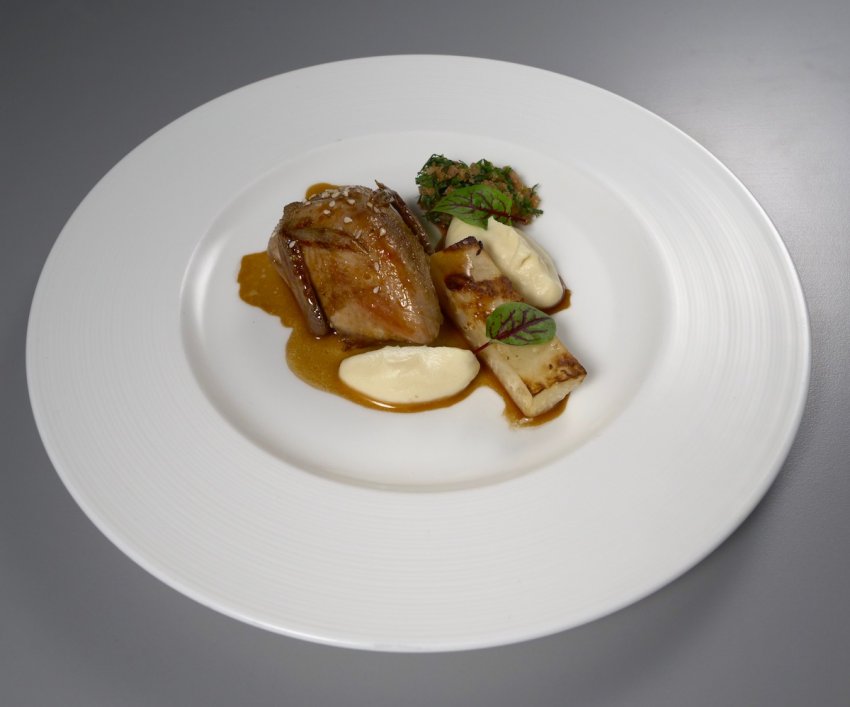 For Kym's second main dish, they've plated up a pan-roasted and bone-in quail breast with smoked celeriac puree, chicken skin gremolata and porcini jus. Unbeknownst to the judges, Kym had a bit of a mishap in the kitchen with their quail, so the bone-in offering was a last resort. It's a main course that does not land well with anyone.
Erica comes in hot with a squab, carmelized onion and foie gras-filled bastilla. A sweet and savoury Moroccan pastry that is dusted with cinnamon sugar and served with seared squab breast, honey coriander jus and cauliflower puree.
"It's a three star Michelin plate," says Mark.
With that, it feels like Erica has regained her lead.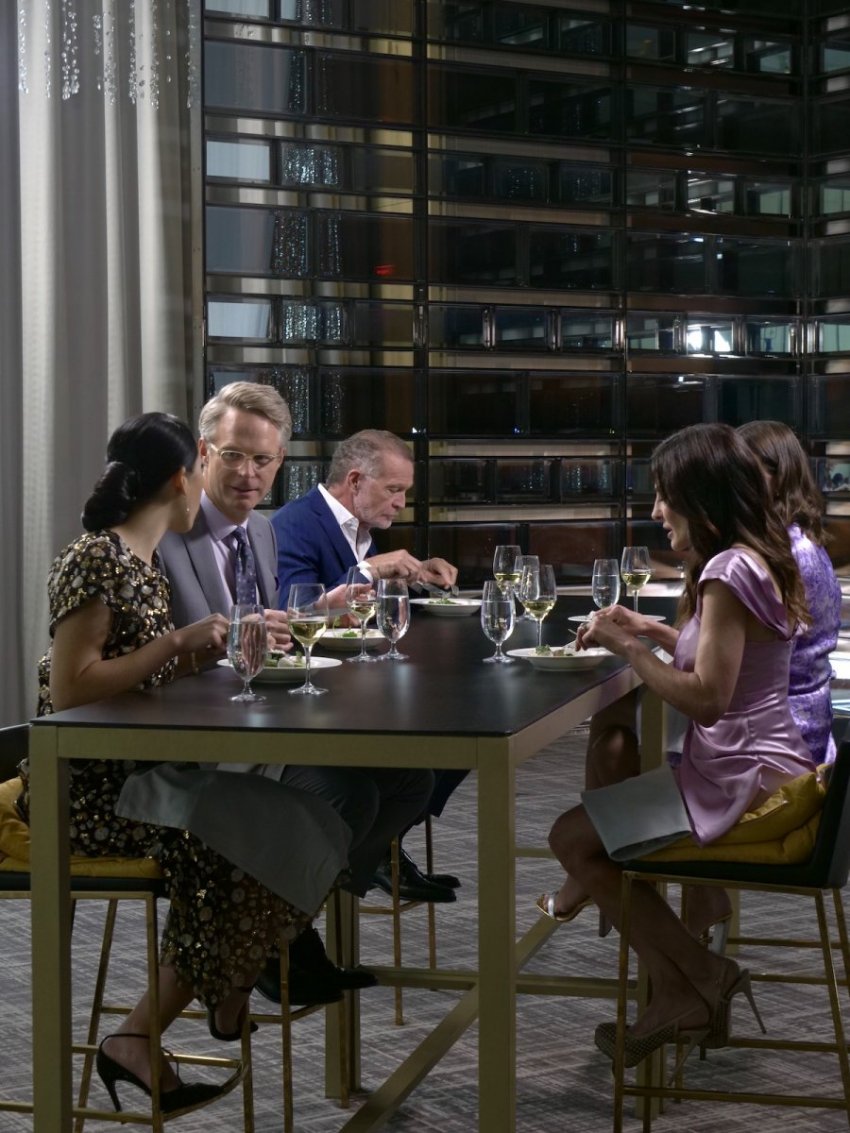 As someone that eats a lot of different desserts at a lot of restaurants, both desserts seemed a little forgettable, especially for a finale.
Aside from Kym's candied olive garnish, the yuzu panna cotta with szechuan pepper beignet and ginger gel. The injection of some unique flavours helped elevate things a bit, but it was still just a panna cotta and a beignet.
Erica's yogurt fig cake with a rose water pastry cream with pistachio ice cream and pistachio crumble. She served her cornbread-cake hybrid in a similar fashion (composition-wise) in Episode 7, which made this dessert seem like a bit of a repeat, though the flavours were clearly different.
It's hard to tell which dessert the judges truly leaned towards more based on the commentary.
Judges' Table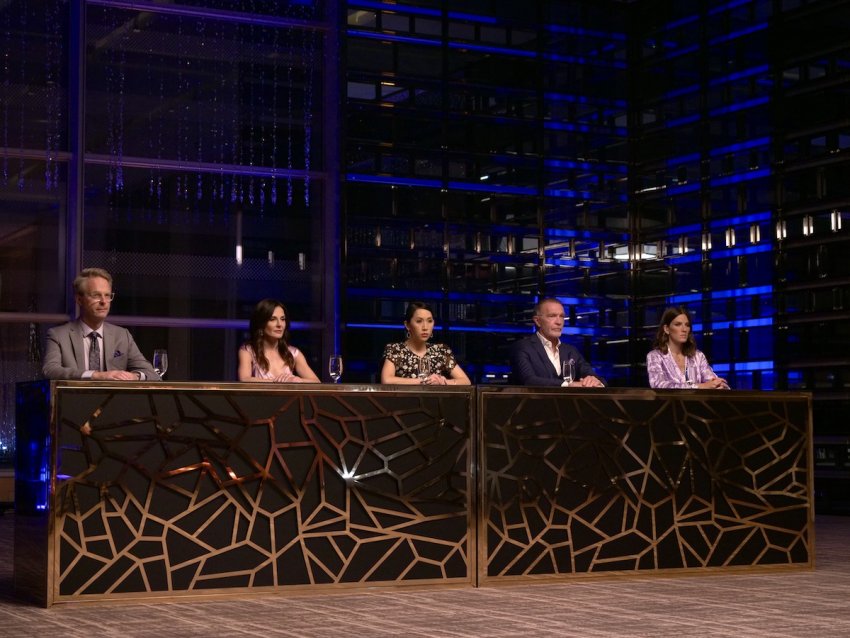 The judges meticulously run through each chefs' menu, providing positive and negative feedback throughout. Once the chefs leave the room, they continue to deliberate.
This must be a difficult situation for the judges to be in because Kym is the best performing chef of the season, but from a viewer's perspective, it really seems like Erica (mostly) knocked it out of the park with her finale dinner menu.
As they say: You are only as good as your last dish.
I am literally on the edge of my seat waiting for the verdict and it finally arrives. "Erica, you are Canada's Top Chef," says Eden.
With that, another season draws to a close and another crop of Top Chef Canada celebrity chefs are born!
Kitchen Scraps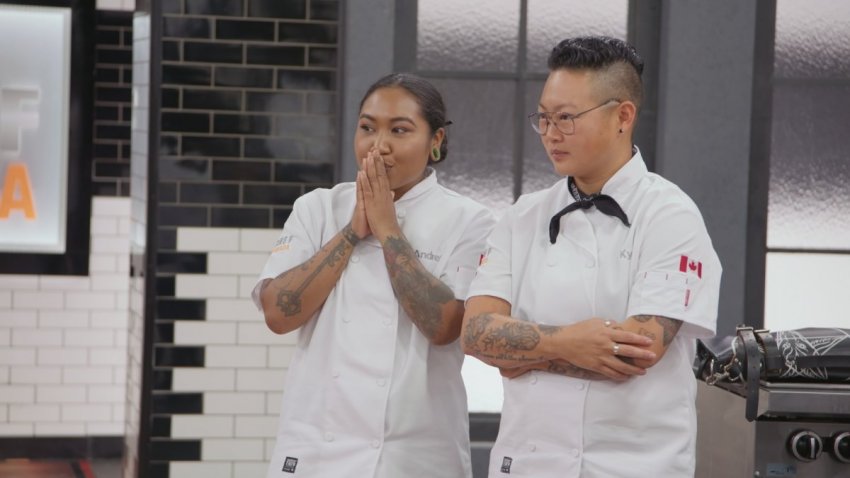 All's well that ends...well, I know there has been a lot of chatter about how this season ended.
It's important to remember that as much as a show like this is a culinary competition, it is also a reality television series. Kym's track record speaks for itself and if that was how the show picked their winners, they likely would have come out on top, but it is not how the show works.
Erica was a formidable competitor throughout the season and has served up plenty of unique dishes, many of which inspired by her family's Jewish and Moroccan roots. I legitimately looked forward to seeing what the chef would create every, single episode and I earnestly congratulate her on her win.
She had the fire in her eyes since day one.
With that said, I was sad to see Kym not win after such consistent success throughout the season, but Top Chef Canada takes things on an episode-by-episode performance basis. That is something that they have always stuck to.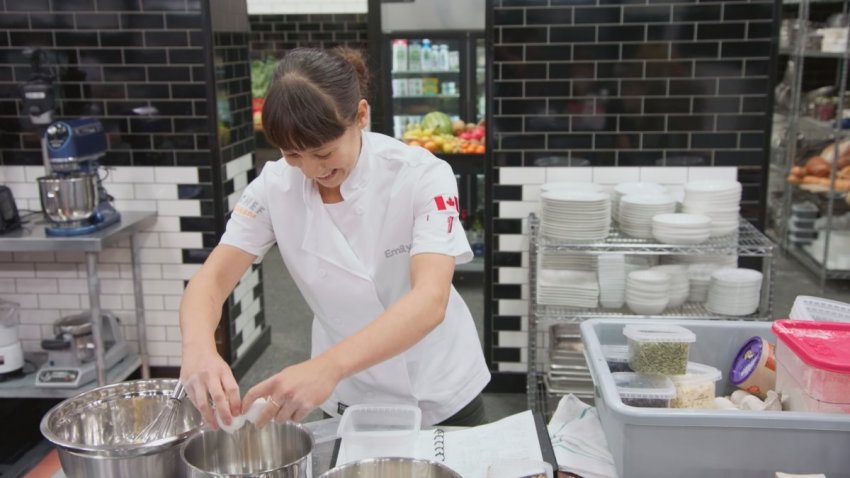 The thing that I have come to love about Top Chef Canada is that each season introduces me to a new crop of Canadian culinary talent I might not have otherwise been aware of. Sure, I see some folks on each season that I've crossed paths with like Steph Levac (gone too soon this season, I say!), but for the most part, these are new faces.
It makes me want to travel more, explore Canada, try the food these chefs are cooking at their respective restaurants. I hope at a base level that's what TCC does for you too.
Travel! Go visit Emily Butcher at deer + almond in Winnipeg and then head to the west coast to visit Kym at Pidgin and Andrea at CinCin. Once you're done out there, circle back to Toronto and see Josh at the Broadview Hotel. I guarantee that they will all be happy to see you.
Even though it is reality television at the end of the day, it's got a lot more depth than shows like Chopped, MasterChef, Guy's Grocery Games (ugh, obviously) and the list goes on...
Alright, I am officially off my soapbox. Until next year!
Watch our Top Chef Canada Season 9 finale pre-show co-hosted by Jo Notkin and Dan Clapson