It always makes me wary when an episode kicks off with a competitor talking about how they haven't been performing too well thus far on the current Top Chef Canada season.
Tonight, that chef is Emily Butcher and she is sounding fairly unsure of herself. "I'm trying to stay focused and keep a clear head and be able to execute the way I do back home," she says in a diary session.
It's no surprise that during a reality competition series like this, you can easily get in your head. Yet even when the outcome isn't the best, Emily has some of the most pleasant sound bites.
Quickfire Challenge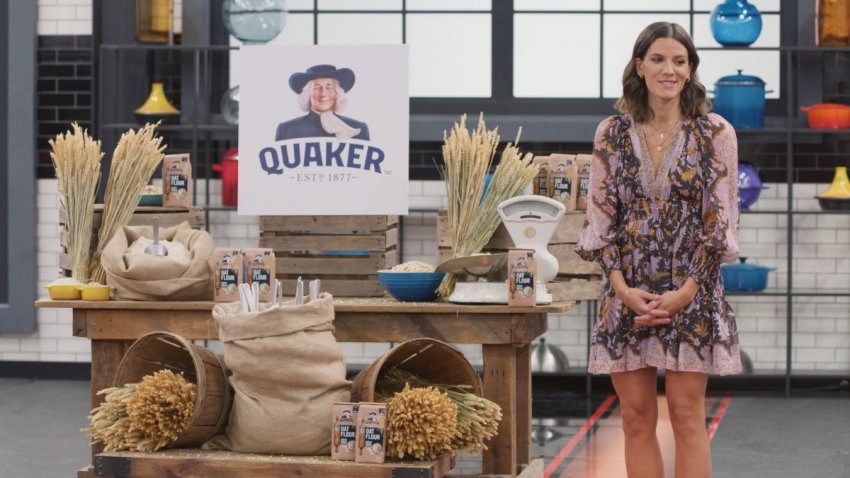 Quaker Oat Flour is the name of the game when it comes to this episode's Quickfire Challenge and I'm sure the company couldn't be happier to be showcased in creative dishes by some of Canada's brightest culinary minds.
Bake, flip or fry are the cooking methods the chefs will have to cook with today with the allotted time limits of 35, 30 and 25 minutes respectively. To determine their assigned cooking applications, the chefs pull labelled flour scoops out of a burlap sack of oat flour.
The chef that creates the most inventive and delicious dish does not win immunity unfortunately, but they do win a $5,000 cash prize. What would you prefer as a competitor: immunity from elimination or cash? (I'm all for the money.)
Before the challenge gets underway, Eden introduces Winnipeg restaurateur and Wall of Chefs judge Mandel Hitzer as her guest judge for this portion of the episode. The chef looks more prim and proper than I have ever seen him before in a fitted navy cardigan. As the owner of deer + almond, Mandel is Emily's boss.
She seems a bit unsure about whether she should be excited or worried to see him. She tears up a bit regardless. Historically, this show loves itself a moment where a restaurant owner judges their chef's food. These moments can go either way.
"I don't call myself a baker, but I dabble in it for fun," says Emily while smiling. She's making cookies using oat flour and spelt flour. The latter will help give them structure.
Galasa, assigned with "bake", is headed way out into left field with a savoury peanut butter-inspired oat sauce for his yorkshire puddings. It all sounds fairly unusual, but undeniably creative.
Erica ("flip") admits that she's never made Josh pancakes at home before, but feels inspired to make them now for the Quickfire. Preparing good pancakes can be more difficult than it appears, especially under pressure.
We'll see how these turn out. I have faith because she's using tonka bean which is one of the most wonderful spices in the entire world. If you haven't cooked with it before, you are missing out on something that is pure magic.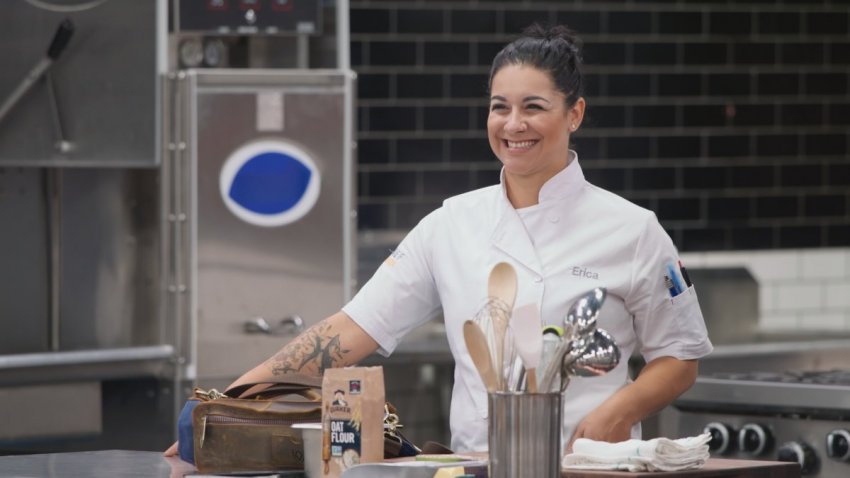 Erica is gushing about tonka beans as much as I do when someone asks me about them. I now feel validated in my love of this unique ingredient.
Siobhan has drawn "fry" and decided to bust out some salal berries from her own pantry stash to use in this challenge. Salal berries are exclusively found on Vancouver Island (I believe?) and she's using them to make a sauce to accent fried bannock "doughnuts".
Aicia has drawn "flip" and decides to make a fried green tomato BLT. While we watch her prep the dish, she regales us on how she left an ad agency job in her mid 20s for a career in the culinary industry. She started later in life compared to most of her fellow competitors, but her determination remains on par.
It seems immediately worrying that the oat flour is only playing a small part in her dish. That won't be what the judges are looking for and you can be sure that Quaker ain't handing over a cheque for $5,000 for a little dredging. No ma'am!
Like Emily, Kym makes note of the fact that oat flour can be really dense. They explain that being a celiac, they commonly use this type of flour at home...and now I am sensing a bit of an advantage over the other chefs.
To lighten things up, they incorporate beer into the batter for their corn, cheddar and jalapeno fritters that they will serve with succotash and chimichurri.
Alex has been baking away this whole time and he is being extra ambitious by attempting to make banana, oat and miso muffins. It's definitely impressive that he was able to bake a muffin with only 35 minutes on the clock while still finding the time to plate said muffins with a miso chantilly cream and an oat granola crumble.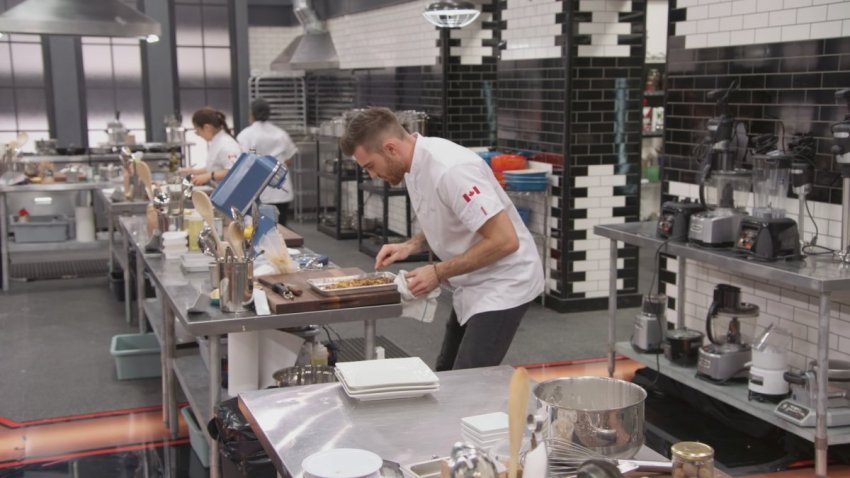 Both Mandel and Eden are excited by the unique muffins Alex has presented and can't seem to get enough of them or the accompanying icing. Emily also gets plenty of accolades for an appropriately chewy cookie with an oat, hazelnut and chocolate dip.
Galasa presents his Yorkshire pudding dish that is finished off with what appears to be roasted cherry tomatoes and sea asparagus. It's a bit bewildering to look at and I know I'll be wondering what this dish tastes like for a few days after tonight's episode.
"Going into the world of Yorkshire puddings, the peanut butter [element] is like a wrong turn off the highway," says Mandel.
This is clearly not the response that Galasa was hoping for, but it is a quirky analogy for a quirky dish.
Siobhan presents her finished dish and gets positive commentary from both Eden and Mandel. She has coated her bannock doughnuts with sumac and sugar–which sounds tasty–and is serving them with a salal berry and blood orange jelly that looks more like a warm compote.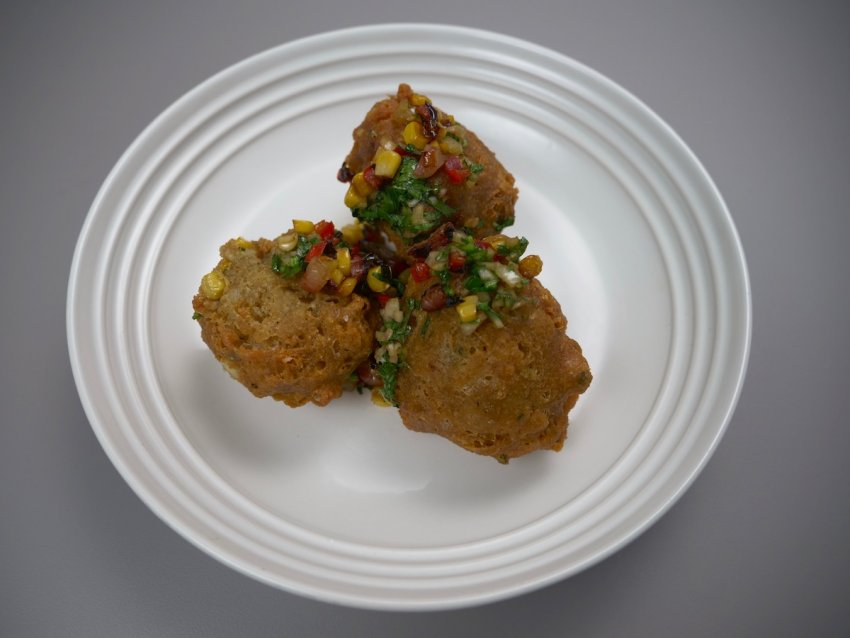 Kym's fritters look very delicious. Eden applauds them for the dish's lightness, which is likely thanks to the succotash/chimichurri mixture, while Mandel says he'd easily eat "20 of these".
Sadly, Aicia does not fare as well with her fried green tomato "BLT". It sounds and looks relatively tasty, but Eden describes it as dry and wishes it had a saucy saviour while Mandel comments that the oat flour crust on the tomatoes should have been more crispy.
Erica's plates of pancakes look seemingly simple at first glance. The walnut and oat streusel as well as the apple compote infused with tonka bean help make things pop and she also receives much praise.
Did we need a lone cape gooseberry on each plate though, chef?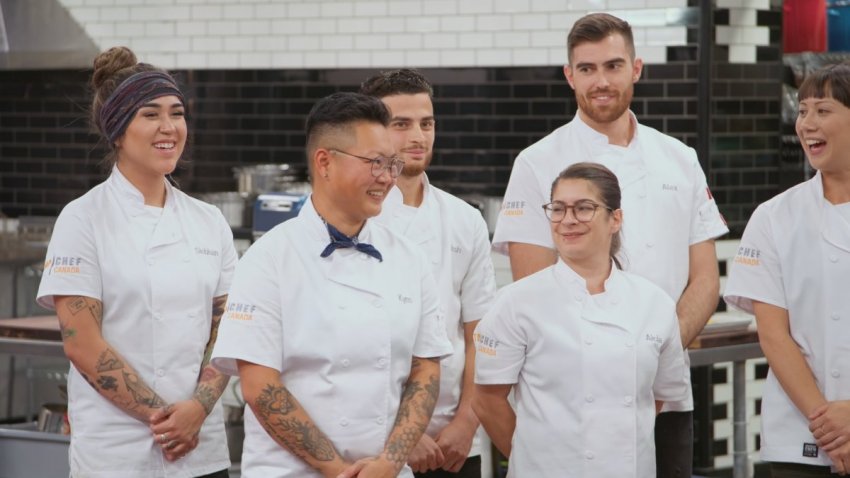 We don't get to see what Andrea and Josh wound up serving for this Quickfire Challenge, so we'll assume nothing of note. With that said, I will likely lay awake in bed tonight wondering what they made and I am sure the Quaker executives will as well.
It doesn't come as a shock that Kym, Alex and Erica are awarded the top three of this oat flour-fueled saga before Kym is singled out as the winner. Knowing that you've won at least $5,000 on Top Chef Canada after only three episodes has got to be a good motivator.
Elimination Challenge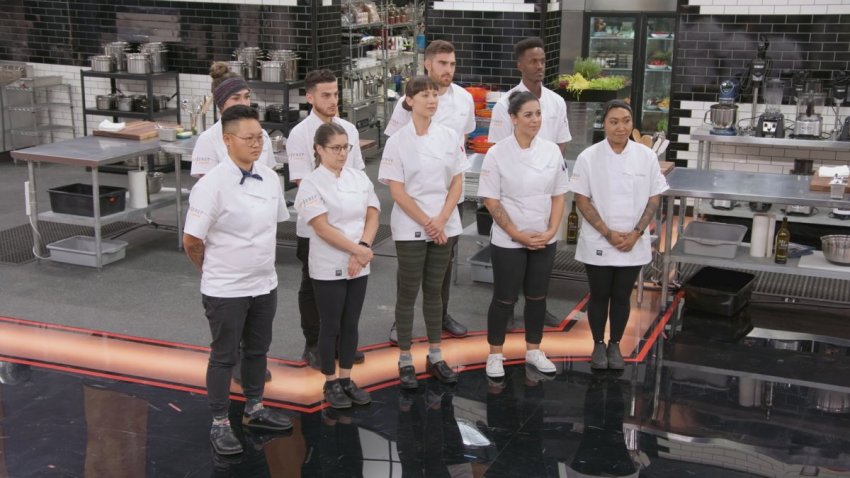 From casual eats to full-on holiday fare, the nine chefs are now told that they will be drawing inspiration from their favourite holiday memories and meals to create dishes for what Eden describes as a "Top Chef Canada holiday potluck".
Guest judges joining Eden, Mark, Mijune and Chris for said potluck are Stefano Faita and Christine Cushing. To be honest, I could take or leave Stefano, though I'm sure some tension will play out seeing as he's Aicia's former boss, but Cushing is a Canadian culinary icon!
Apparently, I am really vibing with Erica this episode because she appears to love Christine Cushing as much as I do. She is over the moon that Christine is popping by for dinner.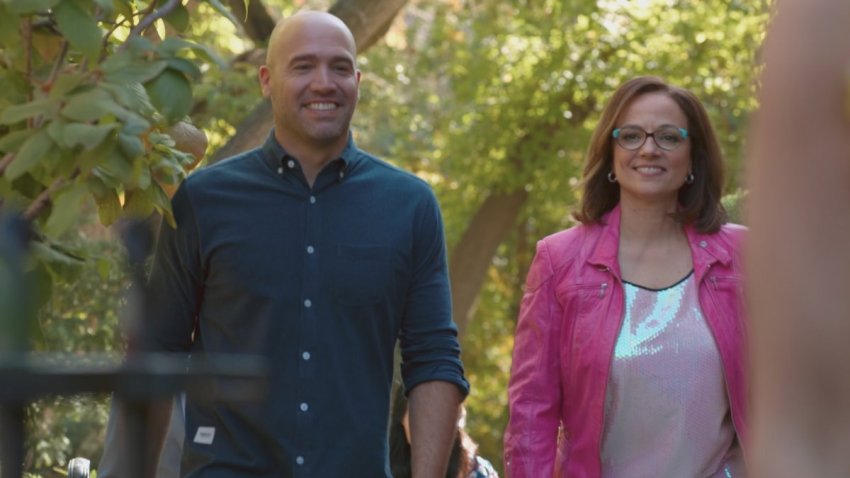 The chefs are given just five minutes to shop in at McEwan Foods–which once again has been assembled on location in the TCC Kitchen–and so begins the flurry of basket filling.
Alex is drawing inspiration from Christmas Eve and making a plate that will embody an English roast dinner. He says he does not want to let his family down since he's using them as inspiration for his dish and heads straight for a big cut of prime rib.
Siobhan is cooking a dish in honour of her former head chef. She is opting for a Mother's Day theme and making French toast.
I feel uneasy watching Siobhan grab baguettes to make her French toast. With a fairly hefty crust to crumb ratio compared to other breads, my sixth sense tells me that this might not end well.
We'll see what happens.
Galasa is making a turkey roulade that is inspired by Eid–a Muslim holiday where people fast during the day and feast in the evening. He is incorporating aromatics and spices commonly found in Ethiopean cuisine such as berbere, cumin and coriander.
My mouth waters partially because this sounds delicious, but I also haven't had dinner yet.
Erica is doing a spin on Peking duck. This initially sounds disconnected from the holiday theme, but she goes on to explain that being Jewish, her family has a tradition of going out for a Peking duck dinner on December 25.
Kym is also getting into the holiday spirit, but opting for a holiday party theme with a refined take on sausage rolls. They are making a ginger ketchup and piccalilli (mustard pickle) to go along with the pork and boar sausage rolls that are looking very meaty in their prepping montage.
"I've been in the bottom, I've been in the middle and for once I just want to win," says Andrea adamantly before the scene cuts to the dinner table.
She has had a rough couple of episodes, but there seems to be plenty of fight left in the Vancouver chef as she presents her dish in the first wave of the dinner along with Kym and Alex.
Andrea is channeling her Jamaican roots to make a braised oxtail dish that is accented by "lightly pickled" radish, fried okra and charred rapini. Her dish is an ode to a dish her grandmother would make for Easter.
This looks and sounds heavenly.
Kym's dish looks beautifully plated as they describe it to the judges, but it's hard to see the pastry surrounding the sausage. Alex's plate of prime rib and Yorkshire pudding looks nice enough with a yam puree, kohlrabi salad and cooked radish offering some pops of colour.
The judges dive in and collectively cheer for Andrea's Jamaican-inspired creation. It feels like a triumph for us too while watching a home. This has been a good night for this chef.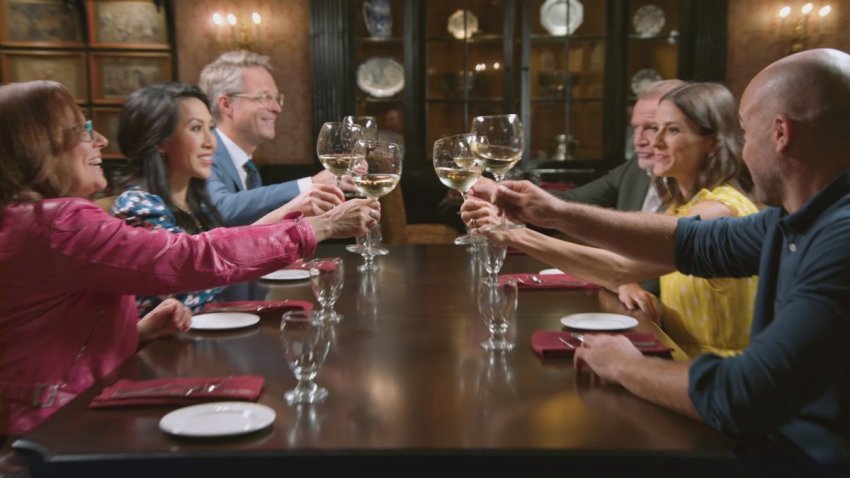 Kym gets knocked for their lacklustre pastry, but the judges appear to enjoy the sausage and condiment elements. Alex garners great reviews for his roast dinner aside from botched Yorkshire puddings.
Between Galasa's Quickfire dish and now this, it was not a good night for Yorkshire puddings on Top Chef Canada.
Josh is making an upscale Thanksgiving dinner with sous vide turkey, different textures of carrots, a schmaltz gravy, watercress salad and crispy turkey skin as a garnish. It sounds perfectly comforting, but not overly inventive.
Aicia is making a spin on an Italian dish that is traditionally composed of salt cod, tomatoes and bell peppers (among other things), by swapping out the cod for trout that she's cured lightly overnight.
We don't have much time to focus on Aicia as the episode cuts back to Josh who has lost track of time and does not complete his plating before the clock runs out. He seems very upset about this and rightfully so.
There appears to only be one plate of turkey and carrots that winds up getting gravy, but there also appears to be a bowl of gravy on the dinner table while he is presenting to the judges, so it's hard to tell just how many elements his dish wound up missing. We know with certainty that it is lacking at least the salad and crispy turkey skin.
The dinner table seems very receptive to Galasa's re-imagined turkey dinner, the roulade in particular. It's a gorgeous-looking dish which Christine describes as a "celebration on a plate".
Aicia's trout dish is not a hit. Stefano is quick to defend the chef (somewhat) by saying that she has made a better version of it previously. Yet, we all know that you're only as good as your last dish on Top Chef Canada.
Josh is also raked over the coals (why didn't I think of using that analogy in my episode one recap?) for a lack of complexity on what ended up on the plate. We're not surprised and he likely isn't either.
Three dishes left to go.
Emily is taking inspiration from Mother's Day for her dish of seared cod with baked potato gnocchi and sauerkraut beurre blanc. She explains that the cod represents her mother's love of whitefish and the gnocchi is an ode to her father's double-baked stuffed potatoes.
Using sauerkraut instead of the typical white wine and vinegar is clever. Based on her description and chill demeanour, she seems to be in a great mindset for this challenge.
Siobhan seems to have a lot going on with her plate, but also seems calm, cool and collected as she adds some finishing touches before service.
Erica is the first of the final group of chefs to explain her dish. Inspired by a Jewish "Christmas", soy and brown sugar glazed duck breast with cashew cream, five-spice jus and scallion oil.
Siobhan has every flavour imaginable involved with her French toast creation. Lavender and rose petal yogurt, white balsamic-marinated strawberries, cardamom compressed apples and candied bacon. The baguette has also turned out to be whole wheat.
Mijune, Stefano and Christine seem head over heels for Erica's dish, but the group offers even higher praise for Emily's cod dish. From the cooking on the cod fillets to the pan-frying on the gnocchi and the tang of the beurre blanc, it's a five star affair.
It's another rough go for Siobhan tonight as her dish appears to be inedible, especially the toast component which Mark essentially describes as inedible.
From a viewer's standpoint, the best and worst dishes are clear as day as this eclectic potluck draws to a close. I guess potlocks are always eclectic, aren't they?
Judges' Table

Eden summons Erica, Emily and Andrea to see the judges. Though Galasa had potential to be in the winners' circle tonight, these three seemed to really wow with their holiday-inspired dishes.
Both Andrea and Emily seem relieved and excited with the news. Erica also exudes excitement, but she's been here before and is probably happier for her struggling
It's Josh, Aicia and Siobhan in the bottom.
Josh, of course, is wrist slapped for lacking imagination and not completing his components while Aicia is scolded for serving something too simple and over seasoned.
According to the judges, Siobhan's issues run the gamut from wrong choice of bread and improper cooking of it to a confusing blend of flavours. Out of the three chefs, she is the one that is told to pack her knives and go.
Kitchen Scraps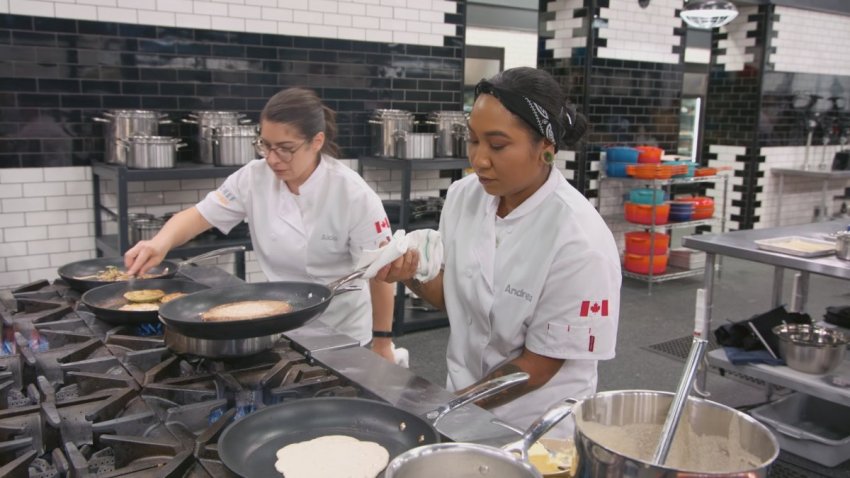 I'm happy to see both Emily Butcher and Andrea Alridge wind up on top this episode. I don't want to call them "underdogs", but at the same time, there are a couple clear frontrunners now that we've wrapped episode three. They will have to keep their creativity and technical skills up to become leaders of the pack.
How a chef performs in the first three episodes is usually telling of if they'll be in the finale or not and Erica's near-perfect track record is very impressive. Kym is not far behind.
It was very cool to see a Winnipeg chef as guest judge on Top Chef Canada, that is definitely a first. I hope this helps all of the foodies in this country wake and pay attention to the (many) amazing things that are happening in Winnipeg's restaurant scene.
Top Chef Canada airs on Monday nights at 8 p.m. MDT / 10 p.m. ET on Food Network Canada.
Check out our episode 3 power rankings!