Well, my friends, it's that time of year.
Some folks may like to call it spring, but others (like myself) call it Top Chef Canada season...Well, Season 9 to be exact!
Ever an avid fan of the popular Canadian culinary competition series, I have followed along with and written about Top Chef Canada on and off since its inception in April 2011. Fast forward to 10 years later and the format has proven a recipe for success in terms of turning locally-known chefs into full-blown national personalities...but only if they play their culinary cards right.
Tonight's season premiere opens with a dramatic introduction featuring commentary from head judge Mark McEwan and returning resident judges Mijune Pak, Chris Nuttall-Smith and Janet Zuccarini.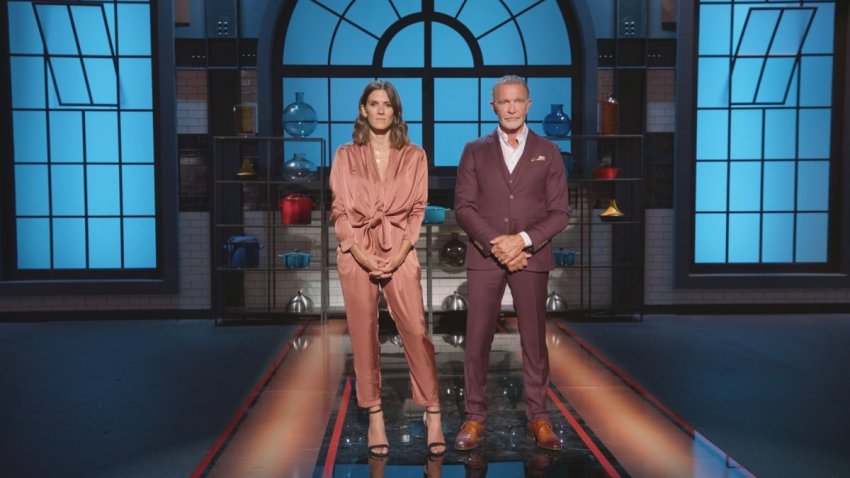 "In times like this, I'm looking for a chef that is resilient and can survive any challenge," says McEwan in an commanding, Thanos-like voice.
Zuccarini is searching for a chef that can "adapt and pivot", two words that have become synonymous with the pandemic as it pertains to the restaurant industry.
We get it, this year has been nothing short of hell for everyone in the restaurant industry (and beyond), but hell hath no fury like a chef in the weeds, so if there was ever a driving force to make a chef want to title of Canada's Top Chef, the pandemic should definitely be it. I suppose winning the grand prize of $100,000 cash and a brand new Lexus RX Hybrid Electric SUV is great motivation too.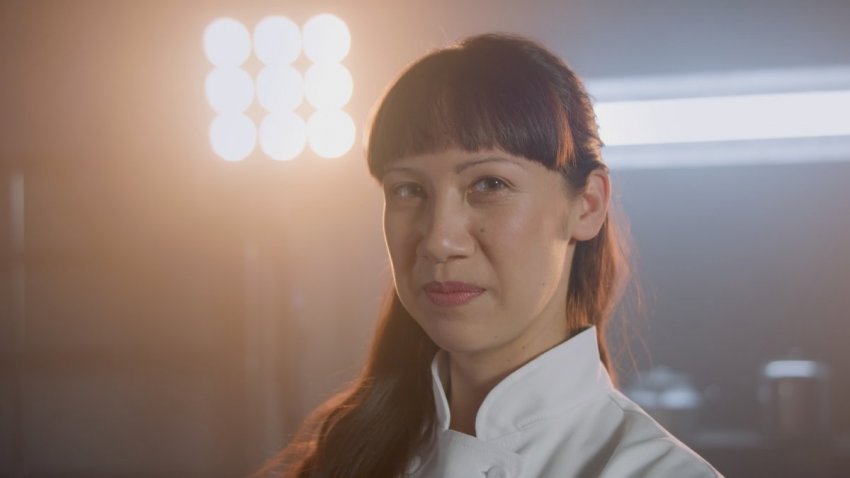 The first chef we get to meet is the charming Emily Butcher. The chef de cuisine of Winnipeg's celebrated restaurant deer + almond makes note of the fact that a chef from her city has never won Top Chef Canada.
That is definitely true, but it's also been ten years since the show has even had a chef from the Manitoba capital. Being a fervid fan of Winnipeg's dynamic food and drink scene, it's about damn time they did.
Butcher regales us of her background in ballet and music, which lends to her creativity in the kitchen. She is an award-winning chef and should not be underestimated.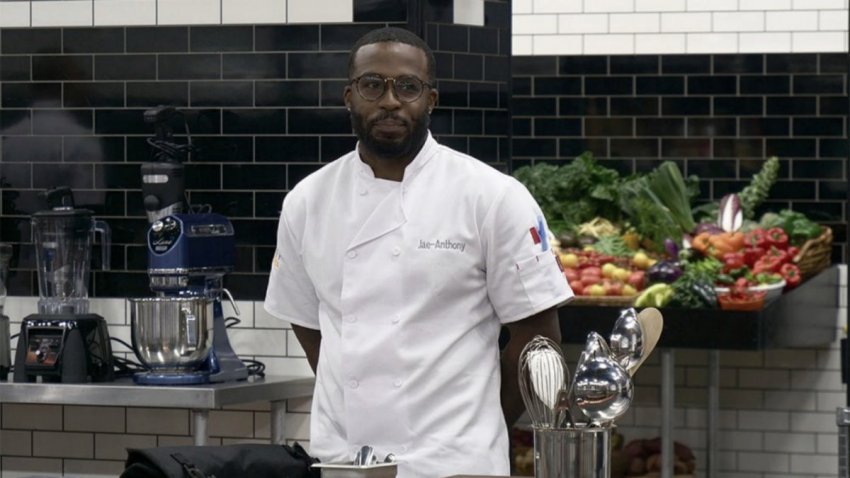 Next, we meet Ottawa's Jae-Anthony Dougan. Somewhat subdued, it's hard to get a feel for what the chef is all about from his short-and-sweet intro interview. A quick Google search will tell you that he currently operates a namesake modern Caribbean pop-up, so I look forward to seeing the kind of flavours he brings to the competition.
Moving onto Kelowna's Siobhan Detkavich who is both is the first Indigenous woman to compete on Top Chef Canada and the youngest competitor in Top Chef franchise history. She is immediately likeable and appears determined to prove that age ain't nothin' but a number when it comes to this culinary competition.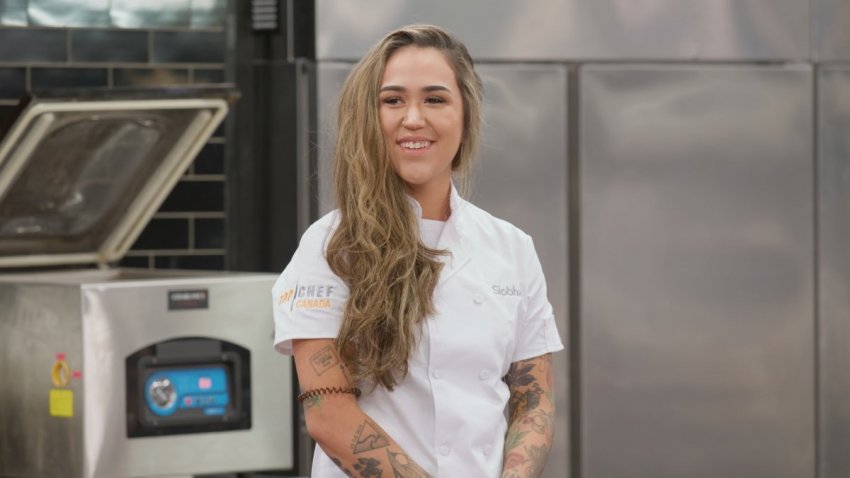 We shall see!
Then we meet Aicia Colacci (formerly of Montreal's Impasto) and Andrea Alridge of Vancouver's CinCin followed by Erica Karbelnik of Toronto's Elwood Sa and Josh Karbelnik of Toronto's Broadview Hotel.
We all know a Top Chef Canada season is not complete without a competitor that boasts a Mark McEwan tie and Erica offers us that. Despite said tie, being head chef of a restaurant inside of a spa doesn't necessarily scream Top Chef Canada champ to me, but we'll see.
Oh, and plot twist, Josh is her husband.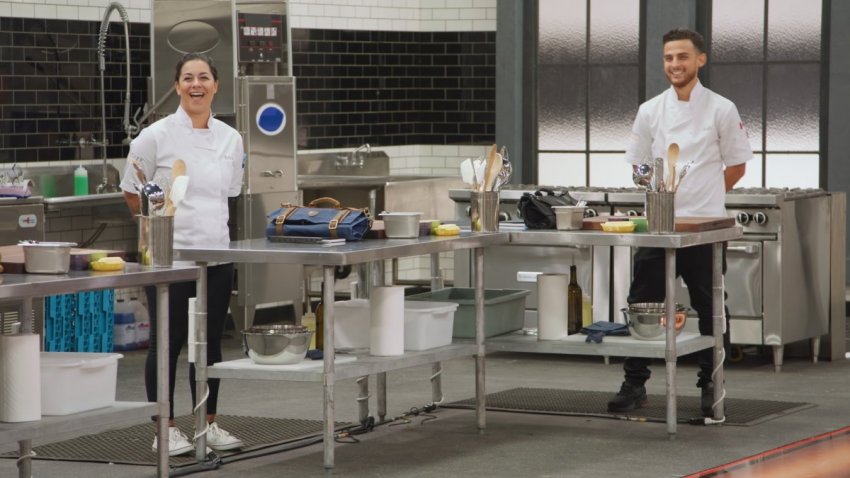 "Will the marriage survive? That's the big question," jokes Mark McEwan.
No doubt that's what everyone else is thinking too!
We'll have to wait to meet the rest of the competitors as Eden Grinshpan swoops in–in a somewhat odd bathrobe-meets-jumpsuit outfit–with the details for the first Quickfire Challenge of the season.
Quickfire Challenge
Eden gets right to it and tells the chefs that they must showcase their respective culinary brands through a dish of their choosing. At first it seems like Eden, along with head judge Mark McEwan, are allowing the 11 competitors to ease into things by preparing something familiar to them...but then they add the 30-minute time limit and yell "Your time starts now!"
The chefs then frantically scramble for ingredients in the McEwan Foods pantry. There will be no grocery store trips this season for obvious reasons.
With that, we are officially off to the races!
Siobhan mentions that she doesn't have enough experience in the industry to have a brand– this does not bode well in this challenge or the competition in general–before describing her dish that will involve butternut squash, parisienne gnocchi and kale chips.
Invermere-based chef Galasa Aden appears cool as a cucumber as he's introduced and tells a heartwarming story about spending time in the kitchen with his mother. He's creating a dish inspired by an Ethiopian stew he's grown up eating.
"My brand is refined, humble heritage," he says.
Those three words convey his approach perfectly and now I want to taste that stew.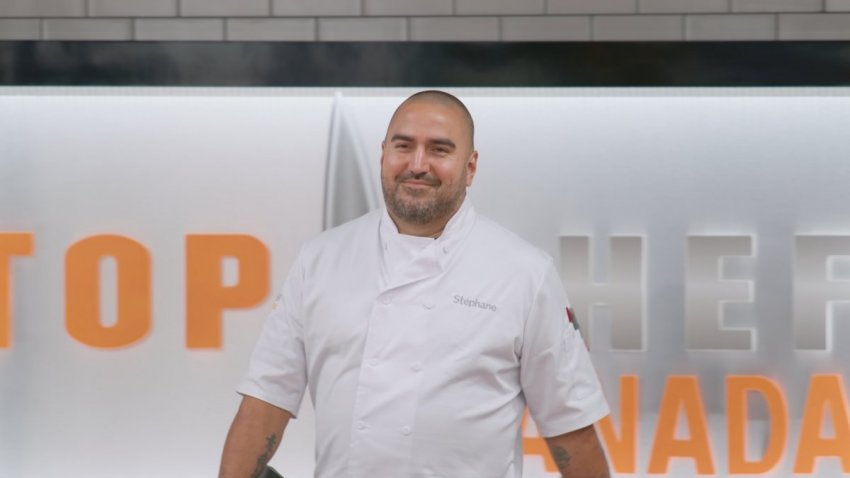 Stéphane Levac of Kentville, Nova Scotia is also introduced as he's preparing his dish brimming with East Coast ingredients. The ceviche of sorts sounds promising.
The Indigenous chef mentions that he's using an apple cider vinegar infused with sumac that he brought with him to the TCC Kitchen. The chef seems to really be ladling it on those scallops.
Save some of that secret ingredient for later, chef!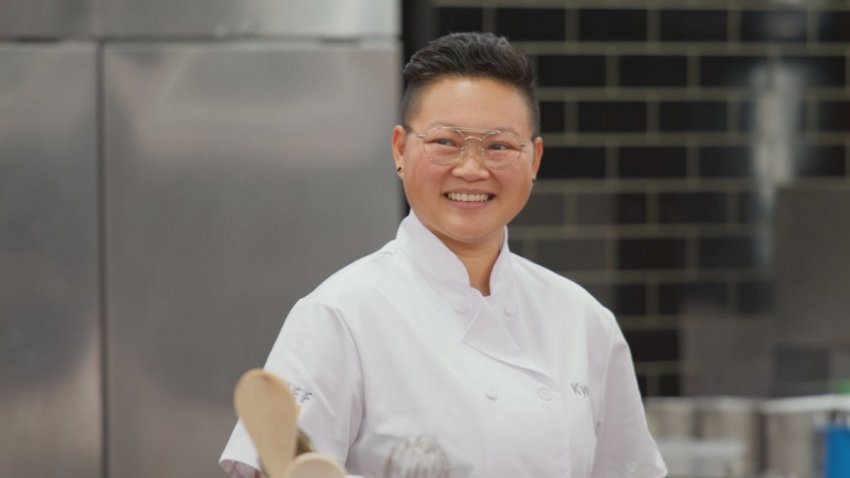 Kym Nguyen now appears. The sous chef of Vancouver's PiDGiN Restaurants explains that they aim for self-proclaimed "weird" flavours with their dishes and, thanks to Chinese, Vietnamese and British roots, create within the realm of Asian-British fusion.
Like Steph, Kym also busts out a secret ingredient: fermented bok choy.
"Bringing crazy unique flavours is an advantage," says Kym.
It's not often mentioned during diary sessions on Top Chef Canada, and never fully explained, but each contestant is permitted to bring a few select pantry items with them to use throughout the competition. One can assume this is to help the chefs properly showcase their individuality, especially as the race intensifies.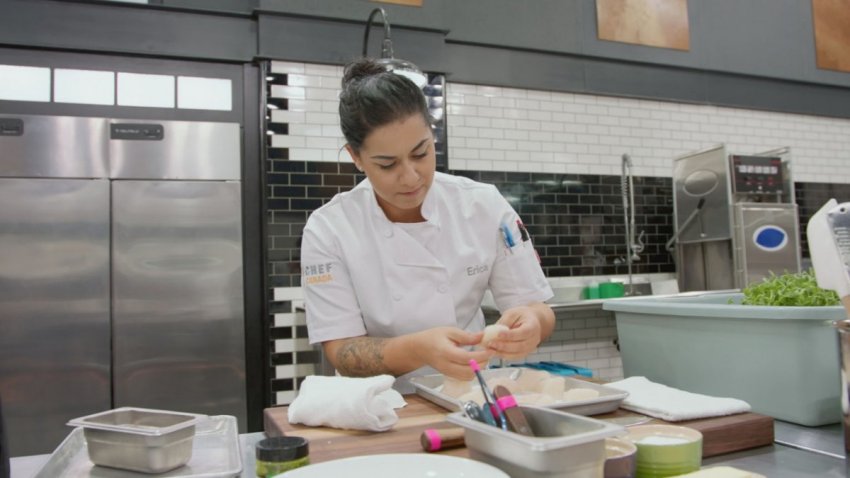 With a Polish-Iraseli-Moroccan background, Erica describes her brand as "truth and diversity" as she creates a stunning plate of seared scallops with fennel pistachio puree, pistachio dukkah, zaatar, and vadouvan curry.
Into it!
Josh "perseverance and restraint" Karbelnik is whipping up a seared rainbow trout filet with shaved fennel, charred citrus butter, lemon vinaigrette and brown butter powder.
Josh and Erica seem to be pleasantly competitive thus far.
As time runs out, we see that Siobhan has a dish that is far from complete. To make matters worse, the components of the dish are arguably much simpler than that of her competitors.
Based on the visual and the look on Eden and Mark's faces, she might have been better off not serving anything at all. Yikes.
Alex Edmonson, a personal chef based in Calgary, is the last chef to be introduced and serves a pan-roasted lake trout with charred oyster mushroom, smashed peas and a truffle veloute (which looks a little thick).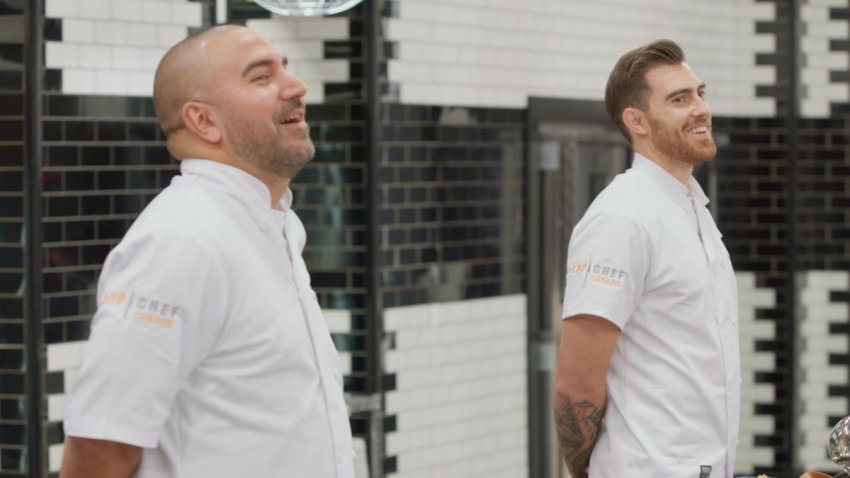 Mark and Eden seem less than impressed and question the bizarre sweetness of the dish.
Steph's plate of scallops with vinegar, dulse and pickled chickweed looks quite striking, but shockingly acidic–based on Mark's feedback.
We do not get to see what Andrea, Jae Anthony, Aicia or Emily make. This is typical of the first episode of any series, there just isn't enough screen time for everyone, so we can assume what they dished up was not the best and not the worst.
It's hardly a surprise when Erica, Kym and Josh are named the top chefs of the Quickfire. Erica winds up taking the top spot and garners immunity from elimination this week. Lucky chef!
Elimination Challenge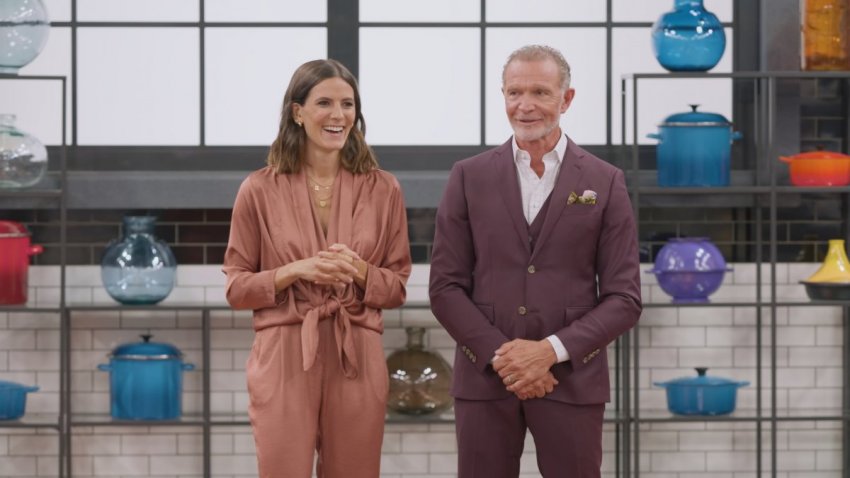 With many irons in the fire, literally, Eden explains the first Elimination Challenge of Top Chef Canada Season 9. As the flames and fire metaphors have already implied, the chefs must utilize fire in a myriad of ways to create unique dishes that they will then serve to the judging panel at Casa Fuego Steakhouse.
The competitors are to take turns drawing irons from the fire and on the tip of the irons, the brand will tell them what method of cooking by fire they will need to utilize: smoke, flame or ash.
Andrea gushes about how excited she is for this challenge. After all, she is the chef de cuisine of a Vancouver restaurant that's known for its fire-forward cooking.
"This is mine, I have to win this challenge," she says exuberantly.
Foreshadowing, perhaps?
She winds up drawing "ash" as does Alex and Jae-Anthony. Steph, Emily, Kym and Erica draw "flame" and Alicia, Galasa, Siobhan and Josh draw "smoke". Let the "fire" work begin.
There will be no grocery store trips this season for obvious reasons, so McEwan Foods has set up a temporary shop in the TCC Kitchen. Sadly, this means we won't hear the chefs awkwardly say "with Interac please" at the till every time they are asked how they would like to pay.
The chefs scoot about with just a short time to "shop", grabbing this and that before beginning to furiously prep away.
While prepping, we find out that Josh lost two of his fingers nine years ago in a freak accident with an ice cream machine. He explains that his hand took six months to heal and that he had a hard time finding work afterwards.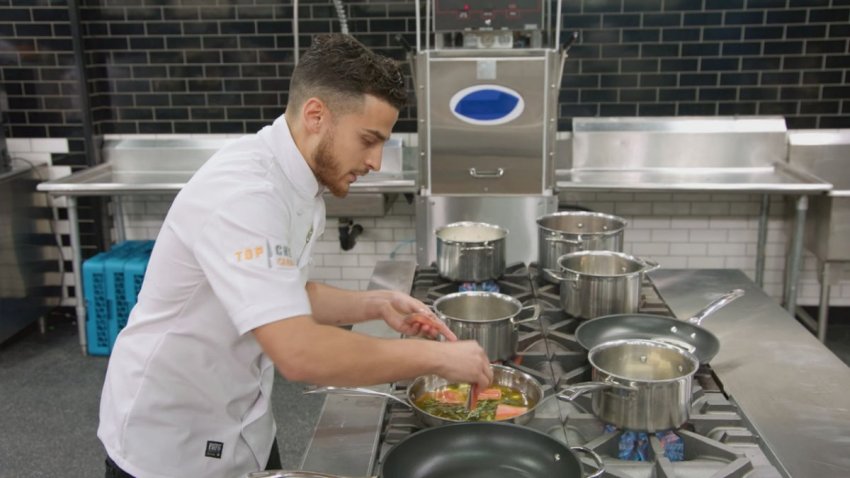 "I'm a better chef today because of it. I feel like I've risen from the ashes," says Josh.
Give me all the fire-related metaphors. All of them!
Kym explains that their mother's name in Vietnamese translates to "Phoenix" in English. The non-binary chef opens up about their struggles with coming out as such and says they are cooking in hopes of making their mother understand them and to be proud of them.
I'm not tearing up, you are.
The chef is grilling squab and serving it with onion soubise and kombu pickled lotus roots. Their squab legs are accidentally overcooked and you can hear the dramatic music creep in. They toss the legs and go with a smaller portion, breast-only plate and hope for the best.
Erica is equal parts well spoken and captivating in this challenge. She speaks confidently to the camera about her bone-in ribeye dish. Even though she has immunity for this elimination challenge, she does not appear to be resting on her laurels.
Moving onto other meaty things, Steph's bison dish also sounds delicious in his upbeat description. His bison steaks will be complemented by spicy wilted greens, white beans, spruce tip gastrique and pickled chanterelles.
We don't see much else in terms of food prep, so onto dinner service it is.
Judges' Table
Eden and Mark are joined by returning resident judges Janet Zuccarini, Mijune Pak and Chris Nuttall-Smith. Ah, the old gang is back together again.
First up are the four chefs who were assigned "flame".
Emily garners plenty of praise for her grilled flank steak with romesco, smoked tomatoes, almonds and a Tokyo turnip panzanella as does Erica for her bone-in ribeye, horseradish labneh and smoked eggplant puree, topped with a cilantro and parsley zhug.
The food appears to go from great to show stopping as the crowd (i.e. judging panel) goes wild for Kym's dish. Their plating appears to be perfection as do the ratios of all of its components.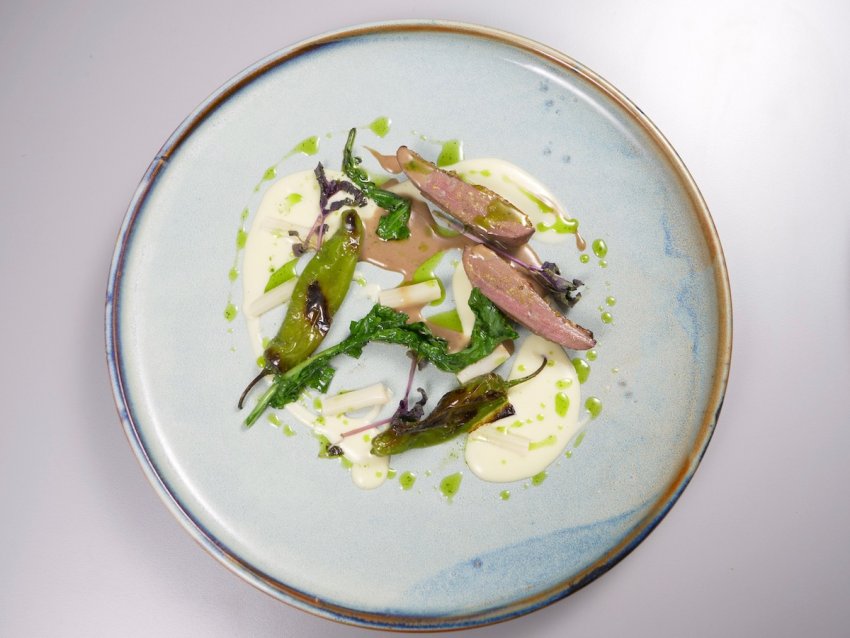 Mark wishes that there was a confit squab leg on the plate too. If only he knew...and maybe he did?
Steph does not fare as well as his fellow chefs. He fares terribly actually. A lack of technique is brought up again and again by the judges.
Next, the "smoke" crew approaches the table.
Josh's dish looks equally as stunning as Kym's. He has prepared a grilled bison strip, smoked beurre monte smoked sunchoke puree with charred radicchio and radishes and the judges seem completely enamoured.
Aicia also delivers in the flavour department with her smoked acqua pazza–Italian for "crazy water" as Janet explains–made with anchovy, fish stock, white wine, smoked passata, and smoked salmon. Sadly, her plating seems somewhat unappealing to the judges.
Galasa's smoked duck breast with double-smoked potato pave, smoked lobster mushroom foam looks quite spectacular and garners pleasant feedback. Mijune admits its good, but doesn't find it memorable.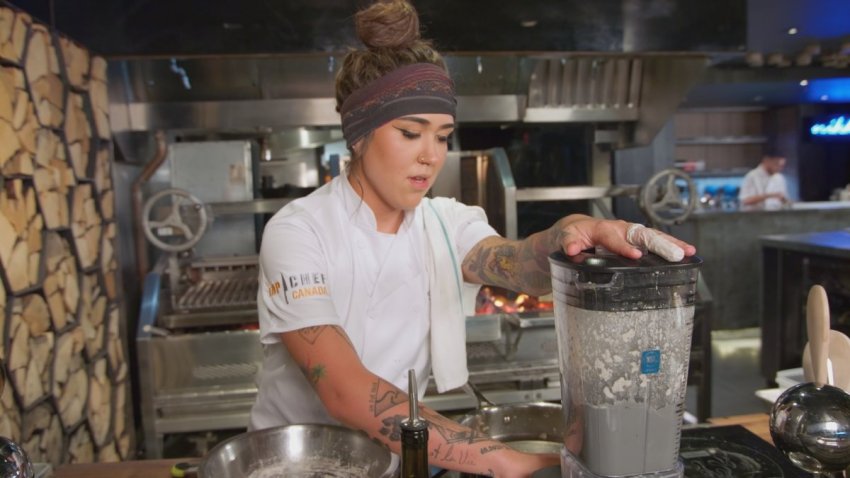 Siobhan offers up a kombu-wrapped sablefish with roasted cabbage and apple bannock slaw, with smoked sage and eggplant emulsion(s?). There is a lot going on with Siobhan's plate and that is the common remark around the table.
Alright "ash", you're up!
Jae Anthony is first. The chef has had next-to-no screen time this entire episode, so again, it's hard to get a feel for how he'll fare. His grilled sea bream with Caribbean green seasoning, spinach and butternut callaloo and ash-roasted breadfruit sounds enticing, but looks rather clunky. There's more sauce than protein on this plate.
Andrea goes all in with ash and does a dish with ash-infused honey, ash-roasted carrot puree and ash-roasted onion petals. Hers appears pretty, but sounds, well, quite ashy.
Alex presents his ashtray-inspired creation composed of grilled asparagus, ash-roasted octopus topped with leek brown butter ash and charred lemon aioli. I don't get the ashtray inspiration, but remove that from the equation and it sounds tasty enough.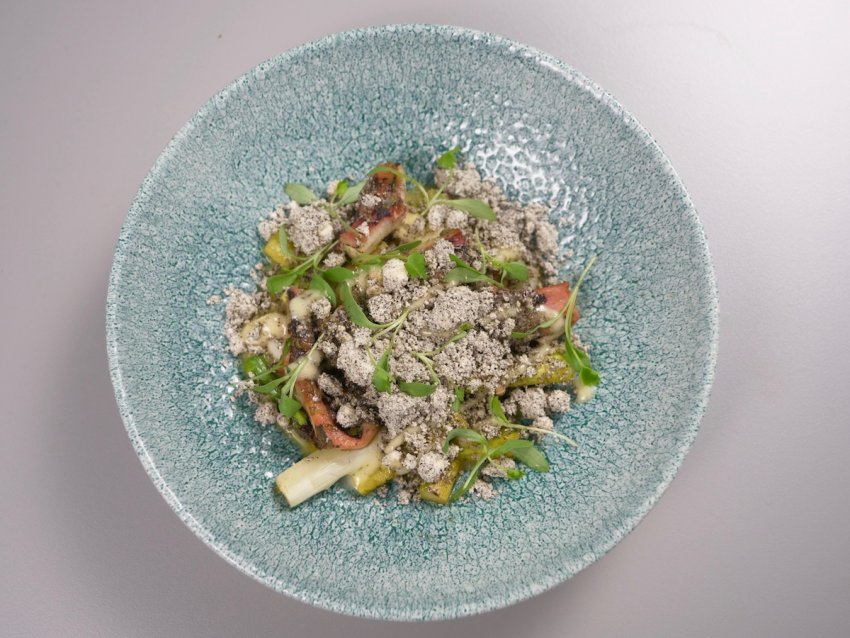 Alex's dish gets read to filth–I mean, it was inspired by an ashtray after all–for looking unique and Instagram-friendly, but not delivering when it came to its flavours and textures.
"This is what you call Instagram food," says Mijune.
With the meal done, the chefs await the results in their holding room while cracking some beers. Kym remarks that they would not be surprised to find themselves in the bottom three.
Really kicking themselves for that missing squab leg, eh?
When Eden calls them, along with Erica and Josh to see the judges, the remainder of the group wager the opposite: that Kym is part of the top three.
The crowd was correct as we get to watch McEwan and co. gush over the three chefs' dishes.
Kym appears to get some bonus points for choosing to cook squab which is arguably one of the most finicky proteins to prepare. It's likely this that sees them emerging as the victor of the episode. Bravo!
Not surprisingly, the bottom two are Steph and Alex, though if a third was called it likely would have been Siobhan.
As the judges dive into more detail with each of the chefs' dishes, it becomes clear that Steph's had a myriad of issues, many more than Alex. More importantly, many of these appeared to be fundamental mistakes.
Steph is the first chef to leave the TCC Kitchen. Regardless of whether or not his fellow competitors were surprised by this ruling, they let out a collective "Aw!" after finding out proving that everyone loves the positive energy of an East Coast chef in this competition.
Kitchen Scraps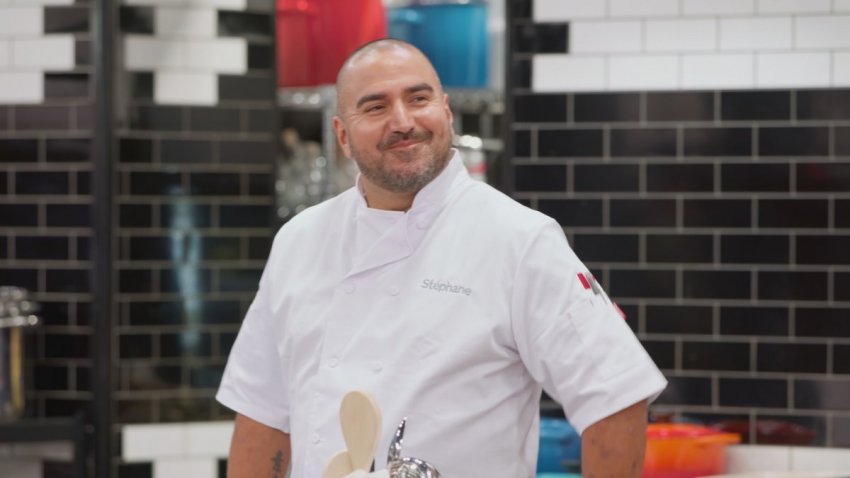 Steph is a much-loved chef in Nova Scotia and it's too bad that there will not be any Atlantic Canada representation for the remainder of this season. It makes me wish that Top Chef Canada would have a similar series to Top Chef's Last Chance Kitchen where eliminated chefs can cook their way back into the competition.
Again, it's really tough to think that Siobhan has a fighting chance in this competition as she seems really out of her league, but maybe that's just the editing. Here's to hoping she has a stronger showing next week than she did on this first episode.
Watching Erica, Josh and Kym take the top spots in both the Quickfire Challenge and the Elimination Challenge was super impressive. I don't think that the same three chefs have ever won both portions of an episode before, but don't quote me on that.
Chris Nuttall-Smith could use a haircut, but depending on when this was filmed (last October?) perhaps hair salons weren't permitted to be open in Ontario. Who's to know!
Make sure to check out the power rankings for Season 9 Episode 1 too.
Top Chef Canada airs on Monday nights at 8 p.m. MDT / 10 p.m. ET on Food Network Canada.