As a longtime fan of Vancouver's 49th Parallel, I was excited to hear that the company is about to officially expand out east to Montreal. Its Old Montreal location (488 Rue McGill) will open on Friday, July 16.
Since opening in 2004, 49th has become one of Vancouver's most iconic coffee roasters and cafe chains. Outside of its sought-after coffee roasts, it is especially well known for its delicious in-house doughnut purveyor Lucky's Doughnuts–a la "Beignes Lucky's" en francais–that makes all sorts of creative doughnuts that make Timmy's look like, well, pretty darn subpar.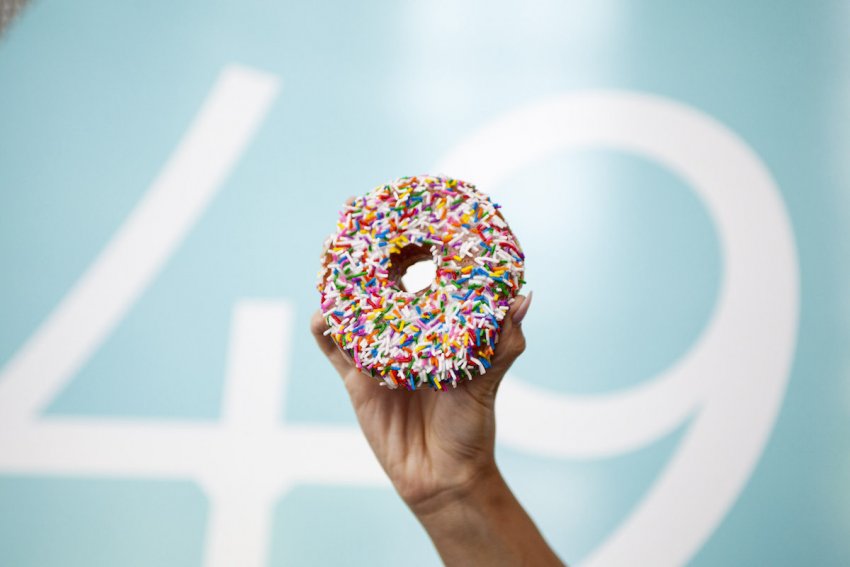 In addition to the doughnut staples of Lucky's, there will be many offerings that are unique to the Old Montreal location such as Pouding Chomeur Doughnut, Lac St-Jean Blueberry Doughnut, Quebec Strawberry Rhubarb Crumble Donut, with more to pop up seasonally throughout the year. The coffee shop has partnered up with Microbrasserie Vox Populi to create a Vox X Lucky's: Punch aux fruit IPA doughnut, as well as a limited-edition 49th Parallel x Vox Stout Café Latte Beer, the latter of which launched earlier in 2020.
"Montreal, Quebec is 49th's largest consumer base outside of BC with e-commerce retail and partner cafés," 49th Parallel's Montreal Café Director Sara Bilodeau explains. "The choice of Montreal as the first place to open a café outside of Vancouver felt logical and practical. We are so excited to grow and expand our brand in such a dynamic and energetic city."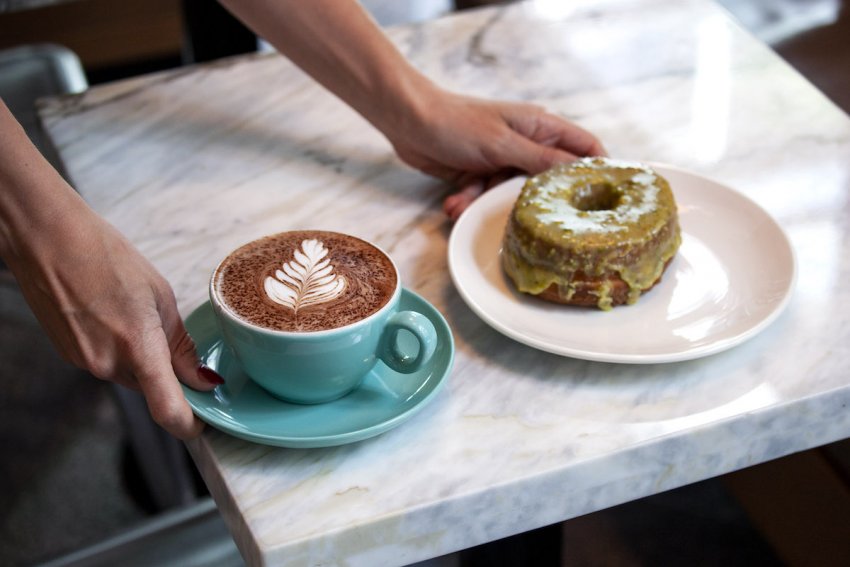 Knowing well that to fit in in Montreal, they would have to pay homage to the famous neighbourhood their new location will reside in, 49th Parallel has worked with both local design firm Ruscio Studio as well as street artist Stikki Peaches to add vibrant artwork to the space.
"Incorporating elements of localness is paramount to the success of our concept. Whether it comes in the form of finishes, the interior decor of our shop, and the coffee we offer, we wanted something that would represent Montreal with all its joie de vivre, something current, and authentic," says Bilodeau.
To celebrate its grand opening in Montreal on Friday, July 16, 49th Parallel will be handing out free doughnuts from 10:00 a.m. to 2:00 p.m. Run, don't walk!
49th Parallel Old Montreal will be open Monday to Friday from 7 a.m. to 4 p.m. and weekends from 9 a.m. to 4 p.m.