The most classic pairing of food and film might be popcorn and whatever Hollywood blockbuster is screening at your local theatre, but a new short film out of Calgary is hoping to captivate people in a much more unique and memorable way.
Directed by Calgary-based filmmaker Vicki Van Chau, Hearth of the Lion merges the worlds of Szechuan cooking and lion dancing. With stunning visuals, her film is meant to showcase the bond between three brothers as they portray powerful movements of the lion via dance and the fire of the wok hearth while they prepare an iconic dish from the Kam Han Szechuan House menu.
Hearth of the Lion stars chef Chun Yang and lion dancers Alex So and Jonathan So from Jing Wo Cultural Association. It is the follow-up to Chau's award-winning short film Pulled Strings—which premiered in 2018 and screened at festivals across Canada including Devour! The Food Film Fest and is the second short film in her portfolio that blends together traditional Chinese food and culture.
The film will have its official premiere at Festival Hall on Saturday November 27 with a follow-up screening on Sunday November 28. Tickets for both weekend screening events are now on sale via Showpass.
"I think food is such an accessible way to introduce someone to a culture so it plays a crucial role in my films," says Chau. "I love exploring the similarities between the art of cooking and aspects of the culture that when combined, creates a wonderfully compelling and poetic visual."
Before the premiere of Chau's film, attendees will be treated to a short documentary by fellow Calgarian Suzy Chim. Steps of the Lion shines a light on the art of lion dancing and will serve as the perfect precursor to Chau's food-meets-performance film. A lion dance performance and demonstration by members of Jing Wo will also accompany both film screenings.
Afterwards, a Q&A with the filmmakers, and representatives from Jing Wo and Kam Han Szechuan House will take place. The premiere event will offer a tasting of the spicy crab pot featured in the short film—a signature dish of Kam Han Szechuan House (pictured below).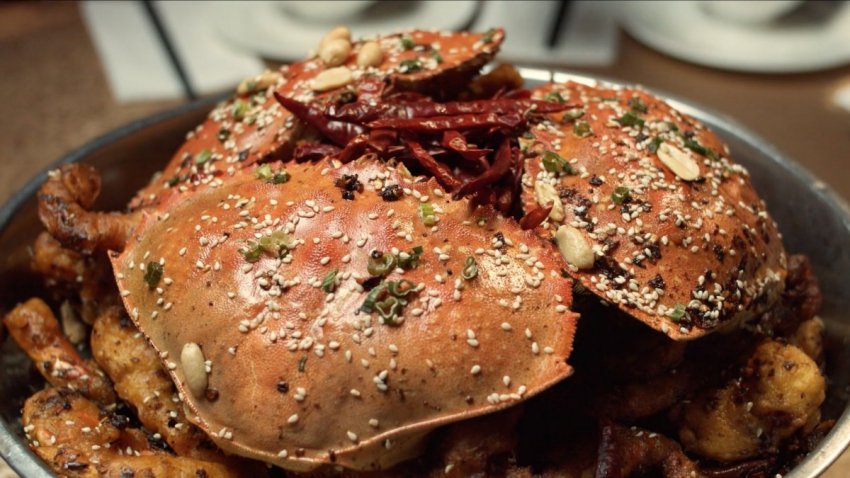 "I'm excited for people to see both the art of Chinese lion dancing and wok cooking in such an up close and intimate way with all the sights, sounds and flavours that it offers," she says.
Tickets for the Hearth of the Lion premiere events are $13 (or $7 for children 12 or younger) and can be purchased via Showpass.