Due to a mix of archaic liquor laws in Manitoba, until last year the evolution of craft beer in the province had been stifled. As a result, Winnipeg is officially one of the last Canadian city's to boast a thriving craft beer scene. At the beginning of 2016, even smaller cities like Saskatoon and Kelowna offered much more in terms of small-batch beers than this city where its population dwarfs them both. Now that we've headed into a new year, Winnipeg has seen an explosion of craft brewers and swiftly gained ground. While the number that correlates to said "explosion" currently only sits at four, it is certainly a sign that Winnipeggers are thirsty for some interesting brews.
"I'd guess the growth of the craft beer industry across the U.S. and into Canada led the government to realize that there is a new vertical market for taxes," says John Heim, co-owner of Torque Brewing Company in Winnipeg, on why Manitoba government finally chose to lax laws on localized liquor production. "Most governments change their 'that's the way it's always been' policies at a glacial pace. But when there's revenue on the table, perhaps the pace picks up. I think we are at that stage now [here in Manitoba]."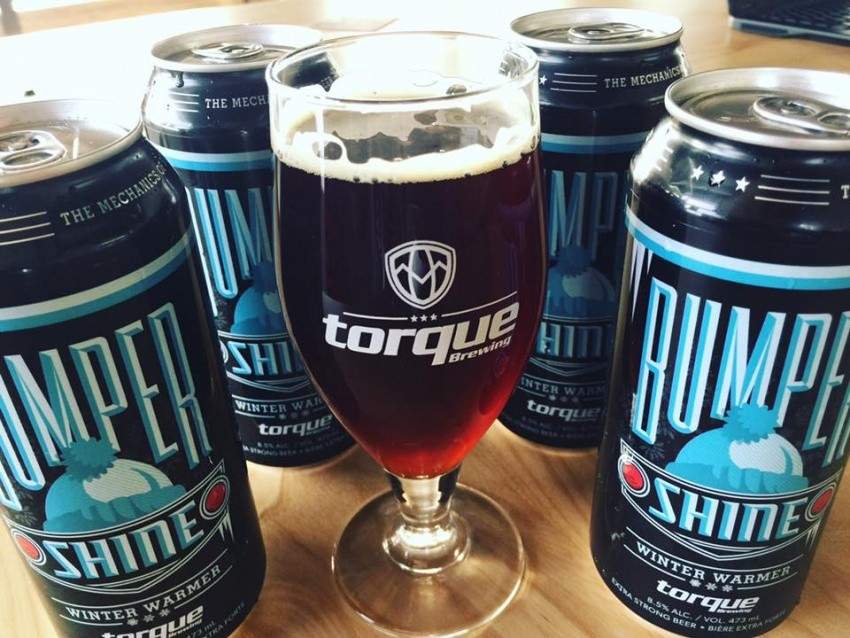 In terms of catching up, Heim admits that the province still has some ground to gain and although things have gotten easier for new craft liquor companies (distilleries and breweries alike), it's still not as easy to operate compared to neighbouring provinces.
"Recently, the provincial government cancelled a much touted and promised loan program for the craft brewing industry and this included craft wineries, distilleries and breweries," points out Heim. "If any of the new businessese had built that loan program into their business plans, they may need to re-evaluate their funding. It could slow down the potential number of new entrants but it shouldn't derail them."
The brewery owner also notes that liquor stores in Winnipeg have increased their craft beer selection dramatically, and in terms of getting inspiration for Torque, he looks to his comrades at Beau's All Natural Brewing in Vankleek Hill, ON, a brewery well known nationally for its operations being all organic, largely sustainable and community-minded.
All of this talk of new brewers in town is not to say that the long-standing microbreweries, Fort Garry Brewing and Half Pints Brewing Co. haven't put in their dues over the years, marking their mark on the Canadian craft beer community--Fort Garry, in particular, has a brewing history that dates back to 1930--but fresh blood in any industry, food or otherwise, is something that can keep things from getting stale. "Eventually, Torque would like to follow in their footsteps and be the Beau's of Manitoba," says Heim.
"These are exciting times in the Manitoba beer market," says Heim happily. "Craft breweries bring in tourism dollars and offer employment in a growing sector. Several companies are already offering brewery tours to both locals and visitors. If everyone comes to market this year, we should see a vibrant craft beer scene in Winnipeg very soon. I do think the talent in this province is equal to other provinces and we can certainly hold our own on the national scene."
While there are still a number of breweries or brewpubs aiming to open throughout the year (Brazen Hall Kitchen & Brewery, Nonsuch Brasserie and Brewing and One Great City Brewing Co. to name a few), here (in alphabetical order) are the first wave of new craft brewers in Winnipeg that are worth checking out for a sip or two...or three.
Barn Hammer Brewing
Located in an industry area closer to the Winnipeg airport, Barn Hammer was the first new craft brewery to officially launch last year. The brewery's taproom interior is a cool mix of industrial and warm wood accents, making it a comfortable spot to pop in for a pint or a flight with some friends. Barn offers a line of regular brews, including a red ale and a double IPA which you can find easily enough on tap around Winnipeg, but head to the taproom to find new beers that haven't made it out to market quite yet.
Try: Grandpa's Sweater Oatmeal Stout
Tap room open Wednesday to Sunday.
Little Brown Jug Brewing
The newest of the new and located in the downtown Exchange District, Little Brown Jug opened its doors in November, 2016. The open-concept brewery offers limited seating to enjoy the single microbrew they have poured since opening (working off of Steam Whistle's "do one thing really well" mantra, perhaps?)--a straightforward pale ale titled "1919". The name pays homage to the year that the hop used in the brewing process, Brewers Gold, was first grown and also, oddly, to the year of the Winnipeg General Strike, one of the most famous and violent labour strikes in the history of North America.
Tap room open Tuesday to Saturday.
PEG Beer Co.
Though it was technically the first new brewery/brewpub to open this past year, Peg Beer Co. had to jump through a number of hoops before actually brewing its own beer, which didn't end up happening until fall of 2016. Peg is owned by former Half Pints CEO, Nicole Barry and, as such, has plenty of local buzz behind it. The brewpub space is a great one with plenty of tables and bar seating and you'll usually find it packed, especially in the early evening. Still playing around with new brews, Marilyn (Rye ale), Guten Tart (Berliner Weisse) and The Countess (Stout) are a few of the cleverly-named signatures. Out of all of the new breweries so far, the food offerings here are the most substantial with a menu offering everything from pickled eggs to flatbreads and sandwiches.
Try: Marilyn Rye ale
Brewpub open Monday to Sunday.
Torque Brewing Co.
Last, but certainly not least, Torque rounds out the first line of new craft brewers to emerge in Winnipeg in recent months. As mentioned in the introduction, John Heim operates this brewery with his partners, including notable local brewer Matt Wolff, who previously spent years working at Fort Garry Brewing as brewmaster. Torque boasts a splashy design scheme with its beer offerings that include the Diesel Fitter (American stout), The Witty Belgian (Wheat ale) and What the Helles (German pale lager). Pop by the tap room if you want to taste the full range of Torque's creations, otherwise, you can find its selection in cans at Manitoba liquor stores and on tap at a variety of establishments in Winnipeg, including The Common at The Forks.
"Offering customers a selection on the local beer scene is a wonderful way to increase revenues for local business and enhance the brand of Manitoba," says John Heim in regards to the province's beer community as a whole. "I think we can make up for lost time, we just needed to take the first steps to make it happen. That step has now been taken!"
Try: What the Helles German pale lager
Tap room open Tuesday to Saturday.