A cool new weekend night service is getting ready to debut at Vancouver's Potluck Hawker Eatery this week. Inspired by the vibrant and bustling night scenes of Southeast Asia, the new Night Hawker menu will feature a fun assortment of snack items and street foods from chef Justin Cheung and his culinary crew.
Some of the Night Hawker menu snack items include a Roti Grilled Cheese (roti canai, American cheese, curry sauce), Som Tum Tod (green papaya fritter with peanut and spicy dressing), Nam Jim Corn Ribs (corn with lime dressing, rice powder, sawtooth herb, and yum yum sauce), and Sweet Chili Wings with Malay sweet and spicy hot sauce, sesame, and cucumber.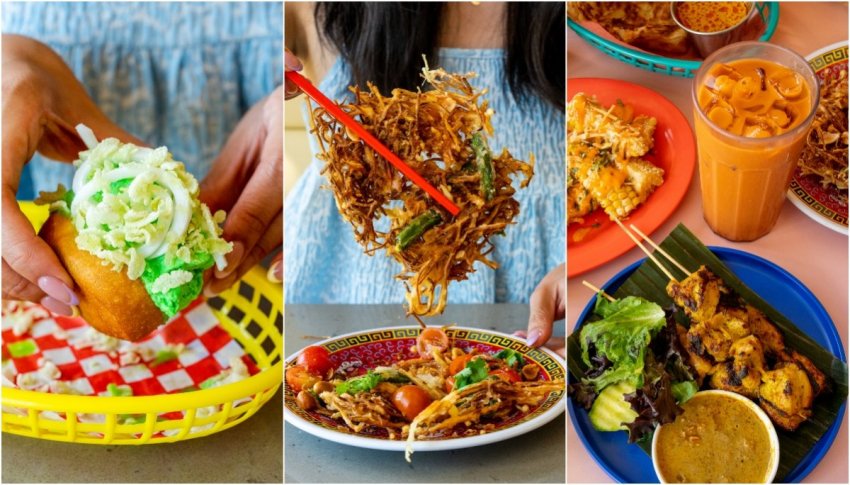 The Night Hawker menu also features several large plates, such as the Chick-Ma-Lay (coconut milk-brined fried chicken with Malay sweet chili, pickles, and yum yum sauce), the CKT (wok-fried rice noodles, prawns, fish cakes, and Chinese sausage), and the Nasi G. (fried rice with special soy, sambal, egg, veggies, and choice of protein).
"Southeast Asia is known for having some of the world's most lively and best night scenes, and food definitely plays a big part," says Cheung. "Every time I visit my family in Malaysia, we'd go out for late night eats - there are so many places that are open after the sun sets. My favourite places usually have sharable items and dishes that go well with an ice cold beer. We'd stay up so late to chat and catch-up over good food."
The Night Hawker menu will be available at Potluck Hawker Eatery on Fridays and Saturdays from 9 p.m. till late for the remainder of the summer. Each of the Night Hawker food items are priced between $10 and $15, and Potluck will also be offering 20 per cent off all beverages, which is a steal of a deal if you ask us.