The first episode of CBC's new cooking competition airs tonight, and while some may think that the era of original culinary content has come and gone, Fridge Wars proves that there's always room for creative diversion in the world of food.
Each episode begins in a Canadian family's home, where CBC veteran and Fridge Wars host Emma Hunter conducts a surprise fridge raid. The contents of the fridge are then replicated in the Fridge Wars studio, and two celebrity chefs are pitted against one another with the task of creating something extraordinary using only the ingredients acquired from the family.
When the 45-minute battle concludes, instead of being judged by a pantheon of world-class culinary authorities, the chefs are judged by the families from whom the ingredients were sourced. The family tastes each meal and scores them on look, taste, and originality. The chefs then go through the same process with a second family, and the final results are tallied and one chef emerges victorious.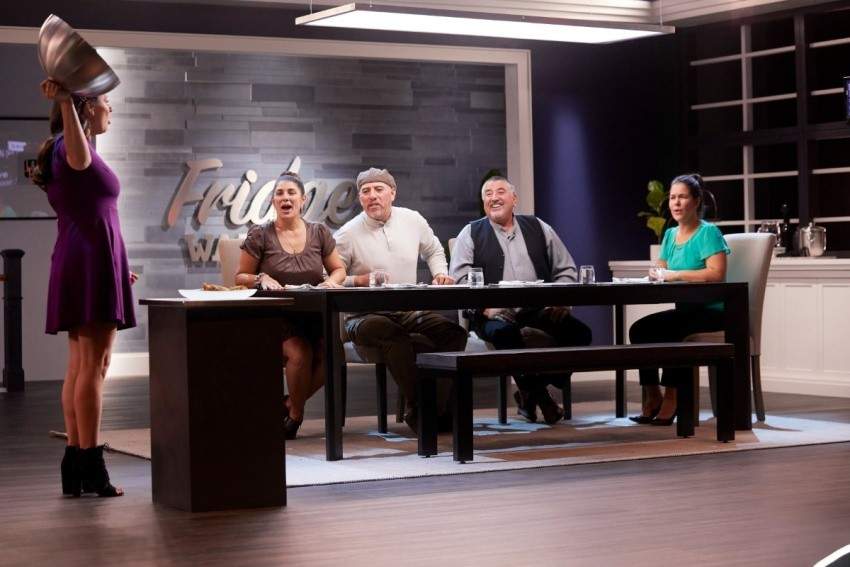 "It's neat to sort of revert the idea of 'expert'. What is an expert? For us, an expert is the family," Hunter explains. "So, let's say you have somebody who is a vegetarian and someone who has a dairy allergy and somebody who just can't get enough meat, and they all live together under the same roof, which does happen. A lot of people have that moment when you set down dinner and you're totally at the mercy of your family. So the show has a lot of honest moments. It's subjective to a point, but if a dish falls flat or fails in its execution, it's scored accordingly."
Honesty and authenticity are recurring themes on Fridge Wars. The initial filming process sets the stage for the competition, but the actual fridge raid itself isn't staged at all.
"We actually go to the family's home and they have no idea that we're going to raid their fridge. They think we're there to discuss contemporary dinner habits, and then we sort of give them a ploy as to why they have to go into a different room," Hunter says. "Then, we open their fridge and it's like a weird pie they're embarrassed about or a bunch of expired salad dressings. Then, we head to the studio and replicate it--the same products with the same expiry dates."
The sheer diversity within the cast of celebrity chefs also brings an entirely new element to the show and portrays the vast spectrum of Canadian cuisine unlike any cooking competition before it.
Hunter says that in addition to the diversity of the chefs and the entertainment value inherent in most cooking competitions, Fridge Wars offers an almost anthropological Canadian experience, providing viewers with unique insight into a moment almost everyone can relate to.
"Home cooks and professional chefs have existed in the world of food television for a while," Hunter explains. "But I think what is unique to Fridge Wars is that it takes that moment when you open the refrigerator after a long day and you try to figure out what to make your family for dinner, and you sort of assume that moment looks the same for everyone, but it turns out it doesn't."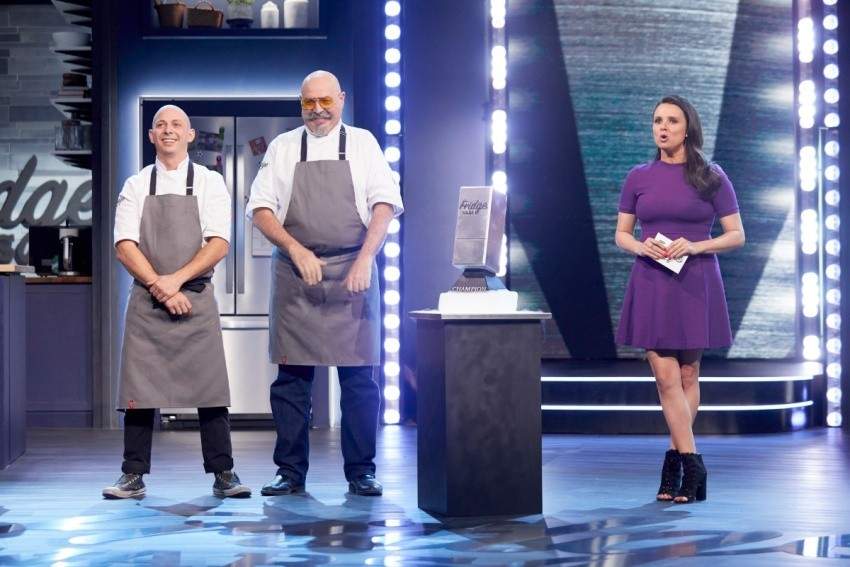 The inaugural Fridge Wars episode airs tonight on CBC at 7 p.m. ET, featuring chef Matt Basile and Massimo Capra. Episodes can also be streamed online at CBC Gem.