Victoria's The Courtney Room recently announced that it will host a special dinner this month to commemorate the launch of a new title in the Figure 1 award-winning city cooks series, Island Eats: Signature Chefs' Recipes from Vancouver Island and the Salish Sea.
Co-written by authors Joanne Sasvari and Dawn Postnikoff, the new Island Eats cookbook combines a collection of signature dishes from Vancouver Island chefs, along with a selection of product features on local wineries, distilleries, and cideries.
On October 24, The Courtney Room chef Brian Tesolin–who is also featured within the cookbook–will be joined by the two authors to host a culinary journey of sorts through Vancouver Island to showcase the local bounty, flavour profiles, and people who comprise the region's diverse food and beverage scene.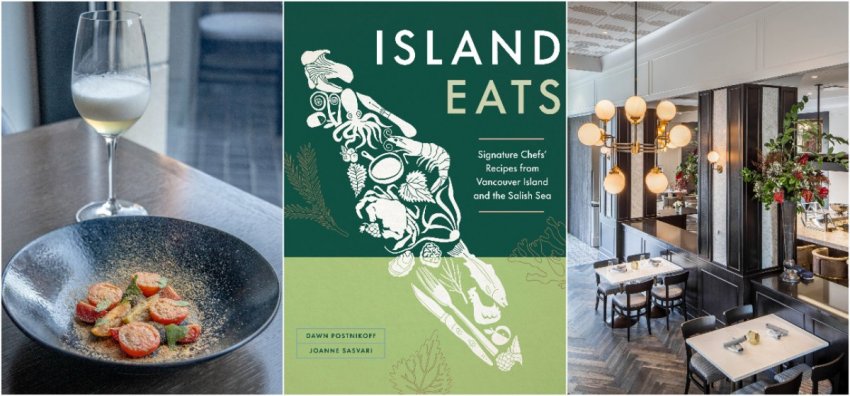 Guests of the dinner will be treated to an array of inventive dishes featured in the cookbook such as sparkling tomato consommé with house vermouth and house-made caramelle pasta with local Haltwshistle fresh cheese, locally foraged pine mushrooms, and espelette sourdough, along with optional wine pairings from B.C. wineries like Unsworth Vineyards and Averill Creek Vineyards.
"We are honoured that both Joanne and Dawn will be joining the dinner to share their clear passion for Vancouver Island's culinary communities as well as stories of how the cookbook came to life," says chef Tesolin. Each guest will receive a copy of Island Eats, which Joanne and Dawn will be happy to sign; the perfect memento of the evening that will help create many memories to come.
Tickets to the Island Eats Dinner are priced at $165 per person and can be purchased online.