You may be suffering from vacation withdrawal, the kids may be back in school and your routine may have changed over to fall programming, but that doesn't mean that cider season is over. In fact, ease back into hectic schedules with sprightly ciders that are full of fall fruit flavours, wherever you may be in Canada.
Sure, cider is the Gamora to patio's Star-Lord, but nothing says late summer and autumn like pears, apples and peaches, all of which can be found in Big Rock's lineup of Rock Creek dry ciders.
Here are just some of the places you can grab a bold and bubbly cider instead of a beer next time you're out.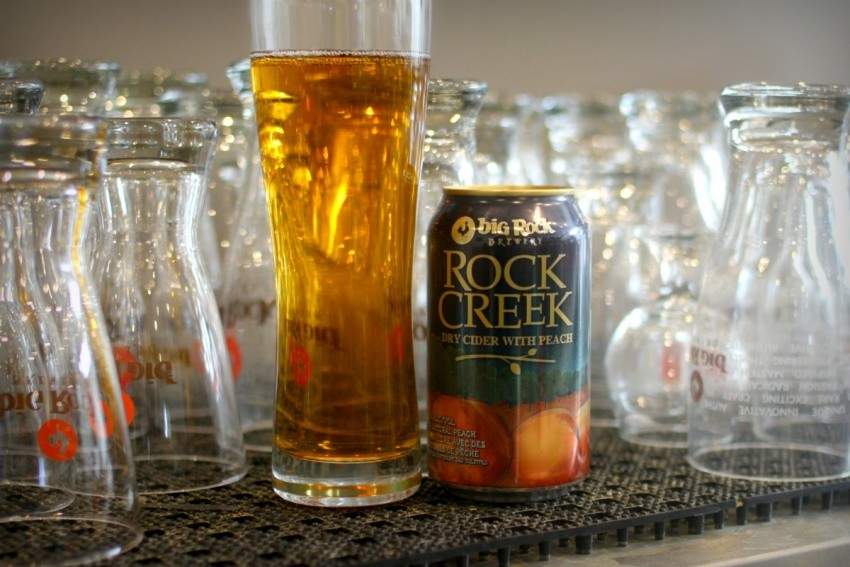 British Columbia
B.C. is known for its regional cuisine that's ultra focused on local ingredients. Everywhere in the province, from Whistler to Vancouver Nanaimo, you'll find only the freshest ingredients used at not only high end restaurants, but pubs and bistros. Nowhere is this more evident than on Vancouver Island.
In Nanaimo, you can hunt for more than just the famous Nanaimo bar and go on a search for great comforting tuna melts, burgers and small bites at Milton Street Pub, where you'll also find original cocktails and ciders.
For an action packed pub experience, try The Loft Pub in Victoria, where there's something going on every night in addition to food specials, whether it's bingo Mondays, poker Tuesdays, or karaoke Wednesdays.
And who says you should only have beer with pizza. While the two do go well together, the crispness of cider is also a good pairing for the Neapolitan brick oven pizzas served at Cotto Enoteca in north Burnaby.
Lastly, if you're staying in Whistler in B.C., don't miss the cozy Fitzsimmons Pub, where you can sample some of B.C.'s best local beers on regularly rotating taps, its popular Caesar, and some ciders to go with its fresh and seasonal pub food.
Alberta
Alberta has been getting a lot of attention for its food scene over the last few years and for good reason. You can find good food and local brews everywhere: from more northern cities like Edmonton to Banff, to Calgary, to southern parts like Waterton and Medicine Hat.
Banff is gorgeous any time of year, and if you find yourself there for its sights and outdoor sports, don't forget to check out famous local spots for some good food and drinks. Whether it's for lunch or after a day of outdoor activities, you can fuel up on Waldhaus' patio by Fairmont Banff Springs. The Bavarian-style pub is a hidden gem that has German favourites like schnitzel plate and wurst platter, German beers, plus popular pub fare like wings, fries and Rock Creek apple cider.
If you're staying at the more romantic Juniper Hotel and are looking to stay onsite without having to head into town centre, you can enjoy modern Canadian fare at the Juniper Bistro and order a Rock Creek pear cider on the patio as you look out into the vista.
For pubs and restaurants in the heart of Banff, Rose and Crown and Wild Bill's are both conveniently located and are all perfect for groups looking for a pint and some reliable pub food. And for an unbeatable view from the centre of Banff, Maclab Bistro is the place for some healthy and comforting dishes, a pint, glass of wine, or a cocktail.
Whether you're just driving through southern Alberta or heading to Waterton for its beautiful scenery, you want to put these destinations on your itinerary for when you need a break.
Golfers can get out of the sun, talk about Jordan Spieth's latest unbelievable putt and maybe gloat about their stellar game at Waterton Lakes Golf Course and Paradise Valley Golf Course, where they can do so with a pear cider, available on tap.
If you prefer a simple pub with friendly staff, great beers and an inviting place to watch the game, check out Industry Pub, where you can get familiar dishes like flatbreads, salads, grass-fed beef or venison burger, and a great selection of local brews.
And there's always something going on at The Garage Pub, whether it's karaoke night or trivia night, so you will want to make sure you get there early, grab an apple or peach cider, and settle into your spot before the crowd gets there.
Edmonton is rapidly becoming a culinary hub, but in between all the dining at new and trendy restaurants, you can head to O'Byrne's Irish Pub for a palate cleansing pint of cider before moving onto the Jameson; or The Common for its cozy atmosphere with vintage decor, elevated comfort food and great drinks.
Ontario
There are always plenty of new, exclusive and spirit-forward bars opening in downtown Toronto, but when you want something laid back and you can't decide on whether to have a beer, cider or cocktail, head on over to Liberty Commons, where Big Rock Brewery and Oliver & Bonacini have teamed up to serve you an incredible array of drinks (some of which are brewed right on location) and pub food with international flavours. Try a flight of Big Rock's offerings, and get a growler of your favourite to take home.
Farther from downtown, you can hop from one bar to the next easily on the Danforth. Get some friends together for live music at Sauce, known for its 1920s-inspired cocktails and array of craft beers, where you can order a refreshing Pommies cider to go with the lively jazz.
For more live music and craft brews, go to Relish Bar and Grill and order a pint of easygoing Grasshopper or cider to go with the bold flavours of small plates like lamb empanadas, eggplant fritters and duck and chorizo casserole.
Wrap up your night at The Edmund Burke (also great for weekend brunch) at Danforth and Broadview, where the cozy and eclectic interior, variety of beers and ciders (like Big Rock Traditional Ale and Pommies) and gastropub fare invite you to stay and relax.