The kind of porn you can be proud of enjoying, food is celebrated in all its forms at the Devour! film festival. On for its fourth year, the festival is taking place in Halifax, NS November 12 to 16. Watch tantalizing food films that will make your mouth water and dilate your pupils, check out chef demos, tastings and attend dinners prepared by the best in the industry. Oh, and did we mention there will be some culinary superstars there? Heavyweights like Anthony Bourdain and renowned Canadian food writer Lucy Waverman are just two of the many food influencers at the event. We chatted with the director of the festival Michael Howell about the event. Don't feel bad if you can't be there, though. Make a point to catch all the movies and take note of all the movers and shakers at the festival.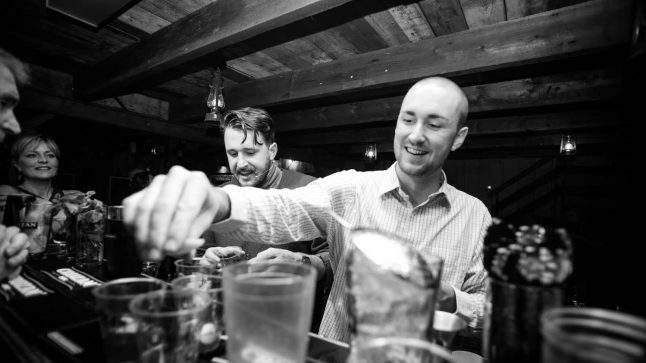 How did this film festival come about in the first place?
In 2009 Slow Food Nova Scotia wanted to attract a younger demographic to the international food movement. With a small group of volunteers, we organized the inaugural Slow Motion Food Film Fest and got 1,000 people to show up to our six movies (including Food Inc. and Babettes Feast) and a couple of great dinners. Jason Priestley had been in our area shooting Call Me Fitz, and attended a bunch of our events and loved it.
He was still here in 2011 when we did edition two. We attracted 2,000 people, got Robert Kenner (Director of Food Inc.) to join our board and formed a partnership with the Atlantic Film Festival (AFF).
I sold my restaurant Tempest in 2012 and Lia Rinaldo (from the AFF) left her job. We saw the potential for this food film festival and decided to join forces. We gathered a new board, created the Devour! brand and launch it as a yearly permanent event in 2013.
It's had significant growth over the past four years. How is this year's festival is bigger and better than ever, aside from Bourdain's appearance?
It went from a humble $25,000 budget in 2009 to this year's, in excess of $400,000. We have been astounded by the appetite for this collision of food, wine and film. This year sees the appearance of three Top Chef Canada contestants cooking and giving workshops, chef Chuck Hughes cooking a dinner and showing Shuckers, a film he produced that will see its world premiere at Devour!, and the beginnings of a relationship with the Berlin Film Festival with the attendance of Thomas Struck (chair of the Berlinale's Culinary Cinema program), who will chair our first ever jury.
in 2009 we had to go find films , mostly all retrospective. this year saw over 200 films from around the world submitted to us, and significant media uptake (the Hollywood Reporter called Wolfville "Canada's Secret Foodie Destination" after sending senior reporter Etan Vlessing last year.)
What do you look for when planning the festival? Do you work the food events around the film programming, or the other way around?
It's a bit of both. As we watch films from around the world we can sense the kind of event we can create around it, whether it's intimate and refined or large and crowd pleasing. But also, we have our eye on a number of chefs from around the world that we hope to invite and will shape culinary events around them. This year, Bourdain picked his favourite food film of all time (Eat Drink Man Woman). We will continue this every year: inviting an important culinary or film personality to curate their favourite food film and build events around it.
Chef was obviously a very popular movie this year and there have been a lot of food-related documentaries out recently as well, what's one food-focused film that really resonated with you?
I am completely enraptured by the film El Somni -- a film that captures a dinner by El Cellar de Can Roca for 12 people that combined food and a myriad pf other art forms (music, dance, voice, art, poetry, projection art and more) in a visual feast that is mind-blowing. Director Franc Aleu from Spain will be attending the screening and Chuck Hughes, along with chefs Dave Smart and Frederic Tandy, will create a dinner for 60 people, inspired by this dinner at Wolfville's Front and Central Restaurant.
Also, our closing film, Zone Pro Site, is a Taiwanese comedy -- a culinary competition that borders on the fantastical with over-the-top characters that are completely endearing, and some truly beautiful food in the movie -- that had me laughing more than I have in years at any kind of film.