In many cocktails, spirits, herbs and fruits take the centre stage while tonics and bitters stand in the shadows. Luckily, with the art of cocktailing becoming a bigger part of food and drink culture, and a more discerning attitude from drinkers, craft bitters and tonics are making their way into the forefront, and getting better as a result.
On a mission to make your cocktails infinitely better is Nicole Fewell, creator of Porter's Tonic and owner of Cheezy Bizness food truck.
Though she had dreams of starting a restaurant at first, Fewell realized the lifestyle would simply be too challenging after having a child. So, when food trucks started roaming the streets of Calgary a few years ago, Fewell entered the industry with the help of a very supporting community, encouragement and help from friends like Brendan Bankowski (one of the original owners of the Perogy Boyz food truck) and a loan from ATB. But, as Fewell found out after a few hiccups, food trucks don't run well in the winter in a city like Calgary. So, as organically and with the same perseverance and agility, Fewell started creating Porter's Tonic, which has since made its way onto Eater's top eight tonic syrups list and got its name to as far as the UK. Porter's Tonic is available at most boutique food and wine shops in Calgary, on the menus of most cocktail bars in the city, and online at The Uncommons.
We chatted with Fewell about how the business came about, her approach to developing the product, her upcoming gin project and some of the other uses for her tonic syrup.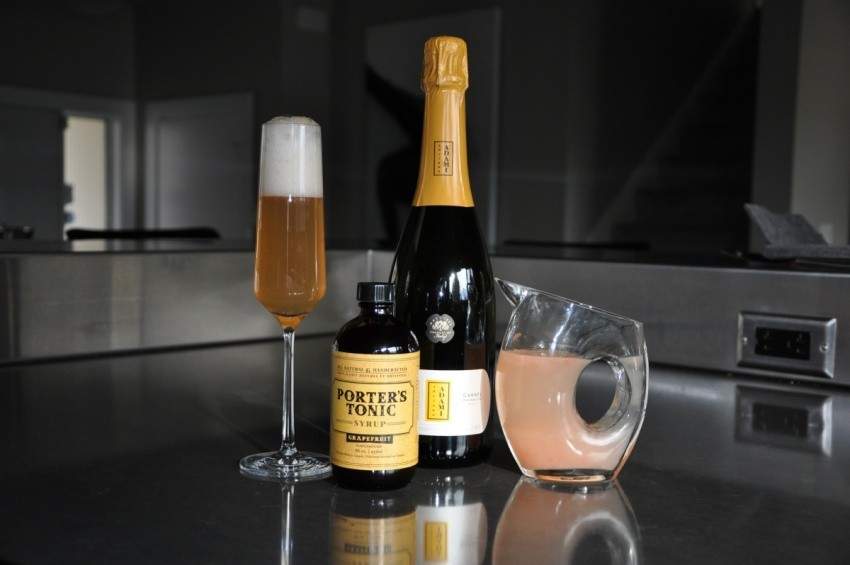 Why did you start Porter's Tonic?
[My friend] Jill actually got me a bottle of tonic from one of her trips. I've never been a gin and tonic person but I was like, "Holy shit, this is a game changer. Now I like gin and tonic. Where can I get more of it?"
Nobody was really stocking it and so I ended up just making it myself and trying out different recipes until I found one that worked for me and then I started giving it to my friends and seeing what they thought. Everybody was loving it and said I should do this. I have in-house marketing, which makes it a no-brainer, and it was just off to the races.
What lessons did you take from the truck business into starting Porter's Tonic?
Well, community is everything in this town when it comes to the food industry. From Brendan encouraging me and giving me all the resources he had to make it work, to when I got friends to taste things and tell me what they thought--the writers, the bloggers, other chefs--the whole community comes together to make it all work. Part of the business plan for Cheezy was to create sandwiches that people would crave, that they would have to come and get once a week. I feel like I've done that with the tonic too, same way I feel when I have the tonic syrup and gin. There's no going back to Schweppes again.
How do you differentiate yourself with so many craft tonics on the market now?
I think our branding differentiates us to some extent and I also think that our flavour profiles differentiate us. We choose to use organic agave instead of sugar, which is a big deal for me. It's organic, less acidic and I think it's more palatable. I feel that it's a better product because of that. People really gravitate toward the packaging too. It's pretty and it's interesting; it draws people in.
How do you come up with new flavours for the tonic?
I just think about what I like to mix in and drink. I just get inspiration from different articles, Twitter feeds and blogs about cocktails and I start thinking about the flavour profiles. It's just like with grilled cheese, the possibilities are endless. My favourite right now is the grapefruit tonic with rosemary simple syrup and mezcal with grapefruit juice and soda. I love it.
How do you go about collaborations? You have many with different businesses in the city.
It's all happened organically. People will approach me and we jam on it, and I start working on recipes and trying it out.
I just did a new one for the Derrick. They wanted a dill tonic and so we came up with a dill and fennel. It took me a long time to get the recipe dialed, but I finally got it exactly where I want it and it's super savoury and really interesting. With Jesse at Vine Arts, he wanted one branded for his store and Eric wanted me to do a galangal tonic, which didn't work, so Jesse suggested hibiscus instead.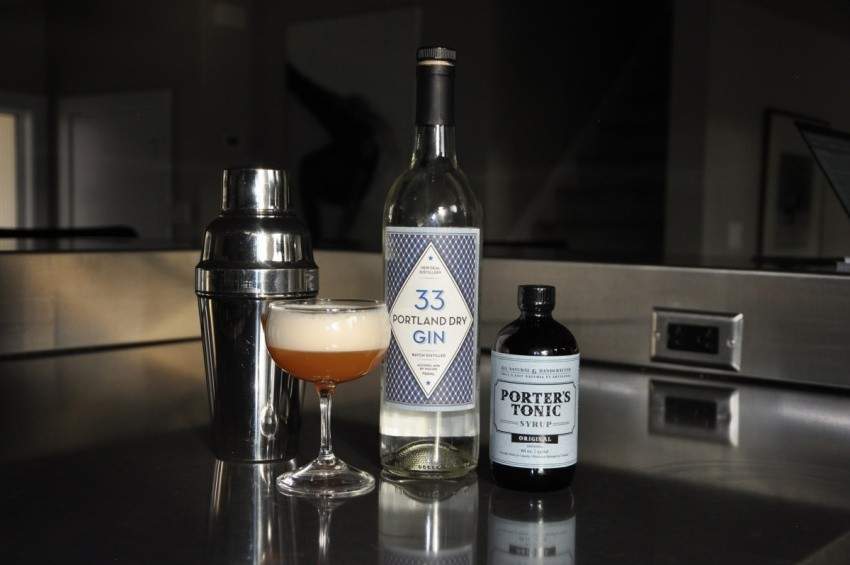 What gins do you pair with the different tonics?
I always ask the guys at Vine Arts what they think because they are sommeliers and they have great palates. For me, I'm really into this dry gin right now from Oregon called Ransom. I also love Noteworthy gin from Oliver. I love em all. I'm working on my own gin too. The flavour profile for my own gin is a gin-drinker's gin: it's really masculine, it's got a lot of juniper, it's not flowery or anything like that. I'm hoping to get that into production within the next year. I'm hoping to go to Oliver to stage and work on the recipe and hopefully go to a couple of distilleries in the States to do the same thing.
What are some of the challenges you've had with Porter's so far?
There have been a few hiccups with the supply of bottles. Right now, there's none in Canada because everybody is starting to use them all for kombucha and everything. So as these small businesses are popping up and growing in Calgary, the demand for things like that goes up and these things happen.
Having enough time to work on new flavours is a challenge and just having enough time to manage two businesses is a challenge because Cheezy is quite busy in May and June and that's when the tonic amps up. The staffing on both businesses is always a challenge, but it always works out and all comes together.
Do you have a favourite tonic from your lineup?
I love the cardamom orange. You've gotta love cardamom to love it but I do. I'm trying to get people to look at them differently too, as a bitter attached to a simple syrup because there's a huge amount of agave, and you can use it as a bitter and skip the simple syrup.