It's just not summer without ice cream. Whether it's bold, citrusy and tart, or sweet, creamy and nutty, Made By Marcus has just the ice cream flavour that'll hit the spot. It's been a little over a year since the microcreamery opened on 17th Ave and it's been a popular destination for Calgarians looking to cool down with quality ice cream. The success and creativity of this spot is definitely a team effort, but it could not be achieved without an owner with a passion and love for ice cream.
Marcus Purtzki, the founder and owner of Made By Marcus, opened up to us about his journey to success and gave us some tips about making homemade ice cream.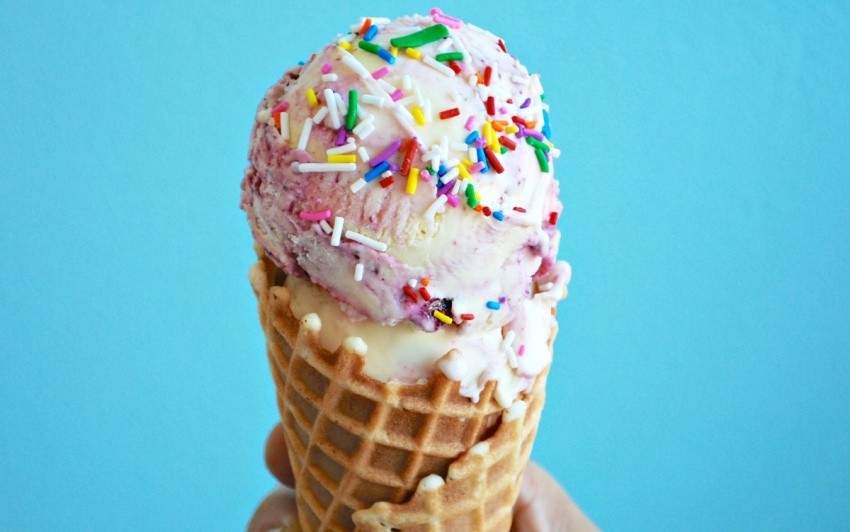 How would you summarize your career?
It's been a marathon. I started in academics originally, so I have a bachelor in food science and a masters in nutrition. From there, I kind of went into cooking. It has been around 15 to 20 years of doing that, so it has been a long haul. After school, I started at a restaurant in New York City. It focused on healthy cuisine. I had a masters in nutrition, so I was supposed to work more as a nutritionist, but actually I got more involved into cooking. So, I went down that route a little bit more, started to do a lot more cooking. Over time, I got more into pastries and, then I eventually started my own business.
How did you get into the world of ice cream?
We were making macarons at the time. We got local eggs coming in, they would get separated, the whites would be used for the macarons, but we had to find some use for the yolks. From there, we started to make really small batches of ice cream, just so we would use them up. I like ice cream for the fact that all the creativity you can do with the flavours. It is kind of like a blank canvas. It is like a palette with which you can do whatever you want. It's pretty fun!
What was your very first job?
I think I was 16; it was the summer of grade 11. I worked actually on a tugboat. We had to take all the lead paint off, because it was so old. And then we had to paint it numerous times, around seven to eight times. We had to wear these big masks to chip off the paint. It was on the water, so it was hot. It wasn't a fun job, but it was interesting!
What lessons have you learned from this particular job that shaped who you are today?
Hard work: that's one thing. Another big thing is, when we were on the tugboat, we just worked till the job was done. Some days were 12- to 14-hour days just because we had to get these projects done. It is kind of similar to what we have in the shop here. We always work with the customer. If there is a lot of orders, if there are lots of wholesale contracts coming in for that one day, we just have to push to get it done. That's the biggest thing right now, to keep plugging forward.
You have so many flavours on your menu. Where do you get your ingredients?
It varies. We try to use locally-sourced ingredients for things like the dairy; but also, with each flavour we have, beets and carrots… We just did an alfalfa-hay ice cream, which--we actually talked to one of our dairy suppliers, and it is what they actually feed their horses. So, it's really fun, you can start to use things like that. We always try to find something that is a premium product. Also, a lot of our purées are a high-end variety. So, we use those and we kind of sculpt what we can do with our flavour deck.
What ice cream from your menu would you recommend to people who like tart and refreshing flavours for the summer?
Probably the most popular [flavour] is the lemon curd blueberry. It is nice and tart, and creamy. It has a little bit of blueberry in it to get that shot of sweetness. I would say that is probably the best bet.
How about people who like sweet and creamy flavours?
Whiskey hazelnut praline is probably our second best flavour. It has a little bit of whiskey in there, but it is really nice and creamy, especially with the amount of hazelnuts in it. It has really nice nutty taste to it.
If you didn't own an ice cream shop, what career would you have pursued?
I've always felt like George Costanza! I have always wanted to be an architect or something. When I was in school, I was thinking that I should have gone into architecture. That would be really cool. I really like the drafting programs and that type of work, very precise and very organized.
Do you have any tips for people who love to make their own ice cream at home?
It will always be a little bit more difficult, because you are using non-commercial equipment, so the freezing power is not as strong. Typically, when people make ice cream at home, you want a little more fat in it--two-to-one cream to milk--and I would also suggest putting a lot of eggs in it. Eggs are going to be a great stabilizer. It is what we use in the shop, but people at home might want to put a little bit more eggs just because it might not freeze how you would want it to. You also need a lot of patience, because you have to freeze it. It comes out soft served, so you have to freeze it in a container, and it has to freeze probably six to 12 hours, depending on how cold your freezer is. The next day, you can scoop it. It is not like, "I'm gonna make ice cream today!"
You usually have to make it a day before you want to serve it or eat it. So, it's a little bit more work, but fat and eggs will make it a more scoopable product as well.