Banff is known for its striking scenery and exhilarating ski runs, and the food is only getting better every season.
While the 3rd annual Bon Appétit Banff festival wraps up this Sunday, along with its menu specials, there's still a lot more great things to eat in this mountainside town. Sure, Banff is known for its busloads of tourists, but we'd like to think that it ups the game of all its restaurants.
Here are seven things to try if you're planning a visit to the heart of the Rocky Mountains some time soon.
BeaverTails - Classic BeaverTail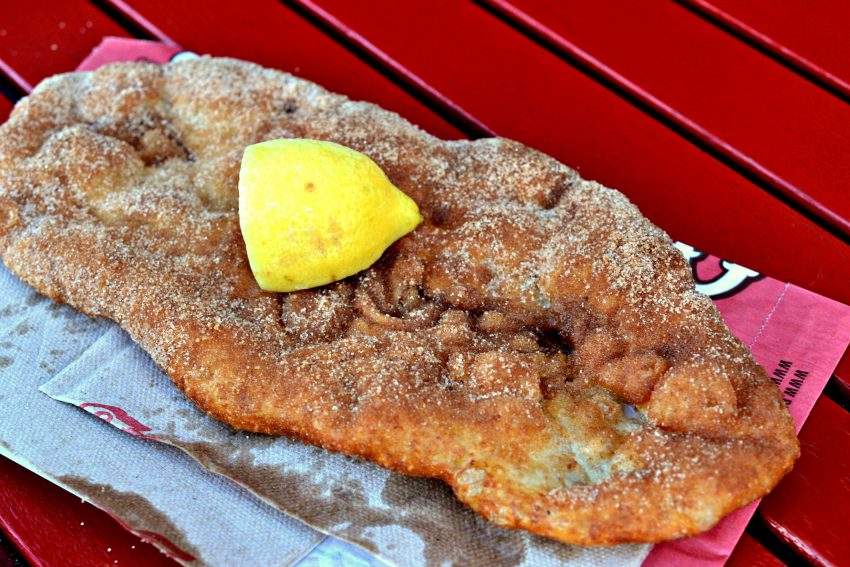 Arguably one of the signature food items of our nation's capital, the BeaverTail and its official chain of "pastry" shops started way back when in 1978. In other provinces, a very similar pastry is known as elephant ears, but a beaver reference (no, not that one) is definitely more Canadian. They've been slowly making their way westward over the past few years and Banff now has not one, but two locations on its main strip. We're a bit surprised at how busy both spots were, but we guess tourists do show up here by the busload, especially in the winter.
There's a variety of BeaverTail here, but you can get it in its simplest form: a deep-fried piece of dough brushed with butter, coated in cinnamon sugar and served with a lemon wedge. That splash of citrus really makes all the difference.
From a chain or not, these tails are always so, so good.
The Bison - Breakfast Pizza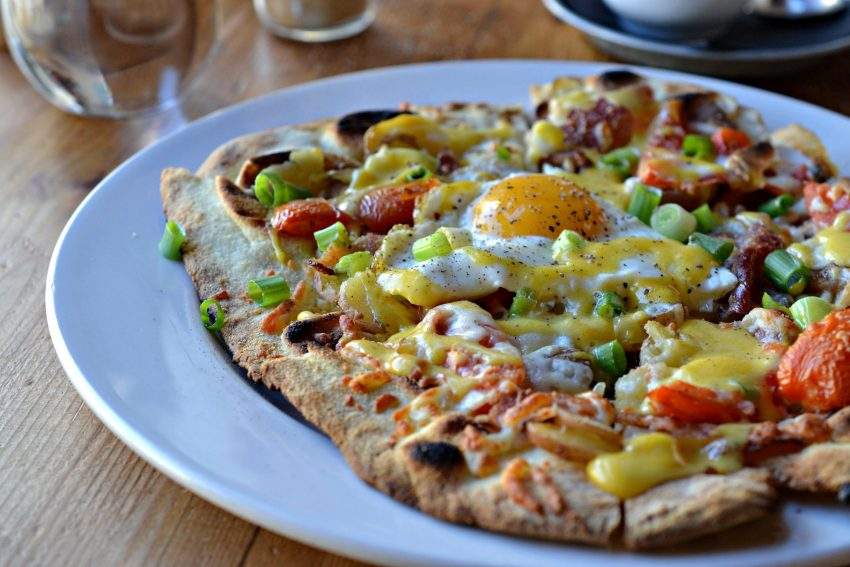 One of Banff's more elevated dining spots, The Bison is busy, busy in the evenings, but a table there for weekend brunch is just as sought after. Thick chunks of crispy bacon, roasted tomatoes, a sunny-side-up egg topped with a generous drizzling of hollandaise, all on a crispy, thin crust make this pizza the perfect thing to eat (and/or share) for breakfast before a day in the mountains.
If this was a list of things to drink in this town, we'd highly suggest its punch bowl cocktails downstairs at Bear Street Tavern, Bison's more casual sister restaurant. It will never let you down.
Eddie Burger Bar - PB&J Burger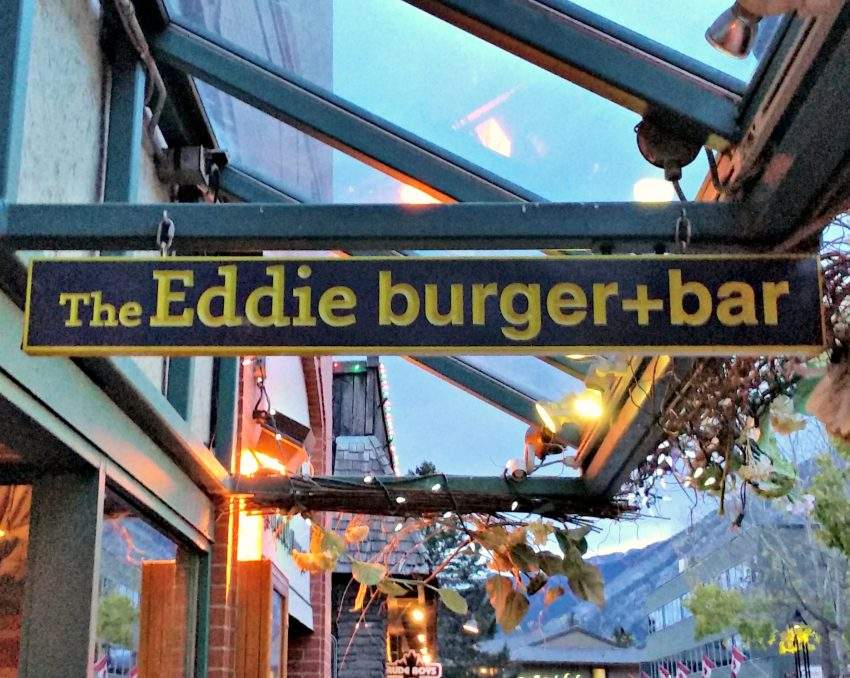 Definitely more of a locals haunt than a tourist one (which is nice), Eddie has got a lot of charm in its little interior and some great burgers. If peanut butter and jelly sounds like a weird combination in a burger, we would have to agree, but somehow it works perfectly alongside double-smoked bacon, tomato and jalapeno cheese, all squished in-between a pretzel buns.
Eddie also serves up Caesars garnished with a chicken wing, which we definitely approve of.
The Fudgery - Everything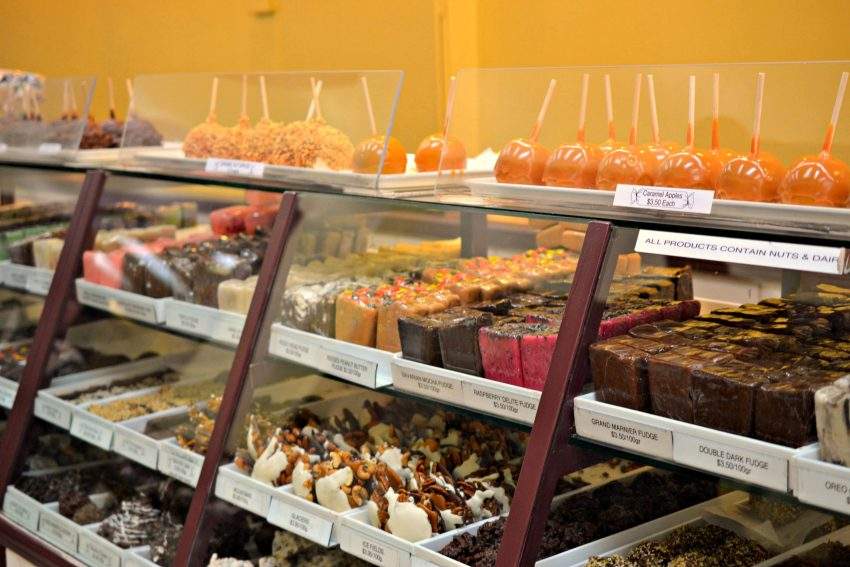 Alright, maybe you shouldn't eat everything in this shop of sweets, but whatever type of fudge (booze-infused, peanut butter, butterscotch, etc.) your particular poison is, you will find it here. There are caramel apples and nut clusters, among other things, in here too. But, don't leave without taking an Instagram picture with the giant plush bear that guards the entrance. Don't worry, we heard he only comes alive after midnight on a full moon.
Nourish Bistro - Num Num Nachos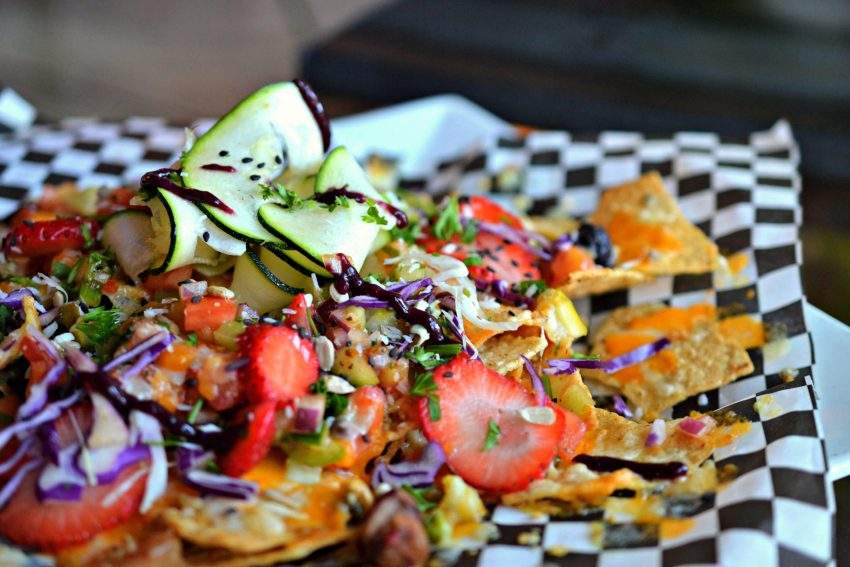 Black beans, quinoa, diced dill pickles, aged cheddar, sliced strawberries (really) and a berry reduction (really!) are only a few of the 27 ingredients that you'll find on this plate of nachos at Banff's only vegetarian restaurant. It does sound like a hot mess on a plate, but once you take your first bite, you'll see that it all works. The proof's in the pudding, or in the case, this spot's signature nachos.
Vegetarian food can be done so very wrong sometimes, but Nourish really proves that thinking outside the box, when it comes to vegetarian and vegan cooking, can be a beautiful thing.
Three Ravens - Elk Tartare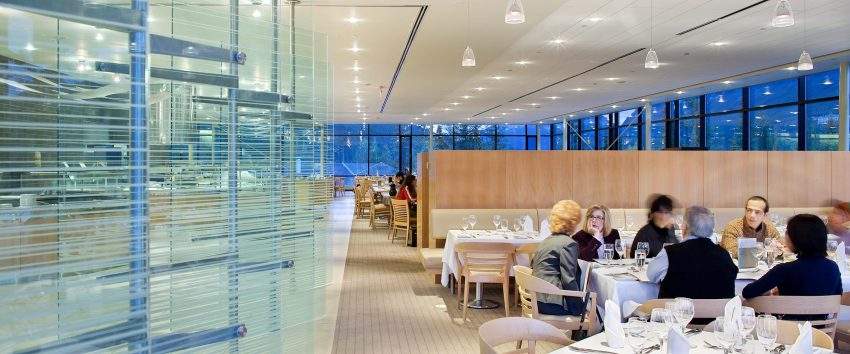 Saying something is a bit of a drive in Banff is a stretch because the main part of town is only really about five blocks long. That being said, Three Ravens is the one eatery where you will have to drive to with your car, for all of five minutes. The menu changes often here, where the kitchen team prides itself on using fantastic Albertan ingredients and sticking to the seasons. The elk tartare, served with smoked crème fraîche and cured duck egg is a perfect way to start dinner.
Aside from crafting what we would consider to be the most refined food in Banff, the view from its upper level dining room inside The Banff Centre is absolutely stunning. Especially during sunset.
Tooloulou's - Waffle Bites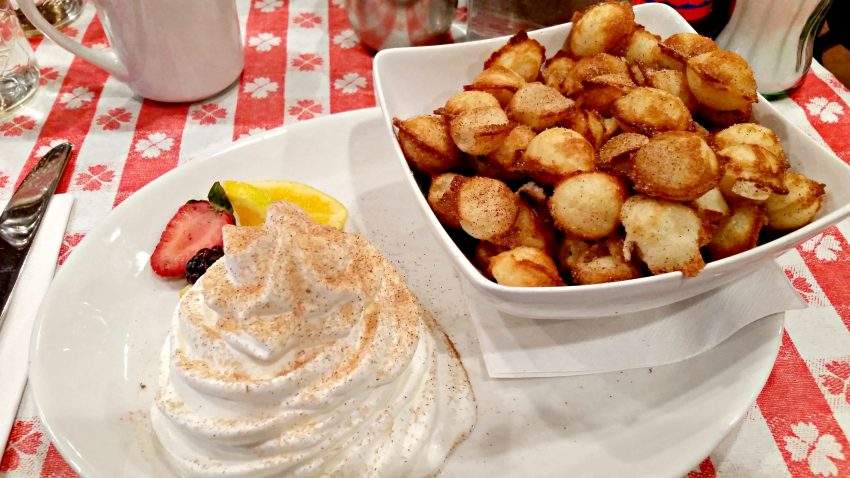 Not sure how to start your morning off in the mountains? How about a bowl full of little fried bits of dough, tossed in sugar and served with whipping cream on the side for dipping from Tooloulou's? Oh, and let's not forget how much more delicious they taste when you hit them with a good dose of maple syrup. Now, go find a piece of fruit!