Gung hay fat choi!
As of today, for about two weeks, the entire city of Richmond, B.C., will be fulled with an intoxicating mixture of noises, smells and sights as the city gears up for Chinese New Year, the most important holiday on the Chinese lunar calendar, celebrating the year of the sheep.
Richmond is home to Canada's largest per capita percentage of Chinese descendants and it hosts one of the continent's most elaborate and authentic Chinese New Year celebrations. Festivities include traditional lion and dragon dances, flower and gift fairs, Chinese opera performances, martial arts displays and a spirited New Year's Eve countdown at one North America's largest Buddhist temples. Food is an integral part of this vibrant 15-day celebration, and the dishes are rich in symbolism. To ensure the year ahead is filled with happiness, good health and prosperity, here are eight lucky foods to try during this auspicious occasion.
Dried oysters with shiitake mushrooms and black moss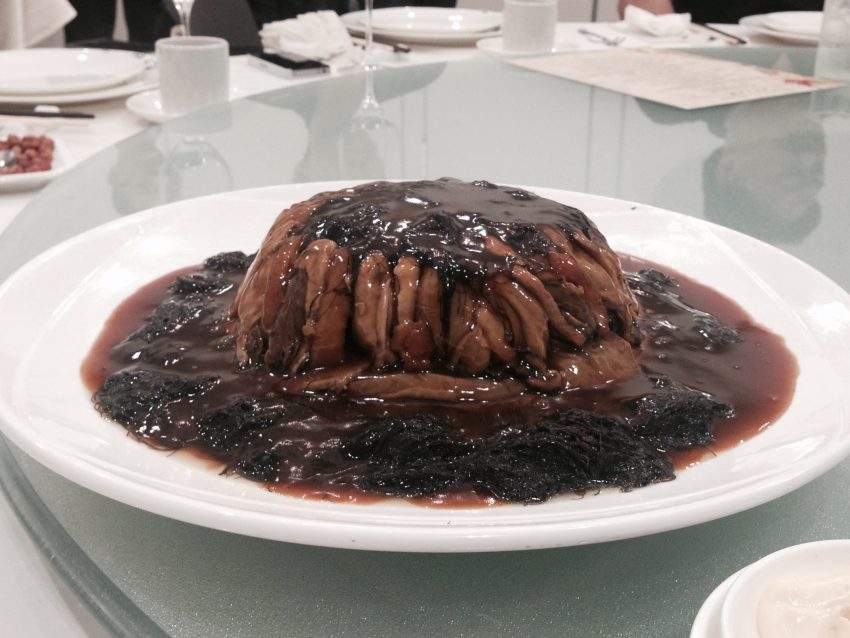 Symbolic significance: To open the door to good fortune in the New Year
Where: Vivacity Restaurant
This saucy dish is rich in symbolism and flavour. Dried and reconstituted oysters are a delicacy and represent all things good as the Cantonese word for oyster sounds like "good things." Fat choy, also known as black moss seaweed, signifies wealth and good fortune. The round shape of the mushrooms symbolizes family reunion and wholeness.
Big Bowl Feast (Peng Cai or Poon Choi)
Symbolic significance: For prosperity and abundance in the New Year
Where: Hakkasan Restaurant
Big bowl dish or (Poon Choi) is a traditional dish that's only served on special occasions and is a must-have during Chinese New Year. In Cantonese, "poon choi" literally means big bowl feast because auspicious delicacies like prawns, fish maw, roasted duck, pork-belly, dried scallops, mushrooms and sea cucumber are all layered in a big metal or wooden basin. Dry ingredients such as seafood are placed on the top while ingredients that absorb sauce well are placed at the bottom of the bowl. Resist the urge to stir the bowl as this elaborate dish is intended to be eaten layer by layer. Hakkasan is one of very few eateries in Metro Vancouver where you can find authentic Poon Choi during the Chinese New Year celebrations.
Long noodles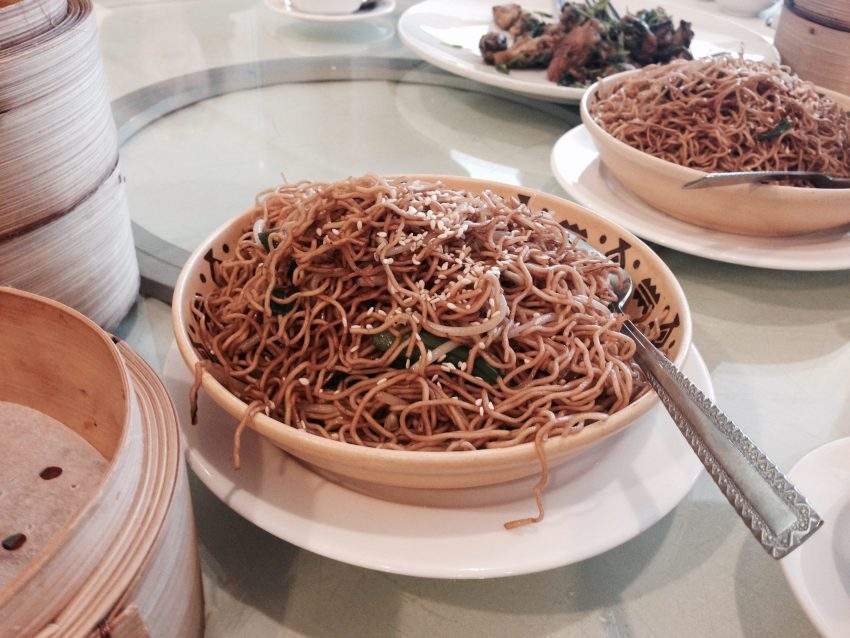 Symbolic significance: To ensure a long life
Where: Golden Paramount
Put down that knife! Long noodles equal long life, so keep the noodles uncut and as long as possible. The seventh day of the Chinese New Year is known as "Everyone's Birthday," but instead of celebrating with birthday cake, it's a day when people eat noodles, symbolizing longevity.
Trying for a baby in 2015? For a double dose of luck, choose egg noodles as eggs are a symbol of fertility.
Fresh lobster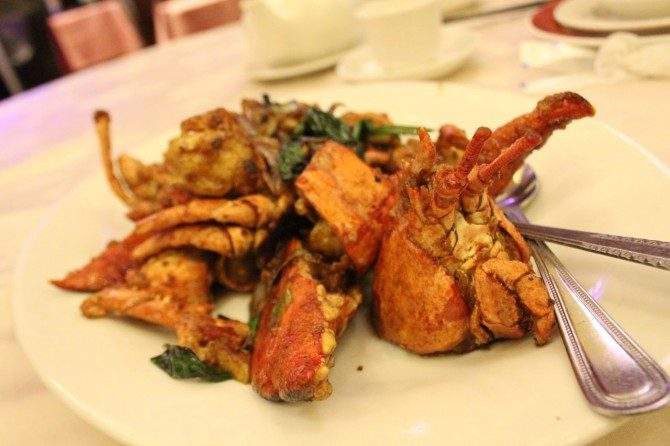 Symbolic significance: Strength and good fortune.
On its own, the lobster is known as the "dragon of the sea" and embodies strength, good fortune, energy and spirit. Although when eaten with chicken, the lobster may represent the dragon (or masculinity), while the chicken represents the phoenix (or femininity), and together the two may symbolize a strong marriage and family.
Glutinous rice cakes (Nian Gao)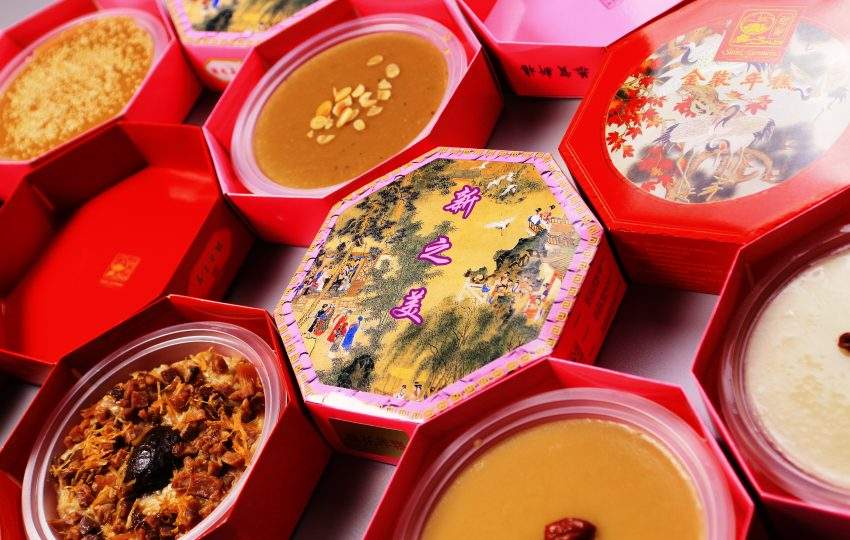 Symbolic significance: For a rich, sweet year ahead
Where: Saint Germain Bakery
Visit an Asian bakery during the Chinese New Year to find a wide assortment of classic baked treats. Desserts promise a sweet life in the new year. Nian Gao (nin gou in Cantonese) is a favourite holiday treat at Saint Germain Bakery in Aberdeen Centre. Dense cakes, or gao, symbolizes the rising of everything good. So, indulge in steamed cakes for sweetness and prosperity.
While at Aberdeen Centre, browse the hundreds of vendors at the annual Flower and Gift Fair and be sure to visit the Dragon's Beard Candy stand, too. This Chinese-style cotton candy is stuffed with sugary ground peanuts, symbolic of long life.
Long leafy mustard greens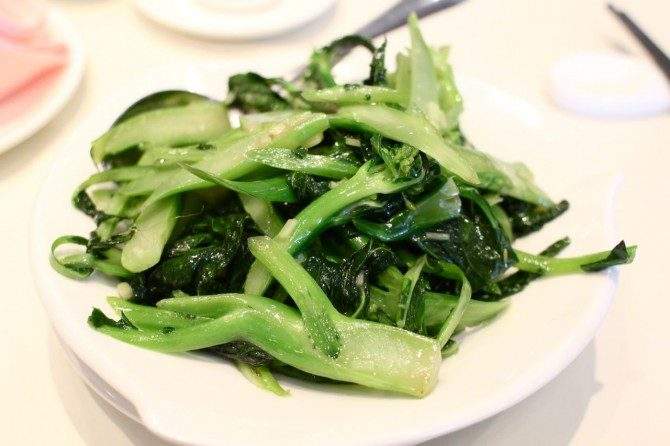 Symbolic significance: To wish parents a long life
Where: Tin Tin Seafood Restaurant
More of a Taiwanese tradition, another long food to ensure long life, leafy greens such as Chinese broccoli (or gai lan) are popular dishes to serve whole during Chinese New Year in an effort to wish a long life for parents. Tin Tin Seafood Restaurant serves a fresh and perfectly cooked pan-fried long broccoli with ginger.
Dumplings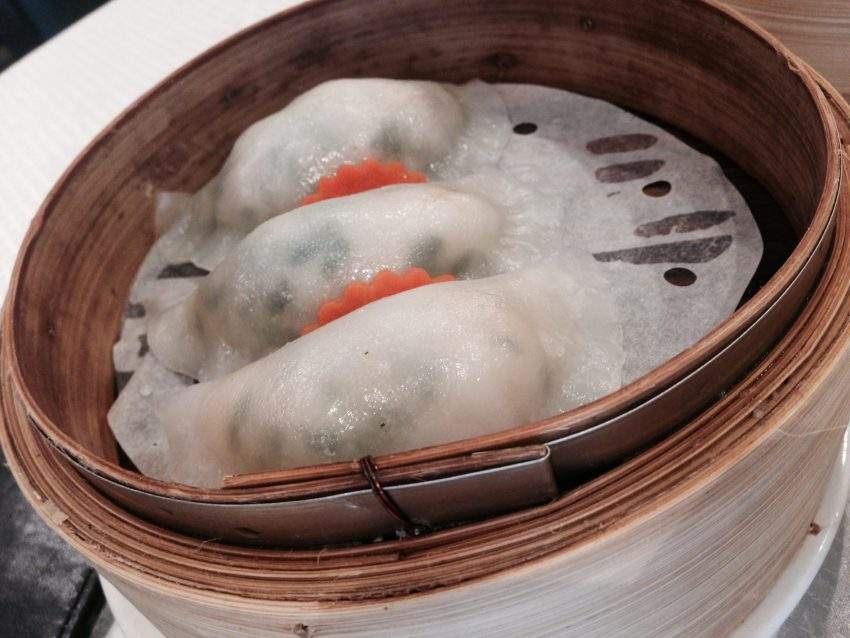 Symbolic significance: To increase your wealth
Where: Jade Seafood Restaurant
Dumplings are a classic Chinese New Year food. Typically filled with minced meat and chopped vegetables, the nuggets are made to resemble ancient Chinese gold and silver ingots that were boat-shaped, like Jade Seafood's steamed crab meat dumpling. Dumplings therefore represent prosperity and are eaten to bring wealth in the year ahead (the more you eat the better). Dumpling making is often a family affair, with everyone involved in the process, so dumplings also symbolize family unity.
Whole Fish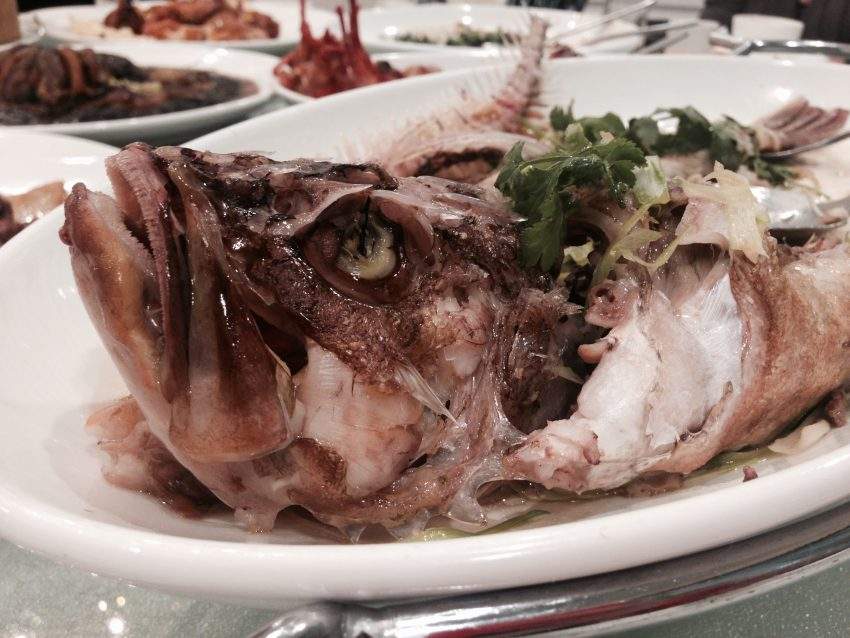 Symbolic significance: Good fortune and wealth
Where: Chef Tony Seafood Restaurant
Last, but not least, fish. It is customary to serve the whole fish last, pointed toward the guest of honour. The Chinese word for "fish" sounds like the word for surplus. Just like the long noodles and whole chicken, the steamed whole rock cod at Fisherman's Terrace is served with the head and tail intact to fully symbolize completeness and good fortune in the coming year.