If you're looking for a fun way to enjoy live music along with festive-themed eats and drinks and support a great cause this month, Calgary's Blue Jay Sessions has got you covered with its 3rd annual holiday event series.
Happening from Friday, Nov. 24 to Sunday, Nov. 26 at The Prairie Emporium (and announced by way of three funny mock holiday movie posters), Blue Jay Sessions: Holiday Edition 2023 will see daily lineups of Canadian singer-songwriters perform a mix of original songs and holiday covers. Musicians include Amy Hef, ZENON, Carter Felker, Malaika Hailey, Julia Vos, Kayla Williams, Flaysher, Megan Dawson, Brettyn Rose, and many more.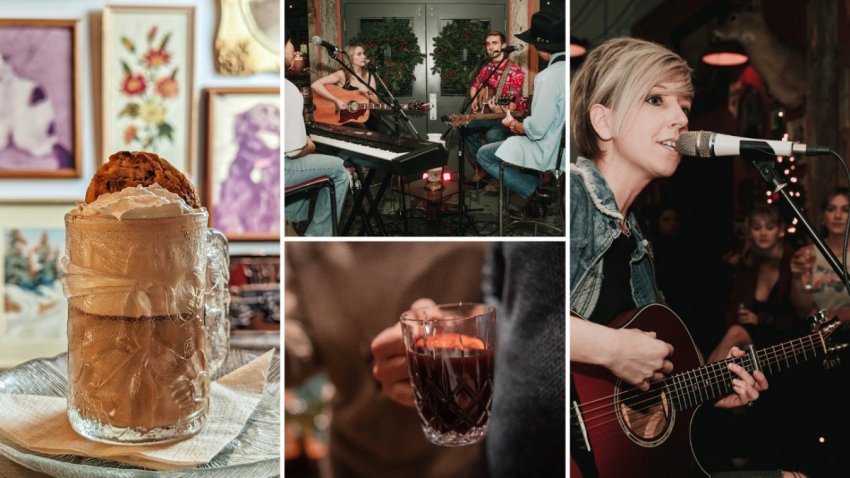 A fun food and drink menu will consist of comfort foods and re-imagined holiday dishes like French Onion Grilled Cheese, Just Like Grandma's Cheese Ball and Crackers, Christmas Turkey Dinner Baked Potato, Dill Pickle Soup, and a Sugarplum Berry Crumble. Feature holiday drinks like TPE Mulled Wine and Peanut Butter Jack Daniels Whisky Hot Chocolate will be served in addition to seasonal offerings from Russell Brewing Co. as well as wine, spirits and non-alcoholic drinks.
Blue Jay Sessions holiday-themed brunch (Nov. 26) promises to be especially memorable. While it includes four talented musicians in the regular Blue Jay Sessions format, the brunch will be hosted by drag queen Birthday Girl, who is sure to bring a lot of fun, and holiday cheer(s), to the event.
These holiday sessions will serve as a partial fundraiser for Community Kitchen Program of Calgary for a third year in a row. While ticket purchasers have the option to donate additional funds via the Showpass event listing, event attendees are also welcome to bring non-perishable food items to The Prairie Emporium which will be collected by CKP Calgary.
Tickets for Blue Jay Sessions: Holiday Edition (Nov. 24-26, 2023) range from $15 to $25 and can be purchased via Showpass.