Though it's a very familiar space to many Calgarians and tourists alike, many would be surprised to know that Higher Ground Cafe in the Kensington neighbourhood has been in operation for over four decades.
In fact, it is Alberta's oldest coffee shop and the second-oldest in all of Western Canada on the heels of Vancouver's Cafe Calabria (1976).
A brief history of Higher Ground Cafe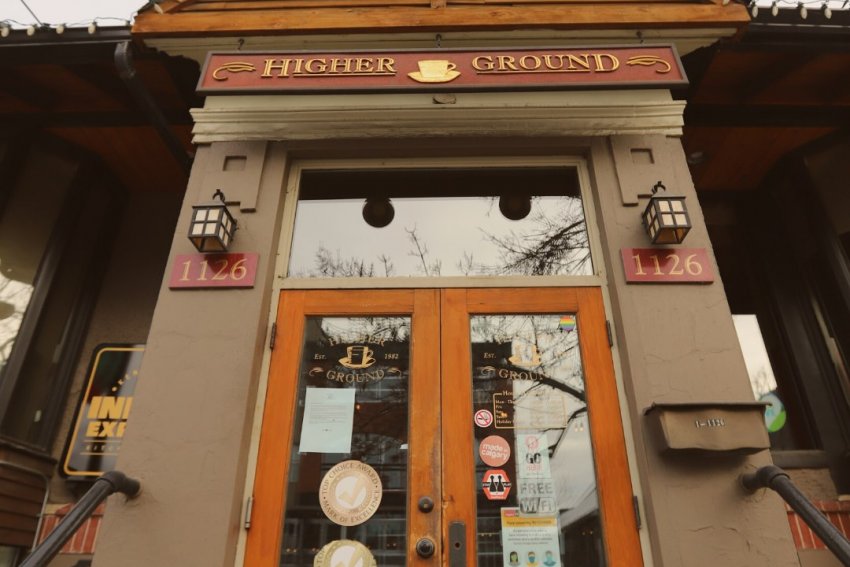 Opened in 1982, the coffee shop was exponentially smaller back then compared to its present-day state, having only a small seating section at the top of the stairs upon entry through the main doors. As the years went by the cafe expanded within the building, changing ownership along the way, eventually adding a patio on its west side. In the late 2000s the patio was completely covered to allow for all-season seating and bringing Higher Ground Cafe's capacity to a sizeable 80-ish seats.
As it grew, it became a destination for everyone from professionals in the area seeking morning coffee and a bite, students hunkering down for a school project, and many, many first dates. Proximity to the Bow River made it the perfect spot to grab an iced drink before heading out for riverside strolls.
Outlasting chains and competitors
Through its 41-year history Higher Ground has seen its fair share of competing coffee shops and chains open up in Kensington such as Waves and Second Cup, but the most notable (and contentious) was the first Starbucks location in Calgary opening in 1996 just two doors down. It has outlasted all of the aforementioned chains as well as many independent coffeehouse operators over the years.
Separately, it has also been rumoured that the original location of the Good Earth Coffeehouse chain (opened in 1991 in Calgary's Beltline) drew its inspiration from Higher Ground.
Community giveback
As is the case with most longstanding hospitality businesses, Higher Ground has long been known for supporting its neighbourhood and the Calgary community in general by way of rotating art exhibitions in its space, programming live music, coffee donations and more.
Expanding in Calgary
In more recent years, Higher Ground has expanded to additional locations in Calgary.
Its second location, which is adjacent to the University of Calgary, opened in the late 2010s, In 2021 it opened its third location in a former Starbucks space on 17th Avenue S.W. (pictured above during construction).
The original Higher Ground Cafe location is located at 1126 Kensington Road N.W. and open from 8 a.m. to 10 p.m. seven days a week.