Edmonton is blessed with an abundance of high-quality bakeries and patisseries, from the celebrated Duchess Bake Shop to the brand new La Boule and recently expanded The Art of Cake. Lately though, I've begun to notice that some of the finest baking in the city is being produced from a surprising source: the neighbourhood coffee shop.
It has become so much more than the bland and boring join that serves uninspired muffins, coffee cakes, and supermarket pies of yesteryear. Instead, coffee shops are concocting items like artisan pies, exquisite cakes, and fresh-made biscuits and scones. These treats will exceed your expectations for a simple coffeehouse, and that is a beautiful thing.
Lock Stock Coffee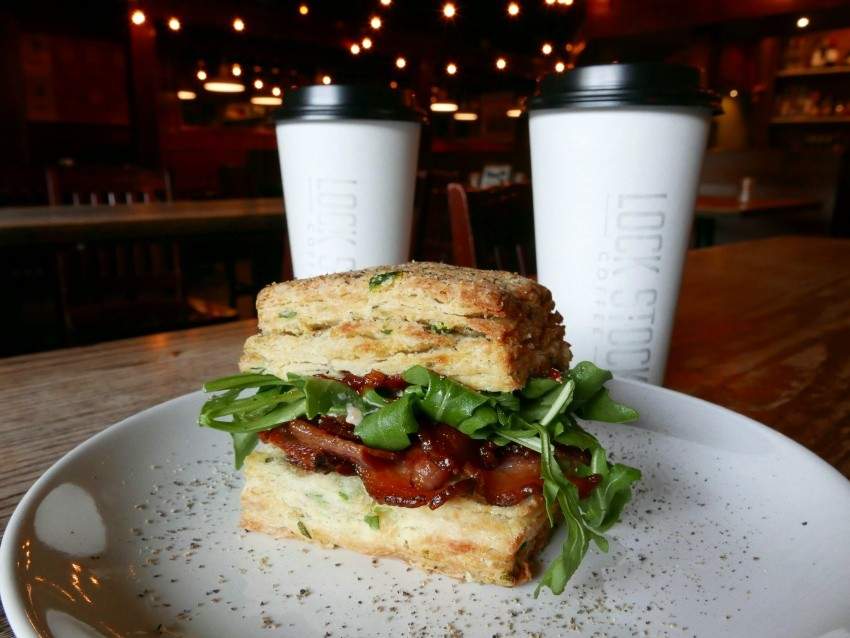 This small, basement coffee shop might be difficult for first-timers to find, but they're producing small batches of some of the finest carbohydrates Edmonton has to offer. Lock Stock's herbed cheddar biscuits are its biggest seller and with good reason. On Saturdays, you can even get sandwiches made on those fine biscuits, which makes going out with a hangover worthwhile.
According to general manager and head baker, Jesse Gado, whose impressive resume includes stints at Cafe Leva and Corso 32, the baking started out OK when they opened in February of 2015, but has steadily improved through constant tweaking of recipes to get the pastries where they are today. Multiple research missions to New York and San Francisco, where stellar cafe baking is common, were inspirations for Lock Stock's baking program.
"The Kouign Amann was everywhere in San Francisco, but nobody was doing it here. After some research, and recipe testing, we were able to produce a great quality version here," says Gado. "We also tested about eight or nine versions of olive oil cake before settling on the one we use."
The Kouign Amann, a buttery, laminated, yeasted dough laced with sugar and a hint of salt ought to be at the top of everyone's to-try list. When baked, the buttery croissant-like layers separate slightly and the sugar burnishes to a crispy crust, creating a wonderful combination of fat, sugar, and crunch. As with everything in its glass case, the combination of great ingredients and technique yields delicious results.
Cafe Leva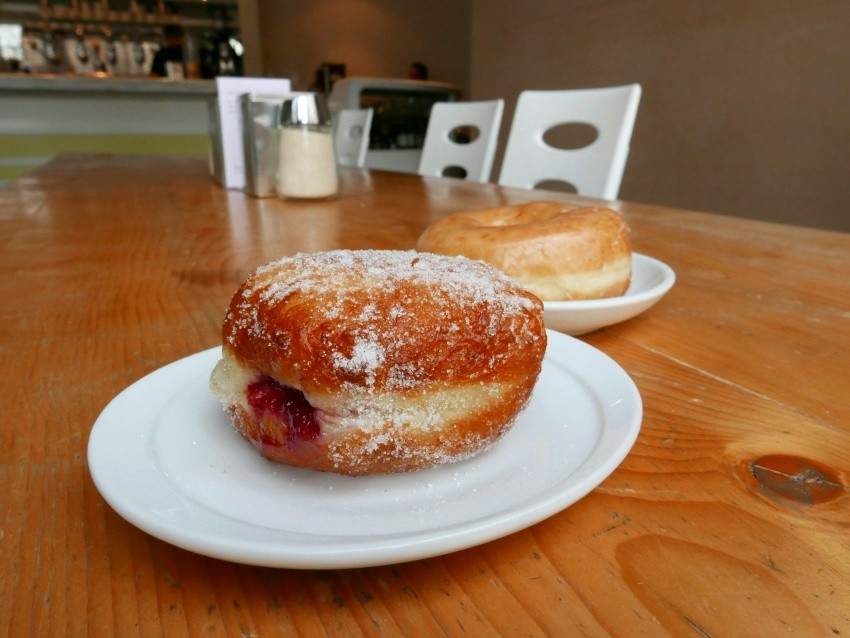 A modern, open, and vibrant gathering spot in the Garneau area, Leva is known for great coffee, fantastic pizza, and a big selection of house-made baking.
The Leva display case is home to strudels, muffins, tarts, and much more. One of the surprising standout desserts is its stunning layered carrot cake, which delivers almost as much cream cheese icing as cake. Just the way I like it.
Owner Joe Parrottino says consistency, along with the ability to create unique products, were key factors in Leva having its own baking program. "Not to mention that no good bakeries are delivering to coffee shops."
Parrottino says that currently, the doughnuts and bomboloni (similar to a filled doughnut) are taking centre stage; and frankly, what red-blooded Canadian doesn't love doughnuts?
"You can't sell coffee without good complementary baked goods, and all our baked goods are very tasty and a great complement with ACE Coffee," says Parrottino.
District Cafe
Providing high-quality, house-made pastries, cookies, and pies has been a focus for District Cafe and head baker Erica Vliegenthart since opening in 2014. The cafe underwent a big expansion and debuted the new space, complete with plenty of room for making, and showing off, its fine pastries in mid-2016.
Owner Nate Box says the decision to take charge of their own baking was one made from necessity. "It's basically a supply line question. Very few bakeries can produce and deliver high-quality pastries seven days a week, so we decided to make our own," he said. "There are difficulties too, namely staffing and capital costs, but doing our own baking gives us flexibility and the ability to customize."
The sophisticated cafe features plenty of the usual suspects like scones, muffins, and cookies. These items are sold at District and are also available at Box's other two coffeehouses: Elm Cafe and Little Brick. Some other items are exclusive to District, such as its unique hand pies.
The hand pies are simply mini versions of Vliegenthart's bigger pies, which Box boasts are "knock-out good." They are available in three, equally tempting, flavours : raspberry rhubarb, mixed berry, and caramel apple. Regardless of the flavour, these hand pies are more than enough to satisfy your sweet tooth.
Box thinks the reputation for delicious baked goods is a big draw for his customers and helps set Distract apart from coffee shops that don't venture past the standard fare. "There's a nostalgia and child-like appreciation for fresh cookies still warm from the oven."