After a three-year hiatus, one of Pride season's most unique culinary-meets-drag events is returning to Calgary later this month.
There isn't really anything like Sashay, Fillet!, a fun-filled event that sees celebrated chefs paired up with talented drag performers for a special one-night-only competition. For 2022, as an unofficial prelude to Calgary Pride festival, the event is presented in collaboration with Calgary Co-op and Remy Cointreau will take place at The Rooftop YYC on Thursday, August 25.
Hosted by the iconic Yuhua Hamasaki of RuPaul's Drag Race fame (as well as the host of the popular YouTube series Bootleg Options), four pairs and chefs and drag performers will serve up delicious food and tantalizing peformances (on and off the stage) throughout the evening while being critiqued by a panel of judges. One by one, the pairs will be sent "home" and by 10 p.m., a new winning pair will be crowned.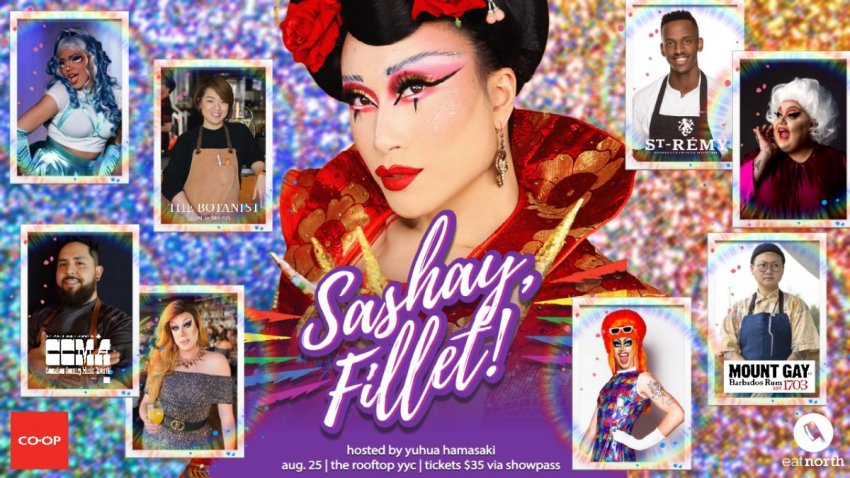 "I am so excited to come back to Calgary since hosting the first-ever Sashay, Fillet! in 2018," says Yuhua Hamasaki. "This is one of the most fun food events you can experience during Pride season and I love watching the chef world and the drag world come together like this. It's going to be a fabulous time!"
Hamasaki co-hosted the inaugural Sashay, Fillet! event at Hotel Arts alongside Top Chef Canada judge Mijune Pak. While Pak will be traveling and can't make an appearance this year, details on Hamasaki's co-host will also be announced soon.
The competing chef-and-drag-performer pairs for Sashay, Fillet! 2022 are: Jinhee Lee (JINBAR) and Tangerine Dream, Billy Nguyen (Top Chef Canada Season 9 finalist) and Valerie Hunt (Call Me Mother Season 1 finalist), Galasa Aden (Cliffhanger Restaurant, Top Chef Canada Season 9 alum) and Birthday Girl and Alli Said (Mikey's on 12th, Mikey's Taco Shop) and Nada Nuff.
The pairs will be judged by local personalities Carmen Cheng (food writer and culinary expert), Chinenye Otakpor (fashion influencer), Argintina Hailey-Lawrence (Indigenous drag icon) and singer Amy Hef who will also do a special half-time performance presented in part by the CCMA Awards.
Remy Cointreau is helping curate an exciting drink menu to compliment the chefs' complimentary canape station offerings as well as an a la carte food menu by The Rooftop YYC chef Tyler Goddard. Calgary Co-op has come on board for the first time this year, providing ingredients for the chefs as well as a $400 gift card prize to the winning pair.
"Calgary Co-op is committed to supporting our community", says Ken Keelor, CEO Calgary Co-op. "From working with Alberta producers to carry the best, local products in our stores, to proudly partnering with Sashay Fillet as the Food Partner. We're excited to see our ingredients play a pivotal role in this creative collaboration that celebrates everything we do− great food and our incredible community."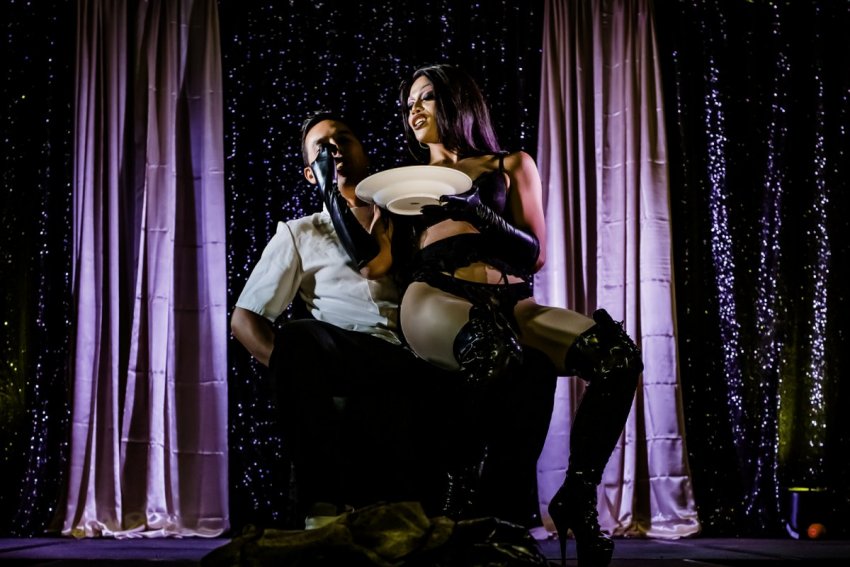 (Sashay, Fillet! 2019 winning pair: chef Eric Mah (Purlieu) and Stephanie Prince (Canada's Drag Race Season 2)
With the event acting as a partial fundraiser for Skipping Stone Foundation and a wrap event for the Shake, Stir & Strainbow cocktail charity initiative, event-goers will also find a silent auction on site to raise further funds for the cause, as well as enter to win CCMA Awards show tickets, snap some photos at branded photo booth throughout the night and more.
General tickets are on sale now $35 and include: welcome drink, canape stations and entertainment. A limited number of VIP tickets are available too ($55) and also include a VIP cocktail hour from 6PM-7PM, meet and greet with queens and chefs during VIP cocktail hour, preferred seating and table service, swag and more.
More event information can be found on Showpass.