The worlds of culinary and drag come together once again this summer with the return of Sashay, Fillet! on August 29 in support of Calgary Pride!
Just like last year, local chefs from five great restaurants will be paired up with local drag talents and put through a series of fun and interactive challenges onstage throughout the evening.
"Calgary Pride is honoured and excited to work with Eat North on this truly unique culinary drag event," says Parker Chapple, head of Calgary Pride. "Opportunities to bring together such interesting and dynamic programming that ignites creativity, and engagement are invaluable in creating connectivity with our community and their allies. Simply put, there is no other event such as 'Sashay, Fillet!', and this is certainly not one to be missed!"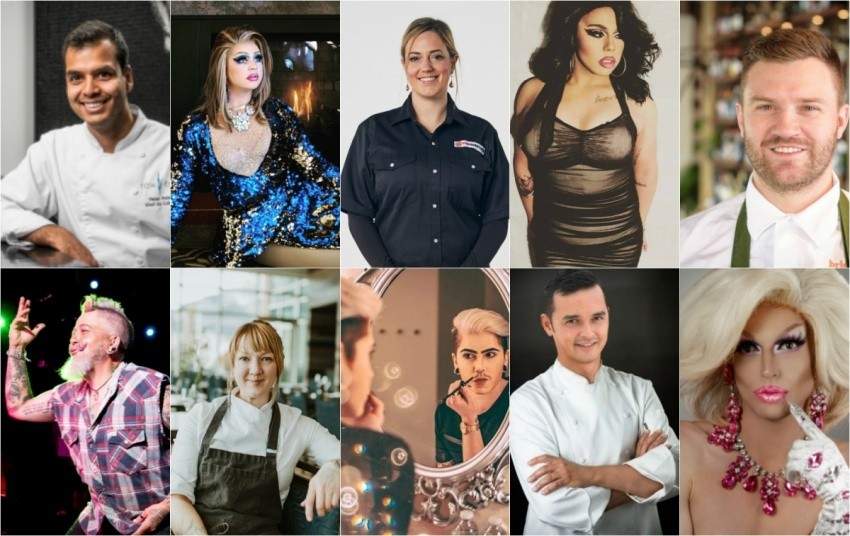 Participating chefs in this year's Sashay, Fillet! are Peter Paiva of Raw Bar, Eric Mah of Purlieu, Bridgette Bar's Sterling Cummings, Tracy Little of The Sensory (Canmore) and London Local's Lindsay Porter (Edmonton).
Local drag performers who will be paired with the chefs are Felicia Bonée, Shane on You, Elektra Kute, The Marvelous Mo B. Dick, and Ivy League of Edmonton.
Top Chef Canada judge and personality Mijune Pak returns to host the evening, alongside Jaidynn Diore Fierce of RuPaul's Drag Race Season 7. The two co-hosts will help bring the evening to life with the help of our star-studded judging panel headed up by Laila McQueen, also of RuPaul's Drag Race, Today 101.5FM morning hosts Christy and Fraser and pastry chef Heather Mordue of Toronto.
"I'm so thrilled to be co-hosting this event again this year for Calgary Pride. Last year was non-stop entertainment and I was so touched by everyone who came to support this event," says Top Chef Canada judge, Mijune Pak. "Chef-meets-queen--so much drama and fun in one room!"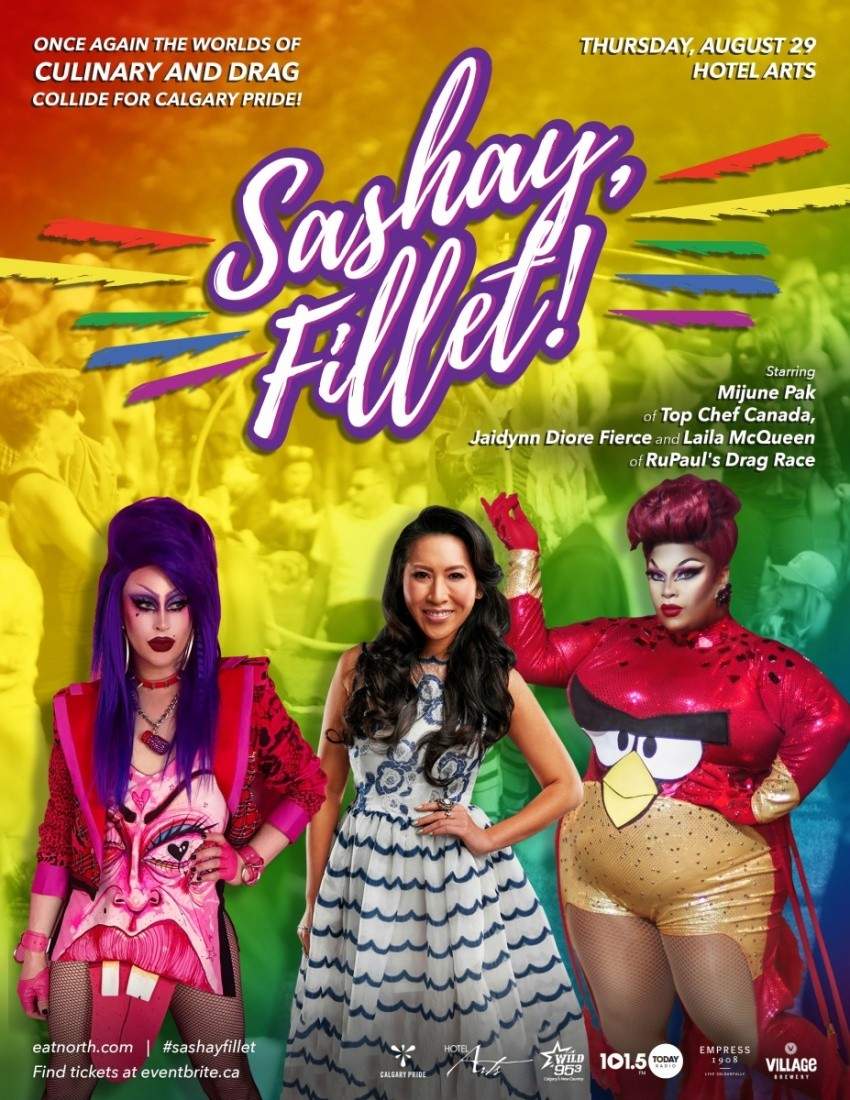 New to the event is a greater selection of complimentary canapés created by the participating chefs as well as an extended welcome cocktail reception sponsored by Empress 1908 Gin and Village Brewery. In addition to a variety of creative drag-inspired cocktails created by the Hotel Arts bar team, non-alcoholic cocktail and beer options will also be available throughout the evening.
Event-goers will be encouraged to visit the five delicious canapé stations around the ballroom in-between all of the action that will unfold on the main catwalk stage in the centre of the room. On-stage, the chef-drag performer pairs will work in tandem through a variety of challenges, both culinary and performance based and be eliminated one by one until a winning pair emerges.
There is currently a limited number of early bird tickets for Sashay, Fillet! and once sold out, general tickets are $70 and VIP tickets are $90.
A limited number of VIP tickets are available and will allow people to access the event one hour before the doors open to general tickets holders (6-7 p.m.). Here, people can mingle with Pak, Fierce, McQueen as well as the local performers and judges. Lit Cosmetics will also be on-hand to help guests glam up their look in true Pride style with a vibrant array of glitter make-up!
Like last month's Drags Benny event--which saw nearly $10,000 raised for the festival's year-round programming--Sashay, Fillet! will provide partial proceeds of ticket sales to Calgary Pride and will also feature a silent auction with unique prizes and a 50/50 to further support the cause.