Still groggy from a Thanksgiving dinner hangover, you find the fridge full of ripped chunks of turkey, a few Brussels sprouts, a cup or so of mashed potatoes and if you had a Southern-style dinner, some jalapeno cornbread. It's not really enough for another full meal, and unlike pizza, it's not really better the next day without some work. Here's how to chase the hair (feathers?) of the turkey with all new dishes made from leftovers.
Leftovers Pot Pie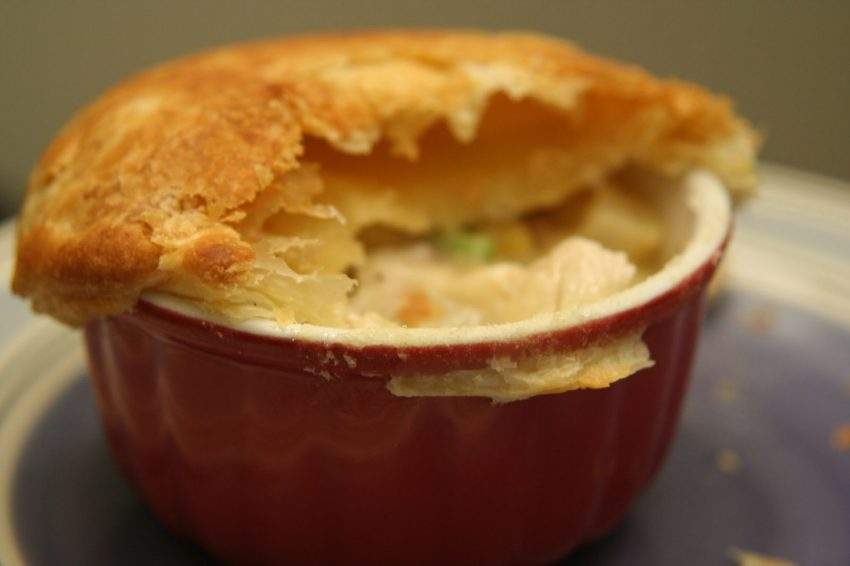 Everyone loves a reheated plate of turkey dinner leftovers, but if you've got some puff pastry kickin' around in the freezer, you can have a little bit more fun.
Heat up 2 cups of gravy and 1 cup of cream in small pot. While that's warming up, toss a mixture of chopped turkey, root vegetables, mashed potatoes and stuffing into 4 ramekins or oven-safe bowls.
Spoon some of the gravy mixture into each and cover with a piece of puff pastry. Bake in a 375 F oven until golden brown and flaky. Bam!
Photo by Caryn74 on Flickr Creative Commons.
Potato and Turkey Croquettes
You'll wish you have potatoes and turkey on hand for these crispy snacks even when it's not Thanksgiving.
Roughly chop 2 cups of leftover turkey meat. In a medium bowl, combine that with 2 cups of mashed potatoes, 2 tbsp of thinly-sliced scallions and a smattering of some herbs and spices of your choice. Roll into small balls, approximately 1" in diameter, dip in an egg wash (eggs beaten with water or milk), roll in bread crumbs and fry in a deep pan with vegetable oil until golden brown.
Perfect for dipping in cranberry sauce.
Brussels Sprouts Hash
You probably don't have any leftover roasted Brussels sprouts, because your family would have devoured every last one of them. But, on the off-chance that you committed the travesty of boiling instead of roasting them, you would likely have a lot of leftovers.
Cut one peeled potato into 1/2" cubes. Simmer in salted water for 10-12 minutes until soft, drain, reserve.
In the meantime, cook about 1/2 cup pancetta lardons (if you don't have pancetta, we won't be upset that you use bacon) in a cast-iron skillet until crispy (start with a cold pan, then increase heat to medium-high), and remove the pancetta from the pan with a slotted spoon. Reserve.
In the same pan over medium-high heat, cook chopped Brussels sprouts in the rendered fat and cook until slightly brown, about 5 minutes. Add 2 crushed cloves of garlic and a finely-diced shallot to the pan, and cook for about 30 seconds. Add potatoes, dried thyme and season with salt and pepper. Cook until potatoes are heated through and slightly crispy.
Return pancetta to the pan, and mix until incorporated. Serve with a perfectly cooked poached egg on top.
Savoury Cornbread Pudding
Bread pudding isn't just for dessert. This cheesy and mildly spicy dish is great for brunch or as a side. The beauty of this dish is that you can add just about any vegetables like mushrooms, onions and peppers. If you're using these vegetables, cook them in a separate pan first to remove excess water.
Cut cornbread into 1" cubes (you'll need about 4 cups total) and place in a butter-greased baking dish, cast-iron skillet or divide evenly in a muffin tin. In a separate bowl, beat together 4 eggs, 2 cups half and half or 18% cream, a sprinkle of smoked paprika, salt and pepper, minced jalapeno and shredded sharp cheddar (if you have any).
Pour cream mixture over cornbread cubes. Bake in a 350 F oven for about 45 mins, or until bread is puffy and crispy on top.
Turkey Congee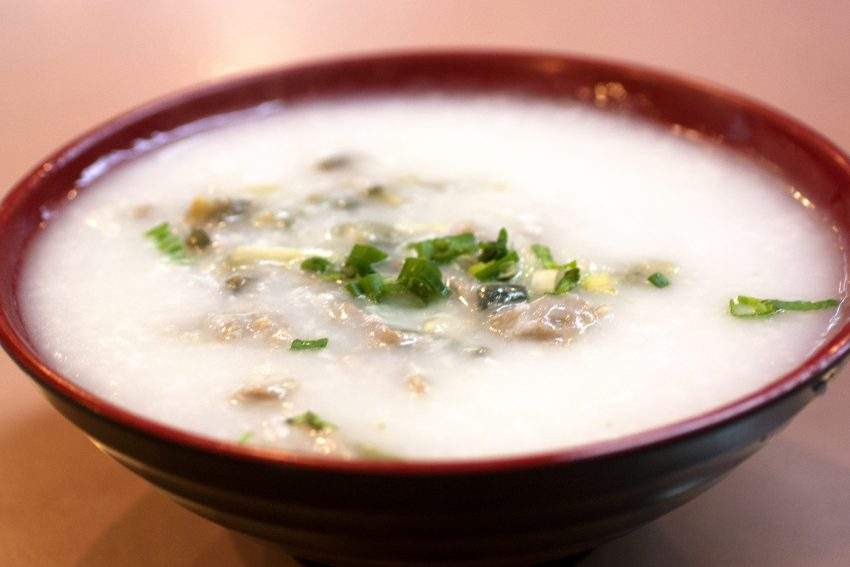 This traditional Chinese comfort food is like a porridge or oatmeal and it's great for when you just want something light, but flavourful.
Rinse and clean about 1 1/2 cups of rice, drain, and reserve in a bowl. Sprinkle some salt and pour a tablespoon or two of vegetable oil over the rice. It sounds weird, but it helps the rice grains break down so you get a thick congee as opposed to a runny soup with grains in it. Let stand for an hour or so, then rinse off the salt and oil and drain.
Fill a large pot about half way with water. Add the turkey carcass (excess oil and herbs rinsed off) and rice and bring to a boil, reduce heat to low, and simmer for about 2 hours until it reaches a soft, creamy, porridgey consistency.
Serve in bowl, topped with chopped scallions, chopped cilantro and a sprinkle of ground white pepper.
Photo by Bionicgrrrl on Flickr Creative Commons.