Alex Hughes in an enigmatic pop country artist. Her latest release, "Strong As You", is a sultry love song that describes the incomparable feeling of being with the one you love. With more than 25,000 streams on Spotify alone in its first month of release, rave reviews continue to pour in for Alex's latest single. A born and raised Calgarian, Alex has played showed across North America and opened for the likes of Brett Kissel, George Canyon and Kenny G.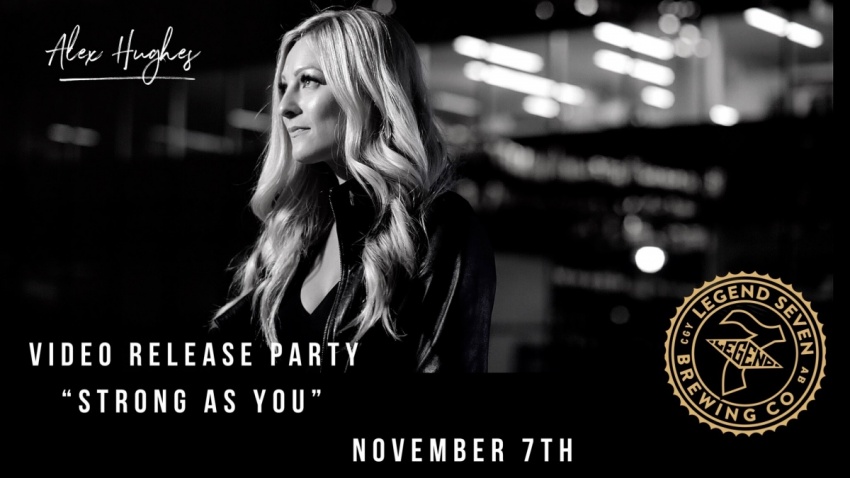 This Thursday, the talented singer is having an official music video launch party for "Strong As You" at Legend 7 Brewing, where fans will get a chance to meet Hughes and watch her new video.
You can also catch Hughes performing alongside Aaron Pollock, Liz and Julia Vos at our live music pop-up, The Blue Jay Cafe, on November 20 at the Oak Tree Tavern.
We recently had a chance to sit down with the Calgary-based musician, who filled us in on all her favourite places to eat and drink around her hometown.
Listen: Alex Hughes single "Strong As You"
Breakfast
I love Bro'Kin Yolk's northwest location. Any restaurant that lets me lay in bed while simultaneously waiting in line is A-OK in my books! Their incredible duck fat hash browns don't hurt either. A super comfy location that is perfect for weekend brunch.
Lunch
Eats of Asia at the Crossroads Market is great. If you can get your hands on their bao, order as many as you can carry. If you're feeling exotic, their dan dan noodles are an amazing combination of cool and spicy.
I don't know how they do it. I presume it's witchcraft?
Dinner
Summer, winter, spring, fall... I don't care what time of year it is, I'm going to Anju! I think my record is ordering the oxtail tortellini three times in one night. You also have to get the gojuchang wings. Why?
1. They're delicious.
2. It's a Mealshare item so you can feel good while your gorge yourself.
I think Anju also has some of the best cocktails in the city.
Drinks
I'm a sucker for "grown-up grape juice" and I'm an even bigger sucker for the gang at Bar Von Der Fels. They've always got something good ready to pour and are more than ready to open my world to new wines I would never normally try on my own.