With a refreshing authenticity that is increasingly rare to find, Alberta-based country recording artist Trevor Panczak writes, interprets and records songs that speak to to the heart in a way simple and soulful way.
"I love songs that are about real people, real situations, and real feelings. There's nothing fancy or contrived about my music. I don't believe in the genre lines so much," says Panczak. "There is quite simply good music or bad music. I like to write and interpret songs that anyone can identify with."
Growing up in a household on the farm where music was constantly played, from Elvis to ABBA, to both Hanks and Merle Haggard, Panczak has been writing and recording music for nearly 20 years. In recent years, his work has earned him opening slots for the likes of legendary country acts, such as Zac Brown Band, Michelle Wright, Miss Patti Page, Dan Seals, Ian Tyson, Don Williams, Keith Urban, Clint Black, Thompson Square, Lady Antebellum, and Tim McGraw.
Besides his commitment to his craft, Panczak uses his talent to give back to various charitable causes like the Ronald McDonald House and to perform at various community events. His dedication earned him the People's Choice Award from the Lethbridge Chamber of Commerce and the Alberta Centennial Medal of Honour for Excellence in Community.
A finalist of Project WILD Concert Series Showcase, Panczak's love for music is only matched by his love of food.
If you find yourself in Lethbridge with an appetite, check out these places for breakfast, lunch, dinner and drinks.
Breakfast
The Telegraph Tap House is one of the more recent restaurant and tap houses to open in the downtown core. The room depicts the rich history of the CPR Telegraph scene from the mid-early 20th century right in Lethbridge. Opened in 2012, this family-friendly pub now offers 32 beers on tap. The famous Telly Breakfast, available on the weekend, consists of two eggs, two sausages, toast and hashbrowns, and is still only $3.99.
Lunch
Moxie's is a favourite of mine any time of the day. I have performed, ate, drank, and held corporate events and parties in this unofficially historic building. The diligent and friendly staff makes it clear that they are there to serve you. I have been to numerous Moxie's locations on my last two radio tours, yet I always marvel at how consistent the food and presentation is at all Moxie's across Canada.
Dinner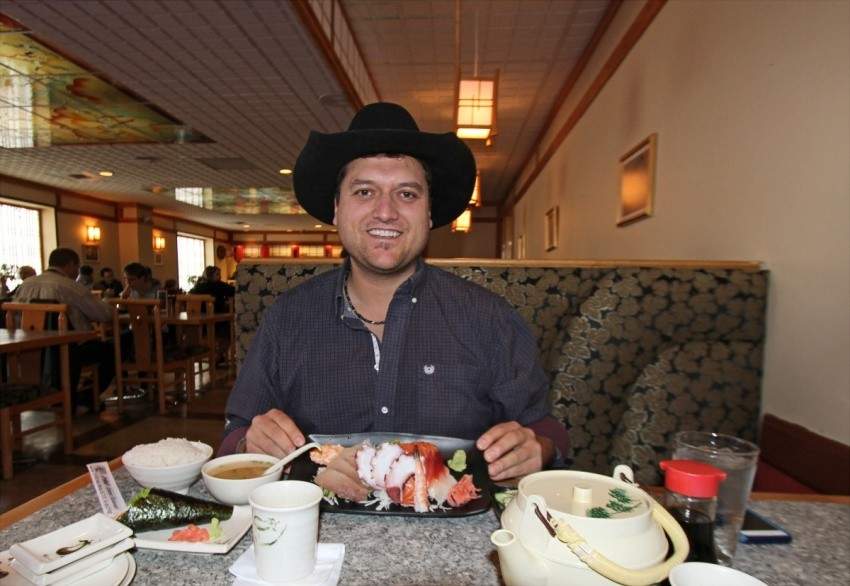 The love affair with O-Sho Japanese Restaurant and Liquid Lounge and me has been going on since I first got a taste of O-Sho in 1997 backstage at the Yates Memorial Theatre, during the Care from the Heart Telethon. An organizer ordered in some futomaki and I've been hooked ever since. I know everyone in the restaurant by name.
Nightlife
I have opened, headlined, released albums, and shot videos at Average Joe's Sports Bar. There are more TV's per square foot than anywhere else in the city. It doesn't hurt at all that the food is great (a consistent special every day), the service is always top shelf (one name exemplifies the whole staff: Amy) and the owners and management are community-minded with a passionate love for live music. I feel at home at Average Joe's.