After a sold-out event in summer 2022, chef Billy Nguyen has just announced that they will be returning to Calgary to put on the three-day pop-up Dai Ga Jie. This time around, the Top Chef Canada Season 9 runner-up is bringing along another familiar culinary face, Top Chef Canada Season 10 runner-up, Dez Lo.
Taking place at The Prairie Emporium from Thursday, June 8 to Saturday, June 10, Dai Ga Jie ("big sister" in Chinese) will showcase the chefs' penchant and skill for creating contemporary Asian dishes, drawing inspiration from food cultures of China, Vietnam and more.
On the evenings of June 8 and 9, the chefs will cook a delicious-sounding seven-course tasting menu (full details below). There will be two seatings per evening, 5 p.m. and 8 p.m. respectively, and seats can be purchased for $105 each as of 11 a.m. MST on Friday, May 5, 2023 via Showpass.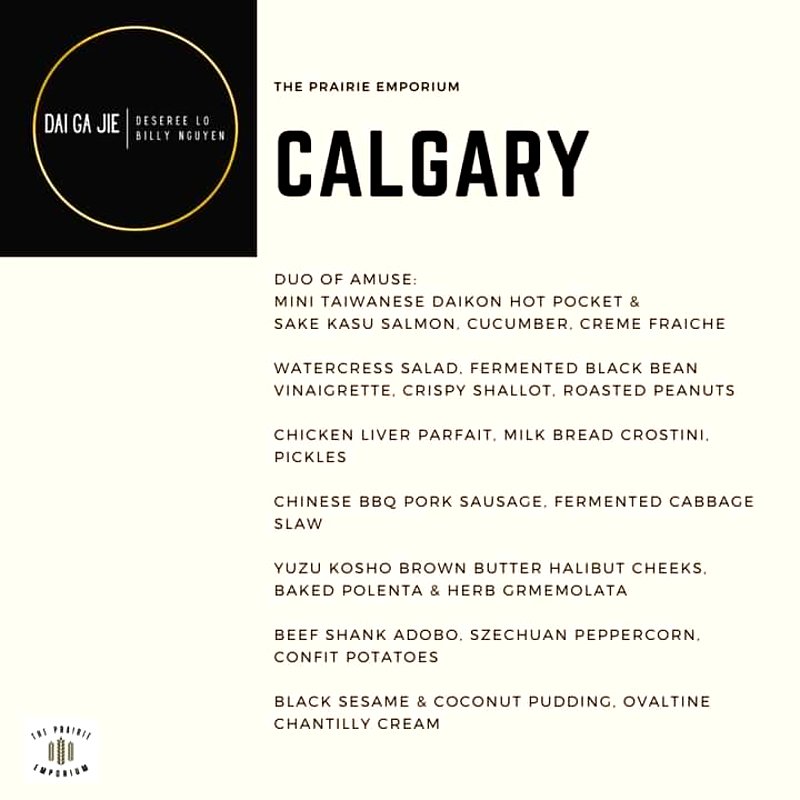 "I have heard so much about Calgary and what a foodie city it is," said Dez Lo in the pop-up announcement. "I know Billy had a great time during their last pop-up, so I wanted to join the festivities this time around!"
On Saturday, June 10 there will be a fun, a la carte congee pop-up from 11 a.m. until sold out. The June 10 congee menu offerings will range from meat to seafood to vegan, but will feature a mix of snacks and salads too. Dishes can be ordered on a first-come, first-serve basis by patrons, so come early so you don't miss out!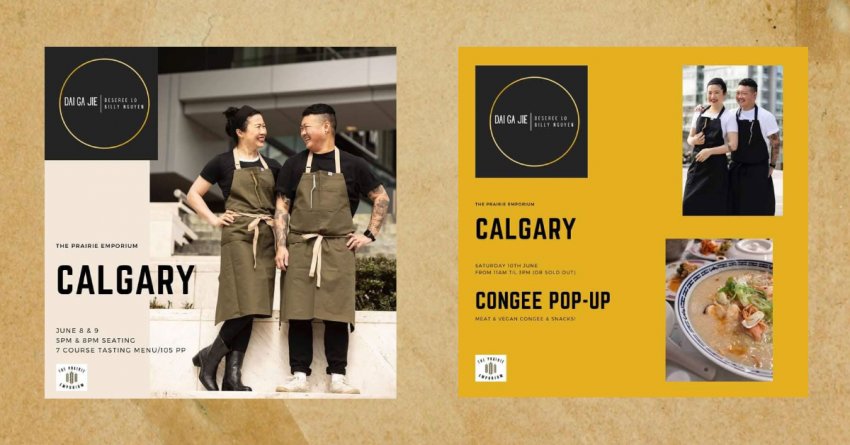 "I'm really excited to to come back to Calgary. When I was here last year, I had a wonderful time sharing my food with Calgarians and now I'm lucky enough to be bringing my 'dai ga jie' with me," adds chef Billy Nguyen.
Wine pairings and by-the-glass options for the June 8 and 9 dinners will be available to purchase upon arrival, curated by Erin Loader of Market Wines. As well, as wide range cocktails, craft beer and non-alcoholic drink options can be purchased from The Prairie Emporium service staff on all three days.
People seeking more information about Dai Ga Jie food and drink offerings can either contact the organizers via Showpass or email The Prairie Emporium directly.