Despite the recent Canada's Drag Race Season 2 cast, premiere date, and theme reveal already stirring up plenty of buzz, when it comes to Canadian queens there is always the potential to take the anticipation and excitement to the next level.
With the sophomore season premiere of Canada's Drag Race now just two weeks away, that is exactly what several Season 2 celebrity queens have started to do by announcing their attendance at a number of upcoming viewing parties across the country.
From superstar guest appearances from Kendall Gender and Synthia Kiss at the iconic Playhouse Vancouver to Ottawa's sole Season 2 competitor Icesis Couture at The Lookout, to Stephanie Prince at Calgary's premier 2SLGBTQ+ venue Twisted Element, here are a few fantastic viewing parties to check out when Canada's Drag Race premieres on October 14 on Crave.
Vancouver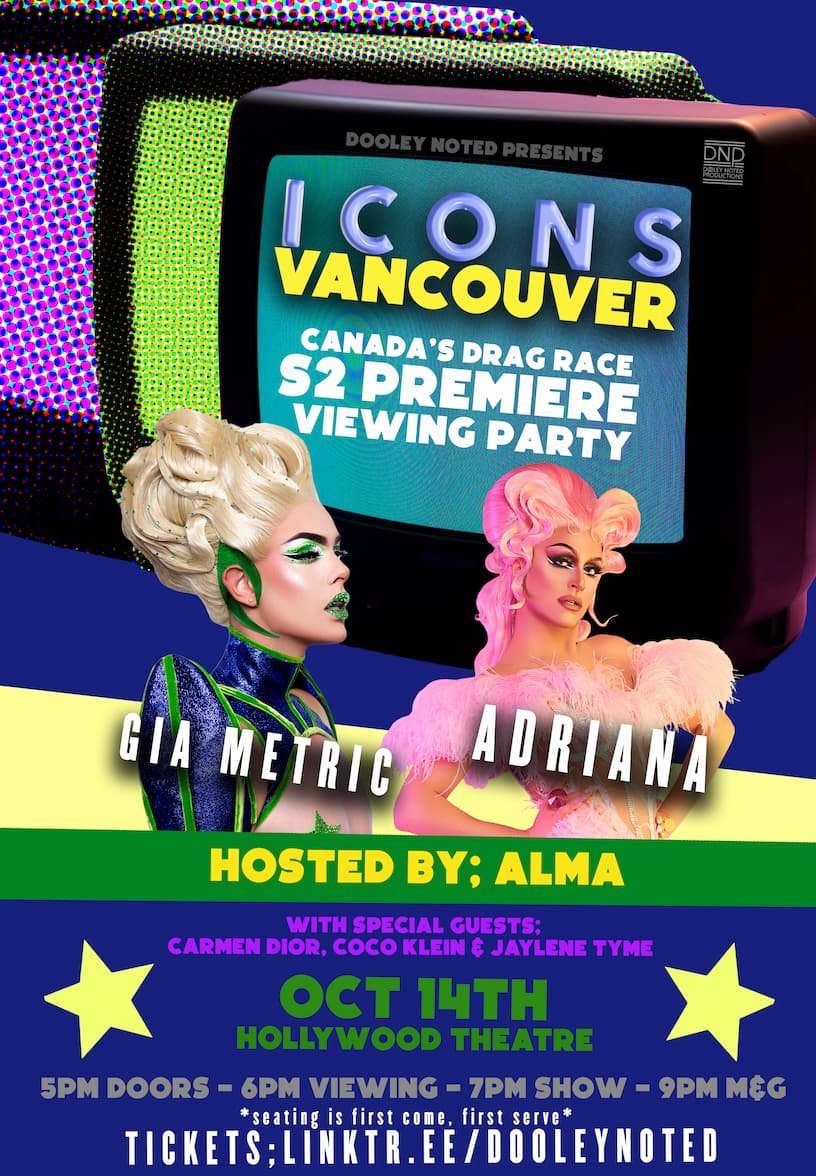 Hollywood Theatre with Gia Metric and Adriana
Cast members include Gia Metric and Adriana. Guests include Carmen Dior, Coco Klein, Jaylene Thyme. The event will be hosted by ALMA! General admission tickets start at $48.64.
Join Canada's Drag Race Season 2 competitor Beth at Vancouver's oldest gay club Numbers for a fun night on October 14. Tickets are $35 and include the premiere screening and performances by Beth as well as other talented local queens. (Meet and greet add-on available for another $15.)
The Playhouse Vancouver Viewing Party with Kendall Gender and Synthia Kiss
The iconic Playhouse Vancouver will host Canada's Drag Race Season 2 premiere on the big screen along with special superstar guests, Kendall Gender and Synthia Kiss. Tickets start at $40.
Ottawa
The Lookout Bar
Season 2 star, Icesis Couture will be attending the season premiere viewing party at The Lookout, along with guest hosts Kimmy Couture and Savannah Couture.Tickets start at $32.84.
Queen St. Fare
This premiere viewing party will feature special guest, Denali and will be hosted by Ottawa's very own, Miss Capital Pride, Babe Kelly, and The Singing Diva herself, Ruby Foxglove! Tickets for tables of 2 are priced at $96.49.
Calgary
Twisted Element presents:Canada's Drag Race premiere party with Calgary's local Drag Race star Stephanie Prince
Twisted Element will host Calgary's own Stephanie Prince for a viewing party of Canada's Drag Race Season 2 premiere. Tickets start at $20.