As much as I love eating real food, there is nothing I love more than a larger-than-life, food-themed moment. That is exactly what Canada's Drag Race has delivered today with its cast and premiere date announcement.
Working with pastel backdrops and sugary themes of lollipops, ice cream, cotton candy and more, the 12 new drag queens competing for the Canada's Drag Race Season 2 crown look equal parts radiant and playful in their Candyland world. This year's group of queens is geographically diverse and includes some truly top tier talent from cities like Vancouver and Calgary. Stephanie Prince (pictured below on a macaron cushion) is also the first Alberta-based queen to appear on the series.
The 12 competitors are Adriana (Quebec City), Beth (Vancouver), Eve 6000 (Toronto), Gia Metric (Vancouver), Icesis Couture (Ottawa), Kendall Gender (Vancouver), Kimora Amour (Toronto), Océane Aqua-Black (Quebec City), Pythia (Montreal), Stephanie Prince (Calgary), Suki Doll (Montreal) and Synthia Kiss (Vancouver).
"Drag to me is a celebration. It is about finding a way to uplift through anything. I have faced many adversities in my life and I truly feel like they have all led me to this moment. And because I have gone through the dark parts of life, I can truly appreciate what is to come," says Kendall Gender.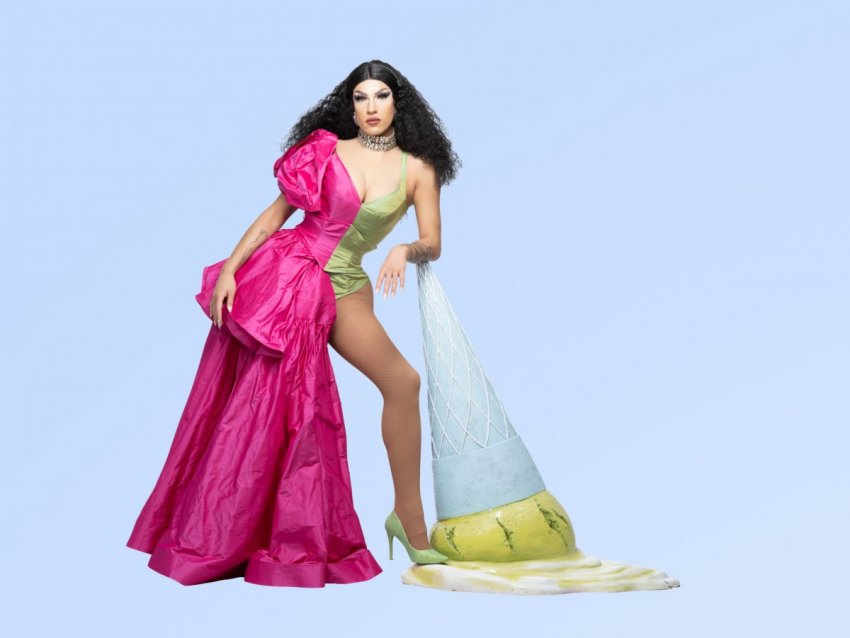 Canada's Drag Race has seen some big changes to its judging panel for season two as both Stacey McKenzie (she will be missed!) and Jeffrey Bowyer-Chapman did not return. The show's unofficial host Brooke Lynn Hytes is back, of course, and joined by Brad Goreski, Amanda Brugel, and Traci Melchor–as well as weekly celebrity guest judges like Fefe Dobson.
The 10-episode second season of Canada's Drag Race will premiere on Thursday, Oct. 14 at 9 p.m. ET on Crave.