This week's episode of Top Chef Canada awkwardly opens with an ad for… toothpaste?
Quickfire Challenge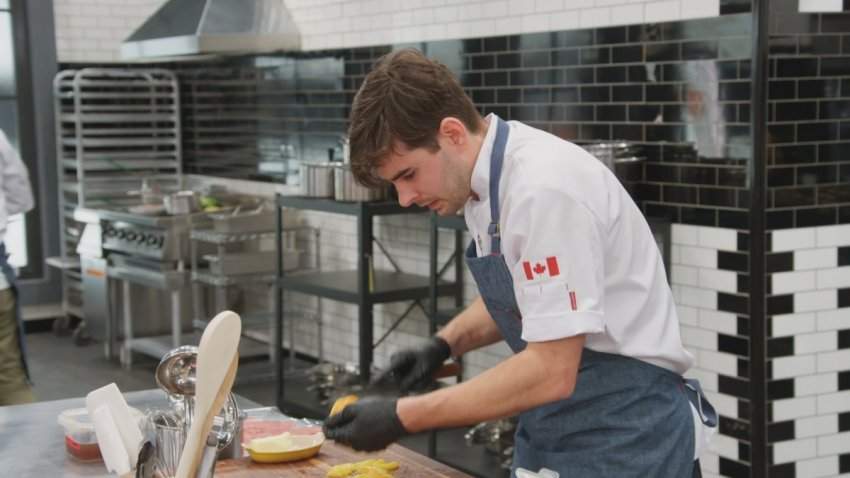 Host Eden Grinshpan speaks haltingly of the importance of a toothpaste helping with heat and cold sensitivity and then goes into the challenge. Unlike the intro to the episode, however, the challenge is a good one: the chefs have to reimagine a classic dish that has both hot and cold elements on it.
The guest judge is cool customer Patrick Kriss, of acclaimed Alo fame. He is a man of few words, but his restaurants top all the best-of lists. This is a cruel reminder to me that we had a reservation at Alo this very week. In the Sliding Doors version of this world, I will be there on Wednesday night; but in this pandemic version, I will be at home for the eleven-hundredth day.
The chefs spin the sparkly toothpaste wheel to determine their dish. Each dish is made by two chefs separately, and then chef Kriss picks a winner between them.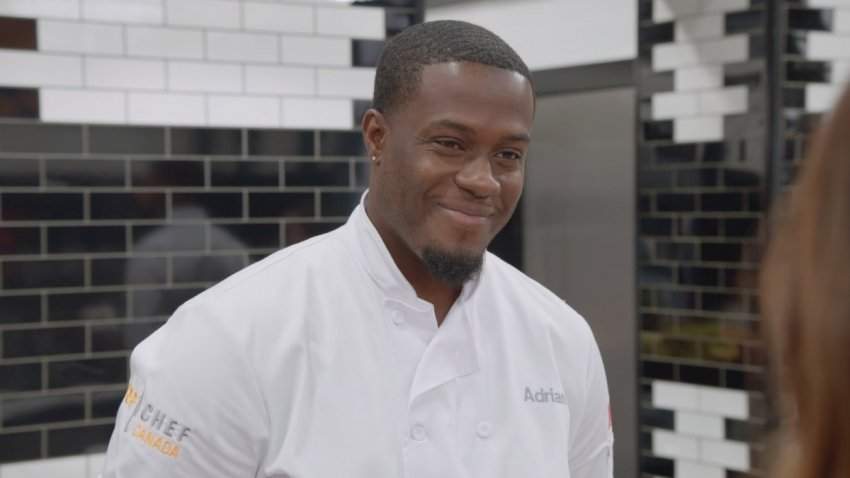 Elycia Ross--last week's winner--coincidentally gets the chef's choice, which isn't really an advantage as she now has to beat both two chefs to win. She ends up going with Caesar salad, against Imrun Texeira and Adrian Forte.
Adrian said last week that he "eats fire", so this week should be good for him. (I forgot to mention that quote last week, and it is too good not to mention). His dish may taste OK but it is "visually unappealing," says Eden. The smear of chunky reddish sauce doesn't look too good from this viewer's perspective either.
Imrun pulls out the fancy modernist tools for both his cold and hot, smoked elements, but Elycia places cool greens and lemon segments on a parmesan bechamel and becomes the winner. Chef Kriss likes it, and that should be enough for anyone in the room.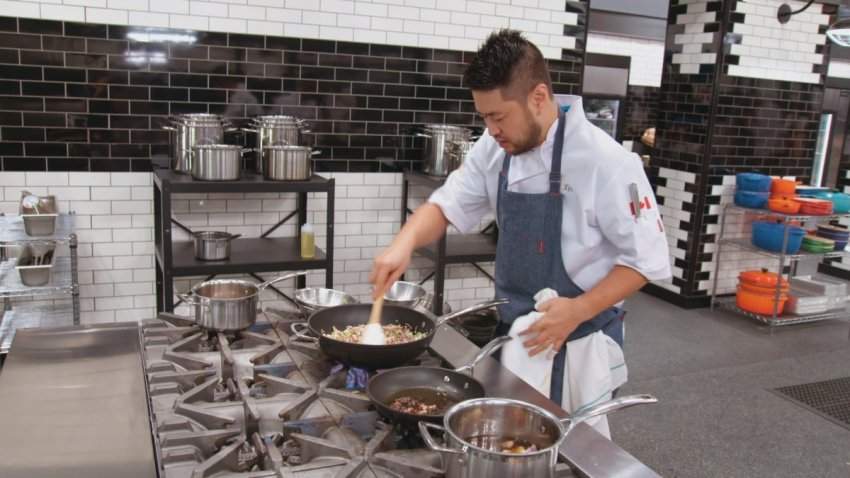 Another interesting showdowns is between Xin Mao and Francis Blais on "battle Duck l'orange". Xin makes his version as a lettuce wrap with crispy duck skin, while Francis makes a duck carpaccio with crispy duck skin. Xin wins. They both had me at crispy duck skin.
Stephanie Ogilvie and Nils Schneider are battling over tuna niçoise, but when Stephanie realizes that they are both thinking of searing the tuna for the hot element, she quickly shifts gears and makes a tuna tartare with a hot relish. She wins the battle, and then wins the day. All eyes on Stephanie, she's a star.
Elimination Challenge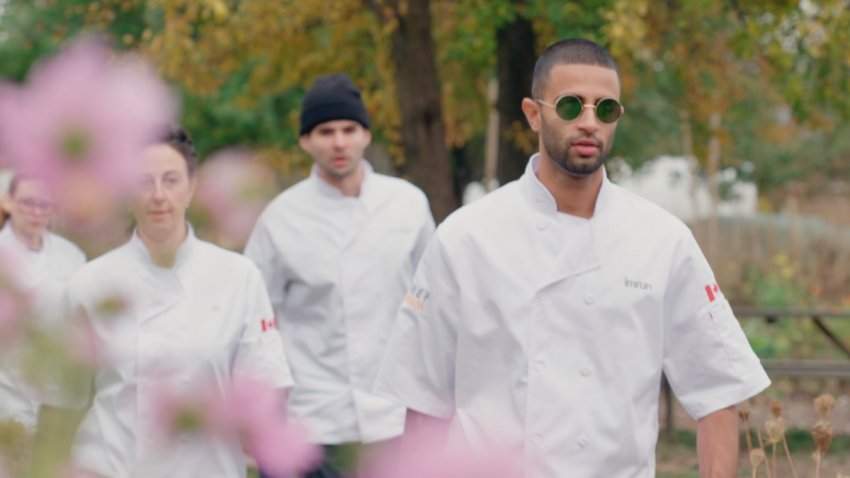 The competition then heads outside for an International barbecue challenge in which the chefs will compete against the same person as they did in the Quickfire. Each pair is given a style of barbecue from a different country.
Lucy Morrow admits that she doesn't know anything about her assignment of Brazilian BBQ but grabs some polenta, meat and miso to figure it all out.
Everyone else seems fairly confident in their shopping choices.
The chefs head out to Black Creek Community Farm, which is described as an urban farm with a lovely outdoor space. It's a wonderful farm near York University, which provides food and programming in a food insecure part of the city. I wish they had given them a bit more promotion.
The chefs start cooking, and the show foreshadows with scenes of Imrun placing his American steaks on a nice open fire while proudly talking about his choice to sous vide them previously.
As the crowds start to file in, Elycia is worried because people seem to like other dishes more than hers. I'm not sure if she has more self-doubt than the other chefs, or the producers are choosing to focus on that for some reason.
She shouldn't have wasted her time on that. Imrun's steaks are under-seasoned and the judges are not pleased with his choice to sous vide. Adrian's ribs are good but he played up his potato salad with secret spices, and the judges wonder where the spices are. In the end, Elycia's succotash with pork belly is the judges' favourite from the American BBQ team.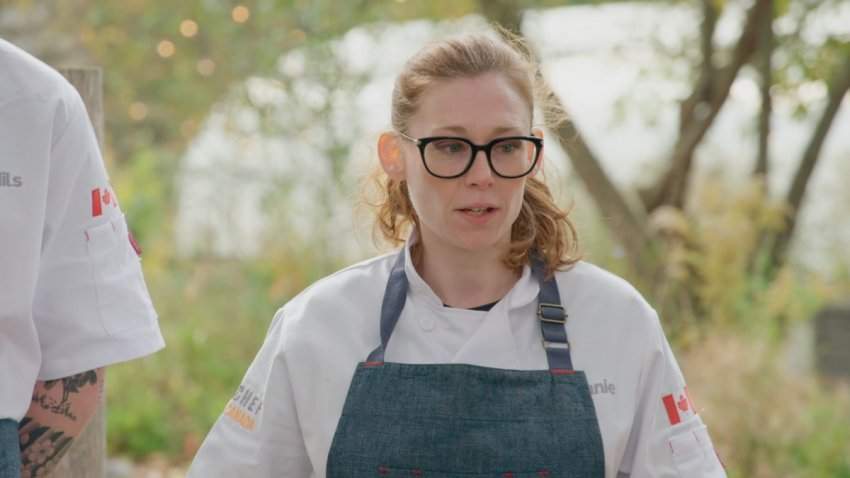 Stephanie chooses to stick with vegetarian BBQ to represent India, which is either a great decision, or a bad one. It turns out to be great; her smoked and roasted cauliflower with mango salad is a surprise hit filled with flavour. Nils' butter chicken is underseasoned, and not really a great way to show off barbecue. (I wonder why he didn't go with tandoori chicken?)
Lucy had no knowledge of Brazilian food, but her flavours hit the mark. Jo Notkin's Brazilian food was well-received too, but not quite as much.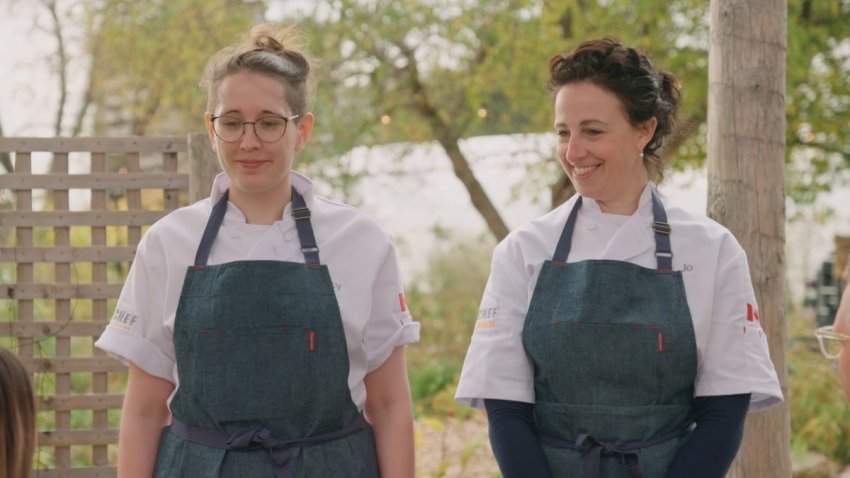 Korean food seems easier to pull off for this challenge--it's easy for me to say from my couch, of course--but neither chef had the spicy flavours that are the hallmarks of Korean food. Dominique Dufour's was still good enough to eat, though. Shaun Hussey's, however, was inedible. Judge Mijune Pak said her chicken was raw, and his homemade kimchi was offensive and smelled like fish.
Shaun's Newfoundland accent and attitude is good for the show, and we should probably enjoy it while we can.
Two of the top contenders made Turkish-inspired barbecue. With Francis feeling a little burnt by Xin's win in the Quickfire, he got busy. His lamb kebab was sitting on hummus, accompanied by a cracker with a chopped salad. Xin creatively looked to a part of China that has Turkish influences for his dish, which the judges also liked, but not quite as much as Francis's dish.
Judges' Table
At the Judges' Table, the winners from each pair are called in. The judges then dismiss Elycia and Dominique as the "worst of the best" and tell Lucy, Stephanie and Francis that they are the top three of the day. Francis's refined lamb kebab redeems him and he is this week's winner.
Shaun, Nils and Imrun are chastised for their poor dishes. Nils's butter chicken was under-flavoured and didn't really meet the challenge, while Imrun's was bland and made with a poor choice of method. When you have a dish that was inedible because of raw chicken and a terrible side, there is no real debate on who is leaving the Top Chef Canada kitchen.
Bye Shaun, you seemed like a nice guy and a good cook.
The most interesting thing about the judges' discussion was when chef McEwan calls Imrun "mechanical" for his reliance on tools. It felt as though he was saying that he had no heart. We will see in upcoming episodes if he is right.
Kitchen Scraps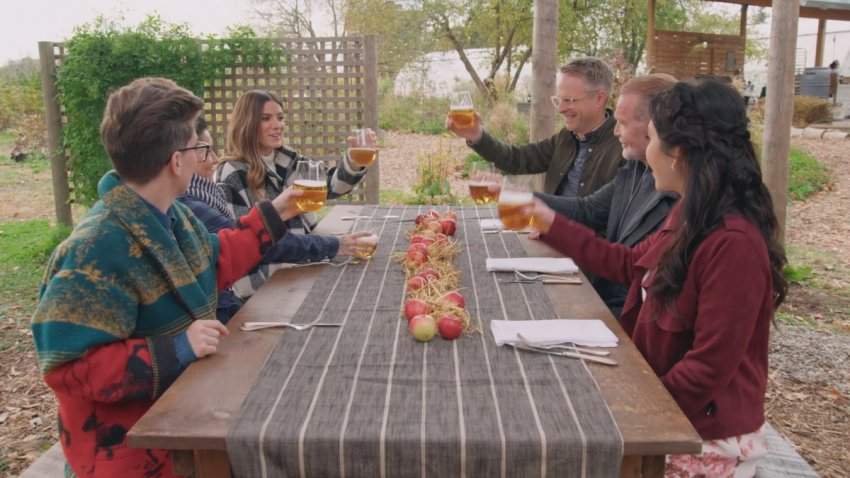 After the second episode we are starting to see the chef's style and personalities more. I am sticking with Francis and Stephanie as my top two. Stephanie, you have replaced Renée in my heart. Keep it going!
But, it is Xin's food that I think I might be craving right now.
After four weeks of self-isolation, is it torture or fantasy to watch chefs cook? I can't decide.