It's Restaurant Wars week, it's restaurant wars week!
But first we have to get through the Quickfire.
Quickfire Challenge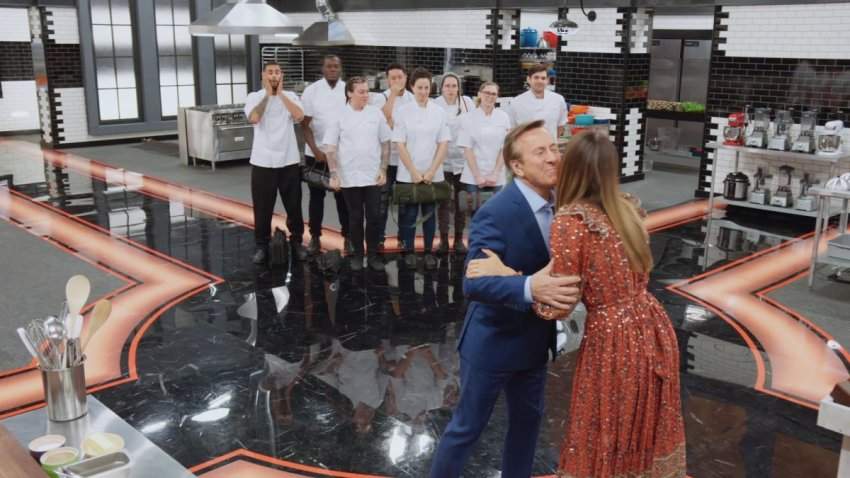 I'm momentarily thrown off by host Eden Grinshpan's vaguely Laura Ashley dress, complete with smocking that reminds me of something I had in blue when I was 13--but I was not that cool.
As for the challenge, it looks like we are heading back to Europe – again. It is the second week in a row featuring ingredients from European cities. Given the current pandemic situation, I guess that was not money well spent by the European tourism board (or whoever it was).
The chefs are quaking in their chef jackets when guest judge Daniel Boulud--the owner of many acclaimed international restaurants, including Café Boulud in the Four Seasons hotel in Toronto--walks in. Adrian Forte says that he is the Paul McCartney of chefs: all hits and no misses.
The chefs each drew a course and an ingredient with which to cook a dish.
Lucy Morrow looks to redeem herself when she pulls chocolate confectionery, as she almost got kicked off for her dessert in the previous challenge. She makes a salad with some frozen chocolate ganache, but both Eden and chef Boulud feel that she hid the chocolate too much.
Francis Blais says that the chef is an inspiration for him, as he worked at his Montreal restaurant. He drew Manchego cheese. Working with a huge chunk of the Spanish cheese, he makes croquettes. He is sweating it out but of course, it all works and the judges love the dish.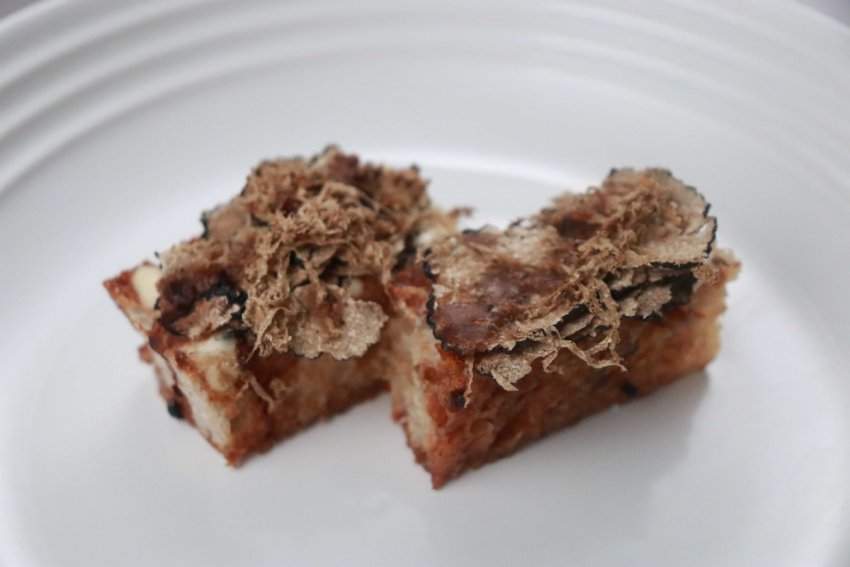 Adrian makes gnocchi out of halloumi and pairs it with ackee. It's not a pretty dish but once chef Boulud finds out that it is canned ackee and not going to kill him, he is very happy with it.
Xin Mao shaved summer truffles onto a soy reduction on sourdough. It's a winning dish which Eden calls addictive, and chef Boulud says it made the summer truffle taste even better. As the winner, Xin wins $5,000 to spend on "high quality" ingredients.
Elimination Challenge: Restaurant Wars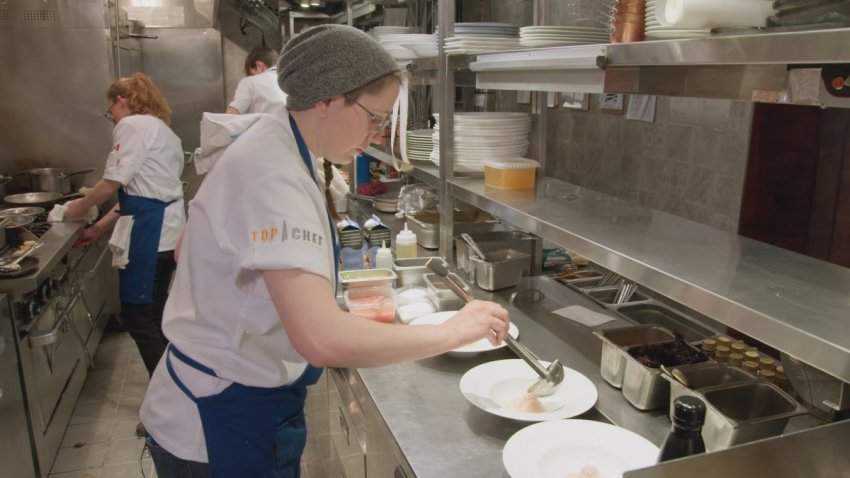 As the winner of the Quickfire, Xin is a team captain for Restaurant Wars at the historic Casa Loma. Stephanie Ogilvie, the winner in last week's elimination challenge, is the second captain.
The captains choose their teams "schoolyard" style (which, as someone who was never chosen for a sports team, makes me super uncomfortable). As a viewer, it is interesting to watch because you start to see some of the fault lines in the group.
Xin picks first and he chooses Dominique Dufour. I assumed he would choose Francis first (because it's Francis), but Xin says he knows that Dominique will work her ass off to win. Next, Stephanie chooses Francis (obviously), and Xin picks Jo Notkin (obviously). Then, Stephanie picks Lucy Morrow and Xin chooses Imrun. Adrian is last and goes to Stephanie's team.
We have a frontrunner team and an underdog team. Sometimes the underdog team has an advantage because less egos means better teamwork. I wouldn't put all my money on Stephanie's team (just most of it).
Stephanie's team is called the Northern Roots (sounds like a band from high school), and they are doing a Canadian theme. Xin's team is Octo, signifying the eighth season, and they don't seem to have a cohesive theme, which is a red alert for team underdog.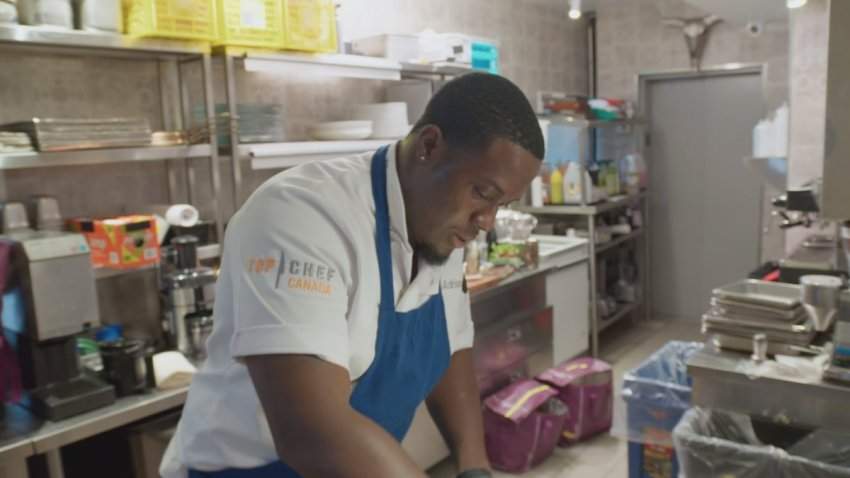 Northern Roots is working well together. Everyone is chipping in to help Francis peel and slice paper-thin potatoes on the mandolin until Adrian contributes a little bit of his thumb to the dish and is sidelined momentarily. The team had already decided that Adrian is going to be the front of the house.
Adrian believes it is for his charm, but it looks like he is busy charming a table of women instead of the judges' table, which does not make the judges happy. The judges are grumbling that Adrian isn't around enough; he doesn't explain the theme and he gets caught up at other tables.
Adrian admits that it feels chaotic, "like a beehive exploded in his head."
The kitchen, however, looks calm. Stephanie appears to be a good leader. Lucy Morrow says that she has focus and is a "low-key monster." I hope Stephanie puts that in her bio.
Both appetizers are very well-received. Lucy makes a bright and beautiful scallop and Francis makes a crazy play on pea soup, which Eden gives the highest compliment, saying it is "ridiculous".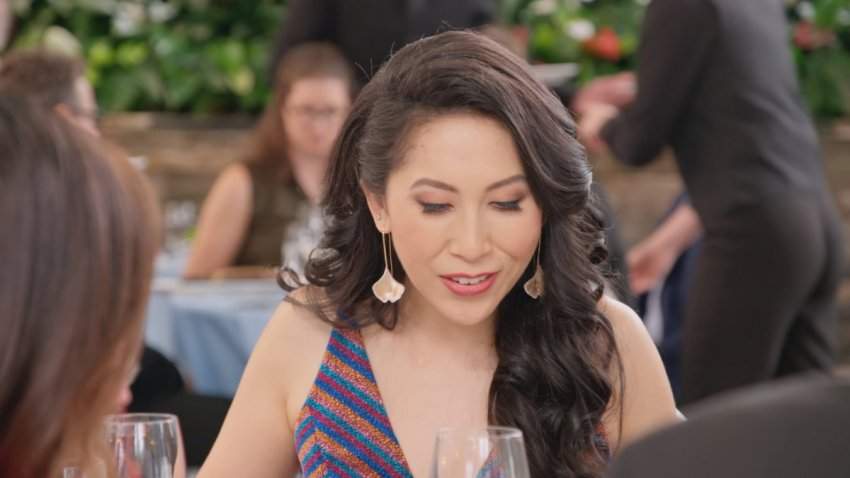 Francis slays the main course as well with a wild salmon and smoked potato pavé. The judges say it blows their minds, with Kevin Boehm, one of the guest judges from the Boka group in Chicago, saying he would come back to eat it again and again.
I'm not going to lie; I was worried about Adrian's bison and oxtail stew. Adrian has a bit of a spotty history but his stew is "super tasty" and "everything you want," says judge Mijune Pak.
Aside from Adrian winging it with the service, the meal is going amazingly well… until dessert. Stephanie prepares both desserts, which was a good move from a logistics standpoint because it means she could focus on expediting the meal. The judges don't love her sweets and say they fall a little flat. So, should we worry about team frontrunner?
It depends on how the underdogs do.
As the front of the house, Jo has total control of the room but the kitchen looks chaotic.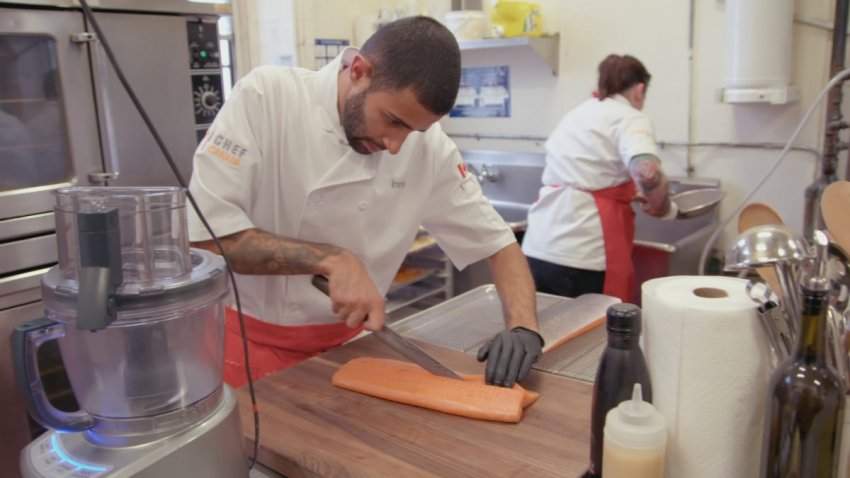 Imrun has chosen to make farmed Atlantic salmon with a brodo poured on top. The judges were underwhelmed by the dish, the taste and the temperature, not to mention the fatty farmed salmon was not quite right.
Dominique made a bone marrow with a crumble topping accompanied by a salad. The servers seemed confused and when the dish got set down. I could see why. There was a bone marrow canoe on one plate, and a salad on another. How are you supposed to eat that? Bone marrow is extremely rich and the salad is usually a shot of acid to cut through the fattiness. It looked like two separate appetizers.
Xin showed off his pasta-making skills in the next course. His salted egg fettuccine with spot prawns had a mealy texture that the judges couldn't get over. Mijune explained that it is the texture of salted egg, but perhaps it wasn't the best match for the dish.
Dominique's pork dish also had some texture issues: the pork belly was extremely fatty and the apple stuffing did not provide enough contrast.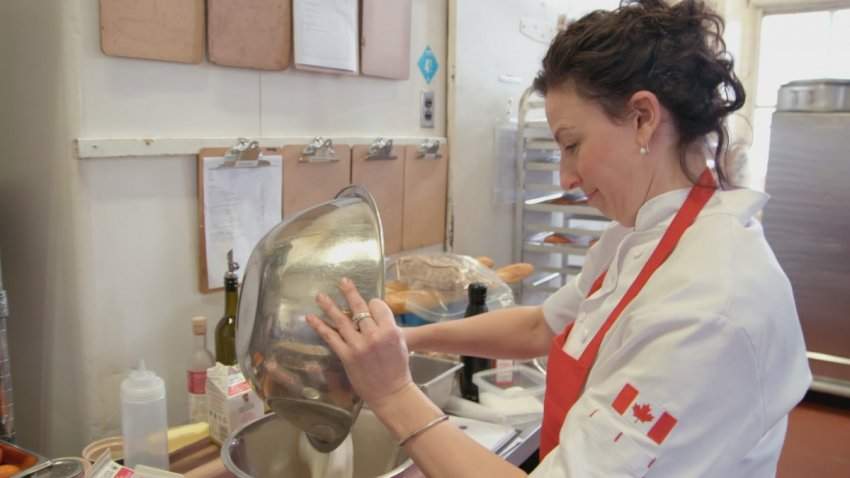 At this point, Jo could see that it was not going well for her team. She races back into the kitchen to give her desserts some attention, making sure that every detail is perfect.
The judges enjoy her mascarpone dish, saying it was the best dessert of the day. But they weren't tossing around phrases like "blew my mind" or "I could eat this all day," or even a stray "ridiculous."
The producers and editors of the show can try and make it look like a tough decision, but it was obvious that team frontrunner, the Northern Roots, won Restaurant Wars. They may have lost the battle when it came to service, but the overall win is firmly in their kitchen.
Judges' Table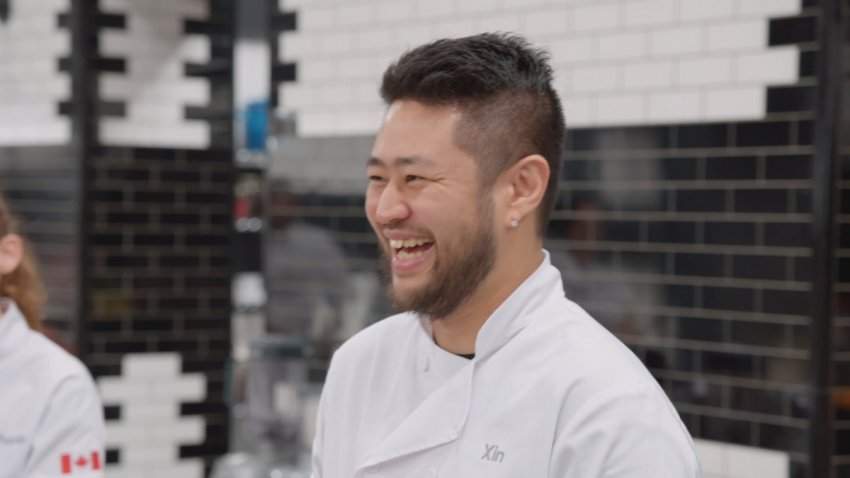 Back at Judges' Table, the judges try to play up the tension by saying one had exceptional service and one had exceptional food. This was nice for Jo, but obviously, Northern Roots wins Restaurant Wars and Stephanie and Francis continue on their path to the finale.
This is a two-person elimination and I'm not sure who the judges are going to toss. The judges say that the lack of a theme was a big issue but Xin explains that he wanted everyone to cook from their heart, and if they didn't succeed, then it was his fault. Dominique defends Xin, saying that his intentions were good but Xin tells the judges that the team's failure is his failure and they should send him home.
Imrun tries to defend his use of the farmed salmon, saying he wanted the fattier salmon for the dish but his defense is, well, exasperating for anyone who has eaten salmon crudo. The judges also put the heat on Dominique, saying her two dishes were not well executed.
In the waiting area, Xin is in tears because he feels like he failed his team.
In the end, the judges do send Xin home, and maybe he can take comfort in knowing that he is one of many Restaurant War captains that has left the Top Chef Canada kitchens.
Dominique is also eliminated, which has been the biggest shock in the season for me so far; I thought it would be Imrun. At least, Dominique made two dishes with many components, whereas Imrun made one appetizer that had a fundamental flaw that showed a lack of knowledge about a basic ingredient. And just like the sous vide fiasco at the BBQ challenge, Imrun's lack of experience is impeding his cooking, and yet he soldiers on.
At this rate, he will fly on to the finale.
Kitchen Scraps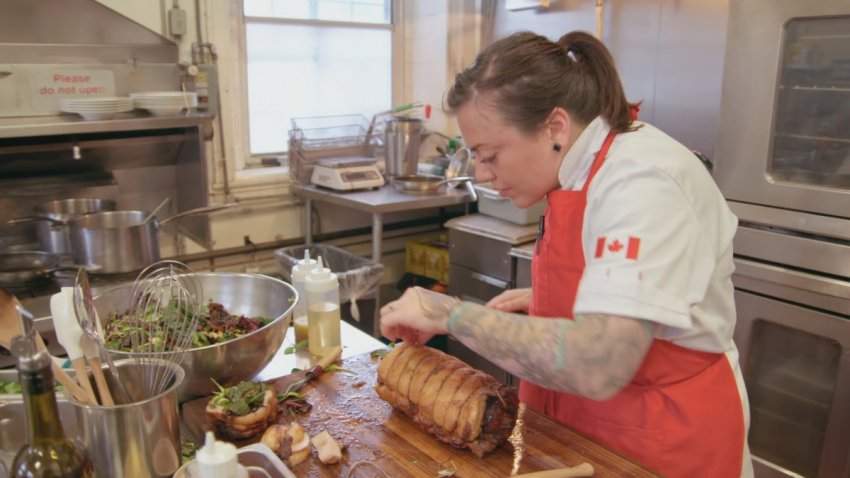 Was I the only one surprised that Imrun stayed while Dominique packed up her knives?
I am sorry to see Xin leave. The way he integrated Chinese flavours into his dishes broke down stereotypes of what Chinese cooking is and hopefully, showed people that Chinese food can be combined with Italian techniques and fine dining in an exciting and delicious way. Next time I'm in Vancouver, I'm making a reservation.
It was nice to see Adrian cooking so well finally. Is he on an upward trajectory?
Restaurant Wars is usually the most exciting episode. I'm not sure this one lived up to its billing.