It's the second last episode. And although this show was shot in the fall, Eden Grinshpan is dressed like a human stalk of asparagus. Fitting for this time of year, it's also on theme for this episode, because today is Top Chef Canada's version of veggie tales.
Quickfire Challenge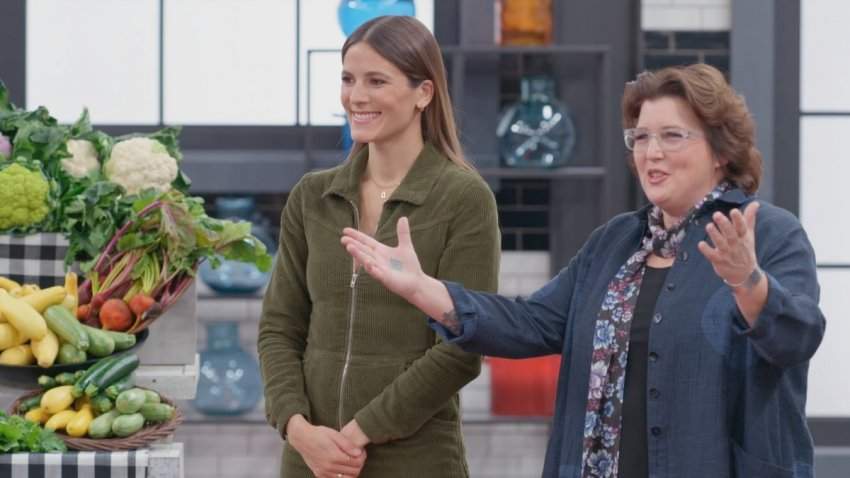 The five chefs have to make a vegetable into a dessert, but the vegetable still has to be recognizable (which means they can't grind it up and throw it in brownies, a la Deceptively Delicious and all those cookbooks from the mid-2000s).
Adrian Forte and Lucy Morrow drew vegetables that are more common in sweet applications, like beets and zucchini. Then, there's spinach, which Imrun Texeira is cooking with. It's tough but doable in this challenge. Stephanie Ogilvie and Francis Blais get stuck with vegetables that are probably the hardest to work with: broccoli and cauliflower.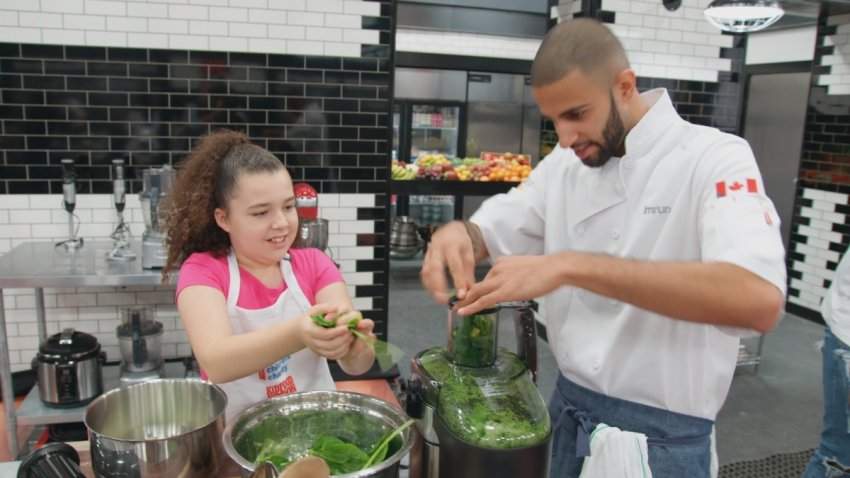 The Quickfire has a double dose of energy with chef Lynn Crawford as the guest judge and the competitors teamed up with sassy sous chefs, all from the Boys and Girls Clubs of Canada, to which the winnings from this challenge will go.
Imrun, and his sous chef Lainey, are kinda adorable together. Imrun says he works with kids and he seems like a natural. He turns his morning smoothie--made with spinach, ginger, green apple, and lemon--into a sorbet. He wows his pint-sized sidekick with the flash freezing and he wows the judges,. Don't tell me I am warming up to Imrun at this late stage?
Adrian also gets along with his sous, Hayden. He gives her some responsibility on tasting and mixing their beet brulee. Unfortunately, they had so much fun that they ran out of time and it didn't set. So, it's a creamy bright pink beet that isn't quite thick enough to be anything.
Lucy and Timmy make a zucchini and apple crumble that was liked, but not loved.
Francis and Kia turn all sorts of colourful cauliflowers into cake and sauce and a whole lot of things. I'm not sure if it looked fun or kind of bizarre, but the judges liked it.
Stephanie and her sous chef, who was taller than her, turn broccoli into a winning dish by making broccoli fritters with a broccoli white chocolate anglaise sauce. Both Lynn and Eden loved it.
Elimination Challenge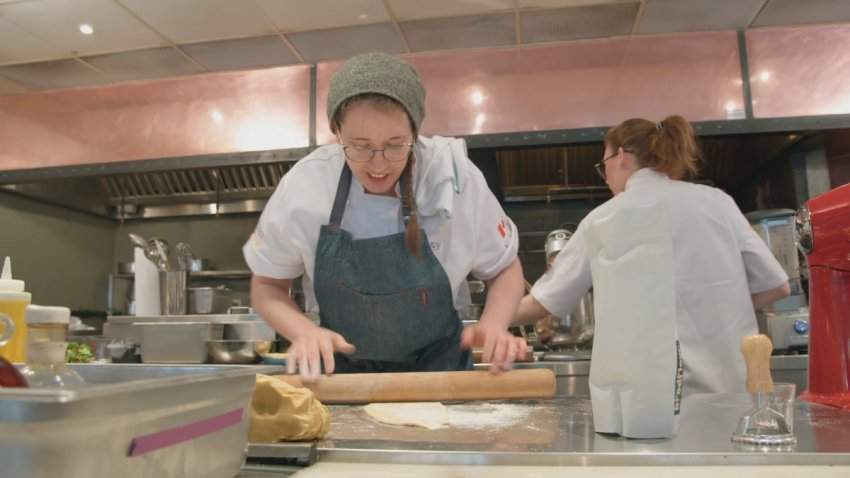 The Elimination Challenge--a double elimination that will send the top three to the season finale--is about taking a seemingly simple food and wowing people with it. The chefs have to make the "ultimate pasta" dish.
The wrinkle in this plan is that they are using Brodflour flour, which is a very fresh flour milled in downtown Toronto, and it can be wetter and oilier than typical store-bought flour. It behaves very differently in baking. When you go there, they will tell you that their flour is "alive".
If Brodflour paid to be in this segment, then I am not positive it worked in their favour. Yes, it is very good flour but the chefs ended up having challenges with it. They had to wait a day to make the pasta because it could oxidize, and it could throw off their recipes.
To that end, the always-thoughtful Francis decides to test out his recipe the night before. He knows it will eat up a chunk of time, but he wants to be confident that he is putting out the best product. He is making orecchiette and he is not happy because he has never made it before, and says he can't even pronounce it. It's OK, Francis. I don't think there was a viewer in the country who didn't love it when you said that your "'tumb' was numb, but beaucoup was on the line" while rolling the pasta on the paddle.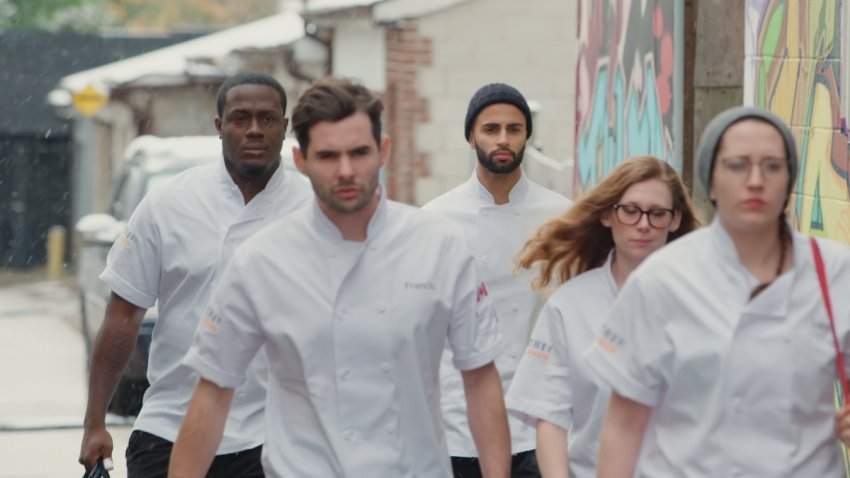 The next day at La Palma, Lucy is working on her raviolis. She scaled up her recipe (a good reminder to do your math, kids), but she is "listening to her dough", which she executes flawlessly. She stuffs the pasta with cashew cream, onions and gruyere, and the raviolis are finished in a charred pepper and dulse sauce.
The guest judge Montreal chef (and Top Chef Canada alum, but I didn't watch that season so don't ask me how he did) Danny Smiles says Lucy's dish is a rollercoaster because the pasta is good, but the overly-sweet sauce is a letdown.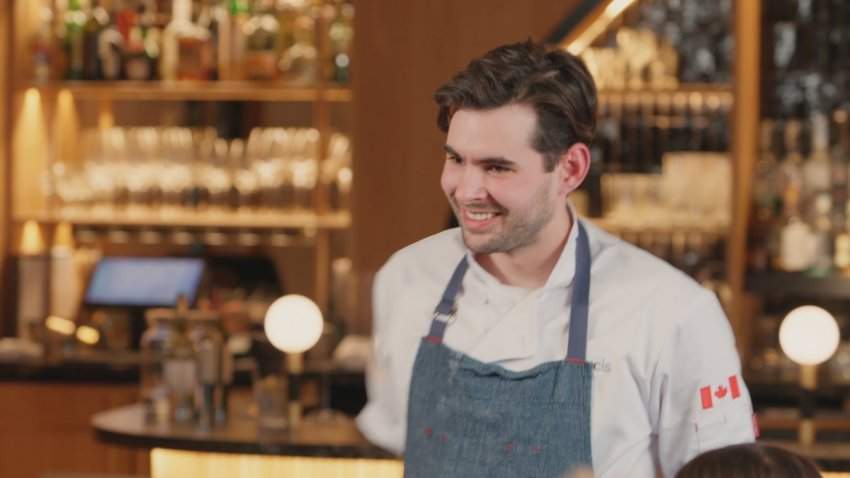 Francis' orecchiette, however, is a high point from beginning to end. He does a play on mac and cheese but with broccoli sauce and an asiago emulsion. He adds in fried spelt grains for texture and as a callback to the fresh flour. It's all good for Francis. We know he is going to the finale.
Stephanie got reprimanded last week for not showing enough personality on her plate. So, she goes for it this week. Her dish had a number of elements, including Parisian gnocchi, escabeche, wild asparagus sauce, ricotta, veggies and a host of other things. It looks beautiful and according to the judges, there is a lot of flavour, but the pasta is hidden under the other elements. It's not a pasta dish per se, it's a dish with some gnocchi in it. But, the judges like it. Eden is definitely a fan, saying that the dish needed a heavy edit but it's still a good dish.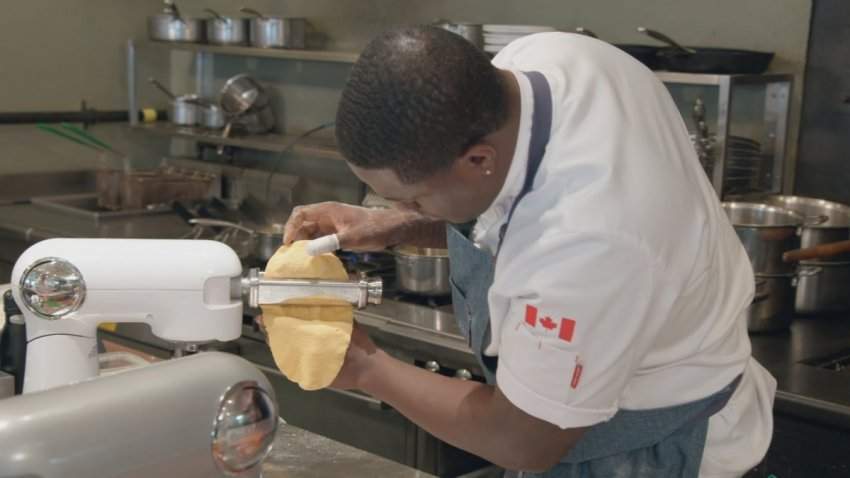 Adrian is in the kitchen, struggling. His butternut tagliatelle dough is kind of just a mess. He remakes it and finally decides to do it by hand. He only has eight minutes left to plate his dish and cannot go out there in a pasta challenge without pasta. He knows his noodles are a little tough, but they aren't terrible. The chefs agree, they are not terrible, but they are not good either. His cremini mushrooms with scotch bonnet peppers are the best part of the dish.
Imrun chooses to let his pasta speak for itself. His agnolotti dough is very good, and the dumplings sit in a passable Bearnaise sauce, but the judges wonder why he chose to put nutritional yeast on top. "Nooch" is a passable vegan cheese substitute (and very addictive on popcorn) but since he put cheese in the agnolotti, it is a strange and unnecessary choice. The judges are also not happy with the portion size of three tiny little agnolottis.
Judges' Table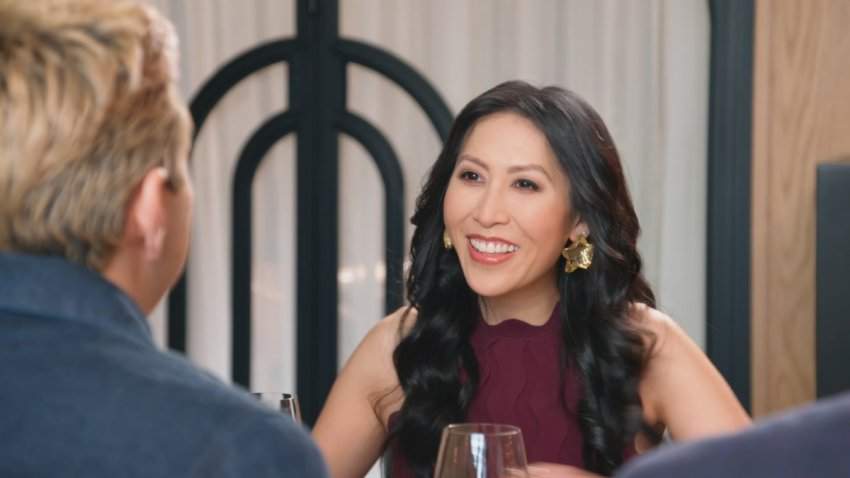 And so, I am happy that all seems right in the world. Francis' dish was beyond reproach and obviously won this challenge. It looks like Lucy and Stephanie are going to squeeze by into the finale.
But wait.
They send Francis to gloat by himself while they grill each of the other chefs and ask them why they should move onto the finale.
Stephanie says that she is good, she never rests and always pushes herself. And the judges keep saying that they want more personality on a plate, just not that much personality.
Lucy says she cooks with her soul. The judges tell her she has made it into the finale.
Imrun says he's there to learn. But judge Chris Nuttall-Smith cannot understand why he made the decision to put "nooch" on pasta that wasn't vegan. Imrun said he wanted something other than cheese.
Adrian knows that his pasta was not up to par, but he says that he has grown a lot and yet, has always stayed true to himself. He isn't surprised when he is sent home (where he is hopefully packaging up his hot sauce to sell).
The judges seem perplexed about their choice between Imrun and Stephanie and how that happened. Imrun has been in the bottom every single week and has never won an elimination challenge. Stephanie has been in the top every single week and was only in the bottom once. There is no comparison. Imrun may have lots of appeal, talent, and potential, but it does not make sense to put him in the finale.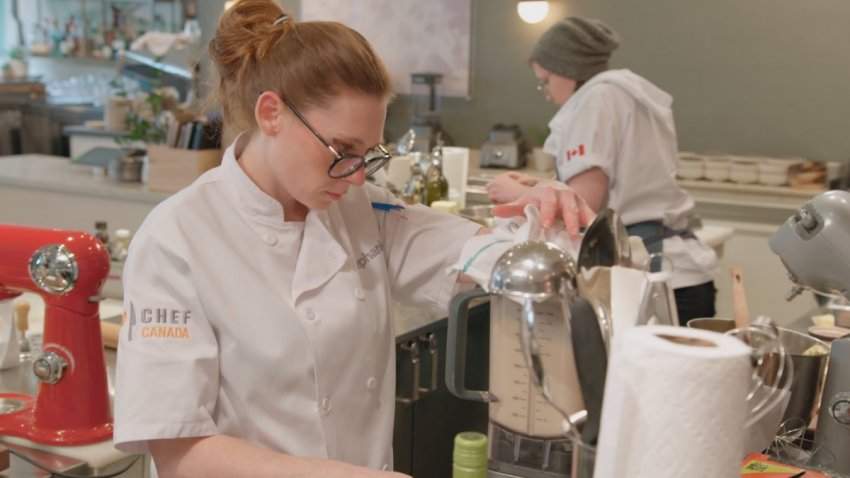 The judges told Stephanie to put more out there. I don't know why they told her that last week, since her dishes have always been creative and flavourful. Last week, she missed an element of her dish, which the viewers do not know about, but the judges do. So, she took the advice to heart, maybe too far.
I find myself agreeing with Chris, who is obviously frustrated by this debate. He says the point of the show is to make the most delicious dish and Stephanie's dish tasted much better than Imrun's. Eden agrees.
But chef Mark McEwan points out that it was a pasta challenge and pasta was not the star of her dish.
At this point, they could have sent Imrun home. No one would have argued with that decision. But no, the judges decide to hold a sudden death round between Stephanie and Imrun. As if they do not know who the better chef is after weeks of eating their food.
I think it is disrespectful to Stephanie. When given the news, she cracks her knuckles and looks ready. Imrun looks scared.
"To Be Continued..." flashes on the screen.
Argh! We won't know who is in the finale until the finale.
Kitchen Scraps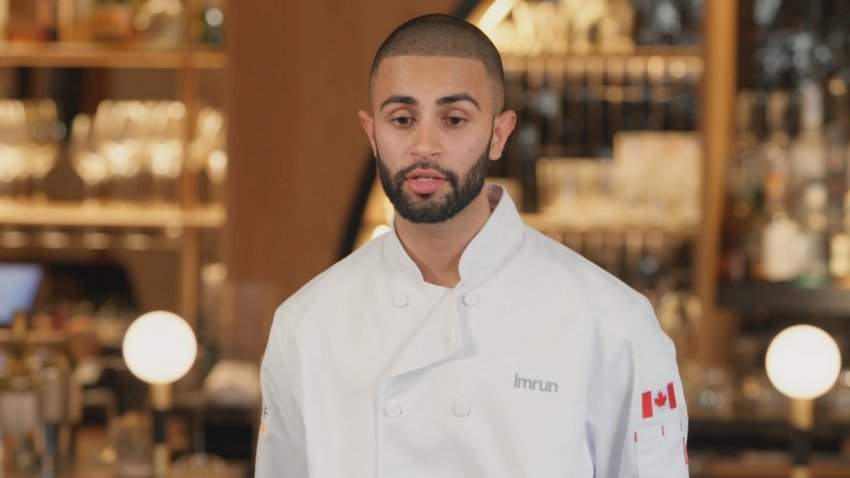 In my angst, I texted my More than Maple Syrup co-host Phil Wilson, who was equally perturbed but more generous to the idea. He thought that maybe the judges were trying to find a way to keep Stephanie because Imrun's dish was better.
My husband thought that maybe the judges felt bad because they gave Stephanie advice and she followed through with it.
That may all be true, but the viewers don't know whose dish was better. If they wanted to keep Stephanie and she made a garbage dish, they can make that decision and we would not know.
Or maybe the higher-ups decided to do it this way ahead of time and Stephanie and Imrun fell into their narrative.
Eat North editor Dan Clapson texted the group chat, saying he "has never seen someone be in the bottom every week and (potentially) get to the final. Like, WTF. It honestly makes no sense from a viewer's perspective."
And there you have it. WTF?
The finale of Top Chef Canada season eight airs Monday, June 1, 2020 on Food Network Canada.
Vote for the Top Chef Canada season 8 fan favourite here!