Warning: I went to the taping of part of this episode, so please be aware that some bragging may be involved.
Episode three of Top Chef Canada starts with Montreal caterer Jo Notkin, who has been flying under the radar thus far, talking about oysters. She gives good chat, seems self-assured and smart and has a lot of poise on camera, but her dishes have not been extremely memorable in either good or bad ways.
With that, the episode opens with her boasting about how good an oyster shucker she is, which is usually a sign that a downfall is coming. (I've always wondered how they do this time-wise, do they prompt the contestant to brag about an imminent dish? Do they cut it from a different conversation? Or is it just luck?)
Quickfire Challenge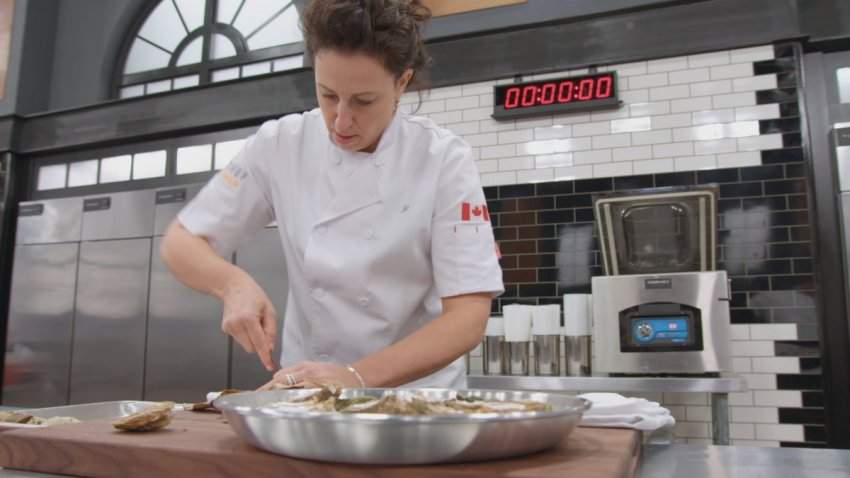 Of course, when the doors open, it is a challenge based on Prince Edward Island, so oysters will definitely be involved. But it is not that straightforward; it's a skills test. Chefs go head to head in multiple rounds of challenges: first paring apples, then shucking oysters, then breaking down lobster, and finally, there two chefs are left to cook an amuse-bouche in 15 minutes.
With unbeatable focus, Jo is in the lead for each challenge leading up to the final cook-off. (She is a rare female champion shucker.) P.E.I. native Lucy Morrow did not win the skills challenges, but she did not embarrass herself either.
While it looks like Jo's path to victory cannot be stopped, she is beaten by Montrealer Francis Blais in the amuse bouche challenge. Hers is good, Eden even licks the oyster shell. But once it was a cooking challenge, you could see Francis' brain go into hyperdrive and he made a beautiful dish that could be in a fine dining restaurant in 15 minutes (though I would have happily eaten Jo's as well).
Francis won $5,000 in the Quickfire and said that he was going to buy his girlfriend a ring.
But did he? Francis, fill us in!
Elimination Challenge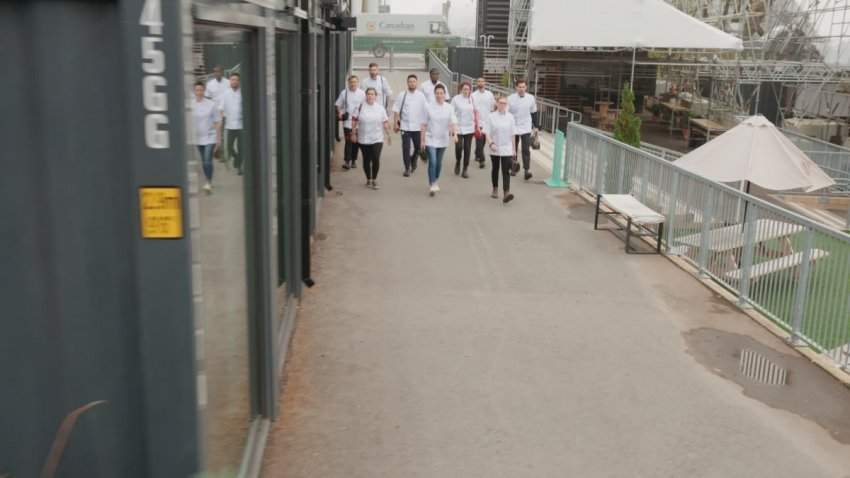 For the Elimination Challenge, each chef had to make one grab-and-go take-out style dish at Stakt market in downtown Toronto.
Stackt Market is a market made out of shipping containers, and it's perfect for this kind of event. At the back of the market is a brewery, where they held us 100 tasters for quite a while. The whole show was running behind and so we sat there for a while until they finally let us walk, but in a totally staged way.
Ottawa restaurateur Dominique Dufour made a very French Canadian tourtiere hand pie with homemade condiments and an adorable mini apple. I really liked this dish, some people–Dan–thought it was hard to eat because of the apple. I disagreed.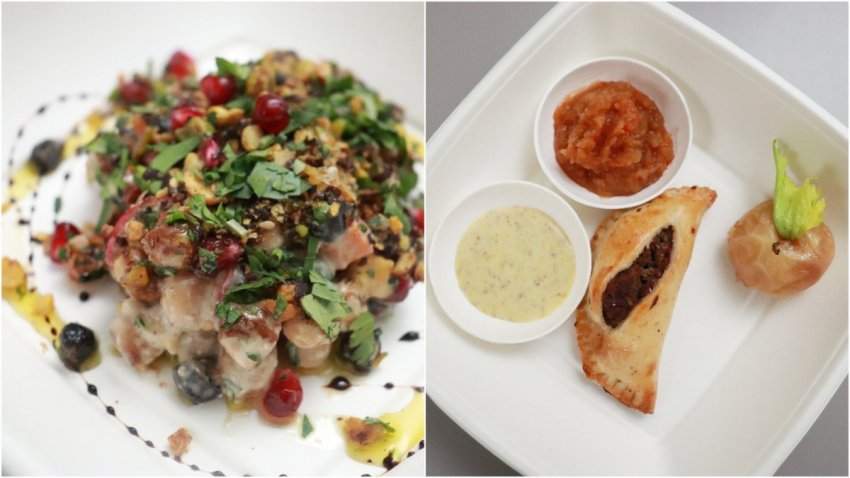 Lucy Morrow made a beautiful-looking vegan chickpea salad with tons of colour and pomegranate seeds. My chickpeas were very undercooked and I couldn't eat the salad. I say this with pain in my heart because now I know how much I am rooting for Lucy. But if I had been a judge, that dish would have gone to the bottom for me. Host Eden Grinshpan, who is essentially the queen of chickpeas, also thought they were undercooked, even if the other judges didn't notice.
Elycia Ross's beet-dyed devilled eggs looked adorable, and she said they were a big hit in Calgary. But I'm not a fan of devilled eggs. (Say what you want, I think hard boiled eggs are so overrated.) The bits and bobs on top were tasty though. The judges thought so too, but they didn't like the texture of the actual egg.
Adrian Forte kept calling himself the king of Toronto fried chicken (he used to own the Dirty Bird, a fried chicken and waffles joint). We got to his station last, so the chicken sandwich was not hot anymore and it tasted a little flat.
The same for Vancouver's Xin Mao's rice and pork belly. I love the idea of the dish, but it was the end of the day and I had eaten a lot, and it had been sitting out for quite a while. So those two dishes did not make much of an impact on me. Interestingly, they did not make much of an impact on the judges either.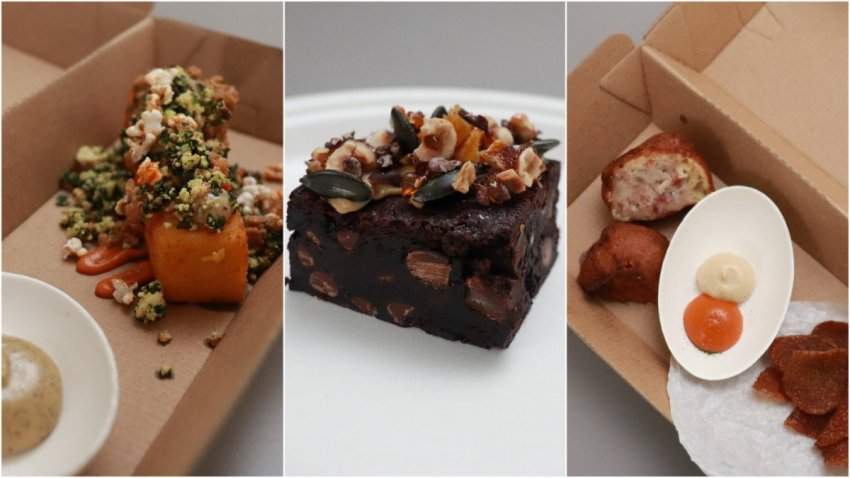 I remembered that I was obsessed with Stephanie Ogilvie's polenta fries. The popped sorghum added a lot of texture to the crispy fries with the chorizo and romesco sauce. There was so much going on in this dish, in all the right ways. It showed thought and skill. It was fun, portable and tasty. I had seconds, maybe even thirds.
Stephanie happened to be sharing a container with Jo, who offered to do dessert (which is often a step towards virtual death on Top Chef Canada). She made Jewel Box brownies that were kind of outrageous. It was a very rich brownie with mascarpone cheese, candied nuts, pumpkin seeds and candied orange peel. They were lovely to look at, and very good to eat. The brownie was dense and the toppings gave the right amount of contrast.
I brought one home for my husband. It didn't make it home.
Judges' Table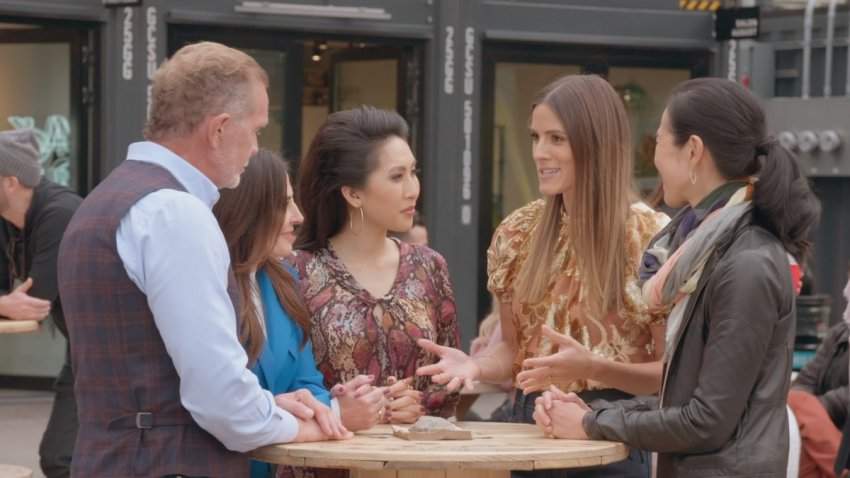 Six months after the taping, I still remember Stephanie's and Jo's dishes; they were my favourites. And guess what? They were in the top three.
My third favourite was Francis' corn dog with potato chips and homemade ketchup and mustard. He was extremely clear on how to eat the dish, and how he served it. Everything he did was extremely thoughtful. He was also in the top three.
So yes, I could be a Top Chef Canada judge.
Judge Janet Zuccarini said that Jo's brownie was the best brownie she had ever eaten. And for once, the maker of the dessert won the day. Jo also won $5,000, but she didn't say what the money was destined for.
Now, to the worst dishes of the day.
Imrun Texeira's curry soup didn't hit the mark. The texture seemed off and there was not a lot of depth of flavour.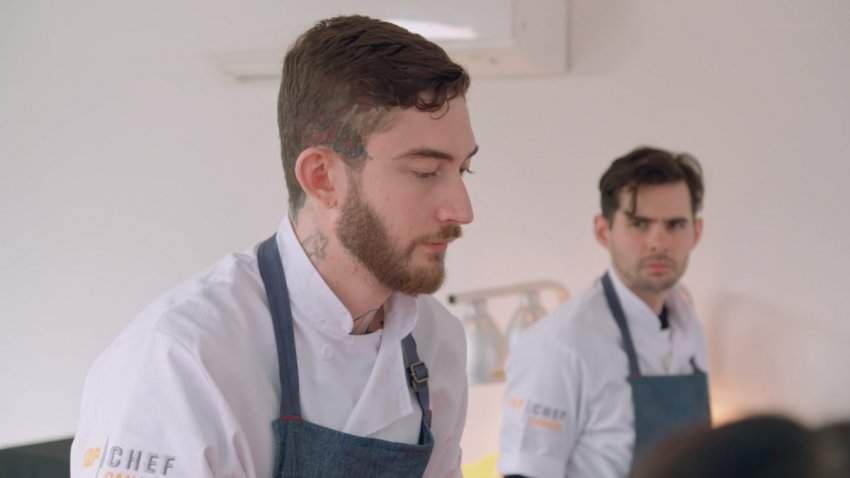 Nils noodles were cold. Cooking next to Francis, who was serving all this fried, hot and salty food (which your taste buds are just primed to crave), it couldn't have been easy. I don't remember Nils' dish that well, except I think the noodles were a little mushy.
The judges also added Elycia to the bottom three, saying the texture of the devilled eggs was rubbery and chalky. Elycia was extremely teary-eyed throughout Judges' Table while Nils and Imrun just looked a bit pissed off.
In the end, Nils' one-note noodles were the cause of his demise. In his exit interview, Nils said that one day he will have the best restaurant in Canada. He was executive chef at a massive restaurant in China for two years, so he has the stamina.
Kitchen Scraps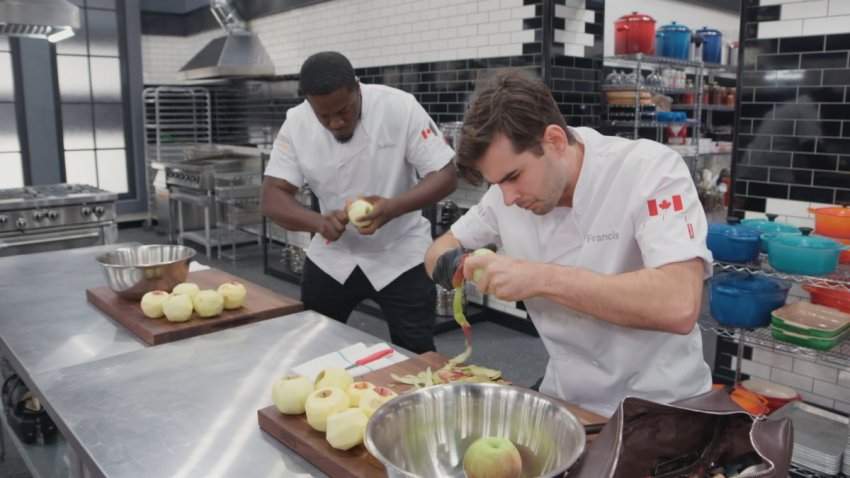 Going to a taping was interesting because you get to see the cameras at work and how staged a lot of the talking and walking is.
Now that Jo has started to show off some of her skills, what's next for her? Can a caterer go all the way in this competition? Nicole Gomes (winner of Top Chef Canada: All-Stars) has been the only caterer able to do it. I think that it is hard to beat Francis and Stephanie (with her imaginative approach to putting dishes together) in this season, but everyone has a bad day.
In this episode, you started to see the bonding between the contestants. Jo and Francis clearly were friends, as are others. I wonder who is texting each other snarky comments during each episode?
Jo has also just launched Zoe Ford Jewelbox Brownies so you can try her award-winning brownies too by ordering them online.
The next episode of Top Chef Canada season 8 airs Monday, May 4, 2020 at 10 p.m. ET on Food Network Canada.