It's the return to the Top Chef Canada kitchen. And it feels so… weird. This was obviously filmed in the fall, six months or 100 pandemic months ago, before physical distancing had taken over our lives. Now there is something almost anachronistic to the idea of people sharing space and food together.
But, maybe by the time the season wraps up, we will all be able to eat in a restaurant with a server and a tablecloth. We can hope, right? In the meantime, whoever won the big prize is hopefully sitting on the money and plane tickets and making plans for their next steps.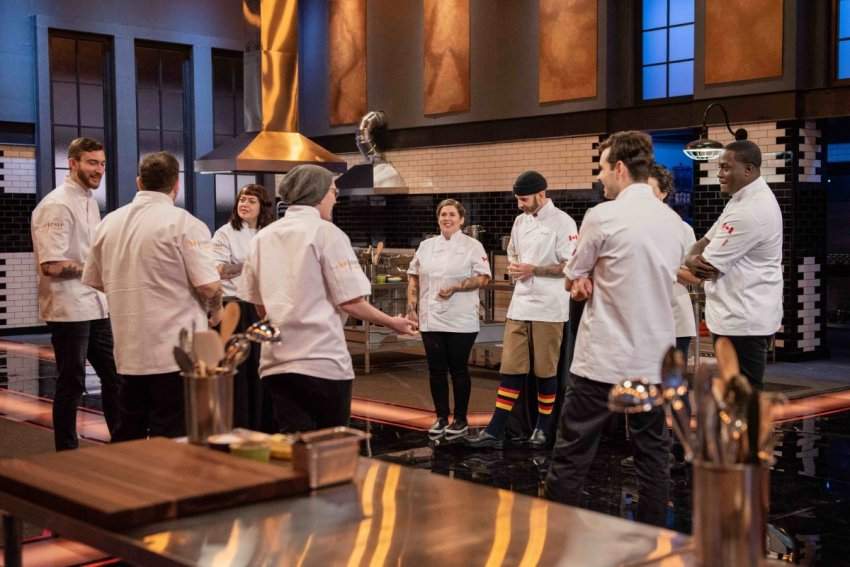 The show opens with the chefs getting to know each other. As always, there is a good geographic representation; and this year, there are a few more women chefs, and chefs representing different ethnic backgrounds. So, let's hope we don't have three white guys in the finale like last time.
Quickfire Challenge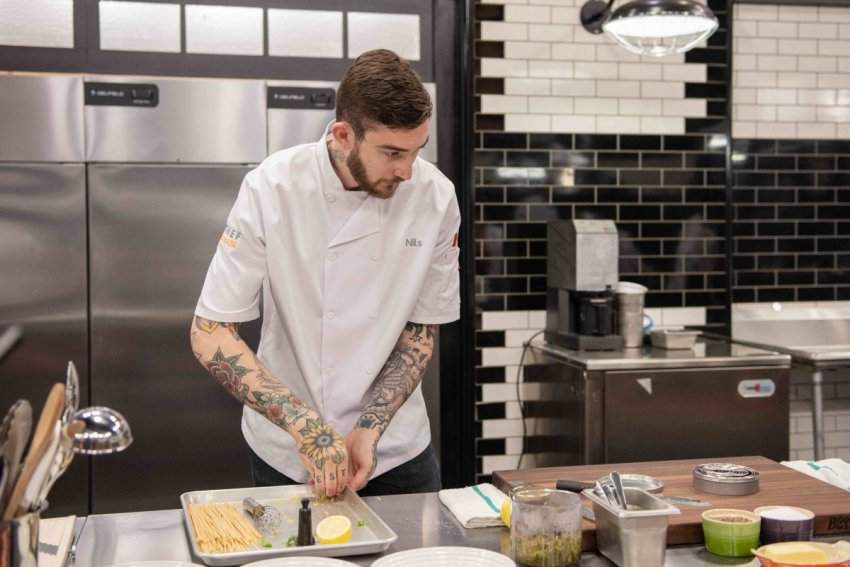 The first challenge is to cook your "desert island meal", one that you would eat every day for the rest of your life; sort of like your favourite pandemic meal, but I guess with an endless supply of groceries.
The chefs only have 30 minutes to pull it off, and some go big, like Francis Blais, the chef de cuisine at le Mousso in Montreal, who makes his own pasta in a miso and maitake mushroom sauce. Some, like fellow Montrealer Jo Notkin, from the catering company Zoe Ford Catering, keep it simple with perfectly scrambled eggs.
The bottom three are Elycia Ross, the owner Lil' Truck on the Prairie in Calgary, chef consultant Adrian Forte from Toronto, and Imrun Texeira from Stofa in Ottawa.
In the end, the best tasting dishes win. The chef de cuisine from Chives Canadian Bistro, Stephanie Ogilvie, stays close to her Nova Scotia roots and makes a good scallop and bacon dish. Nils Schneider from Calgary's Hotel Arts, makes cacio e pepe but amps it up with sumac and pistachios; Xin Mao, of M8 Bistro and Bar in Vancouver, pulls off a Chinese street food pancake with tortilla and tortilla chips; and Francis, of course, with his "remarkable" pasta.
The top four all get immunity and the bonus of watching the entirety of Judges' Table while sampling the dishes.
This cuts down on how many people are cooking in the next round (and limits my ability to be judgey about all the chefs). The next challenge is to create a dish that looks to the future. The chefs are off to cook at the Civic in the Broadview Hotel, which is beautiful, but so far is not setting any trends food-wise.
Elimination Challenge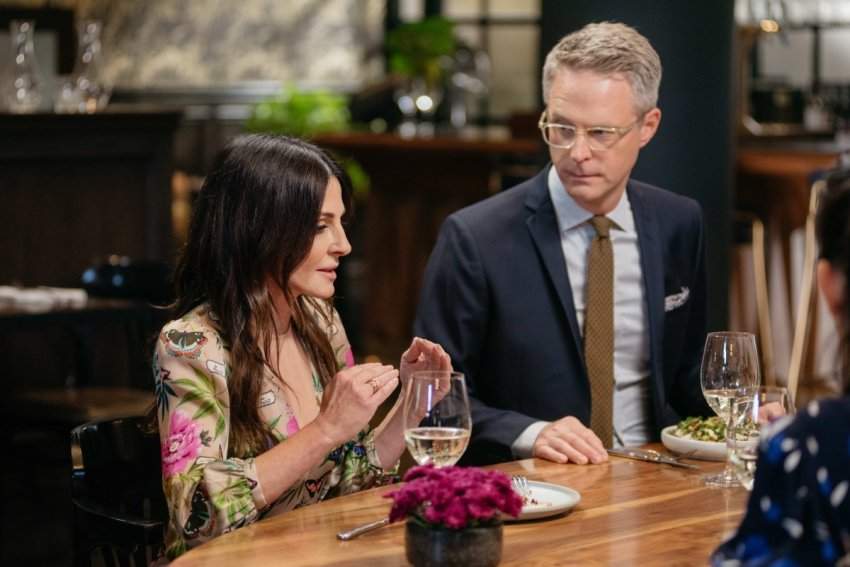 We don't see any scenes of panic shopping as the chefs start to cook their dishes in relays. The first three chefs to cook are Jo, who continues with her simplicity trend with an "eat everything" salad. She uses the seeds from butternut squash and stems of the broccoli and greens. I have to agree with the judges–Mark McEwan, Janet Zuccarini, Mijune Pak and Chris Nuttall-Smith are all back for the new season–that it is not Earth shattering.
Lucy Morrow, executive chef at Terre Rouge in P.E.I., says the future is going to be open-minded and with that in mind, she batters up some lamb brains for the deep-fryer. The judges love it.
Dominique Dufour, from Gray Jay in Ottawa, says butchery is her strength, but she makes a plant-based pretty laminated pasta, which falls flat in the taste department.
In the next round, two chefs are making lamb dishes. Shaun Hussey from St. John's makes lamb three-ways, which seems like a good idea but when host Eden Grinshpan takes a bite of the fried liver, her face contorts in a way we have not seen yet on this show. Kelowna's Brock Bowes' technology-based lamb dish doesn't fare any better. His attempt at trend-setting is using sous-vide, which is kind of two years ago. On top of that, he doesn't even do it well and serves "undercooked" lamb, according to the judges.
Imrun definitely does a beautiful job at plating his dishes, and his tuna with a red curry sauce and sushi rice looks good, but the judges say the dish does not say anything.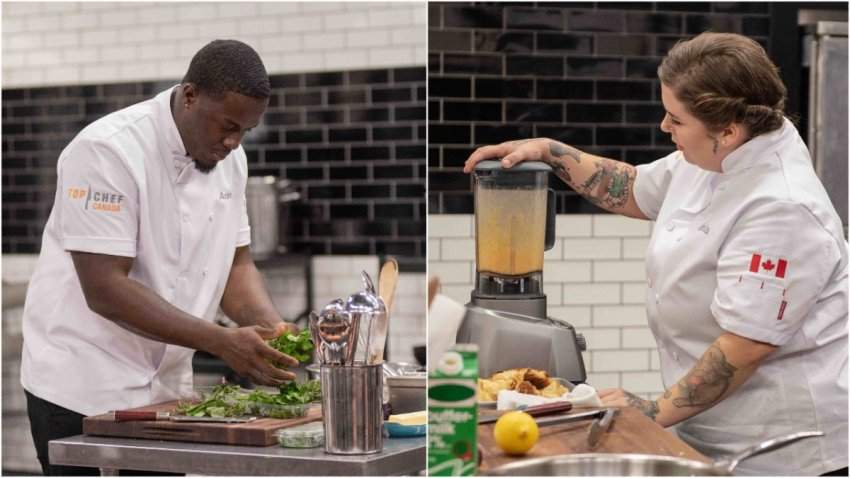 Adrian and Elycia were both in the bottom of the Quickfire, so they have something to prove. Adrian roasts and grinds crickets into his Johnnycakes but his batter isn't working out until he does a quick fix with minutes to spare. The judges are thrilled that he pushed the bar that far, especially Janet Zuccarini who says bugs are definitely in our future.
Elycia exposes her imposter syndrome as she worries that she isn't good enough, but her fried rabbit and compressed vegetable dish tells the judges that she has every right to be cooking alongside the other chefs.
Meanwhile, the peanut gallery of winning Quickfire Challenge chefs look a little shell-shocked at how harsh the judges are when no one is in the room. They get a window into what the judges look for, which could be helpful knowledge going forward.
Judges Table
Elycia wins the day with her sustainable protein. She sheds some tears of joy and redemption as she says that she feels validated. She is haunted by criticisms in her past that she wasn't tough enough. Let's hope she is.
Meanwhile, the judges have a tough decision to make. They are trying to decide which is worse: having one inedible part of the meal (Shaun's fried liver) or not being creative with the challenge and having a mediocre dish (Brock's lamb).
In the end, they decide that if a chef can't be a trend-setter, then they shouldn't be on the show. Brock Bowes and his sous-vide machine are sent home. Brock seems fairly sanguine about it, saying it was an honour to cook with the best in Canada.
Kitchen Scraps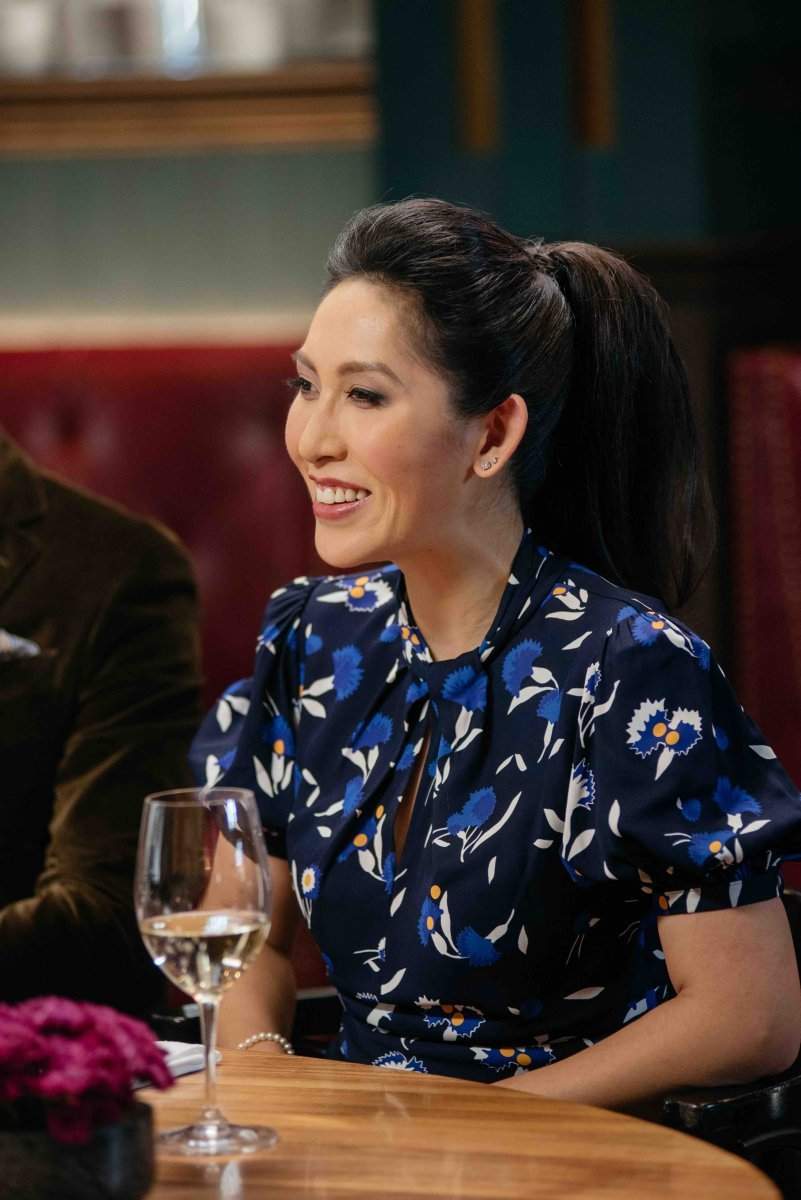 I did go to a taping of Top Chef Canada in October, it was early in the season, so most of the chefs were there and I was one of at least 100 people, so I did not converse very long with any of the chefs.
It's tough to choose a top three since four of the chefs did not cook a second dish. But it's tradition for me to choose my favourites after the first episode. So, I am counting on Stephanie Ogilvie, Francis Blais and my hometown boy Adrian Forte. But I have my eye on Xin as well, and I am rooting for Elycia!
The next Top Chef Canada airs next Monday night, about 27 days in pandemic days, but only seven days away on the calendar!