This week's Top Chef Canada opens with the six remaining chefs chit chatting. The producers must know that by this point, the audience is wondering how Imrun is still there because the focus of the conversation is how Imrun has been in the bottom since the beginning. It looks like we are about to hit that story arc.
Quickfire Challenge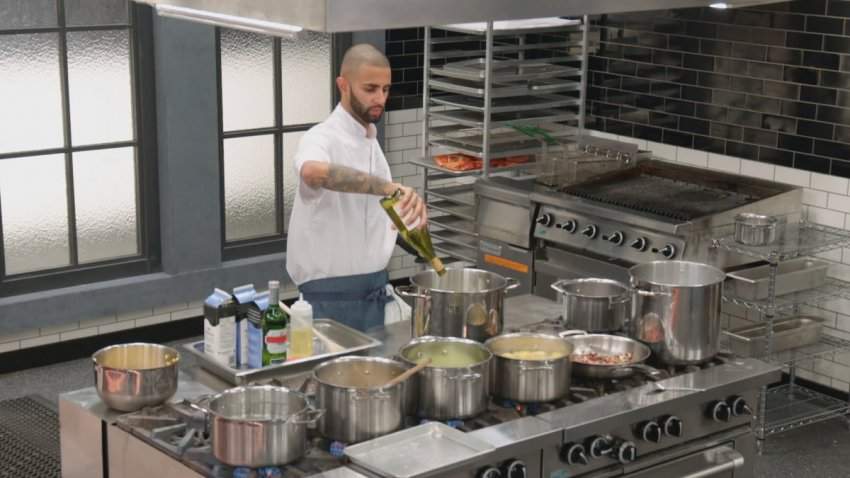 But first, we are getting funky. We have the king of funky ferments and head of fermentation at famed Copenhagen restaurant Noma, David Zilber, as the guest judge. Zilber is also a Toronto boy and the epitome of cool.
The chefs choose from a selection of funky ferments. Last week's winner Stephanie Ogilvie chooses the least exotic item, ruby sauerkraut. Lucy Morrow opts for the razor clam garum, which she explains lovingly that it's rancid fish water. Adrian Forte, who is a huge David Zilber fan, goes with the ginger chickpea shoyu. Francis Blais chooses a pumpkin seed miso. Imrun Texeira cooks with the Korean spicy paste, gochujang. Finally, Jo Notkin ends up with daikon kimchi.
Some of the ferments sound a little more challenging than others, but Zilber is equally excited about each one. This challenge forces the chefs to rise to the occasion. It's also a great learning session for the chefs and audience, and a reminder that Quickfires can be engaging.
First up, Stephanie puts her sauerkraut in its origins and cooks up spaetzle with it. Zilber loves it.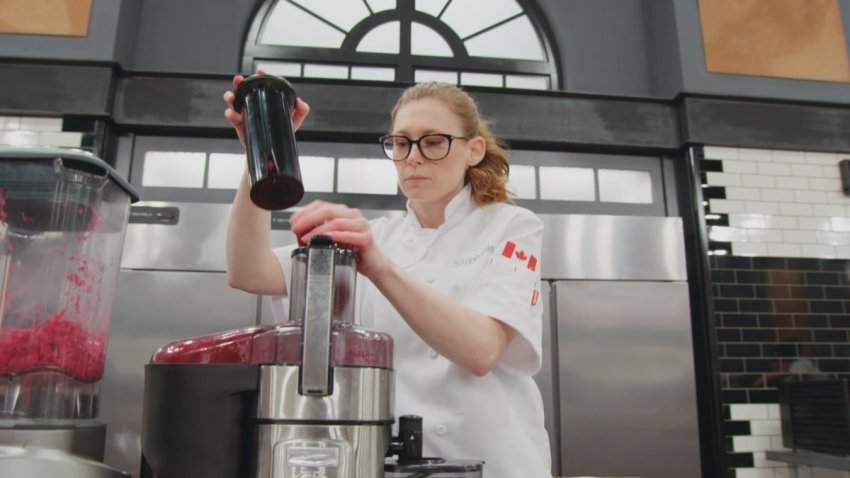 Lucy turns her rotten fish water into an umami-rich broth with shrimp dumplings. She nailed the idea but the dish lacks a little something.
Adrian Forte, who has read Zilber's book many times, decides to pull out his rusty baking skills, thinking that the ginger shoyu would complement a rich chocolate cake. He confirms that he is not the best baker with his undercooked chocolate cake. Zilber says that the acidity of the tamarind caramel with the cake ends up with an acid reflux kind of taste.
Then, Jo Notkin admits that she is not a kimchi kind of cook, so she employs her excellent baking skills and makes a kimchi bun with a scallop salad. She says: "This is not a Jo challenge, but I make it a Jo challenge". The riff on a lobster roll is a favourite of both Zilber and host Eden Grinshpan.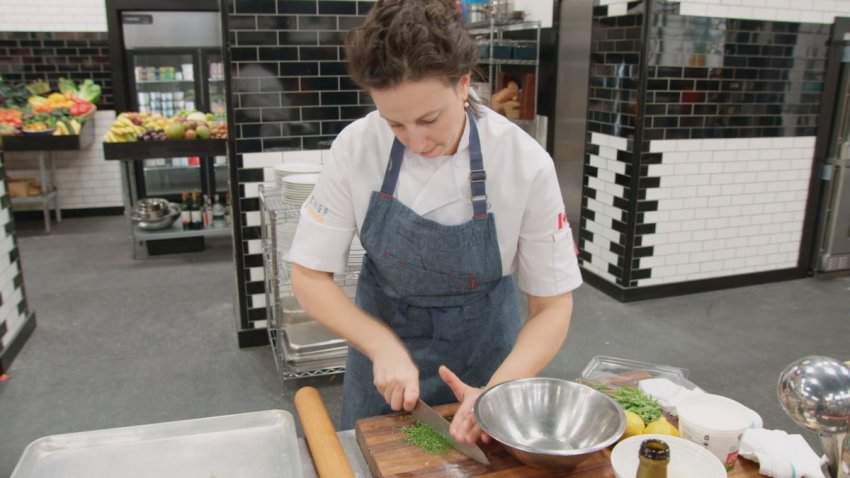 Next, Francis smartly glazes pumpkin with the pumpkin seed miso and is rewarded for it.
Lastly, Imrun uses his knowledge of travel to create a mushroom karaage and gojuchang dish which ultimately wins the top prize in this week's Quickfire. With that, do we have the beginning of Imrun's phoenix-like rise?
Elimination Challenge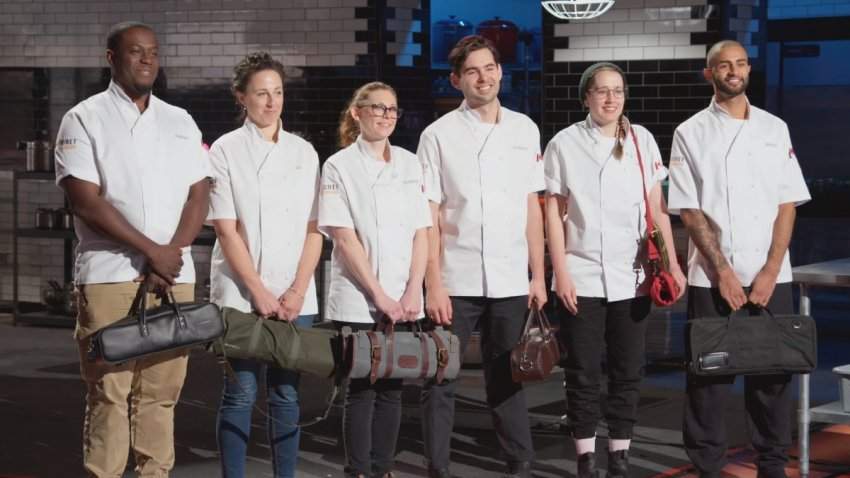 The Elimination Challenge is much more locally-minded, especially for Lucy. It is a P.E.I. food tour and Lucy is (surprisingly) the first P.E.I. chef on Top Chef Canada.
Sometimes when chefs are too comfortable with a challenge, they don't push themselves, or they get stuck in a and the pressure can sometimes get into their head. But Lucy isn't the only competitor in that situation. The challenge is going to be hosted at Rodney's Oyster Bar, a Toronto classic where Jo got her start in food. Jo is a champion oyster shucker who got her start behind Rodney's bar. She becomes emotional at the mention of Rodney's and says, "I wouldn't be living the life I am living without my experience at Rodney's."
Rodney's is owned by the "oysterman" Rodney Clark, a food icon who brought P.E.I. oysters to the rest of Canada. He is a one-of-a-kind, known for his outgoing personality and humour as well as his oyster shucking. It is not mentioned in the show, but Rodney is not in good health, and that may be an explanation for Jo's tears during this challenge.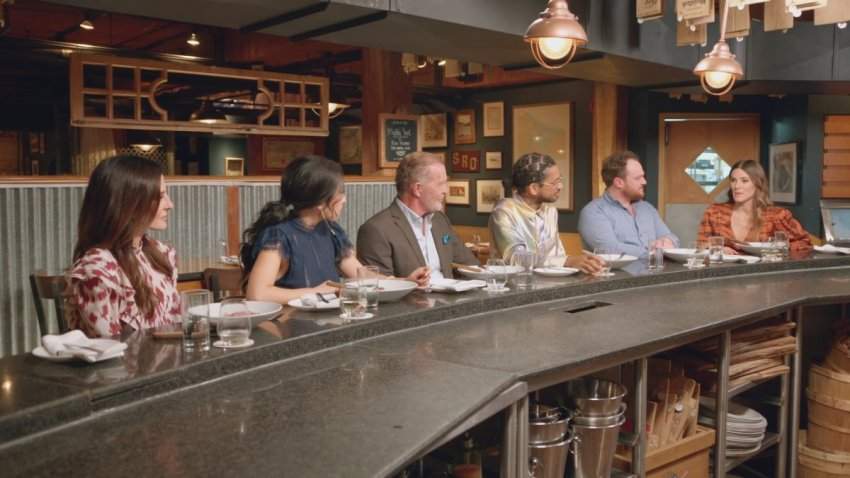 The chefs choose an area of P.E.I. off of a map to determine the ingredient they'll be working with. And as chance would have it, Jo picks Green Gables and ends up with oysters. (Like any good Canadian reader, I would have also chosen Green Gables. Are you an Anne fan too, Jo?)
As the chefs start cooking, I am struck by how Francis' and Stephanie's technique and knowledge base seem wider than that of the other chefs. They handle ingredients, preparation and flavour profiles with confidence. It doesn't mean that everything they cook is flawless, but they seem to have more cooking know-how and tools at their disposal to coax out flavour. These tools are not for show, it is all about maximizing taste, but they both stumbled a little bit in this challenge.
Case in point, Francis does something with a scallop that, in lesser hands, would have been a disaster. His scallop is lightly poached, torched and placed in a whey broth. (Francis has a thing for whey.) He plans to make gnocchi but the dough is far too wet, so he turns it into fried flavour bombs. Who doesn't love fried flavour bombs?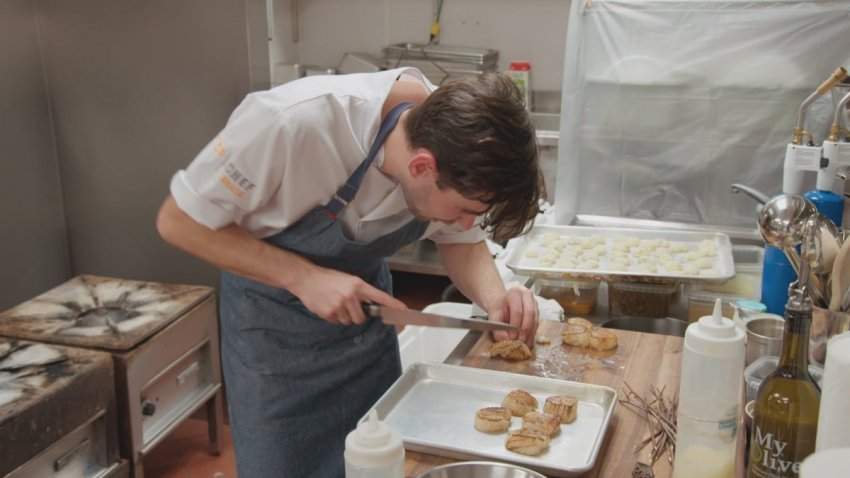 Stephanie's ingredient is P.E.I. beef and, as an East Coast girl, she wants to make something that feels like home to her. So, she keeps talking about hodge podge and how the hodge podge is going to be the star of the dish. In the end, she makes steak with potatoes and baby vegetables. It looks nice and David Zilber dams it with faint praise saying if this was cooking school, he would give it top marks, but not at this point in the competition.
The pressure builds heavily for Lucy and Jo. Lucy's ingredient is mussels and she makes a Brussels and mussels dish, which turns out to be a surprisingly beautiful plate: the fried mussels and roasted Brussels are complemented by the other veggies. Lucy's father was a fisherman on P.E.I. and these ingredients are close to her heart. The judges love it for its simplicity and deceivingly tasty morsels.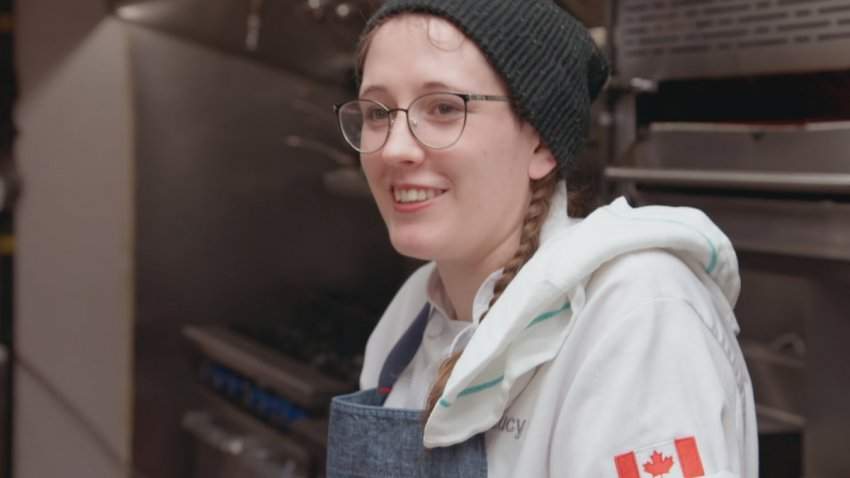 Jo knows the Rodney's menu so well that she decides to do a riff on their chowder, but turn it into a salad. That doesn't strike me as a great idea. It is hard to get the depth of flavour out of a salad that you can with a soup. And when Jo plates a bunch of dressed kale leaves on top of the oysters, my heart sinks. She brings the salad out and talks to the judges, one of whom is Eamon Clark (Rodney's son) about working at Rodney's. They both end up crying and Eamon admits he might be a little bit biased about his positive assessment of Jo's salad.
Adrian draws the potato as his ingredient, which given the challenge of making the ingredient the star of the show, could be tough (and I see this as a huge fan of potatoes). This episode has finally filled in a little bit of Adrian's backstory when he talks about the difficulty of being a chef of colour, and the barriers he has felt in kitchens and being accepted in the fine dining world, as he always wants to showcase his Afro-Jamaican roots. His sauces and flavours tend to be good, but his execution is where he has faltered.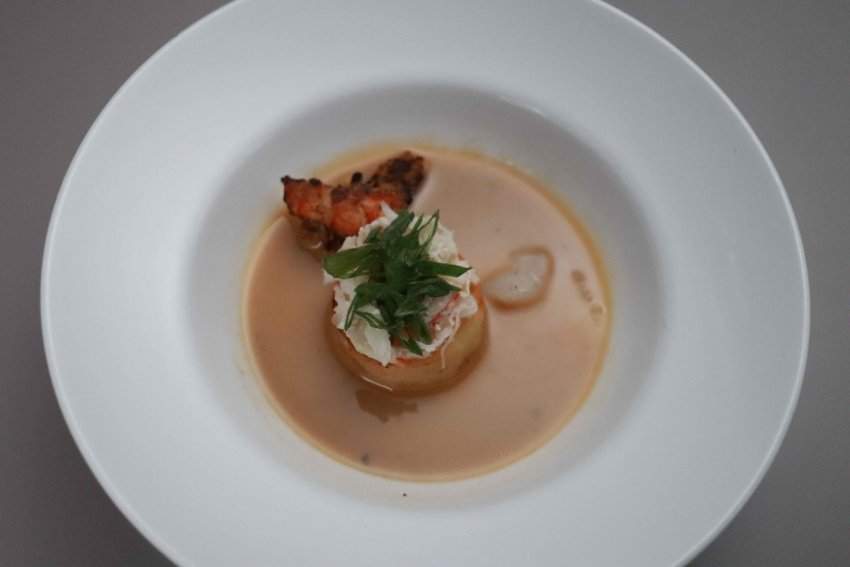 But not this time; Adrian brings it. His potato fondant sits in a broth with a jerk shrimp and he serves a homemade hot sauce in a Malpeque oyster. He says that he has "flexed" with some French technique. His dish looks like, and according to the judges is, his best dish. They also love the hot sauce, and I hope Adrian is spending his time in quarantine negotiating how to mass produce it.
While Adrian had the lowly potato, Imrun drew the "king of ingredients": lobster. In the test kitchen, he makes a lobster bisque and makes a point of saying he didn't add salt in a way that you know the decision is going to be brought up later. He makes an anolini, but his first try doesn't work out and so he has to make the squid ink pasta dough again the next day. Once done, the stuffed pasta is presented sitting in an orange sauce. The judges are not wowed, the lobster is lost in the dish and the bisque is not salty enough.
Judges' Table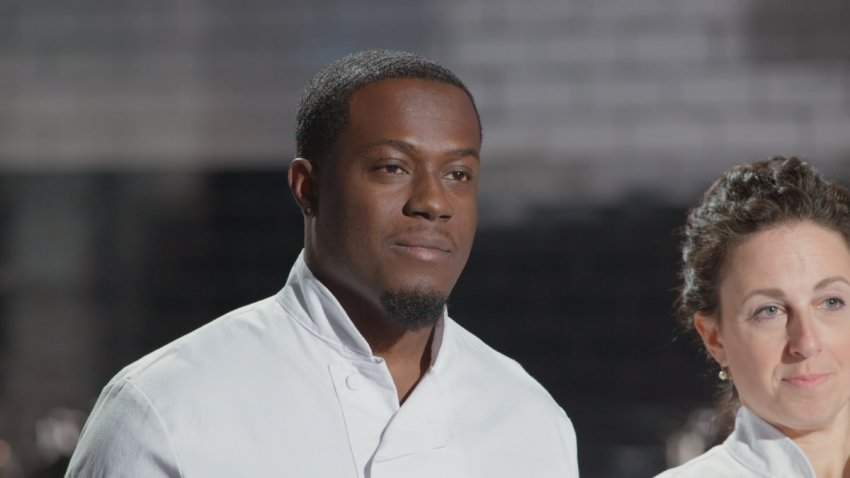 Back at the Top Chef Canada kitchen, Adrian, Lucy and Francis are called in to see the judges. Stephanie looks panicked; this is her first time out of the top three, let alone at risk of being booted.
The top three chefs get kudos. Lucy admits she was quaking in her boots. Judge Mijune Pak tells Adrian that she respects his choices to always include his background in his food and Adrian says it is a privilege to cook for everyone. Francis accepts Janet Zuccarini's praise of his talent and incredible technique in stride, as always. But, it is the Prince Edward Islander who wins the challenge, and Eden can't hide her sarcasm as she tells Lucy she has won a trip for two to P.E.I.
Since there are only six chefs, those who are not in the top-three are automatically at the bottom. Stephanie's first appearance in front of the disappointed judges is not one that I hope to see again. Their discussion seems to be more about disappointment than actual criticism. Her ability to bring bold flavour is commended and Janet says, "No one can compete with Stephanie when she is bold. We want to hear that voice." She is obviously not going home after that.
So, it is between Jo's pedestrian salad and Imrun's meh lobster pasta. Jo's salad was tasty but it was too simple. Imrun's dish showed more creativity, but it didn't taste good. So, what to do?
At this point, if I was a judge, I would ask myself who has made dishes that I have enjoyed and has shown promise, and who has rarely made a dish that I have enjoyed? And then, I would have sent home the person who has never impressed me.
That is apparently not how the judges approached it.
Jo is sent home and Imrun lives to see another day.
Throughout the show, Jo has made very smart decisions about how to handle herself, and the challenges. She leaves on a high note saying that it has been an amazing ride for someone who was self-taught and not a restaurant chef.
Jo is smart. This is not the last we will see or hear of her.
Kitchen Scraps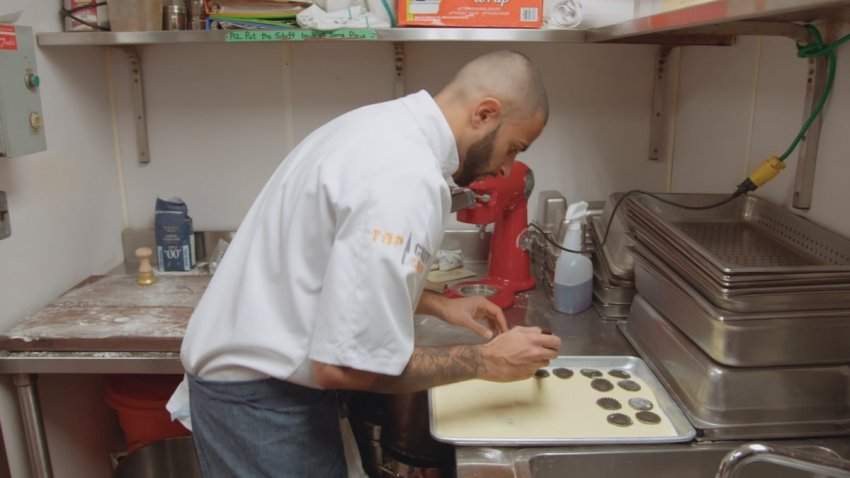 Imrun, sigh...He's always the second worst and keeps scraping by as other, better cooks go before him. After watching the show for so many seasons, I shouldn't be surprised about this, as this happens every year.
I have it on good authority that Stephanie forgot an element in her dish, this was discussed on camera but interestingly, was never shown in the episode.
David Zilber has been the best guest judge so far and, perhaps, in the entire series. The guest judges are usually forgettable and glossed over. They should just have him on every week.
Top Chef Canada season 8 airs Monday nights at 8 p.m. (MDT) / 10 p.m. (ET) on Food Network Canada. This season's finale airs on June 1, 2020.