If you grew up in Halifax-Dartmouth and are slightly older than a millennial, you likely remember the soft jangling of the Dickie Dee bells ringing through your neighbourhood over the summer months. Propelling the freezer-on-a-tricycle contraption was a great summer job for teenagers, and the sidewalk service was a mighty fine way to get your lips around a Fudgesicle on a hot summer's day. Moving ahead several decades, Halifax has a wide range of truly exciting ice cream and gelato options, with influences from around the world. Plus, you can still get a delicious popsicle from a bicycle, if you know where to go. From plain vanilla soft serve to unicorn-themed bubble waffles, here's the scoop Halifax ice cream places that still exist today.
1960s: Dairy Queen
No one seems to remember when or where the first Dairy Queen in Halifax was, but one thing no one's grandparents can forget is that in the early 1960s, rock and roll singer and teenage heartthrob Bobby Curtola performed at the Dartmouth Main Street Dairy Queen location to an eager crowd of rock and ice-cream loving fans. Whether you're into the classic Dilly Bar or the calorific Blizzard concoction, modern DQ is still a great place to go for a cool first date.
DQ Grill and Chill 162 Main St, Dartmouth
1987: Triple A
The family-owned Jubilee Road location of Triple A opened in 1987 and has become famous for its homemade ice cream sandwiches. Located steps away from Dalhousie University campus, Triple A delivers cool treats and hot food up until 3 a.m. Garlic fingers, donair sauce and ice cream delivered to your door in the middle of the night? We predict a minor surge in business once pot is legalized.
Triple A, 6279 Jubilee Road, Halifax
2002: COWS Ice Cream
COWS Ice Cream was established on Prince Edward Island in 1983, but it took almost 20 years to make it across the Northumberland Strait to downtown Halifax. The cow-themed ice cream shop is now a hit with tourists on the Halifax waterfront. Try the apple pie flavour for a moo-ving Maritime experience.
COWS Halifax, 1869 Lower Water St
2006: Sugah!
In 2006, Sugah! introduced Halifax to "hand-paddled ice cream"–essentially, ice cream with candy and toppings mixed in–and a year later, established a second location inside an historic house that is part of the Halifax Public Gardens.
"Hand-paddled Moon Mist ice cream with gummy bears is a really popular flavour," says assistant manager, Nora Adshade. "The locals and tourists love it because it's a really weird colour combination." (Moon Mist is a psychedelic swirl of banana, grape and bubblegum; a Maritime only flavour.)
Sugah! Confectionary and Ice Cream Emporium, 1479 Lower Water St, and the Public Gardens Halifax
2010: Dee Dee's
Born in Peggy's cove in 2004, Dee Dee's flagship location was established in 2010 on the corner of Cornwallis and Bauer St. in Halifax. Since then, the family-run business has earned an admirable number of food and drink awards, including Halifax Curated Magazine's 8th Best Restaurant in 2018. A must-try ice cream is the Mexican: dark chocolate with a hint of cinnamon, nutmeg and a hot cayenne kick.
Dee Dee's, 5668 Cornwallis St. Halifax
2010: Humani-T Café
Humani-T Café gained control of the gelato market in North End Halifax with a mouth-watering selection of unique gelato flavours, hand-crafted from scratch, with a focus on vegan options. Its most popular flavour is Mini-egg gelato, but coffee lovers will want to try an affogato – the café's Espresso 1749 blend poured over your favourite gelato.
Humani-T Café, 5755 Young Street, and 1451 South Park Street, Halifax
2011: Chicken Little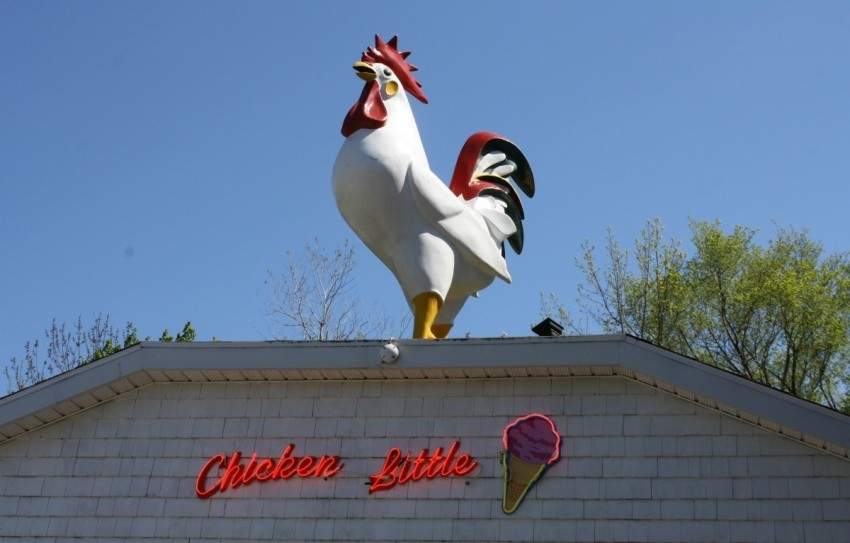 Chicken Little has all the favourite Maritime flavours, including Moon Mist, Grape Nut and a new one: Kejimikujik Campfire S'mores (named after a favourite Nova Scotia National Park). Located behind Canada's oldest drive in diner on the Bedford Highway, this is the best location for families, and the best bang for your buck with a generously sized kiddie cone costing only $1.50 plus tax.
Chicken Little, 1531 Bedford Highway, Bedford
2016: Polka Dot Ice Pops
Polka Dot Ice Pops hit the streets in June 2016, serving refreshingly healthy homemade popsicles from her cute "popcycle". Last year's flavours included Sweet with Heat Peach, mango-habanero and ginger-blueberry-kombucha.
2017: Dairy Bar
The only thing comparable to ice cream on a hot summer day is beer on a hot summer day! In 2017, Haligonians were invited to combine their favourite summertime vices at The Dairy Bar, which can be accessed from a kiosk window on South Park St. or from inside the Stillwell Beer Garden on Spring Garden Road.
Dairy Bar, 5688 Spring Garden Road
2018: Café Taiyaki 52
Served in a bright, spacious café space on Brunswick Street, these fish-shaped, ice-cream filled desserts are new for Halifax, and are as Instagrammable as they are delicious.
Café Taiyaki 52, 2009 Brunswick St., Halifax
2018: Portland St. Crêperie
Bubble Waffles are a new concept for Dartmouth, and a new taste too. The popular creperie uses premium ice cream from Central Smith Ice Cream, delivered from Ontario. "They have some crazy flavours," says owner, Neil Cook, "and they have really nice ice cream."
The team at Portland St. will offer a new feature ice cream every week or so throughout the summer, with creations such as Rainbow Sprinkle Unicorn Love.
Portland St. Crêperie, 55 Portland St, Dartmouth